Abstract
Background
Previous studies indicated that P2Y1 and P2Y2 receptors, which are widely distributed in the enteric nervous system, are related to pain, while TRPV1 may contribute to visceral pain and hypersensitivity states in irritable bowel syndrome (IBS). Other studies showed that ATP activates the capsaicin-sensitive TRPV1 channel via P2Y receptors.
Aim
To detect the expression of P2Y1, P2Y2, and TRPV1 receptors in diarrhea-predominant IBS (IBS-D) patients and analyze any correlations with abdominal pain and to investigate interactions between P2Y receptors and the TRPV1 receptor in IBS-D patients.
Methods
Rectosigmoid biopsies were collected from patients with IBS-D (n = 36) and healthy controls (n = 15). Abdominal pain was scored using a 10-cm visual analogue scale. Expression levels of P2Y1, P2Y2, and TRPV1 receptors in rectosigmoid biopsies were determined by real-time PCR and double-labeling immunofluorescence with specific antibodies.
Results
Both mRNA and protein expression levels of P2Y1, P2Y2, and TRPV1 receptors were increased in IBS-D compared with controls. Of these receptors, P2Y2 expression correlated with the maximum pain scores (p = 0.02, r = 0.63, Spearman correlation) in IBS-D patients. However, no relationships were detected between P2Y receptors and the TRPV1 receptor.
Conclusion
In the present study, we identified an increased expression of P2Y1 and P2Y2 receptors in the rectosigmoid mucosa of IBS-D patients, and P2Y2 correlated with abdominal pain. Furthermore, we identified an increase in TRPV1 expression; however, there were no correlations found between P2Y receptors and the TRPV1 receptor.
This is a preview of subscription content,
to check access.
Access this article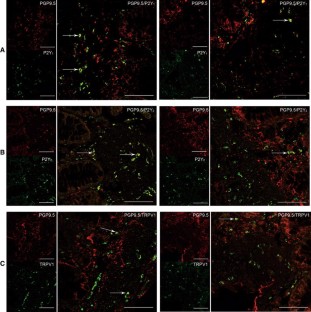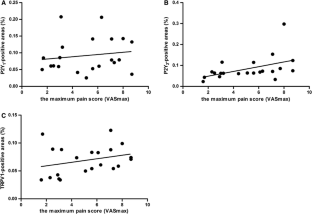 Similar content being viewed by others
References
Barbara G, Cremon C, De Giorgio R, et al. Mechanisms underlying visceral hypersensitivity in irritable bowel syndrome. Curr Gastroenterol Rep. 2011;13:308–315.

De Winter BY, Deiteren A, De Man JG. Novel nervous system mechanisms in visceral pain. Neurogastroenterol Motil. 2016;28:309–315.

Elsenbruch S, Rosenberger C, Bingel U, Forsting M, Schedlowski M, Gizewski ER. Patients with irritable bowel syndrome have altered emotional modulation of neural responses to visceral stimuli. Gastroenterology. 2010;139:1310–1319.

Azpiroz F, Bouin M, Camilleri M, et al. Mechanisms of hypersensitivity in IBS and functional disorders. Neurogastroenterol Motil. 2007;19:62–88.

Willot S, Gauthier C, Patey N, Faure C. Nerve growth factor content is increased in the rectal mucosa of children with diarrhea-predominant irritable bowel syndrome. Neurogastroenterol Motil. 2012;24:734–739.

van Wanrooij SJ, Wouters MM, Van Oudenhove L, et al. Sensitivity testing in irritable bowel syndrome with rectal capsaicin stimulations: role of TRPV1 upregulation and sensitization in visceral hypersensitivity? Am J Gastroenterol. 2014;109:99–109.

Akbar A, Yiangou Y, Facer P, Walters JR, Anand P, Ghosh S. Increased capsaicin receptor TRPV1-expressing sensory fibers in irritable bowel syndrome and their correlation with abdominal pain. Gut. 2008;57:923–929.

Gold MS, Gebhart GF. Nociceptor sensitization in pain pathogenesis. Nat Med. 2010;16:1248–1257.

Hamilton SG, McMahon SB. ATP as a peripheral mediator of pain. J Auton Nerv Syst. 2000;81:187–194.

Nakayama S, Yamashita T, Konishi M, Kazama H, Kokubun S. P2Y-mediated Ca2+ response is spatiotemporally graded and synchronized in sensory neurons: a two-photon photolysis study. Faseb J. 2004;18:1562–1564.

Burnstock G. Purinergic mechanosensory transduction and visceral pain. Mol Pain. 2009;5:69.

Stucky CL, Medler KA, Molliver DC. The P2Y agonist UTP activates cutaneous afferent fibers. Pain. 2004;109:36–44.

Galligan JJ. Enteric P2X receptors as potential targets for drug treatment of the irritable bowel syndrome. Br J Pharmacol. 2004;141:1294–1302.

Weng ZJ, Wu LY, Zhou CL, et al. Effect of electroacupuncture on P2X3 receptor regulation in the peripheral and central nervous systems of rats with visceral pain caused by irritable bowel syndrome. Purinergic Signal. 2015;11:321–329.

Lu ZM, Xie F, Fu H, et al. Roles of peripheral P2X and P2Y receptors in the development of melittin-induced nociception and hypersensitivity. Neurochem Res. 2008;33:2085–2091.

Magni G, Ceruti S. P2Y purinergic receptors: new targets for analgesic and antimigraine drugs. Biochem Pharmacol. 2013;85:466–477.

Wood J. The enteric purinergic P2Y1 receptor. Curr Opin Pharmacol. 2006;6:564–570.

Xiang Z, Burnstock G. Distribution of P2Y2 receptors in the guinea pig enteric nervous system and its coexistence with P2X2 and P2X3 receptors, neuropeptide Y, nitric oxide synthase and calretinin. Histochem Cell Biol. 2005;124:379–390.

Goswami SC, Mishra SK, Maric D, et al. Molecular signatures of mouse TRPV1-lineage neurons revealed by RNA-Seq transcriptome analysis. J Pain. 2014;15:1338–1359.

Bandell M, Macpherson LJ, Patapoutian A. From chills to chilis: mechanisms for thermosensation and chemesthesis via thermoTRPs. Curr Opin Neurobiol. 2007;17:490–497.

Moriyama T, Iida T, Kobayashi K, et al. Possible involvement of P2Y2 metabotropic receptors in ATP-induced transient receptor potential vanilloid receptor 1-mediated thermal hypersensitivity. J Neurosci. 2003;23:6058–6062.

Neri M. Irritable bowel syndrome, inflammatory bowel disease and TRPV1: how to disentangle the bundle. Eur J Pain. 2013;17:1263–1264.

Holzer P. TRPV1 a new target for treatment of visceral pain in IBS. Gut. 2008;57:882–884.

Kwon SG, Roh DH, Yoon SY, et al. Acid evoked thermal hyperalgesia involves peripheral P2Y1 receptor mediated TRPV1 phosphorylation in a rodent model of thrombus induced ischemic pain. Mol Pain. 2014;10:2.

Kwon SG, Roh DH, Yoon SY, et al. Blockade of peripheral P2Y1 receptors prevents the induction of thermal hyperalgesia via modulation of TRPV1 expression in carrageenan-induced inflammatory pain rats: involvement of p38 MAPK phosphorylation in DRGs. Neuropharmacology. 2014;79:368–379.

Lakshmi S, Joshi PG. Co-activation of P2Y2 receptor and TRPV channel by ATP: implications for ATP induced pain. Cell Mol Neurobiol. 2005;25:819–832.

Malin SA, Davis BM, Koerber HR, Reynolds IJ, Albers KM, Molliver DC. Thermal nociception and TRPV1 function are attenuated in mice lacking the nucleotide receptor P2Y2. Pain. 2008;138:484–496.

Wang H, Wang DH, Galligan JJ. P2Y2 receptors mediate ATP-induced resensitization of TRPV1 expressed by kidney projecting sensory neurons. Am J Physiol Regul Integr Comp Physiol. 2010;298:R1634–R1641.

Lewis SJ, Heaton KW. Stool Form Scale as a useful guide to intestinal transit time. Scand J Gastroenterol. 1997;32:920–924.

Sun S, Chen G, Xu M, Qiao Y, Zheng S. Differentiation and migration of bone marrow mesenchymal stem cells transplanted through the spleen in rats with portal hypertension. PLoS ONE. 2013;8:e83523.

Malin SA, Molliver DC. Gi- and Gq-coupled ADP (P2Y) receptors act in opposition to modulate nociceptive signaling and inflammatory pain behavior. Mol Pain. 2010;6:21.

Hu HZ, Gao N, Zhu MX, et al. Slow excitatory synaptic transmission mediated by P2Y1 receptors in the guinea-pig enteric nervous system. J Physiol. 2003;550:493–504.

Wood JD. Enteric neuroimmunophysiology and pathophysiology. Gastroenterology. 2004;127:635–657.

Wood JD, Galligan JJ. Function of opioids in the enteric nervous system. Neurogastroenterol Motil. 2004;16:17–28.

Ando RD, Mehesz B, Gyires K, Illes P, Sperlagh B. A comparative analysis of the activity of ligands acting at P2X and P2Y receptor subtypes in models of neuropathic, acute and inflammatory pain. Br J Pharmacol. 2010;159:1106–1117.

Li N, Lu ZY, Yu LH, Burnstock G, Deng XM, Ma B. Inhibition of G protein-coupled P2Y2 receptor induced analgesia in a rat model of trigeminal neuropathic pain. Mol Pain. 2014;10:21.

Magni G, Merli D, Verderio C, Abbracchio MP, Ceruti S. P2Y2 receptor antagonists as anti-allodynic agents in acute and sub-chronic trigeminal sensitization: role of satellite glial cells. Glia.. 2015;63:1256–1269.

Zhu H, Yu Y, Zheng L, et al. Chronic inflammatory pain upregulates expression of P2Y receptor in small-diameter sensory neurons. Metab Brain Dis. 2015;30:1349–1358.

Barbara G, Wang B, Stanghellini V, et al. Mast cell-dependent excitation of visceral-nociceptive sensory neurons in irritable bowel syndrome. Gastroenterology. 2007;132:26–37.

Jankowski MP, Rau KK, Soneji DJ, et al. Purinergic receptor P2Y1 regulates polymodal C-fiber thermal thresholds and sensory neuron phenotypic switching during peripheral inflammation. Pain. 2012;153:410–419.
Acknowledgments
This study is supported by a grant from MIMS (Shanghai) Ltd. of China (Grant Number: IDF-2013-07). We gratefully thank the staffs of the Department of Gastroenterology, The Second Affiliated Hospital of Xi'an Jiaotong University. The staffs of the Central Laboratory of the Second Affiliated Hospital of Xi'an Jiaotong University are thanked for their technical assistance.
Ethics declarations
Conflict of interest
None.
About this article
Cite this article
Luo, Y., Feng, C., Wu, J. et al. P2Y1, P2Y2, and TRPV1 Receptors Are Increased in Diarrhea-Predominant Irritable Bowel Syndrome and P2Y2 Correlates with Abdominal Pain. Dig Dis Sci 61, 2878–2886 (2016). https://doi.org/10.1007/s10620-016-4211-5
Received:

Accepted:

Published:

Issue Date:

DOI: https://doi.org/10.1007/s10620-016-4211-5
Keywords