Abstract
Background
Probiotics have treatment efficacy in irritable bowel syndrome (IBS), but the exact mechanism remains obscure. One hypothesis is the mediation of melatonin levels, leading to changes in IBS symptoms.
Aim
The purpose of this study was to evaluate the effects of a probiotic, VSL#3, on symptoms, psychological and sleep parameters, and pain sensitivity in IBS, and relate these parameters to in vivo melatonin levels.
Methods
Forty-two IBS patients were randomly assigned to receive VSL#3 or placebo for 6 weeks. Subjects completed bowel and psychological questionnaires, underwent rectal sensitivity testing and saliva melatonin assays.
Results
Abdominal pain duration and distension intensity decreased significantly in the probiotic group, along with an increase in rectal distension pain thresholds. A correlation between increase in pain tolerance and improvement in abdominal pain scores (r = 0.51, p = 0.02) was seen with probiotic. There was an increase in salivary morning melatonin levels in males treated with VSL#3, which correlated (r = 0.61) with improved satisfaction in bowel habits. When grouped based on baseline diurnal melatonin levels, patients with normal diurnal fluctuations showed an increase in morning melatonin levels with VSL#3 treatment, which significantly correlated with improved satisfaction in bowel habits (r = 0.68). They also had reduced symptom severity scores and abdominal pain duration when treated with VSL#3, as well as satisfaction with bowel movements and quality-of-life.
Conclusions
VSL#3 improved symptoms and increased rectal pain thresholds. Symptom improvement correlated with a rise in morning melatonin, significant in males and subjects with normal circadian rhythm. This suggests that probiotics may act by influencing melatonin production, hence modulating IBS symptoms, in individuals with a normal circadian rhythm.
Access options
Buy single article
Instant access to the full article PDF.
USD 39.95
Price excludes VAT (USA)
Tax calculation will be finalised during checkout.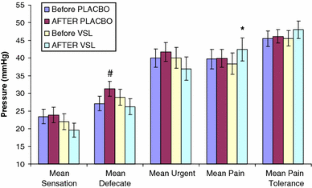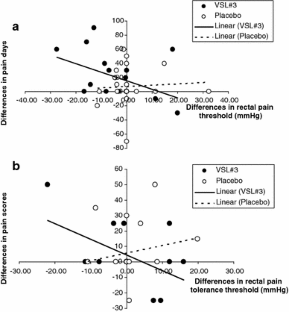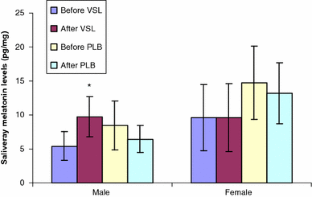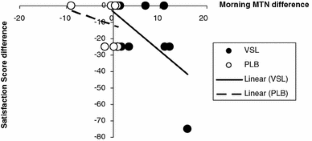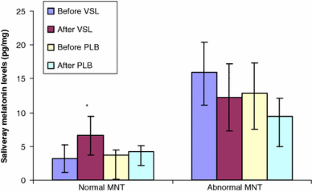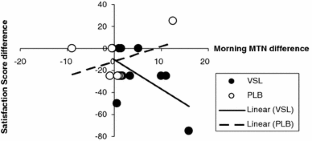 References
Farthing MJ. Irritable bowel, irritable body, or irritable brain? BMJ. 1995;310:171–175.

Gwee KA, Wee S, Wong ML, Png DJ. The prevalence, symptom characteristics, and impact of irritable bowel syndrome in an asian urban community. Am J Gastroenterol. 2004;99:924–931.

Matto J, Maunuksela L, Kajander K, et al. Composition and temporal stability of gastrointestinal microbiota in irritable bowel syndrome–a longitudinal study in IBS and control subjects. FEMS Immunol Med Microbiol. 2005;43:213–222.

Malinen E, Rinttila T, Kajander K, et al. Analysis of the fecal microbiota of irritable bowel syndrome patients and healthy controls with real-time PCR. Am J Gastroenterol. 2005;100:373–382.

Kim HJ, Vazquez Roque MI, Camilleri M, et al. A randomized controlled trial of a probiotic combination VSL#3 and placebo in irritable bowel syndrome with bloating. Neurogastroenterol Motil. 2005;17:687–696.

O'Mahony L, McCarthy J, Kelly P, et al. Lactobacillus and bifidobacterium in irritable bowel syndrome: symptom responses and relationship to cytokine profiles. Gastroenterology. 2005;128:541–551.

King TS, Elia M, Hunter JO. Abnormal colonic fermentation in irritable bowel syndrome. Lancet. 1998;352:1187–1189.

Treem WR, Ahsan N, Kastoff G, Hyams JS. Fecal short-chain fatty acids in patients with diarrhea-predominant irritable bowel syndrome: in vitro studies of carbohydrate fermentation. J Pediatr Gastroenterol Nutr. 1996;23:280–286.

Lamine F, Eutamene H, Fioramonti J, Bueno L, Theodorou V. Colonic responses to Lactobacillus farciminis treatment in trinitrobenzene sulphonic acid-induced colitis in rats. Scand J Gastroenterol. 2004;39:1250–1258.

Sartor RB. Therapeutic manipulation of the enteric microflora in inflammatory bowel diseases: antibiotics, probiotics, and prebiotics. Gastroenterology. 2004;126:1620–1633.

Weinryb RM, Osterberg E, Blomquist L, Hultcrantz R, Krakau I, Asberg M. Psychological factors in irritable bowel syndrome: a population-based study of patients, non-patients and controls. Scand J Gastroenterol. 2003;38:503–510.

Patacchioli FR, Angelucci L, Dellerba G, Monnazzi P, Leri O. Actual stress, psychopathology and salivary cortisol levels in the irritable bowel syndrome (IBS). J Endocrinol Invest. 2001;24:173–177.

Kellner M, Yassouridis A, Manz B, Steiger A, Holsboer F, Wiedemann K. Corticotropin-releasing hormone inhibits melatonin secretion in healthy volunteers—a potential link to low-melatonin syndrome in depression? Neuroendocrinology. 1997;65:284–290.

Song GH, Leng PH, Gwee KA, Moochhala SM, Ho KY. Melatonin improves abdominal pain in irritable bowel syndrome patients who have sleep disturbances: a randomised, double blind, placebo controlled study. Gut. 2005;54:1402–1407.

Lu WZ, Gwee KA, Moochhalla S, Ho KY. Melatonin improves bowel symptoms in female patients with irritable bowel syndrome: a double-blind placebo-controlled study. Aliment Pharmacol Ther. 2005;22:927–934.

Bubenik GA. Gastrointestinal melatonin: localization, function, and clinical relevance. Dig Dis Sci. 2002;47:2336–2348.

Drossman DA, Dumitrascu DL. Rome III: new standard for functional gastrointestinal disorders. J Gastrointestin Liver Dis. 2006;15:237–241.

Talley NJ, Phillips SF, Melton J 3rd, Wiltgen C, Zinsmeister AR. A patient questionnaire to identify bowel disease. Ann Intern Med. 1989;111:671–674.

Buysse DJ, Reynolds CF 3rd, Monk TH, Berman SR, Kupfer DJ. The Pittsburgh Sleep Quality Index: a new instrument for psychiatric practice and research. Psychiatry Res. 1989;28:193–213.

Zigmond AS, Snaith RP. The hospital anxiety and depression scale. Acta Psychiatr Scand. 1983;67:361–370.

Camilleri M. Drugs targeting functional bowel disorders: lessons from drug trials. Curr Opin Pharmacol. 2002;2:684–690.

Song GH, Venkatraman V, Ho KY, Chee MW, Yeoh KG, Wilder-Smith CH. Cortical effects of anticipation and endogenous modulation of visceral pain assessed by functional brain MRI in irritable bowel syndrome patients and healthy controls. Pain. 2006;126:79–90.

Francis CY, Morris J, Whorwell PJ. The irritable bowel severity scoring system: a simple method of monitoring irritable bowel syndrome and its progress. Aliment Pharmacol Ther. 1997;11:395–402.

Hirano S, Ono M, Aimoto A. Functional and biochemical effects on rat lung following instillation of crocidolite and chrysotile asbestos. J Toxicol Environ Health. 1988;24:27–39.

McKernan DP, Fitzgerald P, Dinan TG, Cryan JF. The probiotic Bifidobacterium infantis 35624 displays visceral antinociceptive effects in the rat. Neurogastroenterol Motil. 2010;22:e268.

Wilder-Smith CH, Schindler D, Lovblad K, Redmond SM, Nirkko A. Brain functional magnetic resonance imaging of rectal pain and activation of endogenous inhibitory mechanisms in irritable bowel syndrome patient subgroups and healthy controls. Gut. 2004;53:1595–1601.

Wilder-Smith CH, Robert-Yap J. Abnormal endogenous pain modulation and somatic and visceral hypersensitivity in female patients with irritable bowel syndrome. World J Gastroenterol. 2007;13:3699–3704.

Heymen S, Maixner W, Whitehead WE, Klatzkin RR, Mechlin B, Light KC. Central processing of noxious somatic stimuli in patients with irritable bowel syndrome compared with healthy controls. Clin J Pain. 2010;26:104–109.

Piche M, Arsenault M, Poitras P, Rainville P, Bouin M. Widespread hypersensitivity is related to altered pain inhibition processes in irritable bowel syndrome. Pain. 2010;148:49–58.

Wilder-Smith CH, Song G, Yeoh KG, Ho KY. Activating endogenous visceral pain modulation: a comparison of heterotopic stimulation methods in healthy controls. Eur J Pain. 2009;13:836–842.

Guerrero JM, Reiter RJ. Melatonin-immune system relationships. Curr Top Med Chem. 2002;2:167–179.

Klupinska G, Wisniewska-Jarosinska M, Harasiuk A, et al. Nocturnal secretion of melatonin in patients with upper digestive tract disorders. J Physiol Pharmacol. 2006;57:41–50.

Houghton LA, Heyman DJ, Whorwell PJ. Symptomatology, quality of life and economic features of irritable bowel syndrome–the effect of hypnotherapy. Aliment Pharmacol Ther. 1996;10:91–95.

Radwan P, Skrzydlo-Radomanska B, Radwan-Kwiatek K, Burak-Czapiuk B, Strzemecka J. Is melatonin involved in the irritable bowel syndrome? J Physiol Pharmacol. 2009;60:67–70.

Cain SW, Dennison CF, Zeitzer JM, et al. Sex differences in phase angle of entrainment and melatonin amplitude in humans. J Biol Rhythms. 2010;25:288–296.
About this article
Cite this article
Wong, R.K., Yang, C., Song, GH. et al. Melatonin Regulation as a Possible Mechanism for Probiotic (VSL#3) in Irritable Bowel Syndrome: A Randomized Double-Blinded Placebo Study. Dig Dis Sci 60, 186–194 (2015). https://doi.org/10.1007/s10620-014-3299-8
Received:

Accepted:

Published:

Issue Date:

DOI: https://doi.org/10.1007/s10620-014-3299-8
Keywords
Probiotic

Melatonin

Irritable bowel syndrome

Circadian rhythm

Rectal distension