Abstract
Background
Compared with the piecemeal resection associated with endoscopic mucosal resection, endoscopic submucosal dissection (ESD) enables en bloc resection of larger lesions, allows for more accurate histological assessments, and has reduced recurrence rates. ESD is not widely performed in Western countries given increased technical difficulty, high complication rates, and long procedure times.
Aims
To evaluate the safety and efficacy of ESD in a single center in the USA.
Methods
A retrospective study on a prospectively collected database identified cases in which a single operator (IW) performed ESD at a tertiary referral center. Twenty cases were identified, nine in the upper digestive tract (four esophagus and five stomach) and 11 in the lower digestive tract (nine rectal and two sigmoid colon). Data regarding lesion location, pathology, method of ESD (composition/volume of lifting injection and resection method), post-procedure complications, and margin involvement were collected.
Results
En bloc resection was obtained in 14/20 patients (70 %). The average procedure time was 202 min in the esophagus, 148 min in the stomach, and 106 min for lower lesions. A major complication (perforation) occurred in 1/20 cases (5 %). Complete resection was obtained in 14/20 (70 %). R0 resection was obtained in 16/20 (80 %) cases.
Conclusions
The complication, en bloc resection, and complete resection rates of this study are similar to those found in large studies on ESD performed in Eastern settings. ESD is safe and efficacious for en bloc resections of pre-malignant and early-invasive lesions, and should be offered to patients with suitable lesions in Western settings.
Access options
Buy single article
Instant access to the full article PDF.
US$ 39.95
Tax calculation will be finalised during checkout.
Subscribe to journal
Immediate online access to all issues from 2019. Subscription will auto renew annually.
US$ 119
Tax calculation will be finalised during checkout.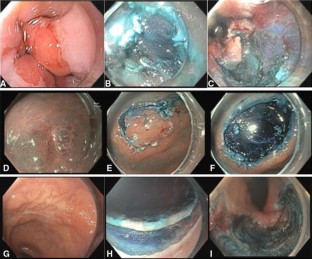 References
1.

Gotoda T, Kondo H, Ono H, et al. A new endoscopic mucosal resection procedure using an insulation-tipped electrosurgical knife for rectal flat lesions: report of two cases. Gastrointest Endosc. 1999;50:560–563.

2.

Ohkuwa M, Hosokawa K, Boku N, et al. New endoscopic treatment for intramucosal gastric tumors using an insulated-tip diathermic knife. Endoscopy. 2001;33:221–226.

3.

Probst A, Golger D, Arnholdt H, et al. Endoscopic submucosal dissection of early cancers, flat adenomas, and submucosal tumors in gastrointestinal tract. Clin Gastroenterol Hepatol. 2009;7:149–155.

4.

Cao Y, Liao C, Tan A, et al. Meta-analysis of endoscopic submucosal dissection versus endoscopic mucosal resection for tumors of the gastrointestinal tract. Endoscopy. 2009;9:751–757.

5.

Yamamoto H. Endoscopic submucosal dissection—current success and future directions. Nat Rev Gastroenterol Hepatol. 2012;9:519–529.

6.

Chandrasekhara V, Ginsberg GG. ESD for colorectal neoplasms: dissecting value from virtue. Gastrointest Endosc. 2011;5:1084–1086.

7.

Moss A, Bourke MJ, Williams SJ, et al. Endoscopic mucosal resection outcomes and prediction of submucosal cancer from advanced colonic mucosal neoplasia. Gastroenterology. 2011;7:1909–1918.

8.

Smith LA, Baraza W, Tiffin N, et al. Endoscopic resection of adenoma-like mass in chronic ulcerative colitis using a combined endoscopic mucosal resection and cap assisted submucosal dissection technique. Inflamm Bowel Dis. 2008;14:1380–1386.

9.

Odze R, Farraye F, Hecht J, et al. Long-term follow-up after polypectomy treatment for adenoma-like dysplastic lesions in ulcerative colitis. Clin Gastroenterol Hepatol. 2004;7:534–541.

10.

Ullman T, Odze R, Farraye F, et al. Diagnosis and management of dysplasia in patients with ulcerative colitis and crohn's disease of colon. Inflamm Bowel Dis. 2009;15:630–638.

11.

Saito Y, Uraoka T, Yamaguchi Y, et al. A prospective, multicenter study of 1111 colorectal endoscopic submucosal dissections (with video). Gastrointest Endosc. 2010;6:1217–1225.

12.

Draganov PV, Gotoda T, Chavalitdhamrong D, et al. Techniques of endoscopic submucosal dissection: application for the western endoscopist? Gastrointest Endosc. 2013;5:677–678.

13.

Colin A, Kaltenback T, Kusano C, et al. Endoscopic resection of gastrointestinal lesions: advancement in the application of endoscopic submuosal dissection. J Gastroenterol Hepatol. 2010;25:1348–1357.

14.

Doty JR, Salazar JD, Forastiere AA, et al. Postesophagectomy morbidity, mortality, and length of hospital stay after preoperative chemoradiation. Ann Thorac Surg. 2002;74:227–231.

15.

Dhamija A, Hancock J, McCloskey B, et al. Minimally invasive oesophagectomy more expensive than open despite shorter length of stay. Eur J Cardiothorac Surg. 2014;45:904–909.

16.

Schoetz DJ, Bockler M, Rosenblatt MS, et al. Ideal length of stay after colectomy: whose ideal? Dis Colon Rectum. 1997;40:806–810.

17.

Salimath J, Jones MW, Hunt DL, et al. Comparison of return of bowel function and length of stay in patients undergoing laparoscopic versus open colectomy. JSLS. 2007;11:72–75.

18.

Cardoso DM, Campoli PM, Yokoi C, et al. Initial experience in Brazil with endoscopic submucosal dissection for early gastric cancer using insulation-tipped knife: a safety and feasibility study. Gastric Cancer. 2008;4:226–232.

19.

Scumacher B, Charton J, Nordmann T, et al. Endoscopic submucosal dissection of early gastric neoplasia with a water-jet assisted knife: a western, single center experience. Gastrointest Endosc. 2012;75:1166–1174.

20.

Dinis-Ribeiro M, Pimentel-Nunes P, Afonso M, et al. A European case series of endoscopic submucosal dissection for gastric superficial lesions. Gastrointest Endosc. 2009;2:350–355.
About this article
Cite this article
Lang, G.D., Konda, V.J.A., Siddiqui, U.D. et al. A Single-Center Experience of Endoscopic Submucosal Dissection Performed in a Western Setting. Dig Dis Sci 60, 531–536 (2015). https://doi.org/10.1007/s10620-014-3260-x
Received:

Accepted:

Published:

Issue Date:
Keywords
Endoscopic submucosal dissection (ESD)

Endoscopic mucosal resection (EMR)

Dysplasia-associated lesion or mass (DALM)

Endoscopy