Abstract
Background
Biliary decompression with antibiotic therapy is the mainstay treatment for acute cholangitis with bacteremia. A few studies have been conducted to investigate the optimal duration and route of antibiotic therapy in biliary tract infection with bacteremia.
Methods
Patients with acute cholangitis with bacteremia who achieved successful biliary drainage were randomly assigned to an early oral antibiotic switch group (group A, n = 29) and a conventional intravenous antibiotics group (group B, n = 30). Patients were discharged when they were afebrile over 2 days after oral antibiotic switch and showed consecutive improvement in the laboratory index. They were followed up and assessed at 30 days after diagnosis to evaluate the eradication of bacteria, recurrence of acute cholangitis, and 30-day mortality rate.
Results
There were no statistically significant differences between the two groups in baseline characteristics, clinical and laboratory index, severity of acute cholangitis, bacteria isolated from blood cultures, and clinical outcomes. The rate of eradication of bacteria was 93.1 % in group A and 93.3 % in group B, respectively (p = 0.97). Using non-inferiority tests, the rate of eradication of bacteria in group A was not inferior to that in group B (95 % CI −0.13 to 0.14, p = 0.97). There was no statistically significant difference in the recurrence of acute cholangitis and a 30-day mortality rate between the two groups.
Conclusions
Early switch to oral antibiotic therapy following adequate biliary drainage for treatment of acute cholangitis with bacteremia was not inferior to conventional 10-day intravenous antibiotic therapy.
Access options
Buy single article
Instant access to the full article PDF.
US$ 39.95
Tax calculation will be finalised during checkout.
Subscribe to journal
Immediate online access to all issues from 2019. Subscription will auto renew annually.
US$ 119
Tax calculation will be finalised during checkout.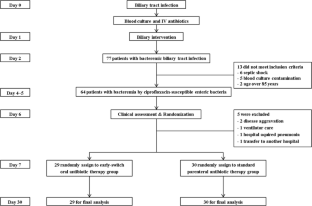 References
1.

Lee CC, Chang IJ, Lai YC, Chen SY, Chen SC. Epidemiology and prognostic determinants of patients with bacteremic cholecystitis or cholangitis. Am J Gastroenterol. 2007;102:563–569.

2.

Lai EC, Mok FP, Tan ES, et al. Endoscopic biliary drainage for severe acute cholangitis. N Engl J Med. 1992;326:1582–1586.

3.

Kadir S, Baassiri A, Barth KH, Kaufman SL, Cameron JL, White RI Jr. Percutaneous biliary drainage in the management of biliary sepsis. AJR Am J Roentgenol. 1982;138:25–29.

4.

van den Hazel SJ, Speelman P, Tytgat GN, Dankert J, van Leeuwen DJ. Role of antibiotics in the treatment and prevention of acute and recurrent cholangitis. Clin Infect Dis. 1994;19:279–286.

5.

Dooley JS, Hamilton-Miller JM, Brumfitt W, Sherlock S. Antibiotics in the treatment of biliary infection. Gut. 1984;25:988–998.

6.

Solomkin JS, Mazuski JE, Baron EJ, et al. Guidelines for the selection of anti-infective agents for complicated intra-abdominal infections. Clin Infect Dis. 2003;37:997–1005.

7.

Dellinger RP, Carlet JM, Masur H, et al. Surviving Sepsis Campaign guidelines for management of severe sepsis and septic shock. Intensive Care Med. 2004;30:536–555.

8.

Owens WD, Felts JA, Spitznagel EL Jr. ASA physical status classifications: a study of consistency of ratings. Anesthesiology. 1978;49:239–243.

9.

Bone RC, Balk RA, Cerra FB, et al. Definitions for sepsis and organ failure and guidelines for the use of innovative therapies in sepsis. The ACCP/SCCM Consensus Conference Committee. American College of Chest Physicians/Society of Critical Care Medicine. Chest. 1992;101:1644–1655.

10.

Charlson ME, Pompei P, Ales KL, MacKenzie CR. A new method of classifying prognostic comorbidity in longitudinal studies: development and validation. J Chronic Dis. 1987;40:373–383.

11.

Chow JW, Fine MJ, Shlaes DM, et al. Enterobacter bacteremia: clinical features and emergence of antibiotic resistance during therapy. Ann Intern Med. 1991;115:585–590.

12.

Chow JW, Yu VL. Combination antibiotic therapy versus monotherapy for gram-negative bacteraemia: a commentary. Int J Antimicrob Agents. 1999;11:7–12.

13.

Mayumi T, Takada T, Kawarada Y, et al. Results of the Tokyo consensus meeting tokyo guidelines. J Hepatobiliary Pancreat Surg. 2007;14:114–121.

14.

Mosler P. Diagnosis and management of acute cholangitis. Curr Gastroenterol Rep. 2011;13:166–172.

15.

Blot S, De Waele JJ. Critical issues in the clinical management of complicated intra-abdominal infections. Drugs. 2005;65:1611–1620.

16.

Solomkin JS, Mazuski J. Intra-abdominal sepsis: newer interventional and antimicrobial therapies. Infect Dis Clin North Am. 2009;23:593–608.

17.

Westphal JF, Brogard JM. Biliary tract infections: a guide to drug treatment. Drugs. 1999;57:81–91.

18.

van Lent AU, Bartelsman JF, Tytgat GN, Speelman P, Prins JM. Duration of antibiotic therapy for cholangitis after successful endoscopic drainage of the biliary tract. Gastrointest Endosc. 2002;55:518–522.

19.

Kogure H, Tsujino T, Yamamoto K, et al. Fever-based antibiotic therapy for acute cholangitis following successful endoscopic biliary drainage. J Gastroenterol. 2011;46:1411–1417.

20.

Mulla SM, Scott IA, Jackevicius CA, You JJ, Guyatt GH. How to use a noninferiority trial: users' guides to the medical literature. JAMA. 2012;308:2605–2611.
Additional information
Tae Young Park and Jung Sik Choi have contributed equally to this study.
About this article
Cite this article
Park, T.Y., Choi, J.S., Song, T.J. et al. Early Oral Antibiotic Switch Compared with Conventional Intravenous Antibiotic Therapy for Acute Cholangitis with Bacteremia. Dig Dis Sci 59, 2790–2796 (2014). https://doi.org/10.1007/s10620-014-3233-0
Received:

Accepted:

Published:

Issue Date:
Keywords
Acute cholangitis

Bacteremia

Antibiotics

Complication