Abstract
Background
Molecular hydrogen (H2) is a potent antioxidant and able to protect organs from oxidative stress injuries. Orally administered lactulose, a potent H2 inducer, is digested by colon microflora and significantly increases H2 production, indicating its potential anti-inflammatory action.
Objective
To evaluate the anti-inflammatory effects of lactulose on dextran sodium sulfate (DSS)-induced colitis in mice.
Methods
Mice were randomly assigned into seven groups, receiving regular distilled water, H2-rich saline (peritoneal injection), DSS, oral lactulose (0.1, 0.15, 0.2 ml/10 g, respectively), and lactulose (0.2 ml/10 g) + oral antibiotics. The mouse model of human ulcerative colitis was established by supplying mice with water containing DSS. The H2 breath test was used to determine the exhaled H2 concentration. Body weight, colitis score, colon length, pathological features and tumor necrosis factor alpha (TNF-α), interleukin-1β (IL-1β), maleic dialdehyde (MDA) and marrow peroxidase (MPO) levels in colon lesions were evaluated.
Results
After 7 days, DSS-induced loss of body weight, increase of colitis score, shortening of colon length, pathological changes and elevated levels of TNF-α, IL-1β, MDA, and MPO in colon lesions, were significantly suppressed by oral lactulose administration and intraperitoneally injected H2-rich saline. Ingestion of antibiotics significantly compromised the anti-inflammatory effects of lactulose. The H2 breath test showed that lactulose administration significantly induced hydrogen production and that antibiotics administration could inhibit H2 production.
Conclusion
Lactulose can prevent the development of DSS-induced colitis and alleviate oxidative stress in the colon, as measured by MDA and MPO, probably by increasing endogenous H2 production.
Access options
Buy single article
Instant access to the full article PDF.
USD 39.95
Price excludes VAT (USA)
Tax calculation will be finalised during checkout.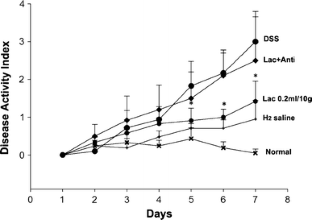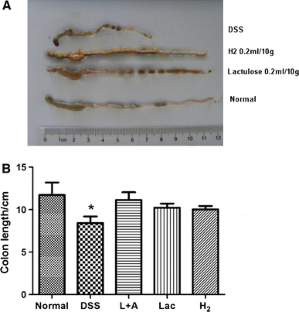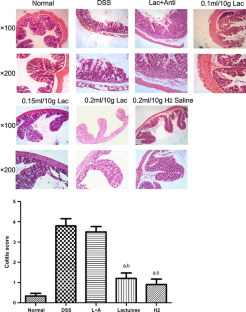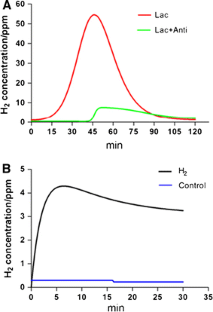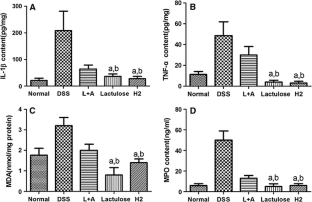 References
Grisham MB, Granger DN. Neutrophil-mediated mucosal injury. Role of reactive oxygen metabolites. Dig Dis Sci. 1988;33:6S–15S.

Suematsu M, Suzuki M, Kitahora T, et al. Increased respiratory burst of leukocytes in inflammatory bowel diseases—the analysis of free radical generation by using chemiluminescence probe. J Clin Lab Immunol. 1987;24:125–128.

Karp SM, Koch TR. Oxidative stress and antioxidants in inflammatory bowel disease. Dis Mon. 2006;52:199–207.

Keshavarzian A, Morgan G, Sedghi S, Gordon JH, Doria M. Role of reactive oxygen metabolites in experimental colitis. Gut. 1990;31:786–790.

Neilly PJ, Gardiner KR, Rowlands BJ. Experimental colitis is ameliorated by inhibition of nitric oxide synthase activity. Gut. 1996;38:475.

Buffinton GD, Doe WF. Depleted mucosal antioxidant defences in inflammatory bowel disease. Free Radic Biol Med. 1995;19:911–918.

Oz HS, Chen TS, McClain CJ, de Villiers WJ. Antioxidants as novel therapy in a murine model of colitis. J Nutr Biochem. 2005;16:297–304.

Ohsawa I, Ishikawa M, Takahashi K, et al. Hydrogen acts as a therapeutic antioxidant by selectively reducing cytotoxic oxygen radicals. Nat Med. 2007;13:688–694.

Huang CS, Kawamura T, Toyoda Y, Nakao A. Recent advances in hydrogen research as a therapeutic medical gas. Free Radic Res. 2010;44:971–982.

Dieleman LA, Palmen MJ, Akol H, et al. Chronic experimental colitis induced by dextran sulphate sodium (dss) is characterized by th1 and th2 cytokines. Clin Exp Immunol. 1998;114:385–391.

Kajiya M, Silva MJ, Sato K, Ouhara K, Kawai T. Hydrogen mediates suppression of colon inflammation induced by dextran sodium sulfate. Biochem Biophys Res Commun. 2009;386:11–15.

Florent C, Flourie B, Leblond A, Rautureau M, Bernier JJ, Rambaud JC. Influence of chronic lactulose ingestion on the colonic metabolism of lactulose in man (an in vivo study). J Clin Invest. 1985;75:608–613.

Kim YJ, Kim EH, Hahm KB. Oxidative stress in inflammation-based gastrointestinal tract diseases: challenges and opportunities. J Gastroenterol Hepatol. 2012;27:1004–1010.

Edwards FC, Truelove SC. The course and prognosis of ulcerative colitis. Gut. 1963;4:299–315.

Eaden JA, Abrams KR, Mayberry JF. The risk of colorectal cancer in ulcerative colitis: a meta-analysis. Gut. 2001;48:526–535.

Damiani CR, Benetton CA, Stoffel C, et al. Oxidative stress and metabolism in animal model of colitis induced by dextran sulfate sodium. J Gastroenterol Hepatol. 2007;22:1846–1851.

Seril DN, Liao J, Yang GY, Yang CS. Oxidative stress and ulcerative colitis-associated carcinogenesis: studies in humans and animal models. Carcinogenesis. 2003;24:353–362.

Hayashida K, Sano M, Ohsawa I, et al. Inhalation of hydrogen gas reduces infarct size in the rat model of myocardial ischemia–reperfusion injury. Biochem Biophys Res Commun. 2008;373:30–35.

Fukuda K, Asoh S, Ishikawa M, Yamamoto Y, Ohsawa I, Ohta S. Inhalation of hydrogen gas suppresses hepatic injury caused by ischemia/reperfusion through reducing oxidative stress. Biochem Biophys Res Commun. 2007;361:670–674.

Buchholz BM, Kaczorowski DJ, Sugimoto R, et al. Hydrogen inhalation ameliorates oxidative stress in transplantation induced intestinal graft injury. Am J Transplant. 2008;8:2015–2024.

Gharib B, Hanna S, Abdallahi OM, Lepidi H, Gardette B, De Reggi M. Anti-inflammatory properties of molecular hydrogen: investigation on parasite-induced liver inflammation. C R Acad Sci III. 2001;324:719–724.

Chen H, Sun YP, Li Y, et al. Hydrogen-rich saline ameliorates the severity of l-arginine-induced acute pancreatitis in rats. Biochem Biophys Res Commun. 2010;393:308–313.

Blei AT, Cordoba J. Hepatic encephalopathy. Am J Gastroenterol. 2001;96:1968–1976.

Voskuijl W, de Lorijn F, Verwijs W, et al. Peg 3350 (transipeg) versus lactulose in the treatment of childhood functional constipation: a double blind, randomised, controlled, multicentre trial. Gut. 2004;53:1590–1594.

Chen X, Zuo Q, Hai Y, Sun XJ. Lactulose: an indirect antioxidant ameliorating inflammatory bowel disease by increasing hydrogen production. Med Hypotheses. 2011;76:325–327.

Rhodes JM, Middleton P, Jewell DP. The lactulose hydrogen breath test as a diagnostic test for small-bowel bacterial overgrowth. Scand J Gastroenterol. 1979;14:333–336.

Sen S, Dear KL, King TS, Elia M, Hunter JO. Evaluation of hydrogen excretion after lactulose administration as a screening test for causes of irritable bowel syndrome. Eur J Gastroenterol Hepatol. 2002;14:753–756.

Hentschel U, Dobrindt U, Steinert M. Commensal bacteria make a difference. Trends Microbiol. 2003;11:148–150.

Hooper LV, Gordon JI. Commensal host-bacterial relationships in the gut. Science. 2001;292:1115–1118.

Panesar PS, Kumari S. Lactulose: production, purification and potential applications. Biotechnol Adv. 2011;29:940–948.

Looijer-van Langen MA, Dieleman LA. Prebiotics in chronic intestinal inflammation. Inflamm Bowel Dis. 2009;15:454–462.

Kajiya M, Sato K, Silva MJ, et al. Hydrogen from intestinal bacteria is protective for concanavalin a-induced hepatitis. Biochem Biophys Res Commun. 2009;386:316–321.

Huchzermeyer H, Schumann C. Lactulose—a multifaceted substance. Z Gastroenterol. 1997;35:945–955.

Hoffmann K, Mossell DAA, Korus W, van de Kamer JH. Investigations on the mode of action of lactulose in the human intestine. Klin Wochenschr. 1964;42:126–130.

Schumann C. Medical, nutritional and technological properties of lactulose. An update. Eur J Nutr. 2002;41:I17–I25.

Xie K, Yu Y, Zhang Z, et al. Hydrogen gas improves survival rate and organ damage in zymosan-induced generalized inflammation model. Shock. 2010;34:495–501.

Seyan AS, Hughes RD, Shawcross DL. Changing face of hepatic encephalopathy: role of inflammation and oxidative stress. World J Gastroenterol. 2010;16:3347–3357.

Shawcross DL, Shabbir SS, Taylor NJ, Hughes RD. Ammonia and the neutrophil in the pathogenesis of hepatic encephalopathy in cirrhosis. Hepatology. 2010;51:1062–1069.
Acknowledgments
This work is supported by Creativity and Innovation Training Program of Second Military Medical University (ZD2010009).
Conflict of interest
None.
Additional information
Xiao Chen and Xiao Zhai contributed equally to this work.
About this article
Cite this article
Chen, X., Zhai, X., Shi, J. et al. Lactulose Mediates Suppression of Dextran Sodium Sulfate-Induced Colon Inflammation by Increasing Hydrogen Production. Dig Dis Sci 58, 1560–1568 (2013). https://doi.org/10.1007/s10620-013-2563-7
Received:

Accepted:

Published:

Issue Date:

DOI: https://doi.org/10.1007/s10620-013-2563-7
Keywords
Lactulose

Hydrogen

Ulcerative colitis

Antioxidant

Oxidative stress