Abstract
Purpose
Previous studies on experimental mouse models have suggested a role of vitamin D in immune system regulation and IBD disease severity. In this study, we examine the relationship between vitamin D levels and clinical disease activity in human subjects with ulcerative colitis (UC). We hypothesized that patients with vitamin D deficiency will display increased UC disease activity as compared to patients with normal vitamin D levels.
Methods
A cross-sectional study was performed by querying the outpatient electronic medical record of our health system for patients seen in the gastroenterology clinic from January 2007 to October 2009 who carried both a diagnosis of UC and a documented 25-OH vitamin D level within 30 days of their clinic visit. Demographic and clinical variables were collected. Clinical disease activity was calculated using the six-point partial Mayo index. Active disease was defined as a six-point index score of ≥1. Vitamin D deficiency was defined as a 25-OH D level below 30 ng/ml. Data were analyzed using the chi-square distribution test.
Results
Thirty-four patients met inclusion criteria (53 % female, mean age 45.7 ± 24.7 years). Fifteen patients had normal vitamin D levels and 19 patients were vitamin D deficient. Twelve patients had vitamin D levels <20 ng/ml. Vitamin D deficient patients were statistically more likely to have increased disease activity than patients with normal vitamin D levels (p = 0.04), with 68 % of deficient patients displaying active disease compared with 33 % in the sufficient group. There was also a statistically significant association between vitamin D status and need for treatment with steroids, with a higher percentage of vitamin D deficient patients (47 %) requiring such treatment compared with 7 % in the sufficient group (p = 0.02). There was no association between season of visit and disease activity.
Conclusion
Vitamin D deficiency is common among patients with active UC, particularly those requiring corticosteroids. Further investigation is needed to determine the clinical utility of vitamin D monitoring in patients with UC and whether there is a role for vitamin D as a treatment for UC.
This is a preview of subscription content, log in to check access.
Access options
Buy single article
Instant access to the full article PDF.
US$ 39.95
Tax calculation will be finalised during checkout.
Subscribe to journal
Immediate online access to all issues from 2019. Subscription will auto renew annually.
US$ 199
Tax calculation will be finalised during checkout.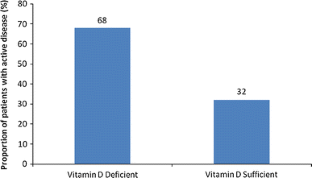 References
1.

Kappelman MD, Rifas-Shiman SL, Kleinman K, et al. The prevalence and geographic distribution of Crohn's disease and ulcerative colitis in the United States. Clin Gastroenterol Hepatol. 2007;5:1424–1429.

2.

Ardizzone S, Cassinotti A, Trabattoni D, et al. Immunomodulatory effects of 1,25-dihydroxyvitamin D3 on TH1/TH2 cytokines in inflammatory bowel disease: an in vitro study. Int J Immunopathol Pharmacol. 2009;22:63–71.

3.

Cantorna MT. Vitamin D and its role in immunology: multiple sclerosis, and inflammatory bowel disease. Prog Biophys Mol Biol. 2006;92:60–64.

4.

Lim WC, Hanauer SB, Li YC. Mechanisms of disease: vitamin D and inflammatory bowel disease. Nat Clin Pract Gastroenterol Hepatol. 2005;2:308–315.

5.

Cantorna MT. Why do T cells express the vitamin D receptor? Ann NY Acad Sci. 2011;1217:77–82.

6.

Maruotti N, Cantatore FP. Vitamin D and the immune system. J Rheumatol. 2010;37:491–495.

7.

Cantorna MT, Vitamin D and autoimmunity: is vitamin D status an environmental factor affecting autoimmune disease prevalence? Proc Soc Exp Biol Med. 2000;223:230–233.

8.

Szodoray P, Nakken B, Gaal J, et al. The complex role of vitamin D in autoimmune diseases. Scand J Immunol. 2008;68:261–269.

9.

Cantorna MT, Mahon BD. Mounting evidence for vitamin D as an environmental factor affecting autoimmune disease prevalence. Exp Biol Med (Maywood). 2004;229:1136–1142.

10.

Pappa HM, Grand RJ, Gordon CM. Report on the vitamin D status of adult and pediatric patients with inflammatory bowel disease and its significance for bone health and disease. Inflamm Bowel Dis. 2006;12:1162–1174.

11.

Ananthakrishnan AN, Khalili H, Higuchi LM, et al. Higher predicted vitamin D status is associated with reduced risk of Crohn's disease. Gastroenterology. 2012;142:482–489.

12.

Jorgensen SP, Agnholt J, Glerup H, et al. Clinical trial: vitamin D3 treatment in Crohn's disease—a randomized double-blind placebo-controlled study. Aliment Pharmacol Ther. 2010;32:377–383.

13.

Ulitsky A, Ananthakrishnan AN, Naik A, et al. Vitamin D deficiency in patients with inflammatory bowel disease: association with disease activity and quality of life. JPEN J Parenter Enteral Nutr. 2011;35:308–316.

14.

Lewis JD, Chuai S, Nessel L, et al. Use of the noninvasive components of the Mayo score to assess clinical response in ulcerative colitis. Inflamm Bowel Dis. 2008;14:1660–1666.

15.

Cantorna MT, Zhu Y, Froicu M, et al. Vitamin D status, 1,25-dihydroxyvitamin D3, and the immune system. Am J Clin Nutr. 2004;80:1717S–1720S.

16.

Holick MF. Vitamin D deficiency: what a pain it is. Mayo Clin Proc. 2003;78:1457–1459.

17.

Cantorna MT, Munsick C, Bemiss C, et al. 1,25-Dihydroxycholecalciferol prevents and ameliorates symptoms of experimental murine inflammatory bowel disease. J Nutr. 2000;130:2648–2652.

18.

Dresner-Pollak R, Ackerman Z, Eliakim R, et al. The BsmI vitamin D receptor gene polymorphism is associated with ulcerative colitis in Jewish Ashkenazi patients. Genet Test. 2004;8:417–420.

19.

Schoon EJ, Blok BM, Geerling BJ, et al. Bone mineral density in patients with recently diagnosed inflammatory bowel disease. Gastroenterology. 2000;119:1203–1208.
Conflict of interest
None.
About this article
Cite this article
Blanck, S., Aberra, F. Vitamin D Deficiency Is Associated with Ulcerative Colitis Disease Activity. Dig Dis Sci 58, 1698–1702 (2013). https://doi.org/10.1007/s10620-012-2531-7
Received:

Accepted:

Published:

Issue Date:
Keywords
Vitamin D

Vitamin D deficiency

Ulcerative colitis

Inflammatory bowel disease