Abstract
Background
Although hyoscine butyl bromide (HB) and glucagon (GL) are often used as antispasmodic drugs during esophagogastroduodenoscopy (EGD), these agents may cause adverse effects. Recently, it was reported that peppermint oil solution (PO) was very effective and had few side effects.
Aim
We clarified the efficacy and usefulness of PO as an antispasmodic during upper endoscopy, especially for elderly patients.
Methods
This study was a non-randomized prospective study. The antispasmodic score (1–5, where 5 represents no spasm) was defined according to the degree of spasms of the antrum and difficulty of biopsy. We compared the antispasmodic scores between non-elderly patients (younger than 70) and elderly patients (70 years old or older) according to the antispasmodic agent.
Results
A total of 8,269 (Group PO: HB: GL: NO (no antispasmodic) = 1,893: 6,063: 157: 156) EGD procedures were performed. There was no significant difference in the antispasmodic score between Group PO (mean score ± standard deviation: 4.025 ± 0.925) and Group HB (4.063 ± 0.887). Among the non-elderly patients, those in Group PO (n = 599, 3.923 ± 0.935) had a worse antispasmodic score than those in Group HB (n = 4,583, 4.062 ± 0.876, P < 0.001). However, among the elderly patients, those in Group PO (n = 1,294, 4.073 ± 0.917) had similar scores to those in Group HB (n = 1,480, 4.064 ± 0.921, P = 0.83), and significantly better scores than those in Group GL (n = 69, 3.797 ± 0.933, P < 0.05).
Conclusion
Peppermint oil was useful as an antispasmodic during EGD, especially for elderly patients.
Access options
Buy single article
Instant access to the full article PDF.
USD 39.95
Price includes VAT (USA)
Tax calculation will be finalised during checkout.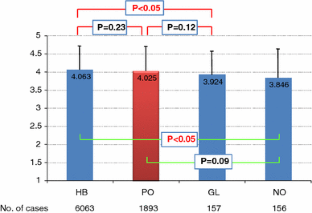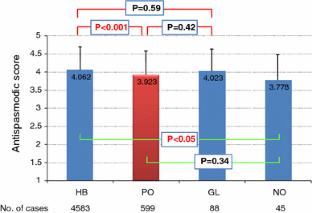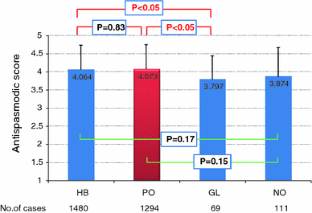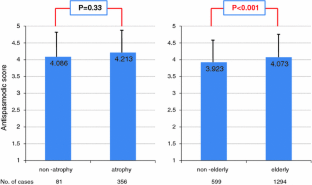 References
1.

Hashimoto T, Adachi K, Ishimura N, et al. Safety and efficacy of glucagon as a premedication for upper gastrointestinal endoscopy—a comparative study with butyl scopolamine bromide. Aliment Pharmacol Ther. 2002;16:111–118.

2.

Umegaki E, Abe S, Tokioka S, et al. Risk management for gastrointestinal endoscopy in elderly patients: questionnaire for patients undergoing gastrointestinal endoscopy. J Clin Biochem Nutr. 2010;46:73–80.

3.

Rees WD, Evans BK, Rhodes J. Treating irritable bowel syndrome with peppermint oil. Br Med J. 1979;2:835–836.

4.

Nolen HW III, Friend DR. Menthol-beta-D—a potential prodrug for treatment of the irritable bowel syndrome. Pharm Res. 1994;11:1707–1711.

5.

Cappello G, Spezzaferro M, Grossi L, Manzoli L, Marzio L. Peppermint oil (Mintoil) in the treatment of irritable bowel syndrome: a prospective double blind placebo-controlled randomized trial. Dig Liver Dis. 2007;39:530–536.

6.

Pittler MH, Ernst E. Peppermint oil for irritable bowel syndrome: a critical review and meta-analysis. Am J Gastroenterol. 1998;93:1131–1135.

7.

Bell GD. Premedication, preparation, and surveillance. Endoscopy. 2002;34:2–12.

8.

Hills JM, Aaronson PI. The mechanism of action of peppermint oil on gastrointestinal smooth muscle. An analysis using patch clamp electrophysiology and isolated tissue pharmacology in rabbit and guinea pig. Gastroenterology. 1991;101:55–65.

9.

Beesley A, Hardcastle J, Hardcastle PT, Taylor CJ. Influence of peppermint oil on absorptive and secretory processes in rat small intestine. Gut. 1996;39:214–219.

10.

Hiki N, Kurosaka H, Tatsutomi Y, et al. Peppermint oil reduces gastric spasm during upper endoscopy: a randomized, double-blind, double-dummy controlled trial. Gastrointest Endosc. 2003;57:475–482.

11.

Yamamoto N, Nakai Y, Sasahira N, et al. Efficacy of peppermint oil as an antispasmodic during endoscopic retrograde cholangiopancreatography. J Gastroenterol Hepatol. 2006;21:1394–1398.

12.

Nair B. Final report on the safety assessment of Mentha piperita(peppermint) oil, Mentha piperita (peppermint) leaf extract, Mentha piperita (peppermint) leaf, and Mentha piperita (peppermint) leaf water. Int J Toxicol. 2001;20:61–73.

13.

Niwa H, Nakamura T, Fujino M. Endoscopic observation on gastric peristalsis and pyloric movement (in Japanese with English abstract). Gastroenterol Endosc. 1975;17:236–242.

14.

May B, Kohler S, Schneider B. Efficacy and tolerability of a fixed combination of peppermint oil and caraway oil in patients suffering from functional dyspepsia. Aliment Pharmacol Ther. 2000;14:1671–1677.

15.

Somerville KW, Richmond CR, Bell GD. Delayed release peppermint oil capsules(Colpermin) for the spastic colon syndrome: a pharmacokinetic study. Br J Clin Pharmacol. 1984;18:638–640.

16.

Leicester RJ, Hunt RH. Peppermint oil to reduce colonic spasm during endoscopy. Lancet. 1982;2:989.

17.

Kingham JG. Peppermint oil and colon spasm. Lancet. 1995;346:986.

18.

Asao T, Mochiki E, Suzuki H, et al. An easy method for the intraluminal administration of peppermint oil before colonoscopy and its effectiveness in reducing colonic spasm. Gastrointest Endosc. 2001;53:172–177.

19.

Jarvis LJ, Hogg JIC, Houghton CD. Topical peppermint oil for the relief of colonic spasm at barium enema. Clin Radiol. 1992;42:435.

20.

Sparks MJ, O'Sullivan P, Herrington AA, Morcos SK. Does peppermint oil relieve spasm during barium enema? Br J Radiol. 1995;68:841–843.

21.

Asao T, Kuwano H, Ide M, et al. Spasmolytic effect of peppermint oil in barium during double-contrast barium enema compared with Buscopan. Clin Radiol. 2003;58:301–305.

22.

Mizuno S, Kato K, Ono Y, et al. Oral peppermint oil is a useful antispasmodic for doublecontrast barium meal examination. J Gastroenterol Hepatol. 2006;21:1297–1301.
Acknowledgments
The authors thank Ms Sachiyo Kondo, a member of the Department of Pharmacy, Tsuyama Central Hospital, and Mr Masashi Katagiri and Mr Eiji Mukai, members of the Department of Pharmacy, Mitoyo General Hospital, for their cooperation and assistance in this study. The authors thank Dr Yasuhiro Miyake for assistance in the preparation of this manuscript.
Conflict of interest
No conflicts of interest exist.
Additional information
Clinical trial registration number: UMIN00000 4710.
About this article
Cite this article
Imagawa, A., Hata, H., Nakatsu, M. et al. Peppermint Oil Solution Is Useful as an Antispasmodic Drug for Esophagogastroduodenoscopy, Especially for Elderly Patients. Dig Dis Sci 57, 2379–2384 (2012). https://doi.org/10.1007/s10620-012-2194-4
Received:

Accepted:

Published:

Issue Date:
Keywords
Antispasmodic drug

Esophagogastroduodenoscopy

Peppermint oil