Abstract
Background/Aim
Thrombocytopenia is a common complication of chronic liver disease. The theory of portal decompression to improve thrombocytopenia due to hypersplenism has led to the study of transjugular intrahepatic portosystemic shunt (TIPS) as a potential therapy. However, there is a paucity of data and results have been conflicting. The aim of this study was to determine whether platelet counts improved in cirrhotic patients after placement of the new polytetrafluoroethylene (PTFE)-coated TIPS, developed in 2004.
Methods
This is a retrospective cohort study of 68 patients with chronic liver disease who underwent a TIPS procedure. One-hundred twenty controls who did not undergo a TIPS procedure were matched on average for age, sex, race, model for end-stage liver disease (MELD) score, and etiology of liver disease. Platelet and hemoglobin counts were recorded during the month prior to the TIPS procedure (baseline) and over the following 12–14 months or until transplanted or death.
Results
While platelet counts improved during the first 3 months after TIPS with a mean increase of 11.25 × 103/μL (p = 0.064), they returned to baseline (pre-TIPS) with mean platelets of 91.31 × 103 μL by 12–14 months in comparison with a mild decrease of 10.2 × 103 μL in platelet counts in the control group from 100.4 × 103 μL to 90.2 × 103 (p = 0.119). There was also no significant correlation between platelet counts and etiology of liver disease, age, race, gender, or MELD score. Hemoglobin counts were found to have a small increase of 0.657 g/dL over the 12–14 month course in the TIPS group, which was statistically significant (p = 0.003).
Conclusion
There does not appear to be a significant improvement in thrombocytopenia in cirrhotic patients after TIPS placement, despite advances in TIPS stents. However, there may be a mild improvement in anemia after TIPS implantation.
Access options
Buy single article
Instant access to the full article PDF.
US$ 39.95
Tax calculation will be finalised during checkout.
Subscribe to journal
Immediate online access to all issues from 2019. Subscription will auto renew annually.
US$ 119
Tax calculation will be finalised during checkout.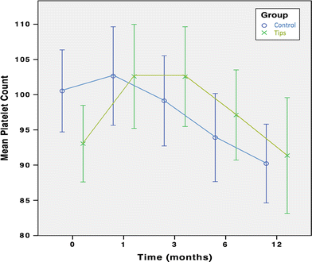 Abbreviations
DIC:

Disseminated intravascular coagulation

ITP:

Idiopathic thrombocytopenic purpura

TIPS:

Transjugular intrahepatic portosystemic shunt

e-PTFE:

Polytetrafluoroethylene

MELD:

Model for end-stage liver disease

HCC:

Hepatocellular carcinoma

HIV:

Human immunodeficiency virus

OLT:

Orthotopic liver transplantation

INR:

International normalized ratio

EGD:

Esophagogastroduodenoscopy

GI:

Gastrointestinal

HCV:

Hepatitis C virus

NAFLD:

Non-alcoholic fatty liver disease

PLT:

Platelets
References
1.

DeSancho MT, Pastores SM. The liver and coagulation. In: Rodes J, Benhamou JP, Rizzetto M, eds. Textbook of Hepatology, vol. 1. 3rd ed. Malden, MA: Blackwell; 2007:255–263.

2.

Giannini EG, Savarino V. Thrombocytopenia in liver disease. Curr Opin Hematol. 2008;15:473–480.

3.

Heddle NM, Klama L, Singer J, et al. The role of the plasma from platelet concentrates in transfusion reactions. N Engl J Med. 1994;331:625–628.

4.

McCormick PA, Murphy KM. Splenomegaly, hypersplenism and coagulation abnormalities in liver disease. Best Pract Res Clin Gastroenterol. 2000;14:1009–1031.

5.

Tomikawa M, Hashizume M, Akahoshi T, et al. Effects of splenectomy on liver volume and prognosis of cirrhosis in patients with esophageal varices. J Gastroenterol Hepatol. 2002;17:77–80.

6.

Sangro B, Bilbao I, Herrero I, et al. Partial splenic embolization for the treatment of hypersplenism in cirrhosis. Hepatology. 1993;18:309–314.

7.

Miura H, Kondo S, Shimada T, et al. Long-term effects of distal splenorenal shunt with splenopancreatic and gastric disconnection on hypersplenism due to liver cirrhosis. Hepatogastroenterology. 1999;46:2995–2998.

8.

Bureau C, Garcia-Pagan JC, Otal P, et al. Improved clinical outcomes using polytetrafluoroethylene-coated stents for TIPS: results of a randomized study. Gastroenterology. 2004;126:469–475.

9.

Sanyal A, Freedman AM, Purdum PP, Shiffman ML, Luketic VA. The hematologic consequences of transjugular intrahepatic portosystemic shunts. Hepatology. 1996;23:32–39.

10.

Lawrence SP, Lezotte DC, Durham JD, Kumpe DA, Everson GT, Bilir BM. Course of thrombocytopenia of chronic liver disease after transjugular intrahepatic portosystemic shunts (TIPS): a retrospective analysis. Dig Dis Sci. 1995;40:1575–1580.

11.

Gschwantler M, Vavrik J, Gebauer A, et al. Course of platelet counts in cirrhotic patients after implantation of a transjugular intrahepatic portosystemic shunt—a prospective, controlled study. J Hepatol. 1999;30:254–259.

12.

Jabbour N, Zajko A, Orons P, Irish W, Fung JJ, Selby RR. Does transjugular intrahepatic portosystemic shunt (TIPS) resolve thrombocytopenia associated with cirrhosis? Dig Dis Sci. 1998;43:2459–2462.

13.

Karasu Z, Gurakar A, Kerwin B, et al. Effect of transjugular intrahepatic portosystemic shunt on thrombocytopenia associated with cirrhosis. Dig Dis Sci. 2000;45:1971–1976.

14.

Pursnani KG, Sillin LF, Kaplan DS. Effect of transjugular intrahepatic portosystemic shunt on secondary hypersplenism. Am J Surg. 1997;173:169–173.

15.

Alvarez OA, Lopera GA, Patel V, Encarnacion CE, Palmaz JC, Lee M. Improvement of thrombocytopenia due to hypersplenism after transjugular intrahepatic portosystemic shunt placement in cirrhotic patients. Am J Gastroenterol. 1996;91:134–137.

16.

Jalan R, Redhead SN, Allan PL, Hayes PC. Prospective evaluation of haematological alterations following the transjugular intrahepatic portosystemic stent-shunt (TIPSS). Eur J Gastroenterol Hepatol. 1996;8:381–385.

17.

Puttini M, Marni A, Montes F, Belli L. Effect of portosystemic shunt on hypersplenism: clinical study in 129 patients with cirrhosis. Am Surg. 1979;45:444–448.

18.

Kaushansky K. Thrombopoietin. N Engl J Med. 1998;339:746–754.

19.

Afdhal N, McHutchison J, Brown R, et al. Thrombocytopenia associated with chronic liver disease. J Hepatol. 2008;48:1000–1007.

20.

Nascimbene A, Iannacone M, Brando B, DeGasperi A. Acute thrombocytopenia after liver transplant: role of platelet activation, thrombopoietin deficiency and response to high dose intravenous IgG treatment. J Hepatol. 2007;47:651–657.
Acknowledgments
The authors are indebted to the Interventional Radiology staff at Banner Good Samaritan Medical Center for performing the TIPS procedures and for providing a list of patients who underwent TIPS for enrollment in the study.
Conflict of interest
The above authors have no commercial affiliations or conflicts of interest to disclose.
About this article
Cite this article
Barney, E.J., Little, E.C., Gerkin, R.D. et al. Coated Transjugular Intrahepatic Portosystemic Shunt Does Not Improve Thrombocytopenia in Patients with Liver Cirrhosis. Dig Dis Sci 57, 2430–2437 (2012). https://doi.org/10.1007/s10620-012-2162-z
Received:

Accepted:

Published:

Issue Date:
Keywords
TIPS

Thrombocytopenia

Cirrhosis

Platelets

Hypersplenism