Abstract
Aim of the Study
To evaluate the antioxidant effect of an extract of the plant Boswellia serrata in an experimental model of acute ulcerative colitis induced by administration of acetic acid (AA) in rats.
Materials and Methods
The extract of B. serrata (34.2 mg/kg/day) was administered orally by gavage for 2 days before and after induction of colitis with AA diluted to 4 % and in a volume of 4 ml.
Results
The anal sphincter pressure in the groups treated with B. serrata showed a significant increase compared to the colitis group (P < 0.001). Histological analysis of treated animals showed less edema with preservation of mucosal crypts. Lipid peroxidation showed a significant decrease in the treated groups compared to the colitis group (P < 0.001). The superoxide dismutase (SOD) enzyme activity showed a significant reduction in the treated groups compared to the colitis group (P < 0.001), the glutathione peroxidase (GPx) significantly increased in the treated groups compared to colitis group (P < 0.05), and the same was the result for enzyme activity glutathione (GSH; P < 0.05).
Conclusions
The extract of B. serrata has active antioxidant substances that exert protective effects in acute experimental colitis.
Access options
Buy single article
Instant access to the full article PDF.
US$ 39.95
Tax calculation will be finalised during checkout.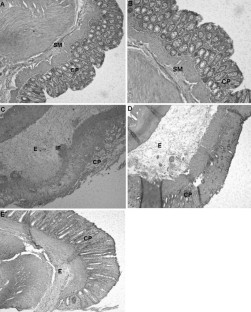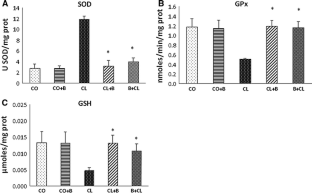 Abbreviations
ANOVA:

One-way analysis of variance

GPx:

Glutathione peroxidase

GSH:

Glutathione

IBD:

Inflammatory bowel disease

iNOS:

Inducible nitric oxide

LPO:

Lipid peroxidation

NO:

Nitric oxide

ROS:

Reactive oxygen species

SOD:

Superoxide dismutase

UC:

Ulcerative colitis
References
1.

Cotran R, Kumar V, Robbins S. Pathologic Basis of Disease. 6a ed. Pennsylvania: Saunders; 1999:1524.

2.

Hibi T, Ogata H. Novel pathophysiological concepts of inflammatory bowel disease. J Gastroenterol. 2006;41:10–16.

3.

Kelly CD. Inflammatory bowel disease, gut bacteria and probiotic therapy. J Med Microbiol. 2010;300:25–33.

4.

Pavlick KP, Laroux FS, Fuseler J, et al. Role of reactive metabolites of oxygen and nitrogen in inflammatory bowel disease. Free Radic Biol Med. 2002;33:311–322.

5.

Grisham MB. Oxidants and free radicals in inflammatory bowel disease. Lancet. 1994;344:859–861.

6.

Tüzün A, Erdil A, Inal V, Aydin A, Bağci S, Yeşilova Z. Oxidative stress and antioxidant capacity in patients with inflammatory bowel disease. Clin Biochem. 2002;35:569–572.

7.

Pravda J. Radical induction theory of ulcerative colitis. World J Gastroenterol. 2005;11:2371–2384.

8.

Halliwell B, Gutteridge JMC. Free Radicals in Biology and Medicine. 4th ed. Oxford: Oxford University Press; 2007:851.

9.

Yu BP. Cellular defenses against damage from reactive oxygen species. Physiol Rev. 1994;74:139–162.

10.

Langmead L, Dawson C, Hawkins C, Banna N, Loo S, Rampton DS. Antioxidant effects of herbal therapies used by patients with inflammatory bowel disease: an in vitro study. Aliment Pharmacol Ther. 2002;16:197–205.

11.

Rahimi R, Shams-Ardekani MR, Abdollahi M. A review of the efficacy of traditional Iranian medicine for inflammatory bowel disease. World J Gastroenterol. 2010;16:4504–4514.

12.

Sharma S, Thawani V, Hingorani L, Shrivastava M, Bhate VR, Khiyani R. Pharmacokinetic study of 11-keto-β-Boswellic acid. Phytomedicine. 2004;11:1255–1260.

13.

Kimmatkar N, Thawani V, Hingorani L, Khiyani R. Efficacy and tolerability of Boswellia serrata extract in treatment of osteoarthritis of knee-a randomized double blind placebo controlled trial. Phytomedicine. 2003;10:3–7.

14.

Huang MT, Badmaev V, Ding Y, Liu Y, Xie JG, Ho CT. Anti-tumor and anti-carcinogenic activities of triterpenoid, beta-boswellic acid. BioFactors. 2001;3:225–230.

15.

Krüger P, Daneshfar R, Eckert GP, et al. Metabolism of boswellic acids in vitro and in vivo. Drug Metab Dispos. 2008;36:1135–1142.

16.

Yamada Y, Marshall S, Specian RD, Grisham MB. A comparative analysis of two models of colitis in rats. Gastroenterology. 1992;102:1524–1534.

17.

Tannahill CL, Stevenot SA, Campbell-Thompson M, Nick HS, Valentine JF. Induction and immunolocalization of manganese superoxide dismutase in acute acetic acid-induced colitis in the rat. Gastroenterology. 1995;109:800–811.

18.

Krieglstein CF, Anthoni C, Rijcken EJ, et al. Acetyl-11-keto-β-boswellic acid, a constituent of a herbal medicine from Boswellia serrata resin, attenuates experimental ileitis. Int J Colorectal Dis. 2001;16:88–95.

19.

E.E.C. Council Directive 86/609/EEC of 24 November 1986 on the approximation of laws, regulations and administrative provisions of the Member States regarding the protection of animals used for experimental and other scientific purposes. Off J Eur Communities. 1986;L358:1.29.

20.

Read NW, Sun WM. Anorectal manometry. In: Henry MM, Swash M, eds. Coloproctology and the Pelvic Floor. 2nd ed. London: Butterworth-Heinemann Ltd; 1992:119–145.

21.

Llesuy SF, Milei J, Molina H, Boveris A, Milei S. Comparison of lipid peroxidation and myocardial damage induced by adriamycin and 4′-epiadriamycin in mice. Tumori. 1985;71:241–249.

22.

Lowry OH, Rosebrough AL, Farr AL, Randall R. Protein measurement with the folin phenol reagent. World J Biol Chem. 1951;193:265–275.

23.

Buege JA, Aust SD. Microsomal lipid peroxidation. Methods Enzymol. 1978;52:302–309.

24.

Misra HP, Fridovich I. The role of superoxide anion in the autoxidation of epinephrine and a simple assay for superoxide dismutase. World J Biol Chem. 1972;247:3170–3175.

25.

Flohé L, Beckmann R, Giertz H, Loschen G. Oxygen-centered free radicals as mediators of inflammation. In: Oxidative Stress. London: Academic; 1985:403–436.

26.

Beutler E, Duran O, Kelly BM. Improved method for determination of blood glutathione. J Lab Clin Med. 1963;61:802–888.

27.

Jurjus AR, Khoury NN, Reimund JM. Animal models of inflammatory bowel disease. J Pharmacol Toxicol Methods. 2004;50:81–92.

28.

Sailer ER, Subramanian LR, Rall B, Hoernlein RF, Ammon HP, Safayhi H. Acetyl-11-keto-β-boswellic acid (AKBA): structure requirements for binding and 5-lipoxygenase inhibitory activity. Br J Pharmacol. 1996;117:615–618.

29.

Anthoni C, Laukoetter MG, Rijcken E, et al. Mechanisms underlying the anti-inflammatory actions of boswellic acid derivatives in experimental colitis. Am J Physiol Gastrointest Liver Physiol. 2006;290:G1131–G1137.

30.

Fillmann H, Kretzmann NA, San-Miguel B, et al. Glutamine inhibits over-expression of pro-inflammatory genes and down-regulates the nuclear factor kappaB pathway in an experimental model of colitis in the rat. Toxicology. 2007;236:217–226.

31.

Kretzmann NA, Fillmann H, Mauriz JL, et al. Effects of glutamine on proinflammatory gene expression and activation of nuclear factor kappa B and signal transducers and activators of transcription in TNBS-induced colitis. Inflamm Bowel Dis. 2008;14:1504–1513.

32.

Ishihara T, Tanaka K, Tasaka Y, et al. Therapeutic effect of lecithinized superoxide dismutase against colitis. J Pharmacol Exp Ther. 2009;328:152–164.

33.

Latella G, Sferra R, Vetuschi A, et al. Prevention of colonic fibrosis by Boswellia and Scutellaria extracts in rats with colitis induced by 2,4,5-trinitrobenzene sulphonic acid. Eur J Clin Invest. 2008;38:410–420.

34.

Silva MS, Sánchez-Fidalgo S, Talero E, et al. Anti-inflammatory intestinal activity of Abarema cochliacarpos (Gomes) Barneby & Grimes in TNBS colitis model. J Ethnopharmacol. 2010;128:467–475.

35.

Varshosaz J, Emami J, Fassihi A, et al. Effectiveness of budesonide-succinate-dextran conjugate as a novel prodrug of budesonide against acetic acid-induced colitis in rats. Int J Colorectal Dis. 2010;25:1159–1165.

36.

Closa D, Folch-Puy E. Oxygen free radicals and the systemic inflammatory response. IUBMB Life. 2004;56:185–191.

37.

Dröge W. Free radicals in the physiological control of cell function. Physiol Rev. 2002;82:47–95.

38.

Lee IA, Hyun YJ, Kim DH. Berberine ameliorates TNBS-induced colitis by inhibiting lipid peroxidation, enterobacterial growth and NF-κB activation. Eur J Pharmacol. 2010;648:162–170.

39.

Martinez AR, Marin J. Role of vascular nitric oxide in physiological and pathological conditions. Pharmacol Ther. 1997;75:111–134.

40.

Fillmann HS, Kretzmann N, Llesuy S, Fillmann LS, Marroni NP. O Papel do Óxido Nítrico na Pressão Anal Esfincteriana de Ratos Submetidos à Colite Experimental. Rev Bras Coloproctol. 2006;26:437–442.

41.

Fillmann HS, Llesuy S, Marroni CA, Fillmann LS, Marroni NP. Diabetes mellitus and anal sphincter pressures: an experimental model in rats. Dis Colon Rectum. 2007;50:517–522.

42.

Tieppo J, Kretzmann NAF, Seleme M, Fillmann HS, Berghmans B, Marroni NP. Anal pressure in experimental diabetes. Dis Colon Rectum. 2009;24:1395–1399.

43.

Sathyasaikumar KV, Swapna I, Reddy PV, et al. Fulminant hepatic failure in rats induces oxidative stress differentially in cerebral cortex, cerebellum and pons medulla. Neurochem Res. 2007;32:517–524.

44.

Oktyabrsky ON, Smirnova GV. Redox regulation of cellular functions. Biochemistry (Mosc). 2007;72:132–145.

45.

John S, Kale M, Rathore N, Bhatnagar D. Protective effect of vitamin E in dimethoate and malathion induced oxidative stress in rat erythrocytes. J Nutr Biochem. 2001;12:500–504.

46.

Spolarics Z, Wu JX. Role of glutathione and catalase in H2O2 detoxification in LPS-activated hepatic endothelial and Kupffer cells. Am J Physiol Gastrointest Liver Physiol. 1997;273:G1304.

47.

Sengül N, Isik S, Aslim B, Uçar G, Demirbag AE. The effect of exopolysaccharide-producing probiotic strains on gut oxidative damage in experimental colitis. Dig Dis Sci. 2011;56:707–714.

48.

Shan X, Aw TY, Jones DP. Glutathione-dependent protection against oxidative injury. Aliment Pharmacol Ther. 1990;47:61–71.

49.

Tahan G, Gramignoli R, Marongiu F, Aktolga S, Cetinkaya A, Tahan V. Melatonin expresses powerful anti-inflammatory and antioxidant activities resulting in complete improvement of acetic-acid-induced colitis in rats. Dig Dis Sci. 2011;56:715–720.
Acknowledgments
Supported by grants from the Brazilian agencies Coordenação de Aperfeiçoamento de Pessoal de Nível Superior (CAPES), Fundo de Incentivo à Pesquisa e Eventos (FIPE/ proj nº 110215) of the Hospital de Clínicas de Porto Alegre (HCPA), and Laboratório de Hepatologia e Gastroenterologia Experimental (HCPA/UFRGS) of the Universidade Federal do Rio Grande do Sul (UFRGS).
Conflict of interest
None.
About this article
Cite this article
Hartmann, R.M., Morgan Martins, M.I., Tieppo, J. et al. Effect of Boswellia serrata on Antioxidant Status in an Experimental Model of Colitis Rats Induced by Acetic Acid. Dig Dis Sci 57, 2038–2044 (2012). https://doi.org/10.1007/s10620-012-2134-3
Received:

Accepted:

Published:

Issue Date:
Keywords
Antioxidant

Boswellia serrata

Inflammation

Oxidative stress

Radical scavenger

Ulcerative colitis