Abstract
Background
Patients with chronic hepatitis C virus (HCV) infection have high rates of alcohol consumption, which is associated with progression of fibrosis and lower response rates to HCV treatment.
Aims
This prospective cohort study examined the feasibility of a 24-week integrated alcohol and medical treatment to HCV-infected patients.
Methods
Patients were recruited from a hepatology clinic if they had an Alcohol Use Disorders Identification Test score >4 for women and >8 for men, suggesting hazardous alcohol consumption. The integrated model included patients receiving medical care and alcohol treatment within the same clinic. Alcohol treatment consisted of 6 months of group and individual therapy from an addictions specialist and consultation from a study team psychiatrist as needed.
Results
Sixty patients were initially enrolled, and 53 patients participated in treatment. The primary endpoint was the Addiction Severity Index (ASI) alcohol composite scores, which significantly decreased by 0.105 (41.7% reduction) between 0 and 3 months (P < 0.01) and by 0.128 (50.6% reduction) between 0 and 6 months (P < 0.01) after adjusting for covariates. Alcohol abstinence was reported by 40% of patients at 3 months and 44% at 6 months. Patients who did not become alcohol abstinent had reductions in their ASI alcohol composite scores from 0.298 at baseline to 0.219 (26.8% reduction) at 6 months (P = 0.08).
Conclusion
This study demonstrated that an integrated model of alcohol treatment and medical care could be successfully implemented in a hepatology clinic with significant favorable impact on alcohol use and abstinence among patients with chronic HCV.
This is a preview of subscription content, log in to check access.
Access options
Buy single article
Instant access to the full article PDF.
US$ 39.95
Price includes VAT for USA
Subscribe to journal
Immediate online access to all issues from 2019. Subscription will auto renew annually.
US$ 199
This is the net price. Taxes to be calculated in checkout.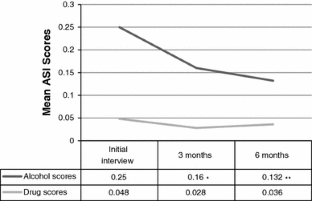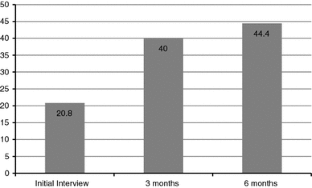 References
1.

Wise M, Bialek S, Finelli L, Bell BP, Sorvillo F. Changing trends in hepatitis C-related mortality in the United States, 1995–2004. Hepatology. 2008;47:1128–1135.

2.

World Health Organization. Global alert and response: Hepatitis C. Retrieved May 15th, 2011 from http://www.who.int/csr/disease/hepatitis/whocdscsrlyo2003/en/index8.html; 2002.

3.

Armstrong GL, Wasley A, Simard EP, McQuillan GM, Kuhnert WL, Alter MJ. The prevalence of hepatitis C virus infection in the United States, 1999 through 2002. Ann Intern Med. 2006;144:705–714.

4.

Poynard T, Bedossa P, Opolon P. Natural history of liver fibrosis progression in patients with chronic hepatitis C. Lancet. 1997;349:825–832.

5.

Wiley TE, McCarthy M, Breidi L, McCarthy M, Layden TJ. Impact of alcohol on the histological and clinical progression of hepatitis C infection. Hepatology. 1998;28:805–809.

6.

Mochida S, Ohnishi K, Matsuo S, Kakihara K, Fujiwara K. Effect of alcohol intake on the efficacy of interferon therapy in patients with chronic hepatitis C as evaluated by multivariate logistic regression analysis. Alcohol Clin Exp Res. 1996;20:371A–377A.

7.

Okazaki T, Yoshihara H, Suzuki K, et al. Efficacy of interferon therapy in patients with chronic hepatitis C: comparison between non-drinkers and drinkers. Scand J Gastroenterol. 1994;29:1039–1043.

8.

Ghany MG, Strader DB, Thomas DL, Seeff LB. Diagnosis, management, and treatment of hepatitis C: an update. Hepatology. 2009;49:1335–1374.

9.

McHutchison JG, Manns MP, Muir AJ, et al. Telaprevir for previously treated chronic HCV infection. New Eng J Med. 2010;362:1292–1303.

10.

Poordad F, McCone J, Bacon BR, et al. Boceprevir for untreated chronic HCV genotype 1 infection. New Eng J Med. 2011;364:1195–1206.

11.

Weisner C, Mertens J, Parthasarathy S, Moore C, Lu Y. Integrating primary medical care with addiction treatment. JAMA. 2001;286:1715–1723.

12.

McManus S, Hipkins J, Haddad P, Guthrie E, Creed F. Implementing an effective intervention for problem drinkers on medical wards. Gen Hosp Psychiat. 2003;25:332–337.

13.

Reiff-Hekking S, Ockene JK, Hurley TG, Reed GW. Brief physician and nurse practitioner-delivered counseling for high-risk drinking. Results at 12-month follow-up. J Genl Intern Med. 2005;20:7–13.

14.

Fleming M, Brown R, Brown D. The efficacy of a brief alcohol intervention combined with %CDT feedback in patients being treated for type 2 diabetes and/or hypertension. J Stud Alcohol. 2004;65:631–637.

15.

Parsons JT, Golub SA, Rosof E, Holder C. Motivational interviewing and cognitive-behavioral intervention to improve HIV medication adherence among hazardous drinkers: a randomized controlled trial. J Acq Immun Def Synd. 2007;46:443–450.

16.

Saunders JB, Aasland OG, Babor TF, De La Fuente JR, Grant M. Development of the alcohol use disorders identification test (AUDIT): WHO collaborative project on early detection of persons with harmful alcohol consumption-II. Addiction. 1993;88:791–804.

17.

Conigrave KM, Saunders JB, Reznik RB. Predictive capacity of the AUDIT questionnaire for alcohol-related harm. Addiction. 1995;90:1479–1485.

18.

National Institute of Alchohol Abuse and Alcoholism. Helping patients who drink too much: a clinician's guide. Retrieved May 15th, 2011 from http://pubs.niaaa.nih.gov/publications/practitioner/cliniciansguide2005/clinicians_guide.htm; 2005.

19.

Beck AT, Wright FD, Newman CF. Cocaine abuse. In: Freeman A, Dettilio F, eds. Comprehensive casebook of cognitive therapy. New York, NY: Plenum; 1992:1185–1192.

20.

Miller WR, Rollnick S. Motivational interviewing: preparing people to change addictive behavior. New York, NY: Guilford Press; 1991.

21.

Prochaska JO, DiClemente CC. Toward a comprehensive model of change. In: Miller WR, Heather N, eds. Treating addictive behaviors: process of change. New York, NY: Plenum Press; 1986:3–27.

22.

McGahan P, Griffith J, Parente R, McLellan A. Addiction severity index composite scores manual. Philadelphia, PA: Department of Veterans Affairs Medical Center; 1986.

23.

McLellan AT, Kushner H, Metzger D, et al. The fifth edition of the addiction severity index. J Subst Abuse Treat. 1992;9:199–213.

24.

Rikoon SH, Cacciola JS, Carise D, Alterman AI, McLellan AT. Predicting DSM-IV dependence diagnoses from addiction severity index composite scores. J Subst Abuse Treat. 2006;31:17–24.

25.

Pessione F, Ramond MJ, Peters L, et al. Five-year survival predictive factors in patients with excessive alcohol intake and cirrhosis. Effect of alcoholic hepatitis, smoking and abstinence. Liver Int. 2003;23:45–53.

26.

Pal HR, Yadav D, Mehta S, Mohan I. A comparison of brief intervention versus simple advice for alcohol use disorders in a North India community-based sample followed for 3 months. Alcohol Alcohol. 2007;42:328–332.

27.

Patkar AA, Thornton CC, Mannelli P, et al. Comparison of pretreatment characteristics and treatment outcomes for alcohol-, cocaine-, and multisubstance-dependent patients. J Addict Dis. 2004;23:93–109.

28.

Hassan MM, Hwang L-Y, Hatten CJ, et al. Risk factors for hepatocellular carcinoma: synergism of alcohol with viral hepatitis and diabetes mellitus. Hepatology. 2002;36:1206–1213.

29.

Pessione F, Degos F, Marcellin P, et al. Effect of alcohol consumption on serum hepatitis C virus RNA and histological lesions in chronic hepatitis C. Hepatology. 1998;27:1717–1722.

30.

Romero-Gómez M, Grande L, Nogales MC, Fernández M, Chavez M, Castro M. Intrahepatic hepatitis C virus replication is increased in patients with regular alcohol consumption. Digest Liver Dis. 2001;33:698–702.

31.

McHutchison JG, Everson GT, Gordon SC, et al. Telaprevir with peginterferon and ribavirin for chronic HCV genotype 1 infection. N Engl J Med. 2009;360:1827–1838.

32.

Kwo PY, Lawitz EJ, McCone J, et al. Efficacy of boceprevir, an NS3 protease inhibitor, in combination with peginterferon alfa-2b and ribavirin in treatment-naive patients with genotype 1 hepatitis C infection (SPRINT-1): an open-label, randomised, multicentre phase 2 trial. Lancet. 2010;376:705–716.

33.

McHutchison JG, Lawitz EJ, Shiffman ML, et al. Peginterferon alfa-2b or alfa-2a with ribavirin for treatment of hepatitis C infection. New Eng J Med. 2009;361:580–593.

34.

Moyer A, Finney JW, Swearingen CE, Vergun P. Brief interventions for alcohol problems: a meta-analytic review of controlled investigations in treatment-seeking and non-treatment-seeking populations. Addiction. 2002;97:279–292.

35.

Sylvestre D, Loftis J, Hauser P, et al. Co-occurring hepatitis C, substance use, and psychiatric illness: treatment issues and developing integrated models of care. J Urban Health. 2004;81:719–734.

36.

Knott A, Dieperink E, Willenbring ML, et al. Integrated psychiatric/medical care in a chronic Hepatitis C clinic: effect on antiviral treatment evaluation and outcomes. Am J Gastroenterol. 2006;101:2254–2262.

37.

Dieperink E, Ho SB, Heit S, Durfee JM, Thuras P, Willenbring ML. Significant reductions in drinking following brief alcohol treatment provided in a Hepatitis C clinic. Psychosomatics. 2010;51:149–156.

38.

Becker M. The health belief model and personal health behavior. Thorofare, NJ: Slack; 1974.
Acknowledgments
Integrated treatments require the support of all clinic staff. We wish to thank the medical providers of the Duke Liver Clinic, including Manal Abdelmalek, Elizabeth Goacher, Janet Jezsik, Keyur Patel, Dawn Piercy, and Hans Tillmann for their participation in the alcohol screening plan and recruitment of patients. We also thank Matthew Toth, MSW, for providing addictions treatment. The study was funded by NIH-NIAAA 1R21AA017252-01A1, "Integrated Intervention for Co-Occurring Alcohol Abuse and HCV."
About this article
Cite this article
Proeschold-Bell, R.J., Patkar, A.A., Naggie, S. et al. An Integrated Alcohol Abuse and Medical Treatment Model for Patients with Hepatitis C. Dig Dis Sci 57, 1083–1091 (2012). https://doi.org/10.1007/s10620-011-1976-4
Received:

Accepted:

Published:

Issue Date:
Keywords
HCV

Alcohol-related disorders

Delivery of health care

Integrated care

Hepatology clinic