Abstract
Background
Increased intestinal permeability (IP) has been implicated in the etiopathogenesis, disease activity and relapse of Crohn's disease (CD). Glutamine, the major fuel for the enterocytes, may improve IP.
Aim
We evaluated the effect of oral glutamine on IP and intestinal morphology in patients with CD.
Methods
In a randomized controlled trial, consecutive patients with CD in remission phase with an abnormal IP were randomized to a glutamine group (GG) or active control group (ACG) and were given oral glutamine or whey protein, respectively, as 0.5 g/kg ideal body weight/day for 2 months. IP was assessed by the lactulose mannitol excretion ratio (LMR) in urine, and morphometry was performed by computerized image analysis system.
Results
Patients (age 34.5 ± 10.5 years; 20 males) were assigned to the GG (n = 15) or ACG (n = 15). Fourteen patients in each group completed the trial. The LMR [median (range)] in GG and ACG at 2 months was 0.029 (0.006–0.090) and 0.033 (0.009–0.077), respectively, with P = 0.6133. IP normalized in 8 (57.1%) patients in each group (P = 1.000). The villous crypt ratio (VCR) [mean (SD)] in GG and ACG at 2 months was 2.68 (1.02) and 2.49 (0.67), respectively, (P = 0.347). At the end of 2 months LMR improved significantly in GG from 0.071 (0.041–0.254) to 0.029 (0.006–0.090) (P = 0.0012) and in ACG from 0.067 (0.040–0.136) to 0.033 (0.009–0.077) (P = 0.0063). VCR improved in the GG from 2.33 (0.77) to 2.68 (1.02) (P = 0.001), and in ACG from 2.26 (0.57) to 2.49 (0.67) (P = 0.009).
Conclusions
Intestinal permeability and morphology improved significantly in both glutamine and ACG.
This is a preview of subscription content,
to check access.
Access this article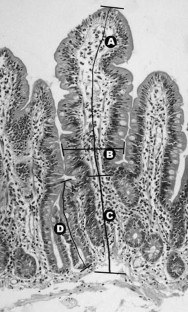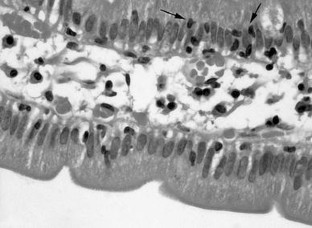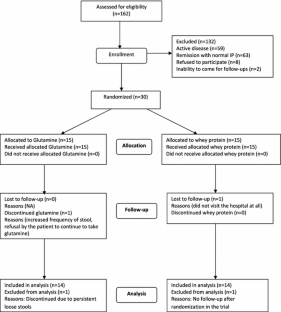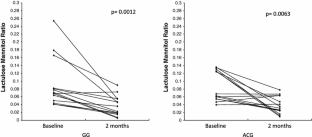 Similar content being viewed by others
References
Jorgensen J, Ranlov PJ, Bjerrum PJ, Diemer H, Bisgaard K, Elsborg L. Is an increased intestinal permeability a valid predictor of relapse in Crohn's disease? Scand J Gastroenterol. 2001;36:521–527.

Peeters M, Ghoos Y, Maes B, et al. Increased permeability of macroscopically normal small bowel in Crohn's disease. Dig Dis Sci. 1994;39:2170–2176.

Soderholm JD, Olaison G, Lindberg E, et al. Different intestinal permeability patterns in relatives and spouses in patients with Crohn's disease: an inherited defect in mucosal defence. Gut. 1999;44:96–100.

D'Inca R, Annese V, di Leo V, Latiano A, et al. Increased intestinal permeability and NOD2 variants in familial and sporadic Crohn's disease. Aliment Pharmacol Ther. 2006;23:1455–1461.

Hollander D, Vadheim CM, Bretthloz E, Petersen GM, Delahunty T, Rotter JI. Increased intestinal permeability in Crohn's patients and their relatives. A possible etiologic factor. Ann Intern Med. 1986;105:883–885.

Arrieta MC, Bistritz L, Meddings JB. Alterations in intestinal permeability. Gut. 2006;55:1512–1520.

Hilsden RJ, Meddings JB, Hardin J, Gall DG, Sutherland LR. Intestinal permeability and post-heparin plasma diamine oxidase activity in the prediction of Crohn's disease relapse. Inflamm Bowel Dis. 1999;5:85–91.

Hollander D. Intestinal permeability in health and disease. In: Kirsner JB, ed. Inflammatory bowel disease. Philadelphia: Saunders; 2000:45–54.

Andre F, Andre C, Enery Y, Forichon I, Descos L, Minaire Y. Assessment of lactulose–mannitol in Crohn's disease. Gut. 1988;29:511–515.

Sanderson IR, Boulton P, Menzies I, Walker-Smith JA. Improvement of abnormal lactulose/rhamnose permeability in active Crohn's disease of the small bowel by an elemental diet. Gut. 1987;28:1073–1076.

Souba WW. Glutamine: a key substrate for the splanchnic bed. Annu Rev Nutr. 1991;11:285–308.

Choi K, Lee SS, Oh SJ, Lim SY, Lim SY, Jeon WK. The effect of oral glutamine on 5-fluorouracil/leucovorin-induced mucositis/stomatitis assessed by intestinal permeability test. Clin Nutr. 2007;26:57–62.

De-Souza DA, Greene LJ. Intestinal permeability and systemic infections in critically ill patients: effect of glutamine. Crit Care Med. 2005;33:1125–1135.

Brewster D, Kukuruzovic R, Haase A. Short bowel syndrome, intestinal permeability and glutamine. J Pediatr Gastroenterol Nutr. 1998;27:614–615.

Noyer CM, Simon D, Borczuk A, Brandt LJ, Lee MJ, Nehra V. A double-blind placebo-controlled pilot study of glutamine therapy for abnormal intestinal permeability in patients with AIDS. Am J Gastroenterol. 1998;93:972–975.

Lima NL, Soares AM, Mota RM, Monterio HS, Guerrant RL, Lima AA. Wasting and intestinal barrier function in children taking alanyl-glutamine-supplemented enteral formula. J Pediatr Gastroenterol Nutr. 2007;44:365–374.

Foitzik T, Kruschewski M, Kroesen AJ, Hotz HG, Eibl G, Buhr HJ. Does glutamine reduce bacterial translocation? A study in two animal models with impaired gut barrier. Int J Colorectal Dis. 1999;14:143–149.

Demirkan A, Orazakunov E, Savas B, Kuzu MA, Melli M. Enteral glutamine pretreatment does not decrease plasma endotoxin level induced by eschemia-reperfusion injury in rats. World J Gastroenterol. 2008;14:463–468.

Chun H, Sasaki M, Fujiyama Y, Bamba T. Effect of enteral glutamine on intestinal permeability and bacterial translocation after abdominal radiation injury in rats. J Gastroenterol. 1997;32:189–195.

Wirén M, Magnusson KE, Larsson J. Enteral glutamine increases growth and absorptive capacity of intestinal mucosa in the malnourished rat. Scand J Gastroenterol. 1995;30:146–152.

Li J, Langkamp-Henken B, Suzuki K, Stahlgren LH. Glutamine prevents parenteral nutrition-induced increases in intestinal permeability. JPEN J Parenter Enteral Nutr. 1994;18:303–307.

Bai MX, Jiang ZM, Liu YW, Wang WT, Li DM, Wilmore DW. Effect of alanyl-glutamine on gut barrier function. Nutrition. 1996;12:793–796.

Haque SM, Chen K, Usui N, Liboshi Y, Okuyama H, Masunari A. Alanyl-glutamine dipeptide supplemented parenteral nutrition improves intestinal metabolism and prevents increased permeability in rats. Ann Surg. 1996;223:334–341.

Li N, Lewis P, Samuelson D, Liboni K, Neu J. Glutamine regulates Caco-2 cell tight junction proteins. Am J Physiol Gastrointest Liver Physiol. 2004;287:G726–G733.

Seth A, Basuroy S, Seth P, Rao RK. l-Glutamine ameliorates acetaldehyde induced increase in paracellular permeability in Caco-2 cell monolayer. Am J Physiol Gastrointest Liver Physiol. 2004;287:G510–G517.

Sukhotnik I, Khateeb K, Mogilner JG, et al. Dietary glutamine supplementation prevents mucosal injury and modulates intestinal epithelial restitution following ischemia-reperfusion injury in the rat. Dig Dis Sci. 2007;52:1497–1504.

Zoli G, Care M, Falco F, Spano C, Bernardi R, Gasbamini G. Effect of oral glutamine on intestinal permeability and nutritional status in Crohn's disease. Gastroenterology. 1995;108:A766.

van der Hulst RR, van Kreel BK, von Meyenfeldt MF, et al. Glutamine and the preservation of gut integrity. Lancet. 1993;341:1363–1365.

Bingham SA, Gill C, Welch A, et al. Comparison of dietary assessment methods in nutritional epidemiology: weighed records v. 24 h recalls, food-frequency questionnaires and estimated-diet records. Br J Nutr. 1994;72:619–643.

Gopalan C, Rama Sastri BV, Balasubramanian SC. Nutritive Value of Indian Foods. National Institute of Nutrition, Indian Council of Medical Research, Hyderabad; 1989.

Corcoran A, Page J. A method for determination of mannitol in plasma and urine. J Biol Chem. 1947;170:165–171.

Behrens RH, Docherty H, Elia M, Neale G. A simple enzymatic method for the assay of urinary lactulose. Clin Chim Acta. 1984;137:361–367.

Teerlink T, van Leeuwen PAM, Houdijk A. Plasma amino acids determined by liquid chromatography within 17 min. Clin Chem. 1994;40:245–249.

Velasco N, Hernandez G, Wainstein C, et al. Influence of polymeric enteral nutrition supplemented with different doses of glutamine on gut permeability in critically ill patients. Nutrition. 2001;17:907–911.

Fujita T, Sakurai K. Efficacy of glutamine enriched enteral nutrition in an experimental model of ulcerative colitis. Br J Surg. 1995;82:749–751.

Scheppach W, Dusel G, Kuhn T, et al. Effect of l-glutamine and n-butyrate on the restitution of rat colonic mucosa after acid induced injury. Gut. 1996;38:878–885.

Ameho CK, Adjei AA, Harrison EK, et al. Prophylactic effect of dietary glutamine supplementation on interleukin 8 and tumor necrosis factor production in trinitrobenzene sulfonic acid induced colitis. Gut. 1997;41:487–493.

Hond DE, Hiele M, Peeters M, Ghoos Y, Rutgeerts P. Effect of long term oral glutamine supplements on small intestinal permeability in patients with Crohn's disease. JPEN J Parenter Enteral Nutr. 1999;23:7–11.

Akobeng AK, Miller V, Thomas AG, Richmond K. Glutamine supplementation and intestinal permeability in Crohn's disease. JPEN J Parenter Enteral Nutr. 2000;24:196.

Ockenga J, Borchert K, Stuber E, Lochs H, Manna HP, Bischoff SC. Glutamine enriched total parenteral nutrition in patients with inflammatory bowel disease. Eur J Clin Nutr. 2005;59:1302–1309.

Garlick PJ. Assessment of the safety of glutamine and other amino acids. J Nutr. 2001;131:2556S–2561S.

Roth E. Nonnutritive effects of glutamine. J Nutr. 2008;138:2025S–2031S.

Akobeng AK, Miller V, Stanton J, Elbadri AM, Thomas AG. Double-blind randomized controlled trial of glutamine-enriched polymeric diet in the treatment of active Crohn's disease. J Pediatr Gastroenterol Nutr. 2000;30:78–84.

Buchman AL, Moukarzel AA, Bhuta S, Belle M, Ament ME, Eckhert CD. Parenteral nutrition is associated with intestinal morphologic and functional changes in humans. JPEN J Parenter Enteral Nutr. 1995;19:453–460.

Ziegler TR, Szeszycki EE, Estivariz CF, Puckett AB, Leader TM. Glutamine: from basic science to clinical applications. Nutrition. 1996;12:S68–S70.

De Marco VG, Li N, Thomas J, West CM, Neu J. Glutamine and barrier function in cultured Caco-2 epithelial cell monolayer. J Nutr. 2003;133:2176–2179.

Li N, Neu J. Glutamine deprivation alters intestinal tight junctions via a PI3-K/Akt mediated pathway in Caco-2 cells. J Nutr. 2009;139:710–714.

Boza J, Jiménez J, Baró L, Martínez O, Suárez MD, Gil A. Effects of native and hydrolyzed whey protein on intestinal repair of severely starved rats at weaning. J Pediatr Gastroenterol Nutr. 1996;22:186–193.

Ksiazyk J, Piena M, Kierkus J, Lyszkowska M. Hydrolyzed versus nonhydrolyzed protein diet in short bowel syndrome in children. J Pediatr Gastroenterol Nutr. 2002;35:615–618.

Howarth GS, Francis GL, Cool JC, Xu X, Byard RW, Read LC. Milk growth factors enriched from cheese whey ameliorate intestinal damage by methotrexate when administered orally to rats. J Nutr. 1996;126:2519–2530.

Gulsen N, Coskun B, Umucalilar HD, Inal F, Boydak M. Effect of lactose and dried whey supplementation on growth performance and histology of the immune system in broilers. Arch Tierernahr. 2002;56:131–139.

Daenzer M, Petzke KJ, Bequette BJ, Metges CC. Whole-body nitrogen and splanchnic amino acid metabolism differ in rats fed mixed diets containing casein or its corresponding amino acid mixture. J Nutr. 2001;131:1965–1972.

van der Hulst RR, von Meyenfeldt MF, van Freel BK, Thunnissen FB, Brummer RJ, Arends JW. Gut permeability, intestinal morphology, and nutritional depletion. Nutrition. 1998;14:1–6.

Juby LD, Dixon MF, Axon ATR. Abnormal intestinal permeability and jejunal morphometry. J Clin Pathol. 1987;40:714–718.

Cummins AG, Thompson FM, Butler RN, Cassidy JC, Gillis D. Improvement in intestinal permeability precedes morphometric recovery of the small intestine in celiac disease. Clin Sci. 2001;100:379–386.

Papaconstantinou HT, Hwang KO, Rajaraman S, Hellmich MR, Townsend CM Jr, Ko TC. Glutamine deprivation induces apoptosis in intestinal epithelial cells. Surgery. 1998;124:152–160.

Windemueller HG, Spaeth AE. Identification of ketone bodies and glutamine as the major respiratory fuels in vivo for postabsorptive rat small intestine. J Biol Chem. 1978;253:69–76.

McKeehan WL. Glycolysis, glutaminolysis and cell proliferation. Cell Biol Int Rep. 1982;6:635–650.

Marc Rhoads J, Wu G. Glutamine, arginine and leucine signaling in the intestine. Amino Acids. 2009;37:111–122.

van der Hulst RR, von Meyenfeldt MF, Tiebosch A, Buurman WA, Soeters PB. Glutamine and intestinal immune cells in humans. JPEN J Parenter Enteral Nutr. 1997;21:310–315.

Jackson NC, Carroll PV, Russell-Jones DL, Sönksen PH, Treacher DF, Umpleby AM. The metabolic consequences of critical illness: acute effects on glutamine and protein metabolism. Am J Physiol. 1999;276:E163–E170.

Parry-Billings M, Evans J, Calder PC, Newsholme EA. Does glutamine contribute to immunosuppression after major burns? Lancet. 1990;336:523–525.
Acknowledgments
We acknowledge the Indian Council of Medical Research (ICMR) for providing a research grant to carry out this work, Claris lifesciences Ltd. India, for providing glutamine for 15 patients for 2 months and Mahaan Proteins Ltd, India, for providing whey protein for 15 patients for 2 months.
Conflict of interest
There is no conflict of interest in this work.
About this article
Cite this article
Benjamin, J., Makharia, G., Ahuja, V. et al. Glutamine and Whey Protein Improve Intestinal Permeability and Morphology in Patients with Crohn's Disease: A Randomized Controlled Trial. Dig Dis Sci 57, 1000–1012 (2012). https://doi.org/10.1007/s10620-011-1947-9
Received:

Accepted:

Published:

Issue Date:

DOI: https://doi.org/10.1007/s10620-011-1947-9
Keywords