Abstract
Background
Ras proteins are crucial for cell differentiation and proliferation. Targeting Ras with farnesylthiosalicylic acid (FTS), a Ras antagonist, has been suggested as a therapeutic strategy in proliferative and inflammatory diseases.
Aims
To examine the role of Ras and the therapeutic potential of FTS in experimental colitis.
Methods
Colitis was induced in 26 mice by adding 2.5% dextran sodium sulfate to their drinking water for 7 days during which 12 study mice were treated with FTS and 14 control mice were given normal saline. Two additional controls included 10 naïve mice treated with FTS and 7 naïve non-treated mice. The animals were followed clinically and sacrificed after 7 days. Their colons were isolated for histological assessment and for measurement of myeloperoxidase activity (MPO), tumor necrosis factor-α(TNF-α), and interleukin-1β(Il-1β) levels. Ras and activated Ras expression was determined by immunoblotting assays. T cell populations in the colon and spleen were analyzed by flow-cytometry.
Results
FTS induced a 2.1-fold reduction in activated Ras levels (P < 0.004). FTS-treated mice had lower disease activity scores (3.9 ± 1.7 vs. 7.5 ± 2.3, P < 0.001), and lower levels of MPO activity (1.65 ± 0.6 vs. 2.6 ± 0.8 units/g, P < 0.007), Il-1β (2.4 ± 3.6 vs. 24.3 ± 17.5 pg/mg, P < 0.01) and TNF-α (0.63 ± 0.5 vs. 1.9 ± 1 pg/mg, P < 0.04). FTS increased regulatory T cell population in the spleen (1.9 ± 0.4-fold, P < 0.04), and decreased effector T cell populations in the colon and spleen by 24 ± 3% (P < 0.03) and 27 ± 1% (P < 0.02), respectively. FTS had no remarkable side effects.
Conclusions
Ras is involved in the inflammatory processes of induced colitis in mice and its inhibition by FTS ameliorates the severity of the inflammation.
Access options
Buy single article
Instant access to the full article PDF.
USD 39.95
Price excludes VAT (USA)
Tax calculation will be finalised during checkout.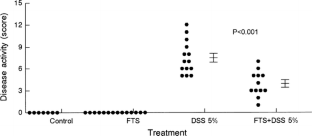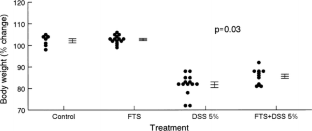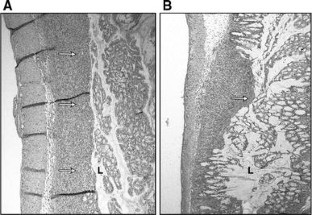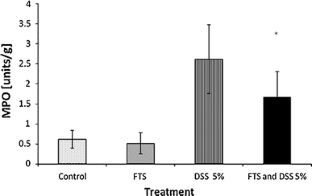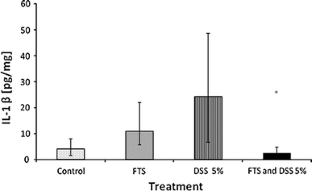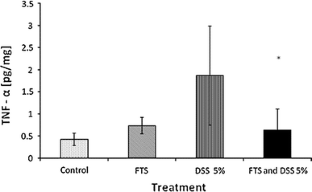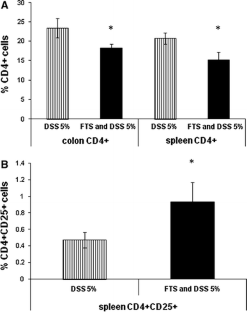 References
Podolsky DK. Inflammatory bowel disease. N Engl J Med. 2002;347:417–429.

Shanahn F. Inflammatory bowel disease: Immunodiagnostics, immunotheraputics, and ecotherapeutics. Gastroenterology. 2001;120:622–635.

Fiocchi C. Inflammatory bowel disease: Etiology and pathogenesis. Gastroenterology. 1998;115:182–205.

Bokoch GM, Der CJ. Emerging concepts in the Ras superfamily of GTP-binding proteins. FASEB J. 1993;7:750–759.

Reuther GW, Der CJ. The Ras branch of small GTPases: Ras family members don't fall far from the tree. Curr Opin Cell Biol. 2000;12:157–165.

Scheffzek K, Ahmadian MR, Kabsch W, et al. The Ras-RasGAP complex: Structural basis for GTPase activation and its loss in oncogenic Ras mutants. Science. 1997;277:333–338.

Kafri M, Kloog Y, Korczyn AD, et al. Inhibition of Ras attenuates the course of experimental autoimmune neuritis. J Neuroimmunol. 2005;168:46–55.

Clarke HC, Kocher HM, Khwaja A, et al. Ras antagonist farnesylthiosalicylic acid (FTS) reduces glomerular cellular proliferation and macrophage number in rat thy-1 nephritis. J Am Soc Nephrol. 2003;14:848–854.

Katzav A, Kloog Y, Korczyn AD, et al. Treatment of MRL/lpr mice, a genetic autoimmune model, with the Ras inhibitor FTS. Clin Exp Immunol. 2001;126:570–577.

Weijzen S, Velders MP, Kast WM. Modulation of the immune response and tumor growth by activated Ras. Leukemia. 1999;13:502–513.

Haklai R, Weisz MG, Elad G, et al. Dislodgment and accelerated degradation of Ras. Biochemistry. 1998;37:1306–1314.

Marom M, Haklai R, Ben-Baruch G, et al. Selective inhibition of Ras-dependent cell growth by farnesylthiosalisylic acid. J Biol Chem. 1995;270:2263–2270.

Elad-Sfadia G, Haklai R, Ballan E, et al. Galectin-1 augments Ras activation and diverts Ras signals to Raf-1 at the expense of phosphoinositide 3-kinase. J Biol Chem. 2002;277:37169–37175.

Elad-Sfadia G, Haklai R, Balan E, et al. Galectin-3 augments K-Ras activation and triggers a Ras signal that attenuates ERK but not phosphoinositide 3-kinase. J Biol Chem. 2004;279:34822–34930.

Belanis L, Sarah J, Plowman SJ, et al. Galectin-1 is a novel structural component and a major regulator of H-Ras nanoclusters. Mol Biol Cell. 2008;19:1404–1414.

Shalom-Feuerstein R, Levy R, Makovski V, et al. Galectin-3 regulates RasGRP4-mediated activation of N-Ras and H-Ras. Biochim Biophys Acta. 2008;1783:985–993.

Kloog Y, Cox AD. RAS inhibitors: potential for cancer therapeutics. Mol Med Today. 2000;6:398–402.

Le DT, Shannon KM. Ras processing as a therapeutic target in hematologic malignancies. Curr Opin Hematol. 2002;9:308–315.

Reif S, Aeed H, Shilo Y, et al. Treatment of thioacetamide-induced liver cirrhosis by the Ras antagonist, farnesylthiosalicylic acid. J Hepatol. 2004;41:235–241.

Reif S, Weis B, Aeed H, et al. The Ras antagonist, farnesylthiosalicylic acid (FTS), inhibits experimentally-induced liver cirrhosis in rats. J Hepatol. 1999;31:1053–1061.

Marciano D, Ben-Bar G, Marom M, et al. Farnesyl derivatives of rigid carboxylic acid-inhibitors of Ras dependent cell growth. J Med Chem. 1995;38:1267–1272.

Paz A, Haklai R, Elad G, et al. Galectin-1 binds H-Ras to mediate Ras membrane anchorage and cell transformation. Oncogene. 2000;20:471–474.

Rachmilewitz D, Karmeli F, Takabayashi K, et al. Immunostimulatory DNA ameliorates experimental and spontaneous murine colitis. Gastroenterology. 2002;122:1428–1441.

Bradley PP, Priebat DA, Christensen RD, et al. Measurement of cutaneous inflammation: estimation of neutrophil content with an enzyme marker. J Invest Dermatol. 1982;78:206–209.

Sharon P, Ligumsky M, Rachmilewitz D, et al. Role of prostaglandins in ulcerative colitis. Enhanced production during active disease and inhibition by sulfasalazine. Gastroenterology. 1978;75:638–640.

Karussis D, Abramsky O, Grigoriadis N, et al. The Ras-pathway inhibitor S-trans-trans-farnesylthiosalicylic acid, suppresses experimental allergic encephalomyelitis. J Neuroimmunol. 2000;120:1–9.

Zvibel I, Bar-Zohar D, Kloog Y, et al. The effect of Ras inhibition on the proliferation, apoptosis and matrix metalloproteases activity in rat hepatic stellate cells. Dig Dis Sci. 2008;53:1048–1053.

Olivera JB, Biedere N, Niemela JE, et al. NRAS mutation causes a human autoimmune lymphoproliferative syndrome. Proc Natl Acad Sci USA. 2007;104:8953–8958.

Fields PE, Gajewski TF. Biochemical analysis of activated T lymphocytes. Protein phosphorylation and Ras, ERK, and JNK activation. Methods Mol Biol. 2000;134:307–317.

Genot E, Cantrell DA. Ras regulation and function in lymphocytes. Curr Opin Immunol. 2000;12:289–294.

Mor A, Keren G, Kloog Y, et al. N-Ras or K-Ras inhibition increases the number and enhances the function of Foxp3 regulatory T cells. Eur J Immunol. 2008;38:1493–1502.

Marks RE, Ho AW, Robbel C, et al. Farnesyltransferase inhibitors inhibit T-cell cytokine production at the posttranscriptional level. Blood. 2007;110:1982–1988.

Mor A, Kloog Y, Keren G, et al. Ras inhibition increases the frequency and function of regulatory T cells and attenuates type-1 diabetes in non-obese diabetic mice. Eur J Pharmacol. 2009;616:301–305.

Rachmilewitz D, Katakura K, Karmeli F, et al. Toll-like receptor 9 signaling mediates the anti-inflammatory effects of probiotics in murine experimental colitis. Gastroenterology. 2004;126:520–528.
About this article
Cite this article
Oron, T., Elad-Sfadia, G., Haklai, R. et al. Prevention of Induced Colitis in Mice by the Ras Antagonist Farnesylthiosalicylic Acid. Dig Dis Sci 57, 320–326 (2012). https://doi.org/10.1007/s10620-011-1880-y
Received:

Accepted:

Published:

Issue Date:

DOI: https://doi.org/10.1007/s10620-011-1880-y
Keywords