Abstract
Background
Inflammatory bowel diseases (IBD) consist of an uncontrolled intestinal inflammation leading to mucosal disruption. This inflammation is accompanied by an excessive production of reactive oxygen species (ROS). Polyphenols are micronutrients with antioxidative and anti-inflammatory properties, and may play an interesting role in the prevention of intestinal inflammation. Lemon verbena (Aloysia triphylla) infusion is a popular herbal infusion rich in polyphenols (flavones and verbascoside).
Aims
This study evaluated the preventive effects of lemon verbena infusion consumption against mild-to-moderate dextran sulfate sodium (DSS)-induced colitis in rats.
Methods
Wistar rats drank water or lemon verbena infusion for 14 days. On day 15, half of the rats received DSS (4%) in their drink for 7 days. At the end of the experimental period, the colon was taken for histopathological examination and determination of myeloperoxidase (MPO) activity, antioxidant enzyme activities (superoxide dismutase [SOD], glutathione peroxidase [GPx], glutathione reductase [GR], catalase [CAT]), glutathione and lipid peroxidation. Lymphocyte populations were determined in blood, mesenteric nodes and Peyer's patches.
Results
Rats ingested daily 5.6 μmol of polyphenols. DSS reduced food intake and induced colitis, as reflected by histological lesions and increased MPO activity. Although these alterations were not significantly counteracted by lemon verbena consumption, the herbal infusion increased colonic SOD activity and decreased lipid peroxidation (malondialdehyde). Other oxidative stress markers (GPx, GR, CAT, glutathione) were not significantly modified.
Conclusion
Our study shows that the preventive consumption of lemon verbena infusion offered some antioxidative protection during experimental colitis by stimulating SOD activity and decreasing lipid peroxidation.
This is a preview of subscription content, log in to check access.
Access options
Buy single article
Instant access to the full article PDF.
US$ 39.95
Price includes VAT for USA
Subscribe to journal
Immediate online access to all issues from 2019. Subscription will auto renew annually.
US$ 199
This is the net price. Taxes to be calculated in checkout.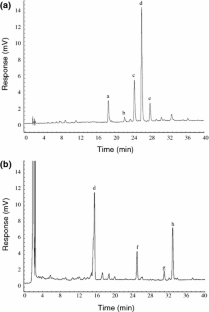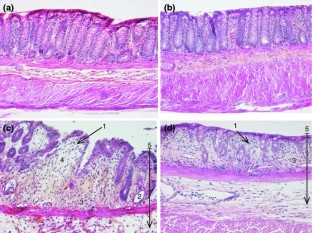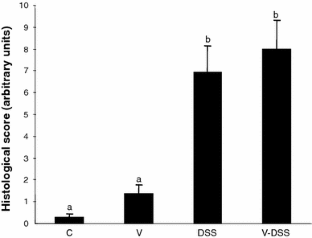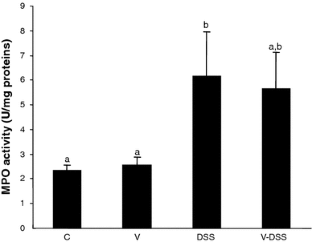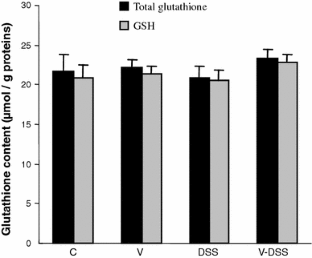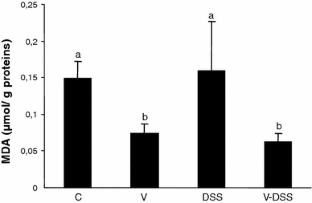 References
1.

Sands BE. Inflammatory bowel disease: past, present, and future. J Gastroenterol. 2007;42:16–25.

2.

Kruidenier L, Verspaget HW. Review article: oxidative stress as a pathogenic factor in inflammatory bowel disease—radicals or ridiculous? Aliment Pharmacol Ther. 2002;16:1997–2015.

3.

Damiani CR, Benetton CA, Stoffel C, Bardini KC, Cardoso VH, Di Giunta G, Pinho RA, Dal-Pizzol F, Streck EL. Oxidative stress and metabolism in animal model of colitis induced by dextran sulfate sodium. J Gastroenterol Hepatol. 2007;22:1846–1851.

4.

Buffinton GD, Doe WF. Depleted mucosal antioxidant defences in inflammatory bowel disease. Free Radic Biol Med. 1995;19:911–918.

5.

Koutroubakis IE, Malliaraki N, Dimoulios PD, Karmiris K, Castanas E, Kouroumalis EA. Decreased total and corrected antioxidant capacity in patients with inflammatory bowel disease. Dig Dis Sci. 2004;49:1433–1437.

6.

Trebble TM, Arden NK, Wootton SA, Calder PC, Mullee MA, Fine DR, Stroud MA. Fish oil and antioxidants alter the composition and function of circulating mononuclear cells in Crohn disease. Am J Clin Nutr. 2004;80:1137–1144.

7.

Aghdassi E, Wendland BE, Steinhart AH, Wolman SL, Jeejeebhoy K, Allard JP. Antioxidant vitamin supplementation in Crohn's disease decreases oxidative stress. A randomized controlled trial. Am J Gastroenterol. 2003;98:348–353.

8.

Seidner DL, Lashner BA, Brzezinski A, Banks PL, Goldblum J, Fiocchi C, Katz J, Lichtenstein GR, Anton PA, Kam LY, Garleb KA, Demichele SJ. An oral supplement enriched with fish oil, soluble fiber, and antioxidants for corticosteroid sparing in ulcerative colitis: a randomized, controlled trial. Clin Gastroenterol Hepatol. 2005;3:358–369.

9.

González-Gallego J, García-Mediavilla MV, Sánchez-Campos S, Tuñón MJ. Fruit polyphenols, immunity and inflammation. Br J Nutr. 2010;104:S15–S27.

10.

Del Rio D, Costa LG, Lean ME, Crozier A. Polyphenols and health: what compounds are involved? Nutr Metab Cardiovasc Dis. 2010;20:1–6.

11.

Romier B, Schneider YJ, Larondelle Y, During A. Dietary polyphenols can modulate the intestinal inflammatory response. Nutr Rev. 2009;67:363–378.

12.

Shapiro H, Singer P, Halpern Z, Bruck R. Polyphenols in the treatment of inflammatory bowel disease and acute pancreatitis. Gut. 2007;56:426–435.

13.

Atoui AK, Mansouri A, Boskou G, Kefalas P. Tea and herbal infusions: their antioxidant activity and phenolic profile. Food Chem. 2005;89:27–36.

14.

Teuscher E, Anton R, Lobstein A. Plantes aromatiques. Paris: Lavoisier; 2005.

15.

Valentão P, Fernandes E, Carvalho F, Andrade PB, Seabra RM, de Lourdes Basto M. Studies on the antioxidant activity of Lippia citriodora infusion: scavenging effect on superoxide radical, hydroxyl radical and hypochlorous acid. Biol Pharm Bull. 2002;25:1324–1327.

16.

Bilia AR, Giomi M, Innocenti M, Gallori S, Vincieri FF. HPLC-DAD-ESI-MS analysis of the constituents of aqueous preparations of verbena and lemon verbena and evaluation of the antioxidant activity. J Pharm Biomed Anal. 2008;46:463–470.

17.

Zamorano-Ponce E, Morales C, Ramos D, Sepúlveda C, Cares S, Rivera P, Fernández J, Carballo MA. Anti-genotoxic effect of Aloysia triphylla infusion against acrylamide-induced DNA damage as shown by the comet assay technique. Mutat Res. 2006;603:145–150.

18.

Carnat A, Carnat AP, Fraisse D, Lamaison JL. The aromatic and polyphenolic composition of lemon verbena tea. Fitoterapia. 1999;70:44–49.

19.

Mazzon E, Esposito E, Di Paola R, Riccardi L, Caminiti R, Dal Toso R, Pressi G, Cuzzocrea S. Effects of verbascoside biotechnologically produced by Syringa vulgaris plant cell cultures in a rodent model of colitis. Naunyn Schmiedebergs Arch Pharmacol. 2009;380:79–94.

20.

Hausmann M, Obermeier F, Paper DH, Balan K, Dunger N, Menzel K, Falk W, Schoelmerich J, Herfarth H, Rogler G. In vivo treatment with the herbal phenylethanoid acteoside ameliorates intestinal inflammation in dextran sulphate sodium-induced colitis. Clin Exp Immunol. 2007;148:373–381.

21.

Ashokkumar P, Sudhandiran G. Protective role of luteolin on the status of lipid peroxidation and antioxidant defense against azoxymethane-induced experimental colon carcinogenesis. Biomed Pharmacother. 2008;62:590–597.

22.

Steghens JP, Flourié F, Arab K, Collombel C. Fast liquid chromatography-mass spectrometry glutathione measurement in whole blood: micromolar GSSG is a sample preparation artifact. J Chromatogr B Analyt Technol Biomed Life Sci. 2003;798:343–349.

23.

Steghens JP, van Kappel AL, Denis I, Collombel C. Diaminonaphtalene, a new highly specific reagent for HPLC-UV measurement of total and free malondialdehyde in human plasma or serum. Free Radic Biol Med. 2001;31:242–249.

24.

Pérez-Jiménez J, Fezeu L, Touvier M, Arnault N, Manach C, Hercberg S, Galan P, Scalbert A. Dietary intake of 337 polyphenols in French adults. Am J Clin Nutr. 2011;93:1220–1228.

25.

Gaudio E, Taddei G, Vetuschi A, Sferra R, Frieri G, Ricciardi G, Caprilli R. Dextran sulfate sodium (DSS) colitis in rats: clinical, structural, and ultrastructural aspects. Dig Dis Sci. 1999;44:1458–1475.

26.

Cooper HS, Murthy SN, Shah RS, Sedergran DJ. Clinicopathologic study of dextran sulfate sodium experimental murine colitis. Lab Invest. 1993;69:238–249.

27.

Kitajima S, Takuma S, Morimoto M. Tissue distribution of dextran sulfate sodium (DSS) in the acute phase of murine DSS-induced colitis. J Vet Med Sci. 1999;61:67–70.

28.

Holma R, Salmenperä P, Virtanen I, Vapaatalo H, Korpela R. Prophylactic potential of montelukast against mild colitis induced by dextran sulphate sodium in rats. J Physiol Pharmacol. 2007;58:455–467.

29.

Koetzner L, Grover G, Boulet J, Jacoby HI. Plant-derived polysaccharide supplements inhibit dextran sulfate sodium-induced colitis in the rat. Dig Dis Sci. 2010;55:1278–1285.

30.

Kwon KH, Murakami A, Tanaka T, Ohigashi H. Dietary rutin, but not its aglycone quercetin, ameliorates dextran sulfate sodium-induced experimental colitis in mice: attenuation of pro-inflammatory gene expression. Biochem Pharmacol. 2005;69:395–406.

31.

Arafa HM, Hemeida RA, El-Bahrawy AI, Hamada FM. Prophylactic role of curcumin in dextran sulfate sodium (DSS)-induced ulcerative colitis murine model. Food Chem Toxicol. 2009;47:1311–1317.

32.

Vowinkel T, Kalogeris TJ, Mori M, Krieglstein CF, Granger DN. Impact of dextran sulfate sodium load on the severity of inflammation in experimental colitis. Dig Dis Sci. 2004;49:556–564.

33.

Martín AR, Villegas I, La Casa C, de la Lastra CA. Resveratrol, a polyphenol found in grapes, suppresses oxidative damage and stimulates apoptosis during early colonic inflammation in rats. Biochem Pharmacol. 2004;67:1399–1410.

34.

Cui X, Jin Y, Hofseth AB, Pena E, Habiger J, Chumanevich A, Poudyal D, Nagarkatti M, Nagarkatti PS, Singh UP, Hofseth LJ. Resveratrol suppresses colitis and colon cancer associated with colitis. Cancer Prev Res. 2010;3:549–559.

35.

Karrasch T, Kim JS, Jang BI, Jobin C. The flavonoid luteolin worsens chemical-induced colitis in NF-kappaB (EGFP) transgenic mice through blockade of NF-kappaB-dependent protective molecules. PLoS One. 2007;2:e596.

36.

Serteyn D, Grulke S, Franck T, Mouithys-Mickalad A, Deby-Dupont G. La myéloperoxydase des neutrophiles, une enzyme de défense aux capacités oxydantes. Ann Méd Vét. 2003;147:79–93.

37.

Roessner A, Kuester D, Malfertheiner P, Schneider-Stock R. Oxidative stress in ulcerative colitis-associated carcinogenesis. Pathol Res Pract. 2008;204:511–524.

38.

Fraga CG, Galleano M, Verstraeten SV, Oteiza PI. Basic biochemical mechanisms behind the health benefits of polyphenols. Mol Aspects Med. 2010;31:435–445.

39.

Kruidenier L, Kuiper I, Van Duijn W, Mieremet-Ooms MA, van Hogezand RA, Lamers CB, Verspaget HW. Imbalanced secondary mucosal antioxidant response in inflammatory bowel disease. J Pathol. 2003;201:17–27.

40.

Zhou YH, Yu JP, Liu YF, Teng XJ, Ming M, Lv P, An P, Liu SQ, Yu HG. Effects of Ginkgo biloba extract on inflammatory mediators (SOD, MDA, TNF-alpha, NF-kappaBp65, IL-6) in TNBS-induced colitis in rats. Mediators Inflamm. 2006;2006:92642.

41.

Seguí J, Gil F, Gironella M, Alvarez M, Gimeno M, Coronel P, Closa D, Piqué JM, Panés J. Down-regulation of endothelial adhesion molecules and leukocyte adhesion by treatment with superoxide dismutase is beneficial in chronic immune experimental colitis. Inflamm Bowel Dis. 2005;11:872–882.

42.

Singh K, Jaggi AS, Singh N. Exploring the ameliorative potential of Punica granatum in dextran sulfate sodium induced ulcerative colitis in mice. Phytother Res. 2009;23:1565–1574.

43.

Camuesco D, Gálvez J, Nieto A, Comalada M, Rodríguez-Cabezas ME, Concha A, Xaus J, Zarzuelo A. Dietary olive oil supplemented with fish oil, rich in EPA and DHA (n-3) polyunsaturated fatty acids, attenuates colonic inflammation in rats with DSS-induced colitis. J Nutr. 2005;135:687–694.

44.

Oz HS, Chen TS, McClain CJ, de Villiers WJS. Antioxidants as novel therapy in a murine model of colitis. J Nutr Biochem. 2005;16:297–304.

45.

Egger B, Bajaj-Elliott M, MacDonald TT, Inglin R, Eysselein VE, Büchler MW. Characterisation of acute murine dextran sodium sulphate colitis: cytokine profile and dose dependency. Digestion. 2000;62:240–248.

46.

Shi XZ, Winston JH, Sarna SK. Differential immune and genetic responses in rat models of Crohn's colitis and ulcerative colitis. Am J Physiol Gastrointest Liver Physiol. 2011;300:G41–G51.

47.

Vicario M, Amat C, Rivero M, Moretó M, Pelegrí C. Dietary glutamine affects mucosal functions in rats with mild DSS-induced colitis. J Nutr. 2007;137:1931–1937.

48.

Pérez-Bosque A, Pelegrí C, Vicario M, Castell M, Russell L, Campbell JM, Quigley JD 3rd, Polo J, Amat C, Moretó M. Dietary plasma protein affects the immune response of weaned rats challenged with S. aureus superantigen B. J. Nutr. 2004;134:2667–2672.
Acknowledgements
This work was funded by 3inature BIOSPHERE.
About this article
Cite this article
Lenoir, L., Rossary, A., Joubert-Zakeyh, J. et al. Lemon Verbena Infusion Consumption Attenuates Oxidative Stress in Dextran Sulfate Sodium-Induced Colitis in the Rat. Dig Dis Sci 56, 3534–3545 (2011). https://doi.org/10.1007/s10620-011-1784-x
Received:

Accepted:

Published:

Issue Date:
Keywords
Lemon verbena

Polyphenols

Dextran sodium sulfate

Colitis

Oxidative stress

Rat