Abstract
Background and Aims
Exaggerated pressure fluctuation between the thorax and abdomen during exercise or with pulmonary disease may challenge the gastroesophageal barrier and allow reflux of gastric juice into the esophagus. The aim of this study was to investigate the pressure differentials in the region of the gastroesophageal junction to better understand the relationship between the thoraco-abdominal pressure gradient and the lower esophageal sphincter (LES) barrier function.
Methods
We reviewed the esophageal motility and 24-h pH studies in 151 patients with a manometrically normal lower esophageal sphincter who did not have pulmonary disease, history of anti-reflux surgery, hiatal hernia, or ineffective esophageal motility (IEM). Intra-abdominal gastric and intra-thoracic esophageal pressure fluctuations with respiration were measured and the thoraco-abdominal pressure gradients were calculated during both inspiratory and expiratory phases of the respiratory cycle. Predictive factors for an abnormal composite pH score were identified by multivariable analysis.
Results
An inspiratory thoraco-abdominal pressure gradient that was higher than the resting LES pressure was found in 27 patients. In 23 of these patients (85.2%) there was increased esophageal acid exposure (OR 13.5, 95% CI 4.4–41.8). An abnormal composite pH score was predicted by a high inspiratory thoraco-abdominal pressure gradient (P < 0.001), greater fluctuation between inspiratory and expiratory thoracic pressure (P = 0.023), lower LES resting pressure (P = 0.049) and a decreased residual pressure after a swallow induced relaxation (P = 0.002).
Conclusions
The gastroesophageal barrier function of the LES can be overcome during times when the inspiratory thoraco-abdominal pressure gradient is increased, leading to reflux of gastric juice into the esophagus. This implies that exaggerated ventilatory effort, as occurs with exercise or in respiratory disease, can result in gastroesophageal reflux.
Access options
Buy single article
Instant access to the full article PDF.
US$ 39.95
Tax calculation will be finalised during checkout.
Subscribe to journal
Immediate online access to all issues from 2019. Subscription will auto renew annually.
US$ 119
Tax calculation will be finalised during checkout.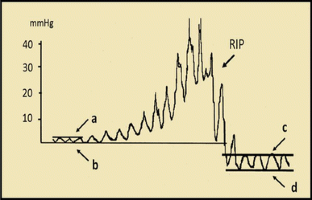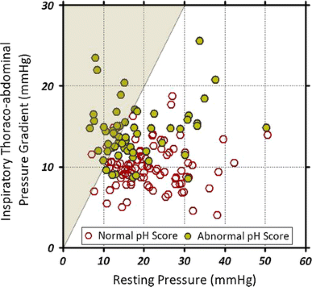 References
1.

Zaninotto G, DeMeester TR, Schwizer W, Johansson KE, Cheng SC. The lower esophageal sphincter in health and disease. Am J Surg. 1988;155:104–111.

2.

Fisher RS, Malmud LS, Roberts GS, Lobis IF. The lower esophageal sphincter as a barrier to gastroesophageal reflux. Gastroenterology. 1977;72:19–22.

3.

Johnsson F, Joelsson B, Gudmundsson K. Determinants of gastro-oesophageal reflux and their inter-relationships. Br J Surg. 1989;76:241.

4.

Iftikhar SY, Hardy JG, Evans DF, Ledingham S, Atkinson M. Dysphagia and dysmotility in Barrett's oesophagus. Eur J Gastroenterol Hepatol. 1992;4:111–114.

5.

Stanciu C, Hoare RC, Bennett JR. Correlation between manometric and pH tests for gastro-oesophageal reflux. Gut. 1977;18:536–540.

6.

Mittal RK, Holloway RH, Penagini R, Blackshaw LA, Dent J. Transient lower esophageal sphincter relaxation. Gastroenterology. 1995;109:601–610.

7.

Ayazi S, Tamhankar A, DeMeester SR, et al. The impact of gastric distension on the lower esophageal sphincter and its exposure to acid gastric juice. Ann Surg. 2010;252:57–62.

8.

Sloan S, Rademaker AW, Kahrilas PJ. Determinants of gastroesophageal junction incompetence: hiatal hernia, lower esophageal sphincter, or both? Ann Intern Med. 1992;117:977–982.

9.

Kahrilas PJ, Dodds WJ, Hogan WJ. Effect of peristaltic dysfunction on esophageal volume clearance. Gastroenterology. 1988;94:73–80.

10.

Rakic S, Stein HJ, DeMeester TR, Hinder RN. Role of esophageal body function in gastroesophageal reflux disease: implications for surgical management. J Am Coll Surg. 1997;185:396–403.

11.

Wernly JA, DeMeester TR, Bryant GH, et al. Intra-abdominal pressure as a cause of gastroesophageal reflux: a study in man. Surg Forum. 1978;29:434–437.

12.

Ayazi S, Hagen JA, Chan LS, et al. Obesity and gastroesophageal reflux: quantifying the association between body mass index, esophageal acid exposure, and lower esophageal sphincter status in a large series of patients with reflux symptoms. J Gastrointest Surg. 2009;13:1440–1447.

13.

Casanova C, Baudet JS, del Valle Velasco M, et al. Increased gastro-oesophageal reflux disease in patients with severe COPD. Eur Respir J. 2004;23:841–845.

14.

Sweet MP, Patti MG, Hoopes C, et al. Gastro-oesophageal reflux, aspiration in patients with advanced lung disease. Thorax. 2009;64:167–173.

15.

Ayazi S, Leers JM, Oezcelik A, et al. Measurement of gastric pH in ambulatory esophageal pH monitoring. Surg Endosc. 2009;23:1968–1973.

16.

Clark CS, Kraus BB, Sinclair J, et al. Gastroesophageal reflux induced by exercise in healthy volunteers. JAMA. 1989;261:3599–601.

17.

Van Nieuwenhoven MA, Brummer RJM, Brouns F. Gastrointestinal function during exercise: comparison of water, sports drink and sports drink with caffeine. J Appl Physiol. 2000;89:1079–1085.
About this article
Cite this article
Ayazi, S., DeMeester, S.R., Hsieh, CC. et al. Thoraco-Abdominal Pressure Gradients During the Phases of Respiration Contribute to Gastroesophageal Reflux Disease. Dig Dis Sci 56, 1718–1722 (2011). https://doi.org/10.1007/s10620-011-1694-y
Received:

Accepted:

Published:

Issue Date:
Keywords
Lower esophageal sphincter

Gastroesophageal reflux

Respiration

Pressure gradient