Abstract
Background
Standardized criteria for assessing microscopic esophageal lesions are required to test their utility as markers of gastroesophageal reflux disease (GERD).
Aims
To finalize draft criteria for assessing microscopic esophageal lesions associated with gastroesophageal reflux and to test them for interobserver agreement.
Methods
An international group of gastrointestinal pathologists was convened to finalize, using a consensus-based approach, draft criteria for recognizing microscopic esophageal lesions. Finalized criteria were retested for interobserver variability by four of the pathologists using 120 digitized esophageal biopsy slides from patients with GERD.
Results
The finalized criteria included further clarification on lesion definitions and new guidance on how to select the area for assessing each lesion. This latter refinement was guided by the high interobserver agreement observed when draft criteria were previously applied to biopsies where the assessment area was preselected. When finalized criteria were applied in the current study to digitized biopsies without a preselected assessment area, the pairwise agreement was 73–97% for basal cell hyperplasia, papillary elongation, intraepithelial eosinophil, neutrophil and mononuclear cell numbers, and active/healed erosions, with slightly lower agreement (64%) for dilated intercellular spaces (DIS). When a combined severity score was applied, the level of agreement was 77%. The mean kappa ranged from fair to high (0.26–0.77) for individual lesions and was high for the combined score (0.64).
Conclusions
These levels of agreement are comparable with or higher than those for other accepted histologic definitions. Further steps include clinical validation of these criteria by correlating microscopic lesions with clinical variables such as esophageal acid exposure.
Access options
Buy single article
Instant access to the full article PDF.
USD 39.95
Price excludes VAT (USA)
Tax calculation will be finalised during checkout.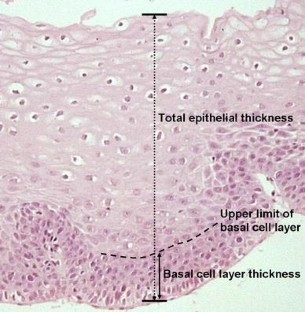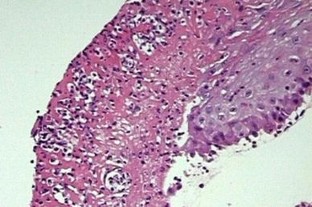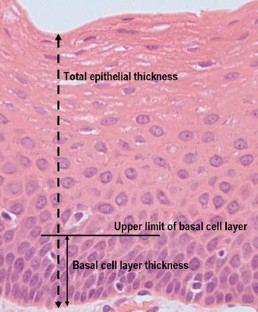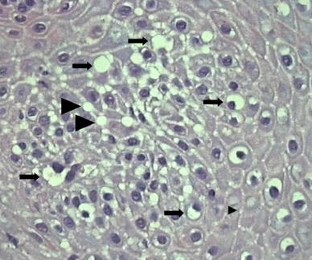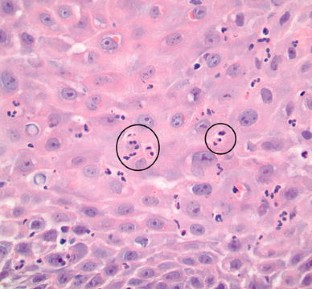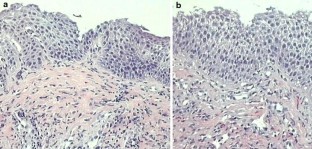 References
Vakil N, van Zanten SV, Kahrilas P, et al. The Montreal definition and classification of gastroesophageal reflux disease: A global evidence-based consensus. Am J Gastroenterol. 2006;101:1900–1920.

Voutilainen M, Sipponen P, Mecklin JP, et al. Gastroesophageal reflux disease: Prevalence, clinical, endoscopic and histopathological findings in 1,128 consecutive patients referred for endoscopy due to dyspeptic and reflux symptoms. Digestion. 2000;61:6–13.

Isolauri J, Luostarinen M, Isolauri E, et al. Natural course of gastroesophageal reflux disease: 17–22 year follow-up of 60 patients. Am J Gastroenterol. 1997;92:37–41.

Corder AP, Jones RH, Sadler GH, et al. Heartburn, oesophagitis and Barrett's oesophagus in self-medicating patients in general practice. Br J Clin Pract. 1996;50:245–248.

Ronkainen J, Aro P, Storskrubb T, et al. High prevalence of gastroesophageal reflux symptoms and esophagitis with or without symptoms in the general adult Swedish population: A Kalixanda study report. Scand J Gastroenterol. 2005;40:275–285.

Zagari RM, Pozzato P, Nicolini G, et al. Prevalence of asymptomatic endoscopic lesions of the upper gastrointestinal tract. Preliminary results of The Loiano-Monghidoro population study. Gastroenterology. 2002;122:A208.

Dent J. Microscopic esophageal mucosal injury in nonerosive reflux disease. Clin Gastroenterol Hepatol. 2007;5:4–16.

Vieth M, Fiocca R, Haringsma J, et al. Radial distribution of dilated intercellular spaces of the esophageal squamous epithelium in patients with reflux disease exhibiting discrete endoscopic lesions. Dig Dis. 2004;22:208–212.

Vieth M, Peitz U, Labenz J, et al. What parameters are relevant for the histological diagnosis of gastroesophageal reflux disease without Barrett's mucosa? Dig Dis. 2004;22:196–201.

Zentilin P, Savarino V, Mastracci L, et al. Reassessment of the diagnostic value of histology in patients with GERD, using multiple biopsy sites and an appropriate control group. Am J Gastroenterol. 2005;100:2299–2306.

Winter HS, Madara JL, Stafford RJ, et al. Intraepithelial eosinophils: A new diagnostic criterion for reflux esophagitis. Gastroenterology. 1982;83:818–823.

Fiocca R, Mastracci L, Riddell R, et al. Development of consensus guidelines for the histologic recognition of microscopic esophagitis in patients with gastroesophageal reflux disease: The Esohisto project. Hum Pathol. 2010;41:223–231.

Mastracci L, Spaggiari P, Grillo F, et al. Microscopic esophagitis in gastro-esophageal reflux disease: Individual lesions, biopsy sampling, and clinical correlations. Virchows Arch. 2009;454:31–39.

Lundell L, Attwood S, Ell C, et al. Comparing laparoscopic antireflux surgery with esomeprazole in the management of patients with chronic gastro-oesophageal reflux disease: A 3-year interim analysis of the LOTUS trial. Gut. 2008;57:1207–1213.

Haas M. The reliability of reliability. J Manipulative Physiol Ther. 1991;14:199–208.

Behar J, Sheahan D. Histologic abnormalities in reflux esophagitis. Arch Pathol. 1975;99:387–391.

Ismail-Beigi F, Horton PF, Pope CE 2nd. Histological consequences of gastroesophageal reflux in man. Gastroenterology. 1970;58:163–174.

Groben PA, Siegal GP, Shub MD, et al. Gastroesophageal reflux and esophagitis in infants and children. Perspect Pediatr Pathol. 1987;11:124–151.

Cooper HS, Dayal Y, Gourley WK, et al. Proceedings of the 1988 Subspecialty Conference on Gastrointestinal Pathology at the USCAP. United States and Canadian Academy of Pathology. Diagnostic nonproblems in gastrointestinal biopsy pathology. Mol Pathol. 1989;2:244–259.

Mitros FA. Atlas of gastrointestinal pathology. Philadelphia: Lippincott; 1988:1.2–1.12.

Sternberg SS. Histology for pathologists. 2nd ed. Philadelphia: Lippincott; 1997:468.

Vieth M, Haringsma J, Delarive J, et al. Red streaks in the oesophagus in patients with reflux disease: Is there a histomorphological correlate? Scand J Gastroenterol. 2001;36:1123–1127.

Villanacci V, Grigolato PG, Cestari R, et al. Dilated intercellular spaces as markers of reflux disease: Histology, semiquantitative score and morphometry upon light microscopy. Digestion. 2001;64:1–8.

Solcia E, Villani L, Luinetti O, et al. Altered intercellular glycoconjugates and dilated intercellular spaces of esophageal epithelium in reflux disease. Virchows Arch. 2000;436:207–216.

Feinstein AR, Cicchetti DV. High agreement but low kappa: I. The problems of two paradoxes. J Clin Epidemiol. 1990;43:543–549.

Cicchetti DV, Feinstein AR. High agreement but low kappa: II. Resolving the paradoxes. J Clin Epidemiol. 1990;43:551–558.

Collins BJ, Elliott H, Sloan JM, et al. Oesophageal histology in reflux oesophagitis. J Clin Pathol. 1985;38:1265–1272.

Grønbaek K, Christensen PB, Hamilton-Dutoit S, et al. Interobserver variation in interpretation of serial liver biopsies from patients with chronic hepatitis C. J Viral Hepat. 2002;9:443–449.

el-Zimaity HM, Graham DY, al-Assi MT, et al. Interobserver variation in the histopathological assessment of Helicobacter pylori gastritis. Hum Pathol. 1996;27:35–41.

Offerhaus GJ, Price AB, Haot J, et al. Observer agreement on the grading of gastric atrophy. Histopathology. 1999;34:320–325.

Hsu PI, Lai KH, Tseng HH, et al. Risk factors for presentation with bleeding in patients with Helicobacter pylori-related peptic ulcer diseases. J Clin Gastroenterol. 2000;30:386–391.
Acknowledgments
We thank Aperio Technologies Inc., Vista, California, USA, for scanning the biopsy specimen slides and for providing the digital pathology management software. We gratefully acknowledge Dr. Kaiyo Takubo for his role in helping to develop and test the histologic criteria in this study. AstraZeneca R&D, Mölndal, Sweden, provided economic support for the travel, logistics, and statistical analysis. Writing assistance funded by AstraZeneca R&D, Mölndal, Sweden, was provided by Dr. Anja Becher and Dr. Michael Molloy-Bland from Oxford PharmaGenesis.
About this article
Cite this article
Yerian, L., Fiocca, R., Mastracci, L. et al. Refinement and Reproducibility of Histologic Criteria for the Assessment of Microscopic Lesions in Patients with Gastroesophageal Reflux Disease: the Esohisto Project. Dig Dis Sci 56, 2656–2665 (2011). https://doi.org/10.1007/s10620-011-1624-z
Received:

Accepted:

Published:

Issue Date:

DOI: https://doi.org/10.1007/s10620-011-1624-z
Keywords