Abstract
Background
The pathogenesis and treatment of ulcerative colitis remain poorly understood. The aim of the present study is to investigate the effects of black cumin (Nigella sativa) oil on rats with colitis.
Methods
Experimental colitis was induced with 1 mL trinitrobenzene sulfonic acid (TNBS) in 40% ethanol by intracolonic administration with 8-cm-long cannula under ether anesthesia to rats in colitis group and colitis + black cumin oil group. Rats in the control group were given saline at the same volume by intracolonic administration. Black cumin oil (BCO, Origo "100% natural Black Cumin Seed Oil," Turkey) was given to colitis + black cumin oil group by oral administration during 3 days, 5 min after colitis induction. Saline was given to control and colitis groups at the same volume by oral administration. At the end of the experiment, macroscopic lesions were scored and the degree of oxidant damage was evaluated by colonic total protein, sialic acid, malondialdehyde, and glutathione levels, collagen content, and tissue factor, superoxide dismutase, and myeloperoxidase activities. Tissues were also examined by histological and cytological analysis. Proinflammatory cytokines [tumor necrosis factor-alpha (TNF-α), interleukin (IL)-1β, and IL-6], lactate dehydrogenase activity, and triglyceride and cholesterol levels were analyzed in blood samples.
Results
We found that black cumin oil decreased the proinflammatory cytokines, lactate dehydrogenase, triglyceride, and cholesterol, which were increased in colitis.
Conclusions
BCO, by preventing inflammatory status in the blood, partly protected colonic tissue against experimental ulcerative colitis.
This is a preview of subscription content, log in to check access.
Access options
Buy single article
Instant access to the full article PDF.
US$ 39.95
Price includes VAT for USA
Subscribe to journal
Immediate online access to all issues from 2019. Subscription will auto renew annually.
US$ 199
This is the net price. Taxes to be calculated in checkout.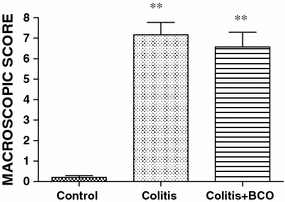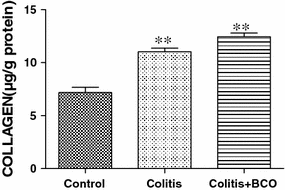 References
1.

Nieto N, Torres MI, Fernandez MI, et al. Experimental ulcerative colitis impairs antioxidant defense system in rat intestine. Dig Dis Sci. 2000;45:1820–1827.

2.

Nathan C. Points of control in inflammation. Nature. 2002;420:846–852.

3.

O'Shea JJ, Murray PJ. Cytokine signaling modules in inflammatory responses. Immunity. 2008;28:477–487.

4.

Ley K, Laudanna C, Cybulsky MI, Nourshargh S. Getting to the site of inflammation: the leukocyte adhesion cascade updated. Nat Rev Immunol. 2007;7:678–689.

5.

Heller RA, Kronke M. Tumor necrosis factor receptor-mediated signalling pathways. J Cell Biol. 1994;126:5–9.

6.

Hannun YA, Obeid LM. Principles of bioactive lipid signalling: lessons from sphingolipids. Nat Rev Mol Cell Biol. 2008;9:139–150.

7.

Jensen JM, Schutze S, Forl M, Kronke M, Proksch E. Roles for tumor necrosis factor receptor p55 and sphingomyelinase in repairing the cutaneous permeability barrier. J Clin Invest. 1999;104:1761–1770.

8.

Bauer J, Huy C, Brenmoehl J, Obermeier F, Bock J. Matrix metalloproteinase-1 expression induced by IL-1β requires acid sphingomyelinase. FEBS Lett. 2009;585:915–920.

9.

Yoshida N, Yoshikawa T, Yamaguchi T, et al. A novel water-soluble vitamin E derivative protects against experimental colitis in rats. Antioxid Redox Signal. 1999;1:555–562.

10.

Gulluoglu BM, Kurtel H, Gulluoglu MG, et al. Role of endothelins in trinitrobenzene sulfonic acid-induced colitis in rats. Digestion. 1999;60:484–492.

11.

Ukil A, Maity S, Karmakar S, Datta N, Vedasiromoni JR, Das PK. Curcumin, the major component of food flavour turmeric, reduces mucosal injury in trinitrobenzene sulphonic acid-induced colitis. Br J Pharmacol. 2003;139:209–218.

12.

Sener G, Aksoy H, Sehirli O, et al. Erdosteine prevents colonic inflammation through its antioxidant and free radical scavenging activities. Dig Dis Sci. 2007;52:2122–2132.

13.

Campieri M, Gionchetti P, Belluzzi A, et al. Optimum dosage of 5-aminosalicylic acid as rectal enemas in patients with active ulcerative colitis. Gut. 1991;32:929–931.

14.

Gionchetti P, Campieri M, Belluzzi A, et al. Interleukin 1 in ulcerative colitis. Gut. 1991;32:338.

15.

Koch TR, Yuan LX, Stryker SJ, Ratliff P, Telford GL, Opara EC. Total antioxidant capacity of colon in patients with chronic ulcerative colitis. Dig Dis Sci. 2000;45:1814–1819.

16.

Choudhary S, Keshavarzian A, Yong S, et al. Novel antioxidants zolimid and AEOL11201 ameliorate colitis in rats. Dig Dis Sci. 2001;46:2222–2230.

17.

Zhang HQ, Ding TT, Zhao JS, et al. Therapeutic effects of Clostridium butyricum on experimental colitis induced by oxazolone in rats. World J Gastroenterol. 2009;15:1821–1828.

18.

Ali BH, Blunden G. Pharmacological and toxicological properties of Nigella sativa. Phytother Res. 2003;17:299–305.

19.

Terzi A, Coban S, Yildiz F, et al. Protective effects of Nigella sativa on intestinal ischemia-reperfusion injury in rats. J Invest Surg. 2010;23:21–27.

20.

Salem ML. Immunomodulatory and therapeutic properties of the Nigella sativa L. seed. Int Immunopharmacol. 2005;5:1749–1770.

21.

Wallace JL, Braquet P, Ibbotson GC, MacNaugton WK, Cirino G. Assessment of the role of platelet activating factor in an animal model of inflammatory bowel disease. J Lipid Med. 1989;1:13–23.

22.

Gue M, Bonbonne J, Fioramonti J, et al. Stress-induced enhancement of colitis in rats: CRF and arginine vasopressin are not involved. Am J Physiol. 1997;272:G84–G91.

23.

Lopez De Leon A, Rojkind M. A simple micromethod for collagen and total protein determination in formalin-fixed paraffin-embedded sections. J Histochem Cytochem. 1985;33:737–743.

24.

Atay Z, Topalidis T. Cytodiagnostic der Serosen Hohlen. Atlas und Lehrbuch. Herausgeber; A&T Hannover: Wolfgang Pabst Verlag; 1992:18–19.

25.

Martinek RG. A rapid ultraviolet spectrophotometric lactic dehydrogenase assay. Clin Chem Acta. 1972;40:91–99.

26.

Hillegas LM, Griswold DE, Brickson B, Albrightson-Winslow C. Assesment of myeloperoxidase activity in whole rat kidney. J Pharmacol Methods. 1990;24:285–295.

27.

Ledwozwy A, Michalak J, Stepien A, Kadziolka A. The relationship plasma triglycerides, cholesterol, total lipids, and lipid peroxidation products during human atherosclerosis. Clin Chim Acta. 1986;55:275–284.

28.

Beutler E. Glutathione in red blood cell metabolism. In: A Manual of Biochemical Methods. New York: Grune & Stratton; 1975:112–114.

29.

Ingram GI, Hills M. Reference method for the one-stage prothrombin-time test on human blood. Thromb Haemost. 1976;36:237–238.

30.

Mylorie AA, Collins H, Umbles C, Kyle J. Erythrocyte superoxide dismutase activity and other parameters of cupper status in rats ingesting lead acetate. Toxicol Appl Pharmacol. 1986;82:512–520.

31.

Warren L. The thiobarbituric acid assay of sialic acids. J Biol Chem. 1959;234:1971–1975.

32.

Lowry OH, Rosebrough WI, Farr AL, Randal RJ. Protein measurement with the Folin phenol reagent. J Biol Chem. 1951;193:265–275.

33.

Amini-Shirazi N, Hoseini A, Ranjbar A, et al. Inhibition of tumor necrosis factor and nitrosative/oxidative stresses by Ziziphora clinopoides (Kahlioti); a molecular mechanism of protection against dextran sodium sulfate-induced colitis in mice. Toxicol Mech Methods. 2009;19(2):183–189.

34.

Babbs CF. Oxygen radicals in ulcerative colitis. Free Radic Biol Med. 1992;13:169–181.

35.

Schauer R, Kelm S, Reuter G, Roggentin P, Shaw L. Biochemistry and role of sialic acid. In: Rsebberg A, ed. Biology of Sialic Acids. New York: Plenum; 1995.

36.

Elson CO, Sartor RB, Tennyson GS, Riddell RH. Experimental models of inflammatory bowel disease. Gastroenterology. 1995;109:1344–1367.

37.

Grisham MB. Oxidants and free radicals in inflammatory bowel disease. Lancet. 1994; 24:344(8926):859–861.

38.

Guo X, Wang WP, Ko JK, Cho CH. Involvement of neutrophils and free radicals in the potentiating effects of passive cigarette smoking on inflammatory bowel disease in rats. Gastroenterology. 1999;117:884–892.

39.

van der Veen BS, de Winther MP, Heeringa P. Myeloperoxidase: molecular mechanisms of action and their relevance to human health and disease. Antioxid Redox Signal. 2009;11:2899–2937.

40.

Shiratora Y, Aoki S, Takada H, et al. Oxygen-derived free radical generating capacity of polymorphonuclear cells in patients with ulcerative colitis. Digestion. 1989;44:163–171.

41.

Scarpa M, Romanato G, Manzato E, et al. Restorative proctocolectomy for ulcerative colitis: Impact on lipid metabolism and adipose tissue and serum fatty acids. J Gastrointest Surg. 2008;12:279–287.

42.

Hardardottir I, Doerrler W, Feingold KR, Grunfeld C. Cytokines stimulate lipolysis and decrease lipoprotein lipase activity in cultured fat cells by a prostaglandin independent mechanism. Biochem Biophys Res Commun. 1992;186:237–243.

43.

Bauer J, Liebisch G, Hofmann C, et al. Lipid alterations in experimental murine colitis: role of ceramide and imipramine for matrix metalloproteinase-1 expression. PLoS ONE. 2009;4(9):e7197.

44.

Stark G. Functional consequences of oxidative membrane damage. J Membr Biol. 2005;205:1–16.

45.

Isozaki Y, Yoshida N, Kuroda M, et al. Effect of a novel water-soluble vitamin E derivative as a cure for TNBS induced colitis in rats. Int J Mol Med. 2006;17:497–502.

46.

Colon AL, Madrigal JL, Menchen LA, et al. Stress increases susceptibility to oxidative/nitrosative mucosal damage in an experimental model of colitis in rats. Dig Dis Sci. 2004;49:1713–1721.

47.

İseri SO, Sener G, Saglam B, Gedik N, Ercan F, Yegen BC. Oxytocin ameliorates oxidative colonic inflammation by a neutrophil-dependent mechanism. Peptides. 2005;26(3):483–491.

48.

Khalife KH, Lupidi G. Nonenzymatic reduction of thymoquinone in physiological conditions. Free Radic Res. 2007;41:153–161.

49.

Badary OA, Taha RA, Gamal El-Din AM, Abdel-Wahab MH. Thymoquinone is a potent superoxide anion scavenger. Drug Chem Toxicol. 2003;26:87–98.

50.

Ramadan MF, Kroh LW, Morsel JT. Radical scavenging activity of black cumin (Nigella sativa L.), coriander (Coriandrum sativum L.), and niger (Guizotia abyssinica Cass.) crude seed oils and oil fractions. J Agric Food Chem. 2003;51:6961–6969.

51.

Ruggiero C, Lattanzio F, Lauretani F, Gasperini B, Andres-Lacueva C, Cherubini A. Omega—3 polyunsaturated fatty acids and immune-mediated diseases: Inflammatory bowel disease and rheumatoid arthritis. Curr Pharm Des. 2009;15:4135–4148.

52.

Hekmatdoost A, Feizabadi MM, Djazayery A, et al. The effect of dietary oils on cecal microflora in experimental colitis in mice. Indian J Gastroenterol. 2008;27:186–189.

53.

Wanasundara UN, Shahidi F. Canola extract as an alternative natural antioxidant for canola oil. J Am Oil Chem Soc. 1994;71:817–822.

54.

Bachlie E. History of tissue factor. Br J Haematol. 2000;110:248–255.

55.

Lwaleed BA, Francis JL, Chrisholm M. Urinary tissue factor levels in neoplastic disease. Ann Saudi Med. 2000;20:197–201.

56.

Danese S, Papa A, Saibeni S, Repici A, Malesci A, Vecchi M. Inflammation and coagulation in inflammatory bowel disease: the clot thickens. Am J Gastroenterol. 2007;102:174–186.

57.

Anthoni C, Russell J, Wood KC, et al. Tissue factor: a mediator of inflammatory cell recruitment, tissue injury, and thrombus formation in experimental colitis. J Exp Med. 2007;204(7):1595–1601.

58.

Fries W, Pagiaro E, Canova E, et al. The effect of heparin on trinitrobenzene sulphonic acid-induced colitis in the rat. Aliment Pharmacol Ther. 1998;12:229–236.

59.

Vowinkel T, Anthoni C, Wood KC, et al. CD40-CD40 ligand mediates the recruitment of leukocytes and platelets in the inflamed murine colon. Gastroenterology. 2007;132:955–965.
About this article
Cite this article
Isik, F., Tunali Akbay, T., Yarat, A. et al. Protective Effects of Black Cumin (Nigella sativa) Oil on TNBS-Induced Experimental Colitis in Rats. Dig Dis Sci 56, 721–730 (2011). https://doi.org/10.1007/s10620-010-1333-z
Received:

Accepted:

Published:

Issue Date:
Keywords
Colitis

Nigella sativa

Inflammation

Tissue factor activity

Oxidant damage