Abstract
Background
Dextran sodium sulphate (DSS) is commonly used to induce intestinal inflammation in rodents. Despite its continuing importance as a model system for examining IBD pathogenesis, the mucosal and systemic immune responses have not been comprehensively documented.
Aims
The purpose of this study was to dissect functional and phenotypic changes in both immune compartments associated with acute and chronic DSS-induced colitis.
Methods
C57BL/6 mice were exposed to 3% DSS for 6 days followed by 20 days of water, and organs (spleens, MLN and colons) were harvested during both acute and chronic phases of colitis to examine innate and adaptive cell populations.
Results
As early as 1 day post DSS, significant changes in the percentage, distribution and activation status of all innate cell populations examined were noted. These striking differences continued in systemic and mucosal lymphoid tissues throughout the acute phase (days 5–12). Significantly, during the late acute and chronic phases T and B cells accumulated in the colon. In contrast, in the spleens of chronically inflamed mice T and B cells were significantly decreased whereas neutrophils, macrophages, and IL-6 and IL-17 positive cells were increased.
Conclusions
Our data provides important insights into the mucosal and systemic immune responses induced by DSS administration. Notably, we show that adaptive immune responses are induced during both acute and chronic colitis. This will facilitate a more informed and sophisticated use of this model both for investigating basic mechanisms of intestinal inflammation and for the evaluation of potential new therapeutic agents for IBD.
This is a preview of subscription content, log in to check access.
Access options
Buy single article
Instant access to the full article PDF.
US$ 39.95
Price includes VAT for USA
Subscribe to journal
Immediate online access to all issues from 2019. Subscription will auto renew annually.
US$ 199
This is the net price. Taxes to be calculated in checkout.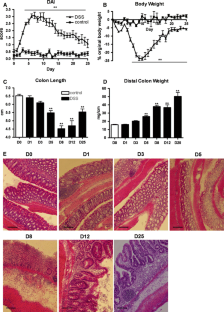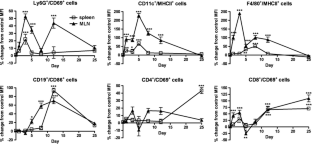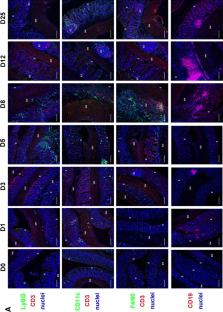 References
1.

Korzenik JR, Podolsky DK. Evolving knowledge and therapy of inflammatory bowel disease. Nat Rev Drug Discov. 2006;5:197–209.

2.

Cho JH. The genetics and immunopathogenesis of inflammatory bowel disease. Nat Rev. 2008;8:458–466.

3.

Xavier RJ, Podolsky DK. Unravelling the pathogenesis of inflammatory bowel disease. Nature. 2007;448:427–434.

4.

Byrne FR, Viney JL. Mouse models of inflammatory bowel disease. Curr Opin Drug Discov Dev. 2006;9:207–217.

5.

Melgar S, Karlsson A, Michaelsson E. Acute colitis induced by dextran sulfate sodium progresses to chronicity in C57BL/6 but not in BALB/c mice: correlation between symptoms and inflammation. Am J Physiol. 2005;288:G1328–G1338.

6.

Ni J, Chen SF, Hollander D. Effects of dextran sulphate sodium on intestinal epithelial cells and intestinal lymphocytes. Gut. 1996;39:234–241.

7.

Kitajima S, Takuma S, Morimoto M. Changes in colonic mucosal permeability in mouse colitis induced with dextran sulfate sodium. Experimental Anim. 1999;48:137–143.

8.

Okayasu I, Hatakeyama S, Yamada M, Ohkusa T, Inagaki Y, Nakaya R. A novel method in the induction of reliable experimental acute and chronic ulcerative colitis in mice. Gastroenterology. 1990;98:694–702.

9.

Kuhl AA, Kakirman H, Janotta M, et al. Aggravation of different types of experimental colitis by depletion or adhesion blockade of neutrophils. Gastroenterology. 2007;133:1882–1892.

10.

Farooq SM, Stillie R, Svensson M, Svanborg C, Strieter RM, Stadnyk AW. Therapeutic effect of blocking CXCR2 on neutrophil recruitment and dextran sodium sulfate-induced colitis. J Pharmacol Exp Ther. 2009;329:123–129.

11.

Teahon K, Smethurst P, Pearson M, Levi AJ, Bjarnason I. The effect of elemental diet on intestinal permeability and inflammation in Crohn's disease. Gastroenterology. 1991;101:84–89.

12.

Keshavarzian A, Price YE, Peters AM, Lavender JP, Wright NA, Hodgson HJ. Specificity of indium-111 granulocyte scanning and fecal excretion measurement in inflammatory bowel disease—an autoradiographic study. Dig Dis Sci. 1985;30:1156–1160.

13.

Costa F, Mumolo MG, Ceccarelli L, et al. Calprotectin is a stronger predictive marker of relapse in ulcerative colitis than in Crohn's disease. Gut. 2005;54:364–368.

14.

Miyamoto M, Prause O, Sjostrand M, Laan M, Lotvall J, Linden A. Endogenous IL-17 as a mediator of neutrophil recruitment caused by endotoxin exposure in mouse airways. J Immunol. 2003;170:4665–4672.

15.

Laan M, Prause O, Miyamoto M, et al. A role of GM-CSF in the accumulation of neutrophils in the airways caused by IL-17 and TNF-alpha. Eur Respir J. 2003;21:387–393.

16.

Lee JW, Wang P, Kattah MG, et al. Differential regulation of chemokines by IL-17 in colonic epithelial cells. J Immunol. 2008;181:6536–6545.

17.

Malmstrom V, Shipton D, Singh B, et al. CD134 l expression on dendritic cells in the mesenteric lymph nodes drives colitis in T cell-restored SCID mice. J Immunol. 2001;166:6972–6981.

18.

Niess JH. Role of mucosal dendritic cells in inflammatory bowel disease. World J Gastroenterol. 2008;14:5138–5148.

19.

Hirano T. Interleukin-6 and its relation to inflammation and disease. Clin Immunol Immunopathol. 1992;62:S60–S65.

20.

Dorn I, Schlenke P, Mascher B, Stange EF, Seyfarth M. Lamina propria plasma cells in inflammatory bowel disease: intracellular detection of immunoglobulins using flow cytometry. Immunobiology. 2002;206:546–557.

21.

Siegmund B, Zeitz M. Clinical aspects of inflammatory bowel disease. Eur J Immunol. 2009;39:2026–2030.

22.

Heinsbroek SE, Gordon S. The role of macrophages in inflammatory bowel diseases. Expert Rev Mol Med. 2009;11:e14.

23.

Keel M, Ungethum U, Steckholzer U, et al. Interleukin-10 counterregulates proinflammatory cytokine-induced inhibition of neutrophil apoptosis during severe sepsis. Blood. 1997;90:3356–3363.

24.

Wang ZQ, Bapat AS, Rayanade RJ, Dagtas AS, Hoffmann MK. Interleukin-10 induces macrophage apoptosis and expression of CD16 (FcgammaRIII) whose engagement blocks the cell death programme and facilitates differentiation. Immunology. 2001;102:331–337.

25.

Jungbeck M, Stopfer P, Bataille F, Nedospasov SA, Mannel DN, Hehlgans T. Blocking lymphotoxin beta receptor signalling exacerbates acute DSS-induced intestinal inflammation—opposite functions for surface lymphotoxin expressed by T and B lymphocytes. Mol Immunol. 2008;45:34–41.

26.

Lin ZQ, Kondo T, Ishida Y, Takayasu T, Mukaida N. Essential involvement of IL-6 in the skin wound-healing process as evidenced by delayed wound healing in IL-6-deficient mice. J Leukoc Biol. 2003;73:713–721.

27.

O'Connor W Jr, Kamanaka M, Booth CJ, et al. A protective function for interleukin 17a in T cell-mediated intestinal inflammation. Nat Immunol. 2009;10:603–609.

28.

Ogawa A, Andoh A, Araki Y, Bamba T, Fujiyama Y. Neutralization of interleukin-17 aggravates dextran sulfate sodium-induced colitis in mice. Clin Immunol. 2004;110:55–62.

29.

Dieleman LA, Ridwan BU, Tennyson GS, Beagley KW, Bucy RP, Elson CO. Dextran sulfate sodium-induced colitis occurs in severe combined immunodeficient mice. Gastroenterology. 1994;107:1643–1652.

30.

Dieleman LA, Palmen MJ, Akol H, et al. Chronic experimental colitis induced by dextran sulphate sodium (DSS) is characterized by Th1 and Th2 cytokines. Clin Exp Immunol. 1998;114:385–391.
Acknowledgments
The Alimentary Pharmabiotic Centre is a research centre funded by Science Foundation Ireland (SFI), through the Irish Government's National Development Plan. The authors and their work were supported by SFI (grant no.s 02/CE/B124 and 07/CE/B1368) and by additional grants from industry including GlaxoSmithKline Ltd.
Conflict of interest statement
None.
About this article
Cite this article
Hall, L.J., Faivre, E., Quinlan, A. et al. Induction and Activation of Adaptive Immune Populations During Acute and Chronic Phases of a Murine Model of Experimental Colitis. Dig Dis Sci 56, 79–89 (2011). https://doi.org/10.1007/s10620-010-1240-3
Received:

Accepted:

Published:

Issue Date:
Keywords
Dextran sodium sulphate

Colitis

Innate

Adaptive immune responses