Abstract
Aim
The benefits of coffee on abnormal liver biochemistry, cirrhosis and hepatocellular carcinoma have been reported, but there is a lack of satisfactory explanation. Thus, this study aims to investigate if coffee use has any relationship with bright liver, measured by ultrasound bright liver score (BLS), in patients with non-alcoholic fatty liver disease (NAFLD), and which relationship, if any, is present with BMI and insulin resistance.
Methods
This study was performed on 245 patients, 137 with NAFLD and 108 controls. Coffee drinking was defined according to the absolute number of cups of coffee (only espresso coffee), and also graded as 1 (0 cups of coffee/day), 2 (1–2 cups of coffee/day) 3 (≥3 cups of coffee/day). Insulin resistance was assessed by homoeostasis model-insulin resistance index (HOMA).
Results
Less fatty liver involvement is present in coffee vs. non-coffee drinkers. Odds ratios show that obesity, higher insulin resistance, lower HDL cholesterol, older age and arterial hypertension are associated with a greater risk of more severe BLS; to the contrary, coffee drinking is associated with less severe BLS. In the multiple logistic regression (MLR) model, number of cups of coffee, HOMA and BMI account for 35.8% of the variance to BLS. Coffee use is inversely associated with the degree of bright liver, along with insulin resistance and obesity, which, to the contrary, are directly associated with greater likelihood and severity of bright liver appearance.
Conclusions
A possible opposite, if not antagonistic, role of coffee with regard to overweightness and insulin resistance, similar to that reported in hepatocarcinoma and cirrhosis, is envisaged in the natural history of NAFLD.
This is a preview of subscription content, log in to check access.
Access options
Buy single article
Instant access to the full article PDF.
US$ 39.95
Price includes VAT for USA
Subscribe to journal
Immediate online access to all issues from 2019. Subscription will auto renew annually.
US$ 199
This is the net price. Taxes to be calculated in checkout.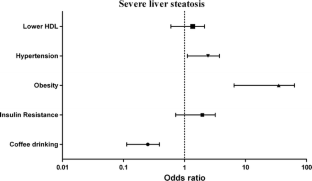 References
1.

Hu G, Tuomilehto J, Pukkala E, Hakulinen T, et al. Joint effects of coffee consumption and serum gamma-glutamyltransferase on the risk of liver cancer. Hepatology. 2008;48:129–136.

2.

Larsson SC, Wolk A. Coffee consumption and risk of liver cancer: a meta-analysis. Gastroenterology. 2007;132:1740–1745.

3.

Klatsky AL, Morton C, Udaltsova N, Friedman GD. Coffee, cirrhosis, and transaminase enzymes. Arch Intern Med. 2006;166:1190–1195.

4.

Tverdal A, Skurtveit S. Coffee intake and mortality from liver cirrhosis. Ann Epidemiol. 2003;13:419–423.

5.

Corrao G, Zambon A, Bagnardi V, D'Amicis A, Klatsky A, Collaborative SIDECAR Group. Coffee, caffeine, and the risk of liver cirrhosis. Ann Epidemiol. 2001;11:458–465.

6.

Nakanishi N, Nakamura K, Suzuki K, Tatara K. Lifestyle and the development of increased serum gamma-glutamyltransferase in middle-aged Japanese men. Scand J Clin Lab Invest. 2000;60:429–438.

7.

Yu AS, Keeffe EB. Nonalcoholic fatty liver disease. Rev Gastroenterol Disord. 2002;2:11–19.

8.

Goessling W, Massaro JM, Vasan RS, D'Agostino RB Sr, Ellison RC, Fox CS. Aminotransferase levels and 20-year risk of metabolic syndrome, diabetes, and cardiovascular disease. Gastroenterology. 2008;135:1935–1944.

9.

Mathiesen UL, Franzén LE, Aselius H, et al. Increased liver echogenicity at ultrasound examination reflects degree of steatosis but not of fibrosis in asymptomatic patients with mild/moderate abnormalities of liver transaminases. Dig Liver Dis. 2002;34:516–522.

10.

Ratziu V, Charlotte F, Heurtier A, LIDO Study Group, et al. Sampling variability of liver biopsy in nonalcoholic fatty liver disease. Gastroenterology. 2005;128:1898–1906.

11.

Saadeh S, Younossi ZM, Remer EM, et al. The utility of radiological imaging in nonalcoholic fatty liver disease. Gastroenterology. 2002;123:745–750.

12.

Wilfred de Alwis NM, Day CP. Genetics of alcoholic liver disease and nonalcoholic fatty liver disease. Semin Liver Dis. 2007;27:44–54.

13.

Higashikawa A, Suwazono Y, Okubo Y, et al. Association of working conditions and lifestyle with increased serum gamma-glutamyltransferase: a follow-up study. Arch Med Res. 2005;36:567–573.

14.

Klatsky AL, Armstrong MA. Alcohol, smoking, coffee, and cirrhosis. Am J Epidemiol. 1992;136:1248–1257.

15.

Corrao G, Lepore AR, Torchio P, et al. The effect of drinking coffee and smoking cigarettes on the risk of cirrhosis associated with alcohol consumption. A case-control study. Provincial group for the study of chronic liver disease. Eur J Epidemiol. 1994;10:657–664.

16.

McLean AE. Coffee, alcohol, and liver enzymes. Lancet. 1968;2:1035.

17.

Catalano D, Trovato GM, Spadaro D, et al. Insulin resistance in postmenopausal women: concurrent effects of hormone replacement therapy and coffee. Climacteric. 2008;11:373–382.

18.

Moisey LL, Kacker S, Bickerton AC, Robinson LE, Graham TE. Caffeinated coffee consumption impairs blood glucose homeostasis in response to high and low glycemic index meals in healthy men. Am J Clin Nutr. 2008;87:1254–1261.

19.

Hino A, Adachi H, Enomoto M, et al. Habitual coffee but not green tea consumption is inversely associated with metabolic syndrome: an epidemiological study in a general Japanese population. Diabetes Res Clin Pract. 2007;76:383–389.

20.

Ruhl CE, Everhart JE. Coffee and caffeine consumption reduce the risk of elevated serum alanine aminotransferase activity in the United States. Gastroenterology. 2005;128:24–32.

21.

Catalano D, Trovato GM, Martines GF, Randazzo M, Tonzuso A. Bright liver, body composition and insulin resistance changes with nutritional intervention: a follow-up study. Liver Int. 2008;28:1280–1287.

22.

Sass DA, Chang P, Chopra KB. Nonalcoholic fatty liver disease: a clinical review. Dig Dis Sci. 2005;50:171–180.

23.

Solga S, Alkhuraishe AR, Clark JM, et al. Dietary composition and nonalcoholic fatty liver disease. Dig Dis Sci. 2004;49:1578–1583.

24.

Matthews DR, Hosker JP, Rudenski AS, Naylor BA, Treacher DF, Turner RC. Homeostasis model assessment: insulin resistance and beta-cell function from fasting plasma glucose and insulin concentrations in man. Diabetologia. 1985;28:412–419.

25.

Cavin C, Holzhaeuser D, Scharf G, Constable A, Huber WW, Schilter B. Cafestol and kahweol, two coffee specific diterpenes with anticarcinogenic activity. Food Chem Toxicol. 2002;40:1155–1163.

26.

Aller R, de Luis DA, Fernandez L, et al. Influence of insulin resistance and adipokines in the grade of steatosis of nonalcoholic fatty liver disease. Dig Dis Sci. 2008;53:1088–1092.

27.

Hu KQ, Currie SL, Shen H, et al. Clinical implications of hepatic steatosis in patients with chronic hepatitis C: a multicenter study of US veterans. Dig Dis Sci. 2007;52:570–578.

28.

Greer F, Hudson R, Ross R, Graham T. Caffeine ingestion decreases glucose disposal during a hyperinsulinemic-euglycemic clamp in sedentary humans. Diabetes. 2001;50:2349–2354.

29.

Arnlöv J, Vessby B, Risérus U. Coffee consumption and insulin sensitivity. JAMA. 2004;291:1199–1201.
About this article
Cite this article
Catalano, D., Martines, G.F., Tonzuso, A. et al. Protective Role of Coffee in Non-alcoholic Fatty Liver Disease (NAFLD). Dig Dis Sci 55, 3200–3206 (2010). https://doi.org/10.1007/s10620-010-1143-3
Received:

Accepted:

Published:

Issue Date:
Keywords
Coffee

NAFLD

Insulin resistance

Ultrasound

HOMA

Life-styles