Abstract
Background Agenesis of the dorsal pancreas is a very rare congenital pancreatic malformation and is associated with some other diseases. Methods A PubMed search revealed 53 cases of agenesis of the dorsal pancreas. Results In 28 patients with this congenital malformation hyperglycemia was demonstrated, 27 had abdominal pain, 16 had pancreatitis, 14 had an enlarged or prominent pancreatic head visible on computed tomography, and in a few cases, polysplenia, which may occur with various congenital anomalies of visceral organs, was described. Conclusions Difficulties involved in obtaining a firm diagnosis have led to a variety of terms being used to describe this congenital disease. Diagnosis of agenesis of the dorsal pancreas is inconclusive without demonstration of the absence of the dorsal pancreatic duct. Here we describe the embryological development of the pancreas, the so-far known cases of agenesis of the dorsal pancreas with associated medical problems, and the diagnostic measures to find the right conclusions.
This is a preview of subscription content, log in to check access.
Access options
Buy single article
Instant access to the full article PDF.
US$ 39.95
Price includes VAT for USA
Subscribe to journal
Immediate online access to all issues from 2019. Subscription will auto renew annually.
US$ 199
This is the net price. Taxes to be calculated in checkout.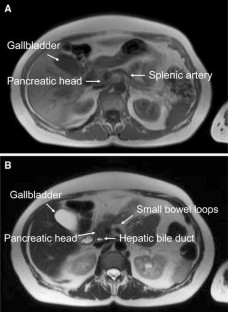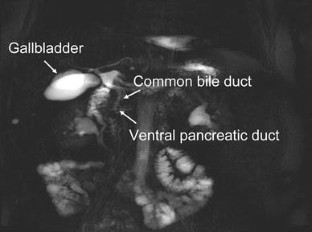 References
1.

Cano DA, Hebrok M, Zenker M (2007) Pancreatic development and disease. Gastroenterology 132:745–762. doi:10.1053/j.gastro.2006.12.054

2.

Spagnoli FM (2007) From endoderm to pancreas: a multistep journey. Cell Mol Life Sci 64:2378–2390. doi:10.1007/s00018-007-7184-x

3.

Ashraf A, Abdullatif H, Hardin W, Moates JM (2005) Unusual case of neonatal diabetes mellitus due to congenital pancreas agenesis. Pediatr Diabetes 6:239–243. doi:10.1111/j.1399-543X.2005.00114.x

4.

Baumeister FA, Engelsberger I, Schulze A (2005) Pancreatic agenesis as a cause for neonatal diabetes mellitus. Klin Padiatr 217:76–81. doi:10.1055/s-2004-822657

5.

Heiberg KA (1911) Ein Fall von fehlender Cauda pancreatis (bei einem Diabetiker). Centralbl Allg Pathol Patholog Anat 22:676–677

6.

Ghon A, Roman B (1913) Ein Fall von Missbildung des Pancreas mit Diabetes mellitus. Prager Med Wochenschr 38:1314–1317

7.

Priesel A (1923) Sitzung der Vereinigung der Pathologischen Anatomen Wiens. Wien Klin Wochenschr 22:407

8.

Duschl L (1923) Ein Beitrag zu den Pankreasmißbildungen: Fehlen des Pankreaskopfes und—schwanzes. Munch Med Wochenschr 70:1388–1389

9.

Kriss B (1926) Zur Kenntnis der Hypoplasie des Pankreas. Virchow Arch Path 263:591–598. doi:10.1007/BF01890058

10.

Lechner GW, Read RC (1966) Agenesis of the dorsal pancreas in an adult diabetic presenting with duodenal ileus. Ann Surg 163:311–314. doi:10.1097/00000658-196602000-00024

11.

Gürson CT, Tahsinoglu M, Yakacikli S, Ertugrul T (1970) A case of agenesis of the dorsal pancreas with interventricular septal defect in an infant. Helv Paediatr Acta 25:522–526

12.

Gilinsky NH, Del Favero G, Cotton PB, Lees WR (1985) Congenital short pancreas: a report of two cases. Gut 26:304–310. doi:10.1136/gut.26.3.304

13.

Winter WE, Maclaren NK, Riley WJ, Toskes PP, Andres J, Rosenbloom AL (1986) Congenital pancreatic hypoplasia: a syndrome of exocrine and endocrine insufficiency. J Pediatr 109:465–468. doi:10.1016/S0022-3476(86)80119-6

14.

Bretagne JF, Darnault P, Raoul JL, Gandon Y, Gosselin M, Cousin P et al (1987) Calcifying pancreatitis of a congenital short pancreas: a case report with successful endoscopic papillotomy. Am J Gastroenterol 82:1314–1317

15.

Lehman GA, Kopecky KK, Rogge JD (1987) Partial pancreatic agenesis combined with pancreas divisum and duodenum reflexum. Gastrointest Endosc 33:445–448

16.

Shah KK, DeRidder PH, Schwab RE, Alexander TJ (1987) CT diagnosis of the dorsal pancreas agenesis. J Comput Assist Tomogr 11:170–171

17.

Nishimori I, Okazaki K, Morita M, Miyao M, Sakamoto Y, Kagiyama S et al (1990) Congenital hypoplasia of the dorsal pancreas: with special reference to duodenal papillary dysfunction. Am J Gastroenterol 85:1029–1033

18.

Wang JT, Lin JT, Chuang CN, Wang SM, Chuang LM, Chen JC et al (1990) Complete agenesis of the dorsal pancreas—a case report and review of the literature. Pancreas 5:493–497. doi:10.1097/00006676-199007000-00020

19.

Herman TE, Siegel MJ (1991) Polysplenia syndrome with congenital short pancreas. AJR Am J Roentgenol 156:799–800

20.

Itoh H, Saito M, Ishimori M, Ohshiro K, Guo YY, Sakai T (1991) A case report of dorsal agenesis diagnosed by MRI and ERCP. Radiat Med 9:108–109

21.

Wildling R, Schnedl WJ, Reisinger EC, Schreiber F, Lipp RW, Lederer A et al (1993) Agenesis of the dorsal pancreas in a woman with diabetes mellitus and both of her sons. Gastroenterology 104:1182–1186

22.

Soler R, Rodriguez E, Comesana ML, Pombo F, Marini M (1992) Agenesis of the dorsal pancreas with polysplenia syndrome: CT features. J Comput Assist Tomogr 16:921–923. doi:10.1097/00004728-199211000-00017

23.

Gold RP (1993) Agenesis and pseudo-agenesis of the dorsal pancreas. Abdom Imaging 18:141–144

24.

Yorifuji T, Matsumura M, Okuno T, Shimizu K, Sonomura T, Muroi J et al (1994) Hereditary pancreatic hypoplasia, diabetes mellitus, and congenital heart disease: a new syndrome? J Med Genet 31:331–333

25.

Klein WA, Dabezies MA, Friedman AC, Caroline DF, Boden GH, Cohen S (1994) Agenesis of dorsal pancreas in a patient with weight loss and diabetes mellitus. Dig Dis Sci 39:1708–1713. doi:10.1007/BF02087781

26.

Deignan RW, Nizzero A, Malone DE (1996) Case report: agenesis of the dorsal pancreas: a cause of diagnostic error on abdominal sonography. Clin Radiol 51:145–147. doi:10.1016/S0009-9260(96)80277-7

27.

Macari M, Giovanniello G, Blair L, Krinsky G (1998) Diagnosis of agenesis of the dorsal pancreas with MR pancreatography. AJR Am J Roentgenol 170:144–146

28.

Terruzzi V, Radaelli F, Spinzi GC, Imperiali G, Minoli G (1998) Congenital short pancreas. Report of a new case observed during the course of a recurrent acute pancreatitis. Ital J Gastroenterol 30:199–201

29.

Oldenburg B, van Leeuwen MS, Henegouwen GP, Koningsberger JC (1998) Pancreatitis and agenesis of the dorsal pancreas. Eur J Gastroenterol Hepatol 10:887–889. doi:10.1097/00042737-199810000-00013

30.

Fukuoka K, Ajiki T, Yamamoto M, Fujiwara H, Onoyama H, Fujita T et al (1999) Complete agenesis of the dorsal pancreas. J Hepatobiliary Pancreat Surg 6:94–97. doi:10.1007/s005340050090

31.

Nakamura Y, Egami K, Maeda S, Hosone M, Onda M (2001) Solid and papillary tumor of the pancreas complicating agenesis of the dorsal pancreas. J Hepatobiliary Pancreat Surg 8:485–489. doi:10.1007/s005340100014

32.

Nonent M, Linard J, Leveque E, Larroche P, Bobeuf J, Senecail B (2003) Dorsal pancreas agenesis: computed tomography appearance with three-dimensional volume rendering reconstruction. Surg Radiol Anat 25:161–163. doi:10.1007/s00276-003-0099-9

33.

Guclu M, Serin E, Ulucan S, Kul K, Ozer B, Gumurdulu Y et al (2004) Agenesis of the dorsal pancreas in a patient with recurrent acute pancreatitis: case report and review. Gastrointest Endosc 60:472–475. doi:10.1016/S0016-5107(04)01733-X

34.

Otani T, Shioiri T, Mishima H, Ishihara A, Maeshiro T, Matsuo A et al (2005) Bile duct schwannoma developed in the remnant choledochal cyst—a case associated with total agenesis of the dorsal pancreas. Dig Liver Dis 37:705–708. doi:10.1016/j.dld.2004.12.017

35.

Ulusan S, Bal N, Kizilkilic O, Bolat F, Yildirim S, Yildirim T et al (2005) Case report: solid-pseudopapillary tumor of the pancreas associated with dorsal agenesis. Br J Radiol 78:441–443. doi:10.1259/bjr/91312352

36.

Balakrishnan V, Narayanan VA, Siyad I, Radhakrishnan L, Nair P (2006) Agenesis of the dorsal pancreas with chronic calcific pancreatitis. Case report, review of literature and genetic basis. JOP 7:651–659.

37.

Joo YE, Kang HC, Kim HS, Choi SK, Rew JS, Chung MY et al (2006) Agenesis if the dorsal pancreas: a case report and review of literature. Korean J Intern Med 21:236–239

38.

Karcaaltincaba M (2006) CT differentiation of distal pancreas fat replacement and distal pancreas agenesis. Surg Radiol Anat 28:637–641. doi:10.1007/s00276-006-0151-7

39.

Kayhan B, Özer D, Akdogan M, Tekin I, Özcay N (2006) Hypoplastic pancreas and ectopic spleen as an abdominal mass: a case report. Turk J Gastroenterol 17:216–218

40.

Oyachi N, Ohhama Y, Take H, Fukuzato Y, Murakami T, Kitagawa N et al (2006) Aplasia of the dorsal pancreas and choledochal cyst. Pediatr Surg Int 22:557–559. doi:10.1007/s00383-006-1652-5

41.

Rakesh K, Choung OW, Reddy DN (2006) Agenesis of the dorsal pancreas (ADP) and pancreatitis—is there an association? Indian J Gastroenterol 25:35–36

42.

Sempere L, Aparicio JR, Martinez J, Casellas JA, de Madaria E, Perez-Mateo M (2006) Role of endoscopic ultrasound in the diagnosis of agenesis of the dorsal pancreas. JOP 7:411–416

43.

Ulusan S, Yakar T, Koc Z, Kayaselcuk F, Torer N (2006) Adenocarcinoma of the pancreas associated with dorsal agenesis. Pancreas 33:437–439. doi:10.1097/01.mpa.0000236728.23994.27

44.

Lingareddy S, Tandan M, Rao GV, Nageshwar V, Reddy D (2006) Hepatobiliary and pancreatic: agenesis of the dorsal pancreas. J Gastroenterol Hepatol 21:773. doi:10.1111/j.1440-1746.2006.04436.x

45.

Lingareddy S, Duvvuru NR, Guduru VR, Lakhtakia S, Kalapala R (2007) Dorsal agenesis of pancreas: CT and ERCP. Gastrointest Endosc 65:157–158. doi:10.1016/j.gie.2006.08.007

46.

Du J, Xu G, Xu P, Jin E, Liu Q, Li Y (2007) Congenital short pancreas. Chin Med J 120:259–262

47.

Kapa S, Gleeson FC, Vege SS (2007) Dorsal pancreas agenesis and polysplenia/heterotaxy syndrome: a novel association with aortic coarctation and a review of literature. JOP 8:433–437

48.

Maier M, Wiesner W, Mengiardi B (2007) Annular pancreas and agenesis of the dorsal pancreas in a patient with polysplenia syndrome. AJR Am J Roentgenol 188:W150–W153. doi:10.2214/AJR.05.1859

49.

Uygur-Bayramicli O, Dabak R, Kilicoglu G, Dolapcioglu C, Oztas D (2007) Dorsal pancreatic agenesis. JOP 8:450–452

50.

Doxey BW, Jackson WD, Adler DG (2007) A unique presentation: dorsal agenesis of the pancreas manifesting as pancreatic exocrine insufficiency in the absence of diabetes mellitus in an 8-year-old boy. Dig Dis Sci

51.

Wallace MB (2007) Imaging the pancreas: into the deep. Gastroenterology 132:484–487. doi:10.1053/j.gastro.2007.01.018

52.

Harrison KA, Thaler J, Pfaff SL, Gu H, Kehrl JH (1999) Pancreas dorsal lobe agenesis and abnormal islets of Langerhans in Hlxb9-deficient mice. Nat Genet 23:71–75

53.

Haumaitre C, Fabre M, Cormier S, Baumann C, Delezoide AL, Cereghini S (2006) Severe pancreas hypoplasia and multicystic renal dysplasia in two human fetuses carrying novel HNF1beta/MODY5 mutations. Hum Mol Genet 15:2363–2375. doi:10.1093/hmg/ddl161

54.

Stingl H, Schnedl WJ, Krssak M, Bernroider E, Bischof MG, Lahousen T et al (2002) Reduction of hepatic glycogen synthesis and breakdown in patients with agenesis of the dorsal pancreas. J Clin Endocrinol Metab 87:4678–4685. doi:10.1210/jc.2002-020036

55.

Kamisawa T, Tu Y, Egawa N, Ishiwata J, Okamoto A (1999) Hypoplasia of ventral pancreas shows a threadlike pancreatic duct. Pancreas 18:214–215. doi:10.1097/00006676-199903000-00015

56.

Rahier J, Goebbels RM, Henquin JC (1983) Cellular composition of the human diabetic pancreas. Diabetologia 24:366–371. doi:10.1007/BF00251826

57.

Wittingen J, Frey CF (1974) Islet concentration in the head, body, tail and uncinate process of the pancreas. Ann Surg 179:412–414. doi:10.1097/00000658-197404000-00005

58.

Slezak LA, Andersen DK (2001) Pancreatic resection: effects on glucose metabolism. World J Surg 25:452–460. doi:10.1007/s002680020337

59.

Hohmeier HE, Newgard CB (2004) Cell lines derived from pancreatic islets. Mol Cell Endocrinol 228:121–128. doi:10.1016/j.mce.2004.04.017

60.

Bonner-Weir S, Weir GC (2005) New sources of pancreatic β-cells. Nat Biotechnol 23:857–861. doi:10.1038/nbt1115

61.

Del Guerra S, Grupillo M, Masini M, Lupi R, Bugliani M, Torri S et al (2007) Gliclazide protects human islet beta-cells from apoptosis induced by intermittent high glucose. Diabetes Metab Res Rev 23:234–238. doi:10.1002/dmrr.680

62.

Yi SQ, Tanaka S, Tanaka A, Shimokawa T, Ru F, Nakatani T (2004) An extremely rare inversion of the preduodenal portal vein and common bile duct associated with multiple malformations. Anat Embryol (Berl) 208:87–96. doi:10.1007/s00429-003-0377-7

63.

Zissin R, Rathaus V, Oscadchy A, Kots E, Gayer G, Shapiro-Feinberg M (1999) Intestinal malrotation as an incidental finding on CT in adults. Abdom Imaging 24:550–555. doi:10.1007/s002619900560

64.

Gayer G, Apter S, Jonas T, Amitai M, Zissin R, Sella T et al (1999) Polysplenia syndrome detected in adulthood: report of eight cases and review of the literature. Abdom Imaging 24:178–184. doi:10.1007/s002619900471

65.

Deveci MS, Deveci G (2000) Biliary atresia splenic malformation syndrome—is it a result of embryonically midline rotational defects? A case report. J Pediatr Surg 35:1377–1380. doi:10.1053/jpsu.2000.9344

66.

Takeshi I, Naoya S, Yasuaki H, Yosuke H, Takushi N, Hiroki Y et al (2001) Synchronous double cancer of the stomach and rectum with situs inversus totalis and polysplenia syndrome. J Clin Gastroenterol 33:148–153. doi:10.1097/00004836-200108000-00012

67.

Plata-Munoz JJ, Hernandez-Ramirez D, Anthon FJ, Podgaetz E, Avila-Florez F, Chan C (2004) Polysplenia syndrome in the adult patient. Case report with review of the literature. Ann Hepatol 3:114–117

68.

Schnedl WJ, Reisinger EC, Schreiber F, Pieber TR, Lipp RW, Krejs GJ (1995) Complete and partial agenesis of the dorsal pancreas within one family. Gastrointest Endosc 42:485–487. doi:10.1016/S0016-5107(95)70055-2

69.

Saisho Y, Butler AE, Meier JJ, Monchamp T, Allen-Auerbach M, Rizza RA et al (2007) Pancreas volumes in humans from birth to age one hundred taking into account sex, obesity, and presence of type-2 diabetes. Clin Anat 20:933–942. doi:10.1002/ca.20543
About this article
Cite this article
Schnedl, W.J., Piswanger-Soelkner, C., Wallner, S.J. et al. Agenesis of the Dorsal Pancreas and Associated Diseases. Dig Dis Sci 54, 481–487 (2009). https://doi.org/10.1007/s10620-008-0370-3
Received:

Accepted:

Published:

Issue Date:
Keywords
Pancreas development

Agenesis of dorsal pancreas

Pancreas hypoplasia

Short pancreas

Diabetes mellitus

Abdominal pain

Pancreatitis