Abstract
There is a strong correlation between orally administered probiotics and suppression of the low-grade inflammation that can lead to restoration of normal local immune functions. We studied the potential immunomodulatory and antitumorigenic properties of microencapsulated probiotic bacterial cells in a yogurt formulation in Min mice carrying a germline APC mutation. Daily oral administration of microencapsulated Lactobacillus acidophilus bacterial cells in the yogurt formulation mice resulted in significant suppression of colon tumor incidence, tumor multiplicity, and reduced tumor size. Results show that oral administration of microencapsulated L. acidophilus contributed to the stabilization of animal body weight and decreased the release of bile acids. Histopathological analyses revealed fewer adenomas in treated versus untreated animals. Furthermore, treated animals exhibited fewer gastrointestinal intra-epithelial neoplasias with a lower grade of dysplasia in detected tumors. Results suggest that oral administration of microencapsulated probiotic L. acidophilus exerts anti-tumorous activity, which consequently leads to reduced tumor outcome.
Access options
Buy single article
Instant access to the full article PDF.
USD 39.95
Price excludes VAT (USA)
Tax calculation will be finalised during checkout.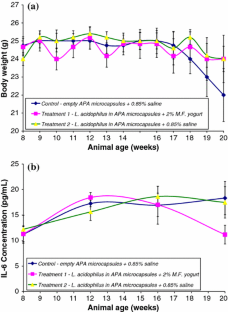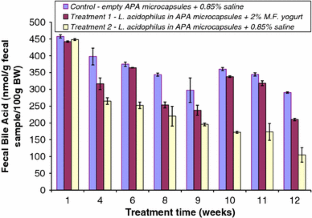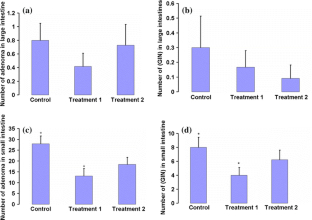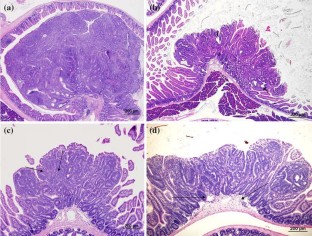 References
August DA, Ottow RT, Sugarbaker PH (1984) Clinical perspective of human colorectal cancer metastasis. Cancer Metastasis Rev 3(4):303–324

Perdigon G, Fuller R, Raya R (2001) Lactic acid bacteria and their effect on the immune system. Curr Issues Intest Microbiol 2(1):27–42

Meydani SN, Ha WK (2000) Immunologic effects of yogurt. Am J Clin Nutr 71(4):861–872

Perdigon G, de Macias ME, Alvarez S, Oliver G, de Ruiz Holgado AP (1988) Systemic augmentation of the immune response in mice by feeding fermented milks with Lactobacillus casei and Lactobacillus acidophilus. Immunology 63(1):17–23

Brady LJ, Gallaher DD, Busta FF (2000) The role of probiotic cultures in the prevention of colon cancer. J Nutr 130 [2S Suppl]:410S–414S

Dunne C (2001) Adaptation of bacteria to the intestinal niche: probiotics and gut disorder. Inflamm Bowel Dis 7(2):136–145

Perdigon G, Valdez JC, Rachid M (1998) Antitumour activity of yogurt: study of possible immune mechanisms. J Dairy Res 65(1):129–138

Denholm J, Horne K, McMahon J, Grayson ML, Johnson P (2006) Yoghurt consumption and damaged colonic mucosa: a case of Lactococcus lactis liver abscess in an immunocompetent patient. Scand J Infect Dis 38(8):739–741

De Moreno de LeBlanc A, Perdigon G (2005) Reduction of beta-glucuronidase and nitroreductase activity by yoghurt in a murine colon cancer model. Biocell 29(1):15–24

De Moreno de LeBlanc A, Perdigon G (2004) Yogurt feeding inhibits promotion and progression of experimental colorectal cancer. Med Sci Monit 10(4):BR96–BR104

Herias MV, Koninkx JF, Vos JG, Huis in't Veld JH, van Dijk JE (2005) Probiotic effects of Lactobacillus casei on DSS-induced ulcerative colitis in mice. Int J Food Microbiol 103(2):143–155

Kamada N, Inoue N, Hisamatsu T, Okamoto S, Matsuoka K, Sato T et al (2005) Nonpathogenic Escherichia coli strain Nissle1917 prevents murine acute and chronic colitis. Inflamm Bowel Dis 11(5):455–463

Schultz M, Strauch UG, Linde HJ, Watzl S, Obermeier F, Gottl C et al (2004) Preventive effects of Escherichia coli strain Nissle 1917 on acute and chronic intestinal inflammation in two different murine models of colitis. Clin Diagn Lab Immunol 11(2):372–378

Kokesova A, Frolova L, Kverka M, Sokol D, Rossmann P, Bartova J et al (2006) Oral administration of probiotic bacteria (E. coli Nissle, E. coli O83, Lactobacillus casei) influences the severity of dextran sodium sulfate-induced colitis in BALB/c mice. Folia Microbiol (Praha) 51(5):478–484

Camilleri M (2006) Probiotics and irritable bowel syndrome: rationale, putative mechanisms, and evidence of clinical efficacy. J Clin Gastroenterol 40(3):264–269

Glinghammar B, Inoue H, Rafter JJ (2002) Deoxycholic acid causes DNA damage in colonic cells with subsequent induction of caspases, COX-2 promoter activity and the transcription factors NF-kB and AP-1. Carcinogenesis 23(5):839–845

Lechner S, Muller-Ladner U, Schlottmann K, Jung B, McClelland M, Ruschoff J et al (2002) Bile acids mimic oxidative stress induced upregulation of thioredoxin reductase in colon cancer cell lines. Carcinogenesis 23(8):1281–1288

Le JM, Fredrickson G, Reis LF, Diamantstein T, Hirano T, Kishimoto T et al (1988) Interleukin 2-dependent and interleukin 2-independent pathways of regulation of thymocyte function by interleukin 6. Proc Natl Acad Sci USA 85(22):8643–8647

Prakash S, Bhathena J (2005) Live bacterial cells as orally delivered therapeutics. Expert Opin Biol Ther 5(10):1281–1301

De Smet I, Van Hoorde L, De Saeyer M, Vande WM, Verstraete W (1994) In vitro study of bile salt hydrolase (BSH) activity of BSH isogenic Lactobacillus plantarum 80 strains and estimation of cholesterol lowering through enhanced BSH activity. Microb Ecol Health Dis 7:315–329

Lim F, Sun AM (1980) Microencapsulated islets as bioartificial endocrine pancreas. Science 210(4472):908–910

Sambanis A (2003) Encapsulated islets in diabetes treatment. Diabetes Technol Ther 5(4):665–668

Ross CJ, Ralph M, Chang PL (2000) Somatic gene therapy for a neurodegenerative disease using microencapsulated recombinant cells. Exp Neurol 166(2):276–286

Luca G, Nastruzzi C, Calvitti M, Becchetti E, Baroni T, Neri LM et al (2005) Accelerated functional maturation of isolated neonatal porcine cell clusters: in vitro and in vivo results in NOD mice. Cell Transplant 14(5):249–261

Basta G, Sarchielli P, Luca G, Racanicchi L, Nastruzzi C, Guido L et al (2004) Optimized parameters for microencapsulation of pancreatic islet cells: an in vitro study clueing on islet graft immunoprotection in type 1 diabetes mellitus. Transpl Immunol 13(4):289–296

US Food and Drug Administration (2006) Food additive status list. US Food and Drug Administration (FDA), Rockville, MD

Prevost H, Divies C (1992) Cream fermentation by a mixed culture of lactococci entrapped in two-layer calcium alginate gel beads. Biotechnol Lett 14(7):583–588

Shoemaker AR, Gould KA, Luongo C, Moser AR, Dove WF (1997) Studies of neoplasia in the Min mouse. Biochim Biophys Acta 1332(2):F25–F48

Chiu CH, McEntee MF, Whelan J (1997) Sulindac causes rapid regression of preexisting tumors in Min/+ mice independent of prostaglandin biosynthesis. Cancer Res 57(19):4267–4273

Kinzler KW, Vogelstein B (1996) Lessons from hereditary colorectal cancer. Cell 87(2):159–170

Laken SJ, Papadopoulos N, Petersen GM, Gruber SB, Hamilton SR, Giardiello FM et al (1999) Analysis of masked mutations in familial adenomatous polyposis. Proc Natl Acad Sci USA 96(5):2322–2326

Su LK, Kinzler KW, Vogelstein B, Preisinger AC, Moser AR, Luongo C et al (1992) Multiple intestinal neoplasia caused by a mutation in the murine homolog of the APC gene. Science 256(5057):668–670

Pierre F, Perrin P, Champ M, Bornet F, Meflah K, Menanteau J (1997) Short-chain fructo-oligosaccharides reduce the occurrence of colon tumors and develop gut-associated lymphoid tissue in Min mice. Cancer Res 57(2):225–228

Kamimura D, Ishihara K, Hirano T (2003) IL-6 signal transduction and its physiological roles: the signal orchestration model. Rev Physiol Biochem Pharmacol 149:1–38

Beher WT, Stradnieks S, Lin GJ, Sanfield J (1981) Rapid analysis of human fecal bile acids. Steroids 38(3):281–295

Huerta S, Irwin RW, Heber D, Go VL, Moatamed F, Huerta S et al (2003) Intestinal polyp formation in the Apcmin mouse: effects of levels of dietary calcium and altered vitamin D homeostasis. Dig Dis Sci 48(5):870–876

Mashige F, Tanaka N, Maki A, Kamei S, Yamanaka M (1981) Direct spectrophotometry of total bile acids in serum. Clin Chem 27(8):1352–1356

Donini LM, Savina C, Cannella C (2003) Eating habits and appetite control in the elderly: the anorexia of aging. Int Psychogeriatr 15(1):73–87

Brown KA, Back SJ, Ruchelli ED, Markowitz J, Mascarenhas M, Verma R et al (2002) Lamina propria and circulating interleukin-6 in newly diagnosed pediatric inflammatory bowel disease patients. Am J Gastroenterol 97(10):2603–2608

Seegert D, Rosenstiel P, Pfahler H, Pfefferkorn P, Nikolaus S, Schreiber S (2001) Increased expression of IL-16 in inflammatory bowel disease. Gut 48(3):326–332

Hosokawa T, Kusugami K, Ina K, Ando T, Shinoda M, Imada A et al (1999) Interleukin-6 and soluble interleukin-6 receptor in the colonic mucosa of inflammatory bowel disease. J Gastroenterol Hepatol 14(10):987–996

Ramadori G, Christ B (1999) Cytokines and the hepatic acute-phase response. Semin Liver Dis 19(2):141–155

Le JM, Vilcek J (1989) Interleukin 6: a multifunctional cytokine regulating immune reactions and the acute phase protein response. Lab Invest 61(6):588–602

Gazouli M, Zavos G, Papaconstantinou I, Lukas JC, Zografidis A, Boletis J et al (2004) The interleukin-6–174 promoter polymorphism is associated with a risk of development of Kaposi's sarcoma in renal transplant recipients. Anticancer Res 24(2C):1311–1314

Wu CW, Wang SR, Chao MF, Wu TC, Lui WY, P'eng FK, Chi CW (1996) Serum interleukin-6 levels reflect disease status of gastric cancer. Am J Gastroenterol 91(7):1417–1422

Blay JY, Negrier S, Combaret V, Attali S, Goillot E, Merrouche Y et al (1992) Serum level of interleukin 6 as a prognosis factor in metastatic renal cell carcinoma. Cancer Res 52(12):3317–3322

Nakashima J, Tachibana M, Horiguchi Y, Oya M, Ohigashi T, Asakura H et al (2000) Serum interleukin 6 as a prognostic factor in patients with prostate cancer. Clin Cancer Res 6(7):2702–2706

Plante M, Rubin SC, Wong GY, Federici MG, Finstad CL, Gastl GA (1994) Interleukin-6 level in serum and ascites as a prognostic factor in patients with epithelial ovarian cancer. Cancer 73(7):1882–1888

Zhang GJ, Adachi I (1999) Serum interleukin-6 levels correlate to tumor progression and prognosis in metastatic breast carcinoma. Anticancer Res 19(2B):1427–1432

Moayyedi P, Achkar E (2006) Does fecal occult blood testing really reduce mortality? A reanalysis of systematic review data. Am J Gastroenterol 101(2):380–384

Azuma N, Suda H, Iwasaki H, Yamagata N, Saeki T, Kanamoto R et al (2000) Antitumorigenic effects of several food proteins in a rat model with colon cancer and their reverse correlation with plasma bile acid concentration. J Nutr Sci Vitaminol (Tokyo) 46(2):91–96

Kanamoto R, Azuma N, Suda H, Saeki T, Tsuchihashi Y, Iwami K (1999) Elimination of Na+-dependent bile acid transporter from small intestine by ileum resection increases [correction of increase] colonic tumorigenesis in the rat fed deoxycholic acid. Cancer Lett 145(1–2):115–120

Kanamoto R, Azuma N, Miyamoto T, Saeki T, Tsuchihashi Y, Iwami K (2001) Soybean resistant proteins interrupt an enterohepatic circulation of bile acids and suppress liver tumorigenesis induced by azoxymethane and dietary deoxycholate in rats. Biosci Biotechnol Biochem 65(4):999–1002

Matsumoto M, Takei H, Kanoh M, Kamano T, Maeda M (2004) Development of an enzyme-linked immunosorbent assay for fecal bile acid. Rinsho Byori 52(11):891–896

Pigeon RM, Cuesta EP, Gililliand SE (2002) Binding of free bile acids by cells of yogurt starter culture bacteria. J Dairy Sci 85(11):2705–2710
Acknowledgments
We acknowledge the Canadian Institute of Health Research (CIHR) and Micropharma grants to Dr. S. Prakash. We also acknowledge support for A.M. Urbanska from a PGS-D scholarship from the Natural Sciences and Engineering Research Council (NSERC) of Canada and a McGill Faculty of Medicine Internal postgraduate scholarship. J. Bhathena acknowledges the Canadian Liver Foundation for a Graduate Studentship Award. C. Martoni and A. Kulamarva acknowledge graduate scholarships (doctoral) from NSERC. We acknowledge the aid of Dr. Marilene Paquet, Veterinary Pathologist, McGill Cancer Center, in performing the blinded scoring for the histological experiments as well as Arun Kulamarva for help with fecal sample collection. This work was supported by CIHR.
About this article
Cite this article
Urbanska, A.M., Bhathena, J., Martoni, C. et al. Estimation of the Potential Antitumor Activity of Microencapsulated Lactobacillus acidophilus Yogurt Formulation in the Attenuation of Tumorigenesis in Apc(Min/+) Mice. Dig Dis Sci 54, 264–273 (2009). https://doi.org/10.1007/s10620-008-0363-2
Received:

Accepted:

Published:

Issue Date:

DOI: https://doi.org/10.1007/s10620-008-0363-2
Keywords