Abstract
Objective This study focused on unhealed gastrocutaneous fistulas to resolve whether standard drugs that promote healing of gastric ulcers may simultaneously have the same effect on cutaneous wounds, and corticosteroid aggravation, and to demonstrate why peptides such as BPC 157 exhibit a greater healing effect. Therefore, with the fistulas therapy, we challenge the wound/growth factors theory of the analogous nonhealing of wounds and persistent gastric ulcers. Methods The healing rate of gastrocutaneous fistula in rat (2-mm-diameter stomach defect, 3-mm-diameter skin defect) validates macro/microscopically and biomechanically a direct skin wound/stomach ulcer relation, and identifies a potential therapy consisting of: (i) stable gastric pentadecapeptide BPC 157 [in drinking water (10 μg/kg) (12 ml/rat/day) or intraperitoneally (10 μg/kg, 10 ng/kg, 10 pg/kg)], (ii) atropine (10 mg/kg), ranitidine (50 mg/kg), and omeprazole (50 mg/kg), (iii) 6-alpha-methylprednisolone (1 mg/kg) [intraperitoneally, once daily, first application at 30 min following surgery; last 24 h before sacrifice (at postoperative days 1, 2, 3, 7, 14, and 21)]. Results Greater anti-ulcer potential and efficiency in wound healing compared with standard agents favor BPC 157, efficient in inflammatory bowel disease (PL-14736, Pliva), given in drinking water or intraperitoneally. Even after 6-alpha-methylprednisolone aggravation, BPC 157 promptly improves both skin and stomach mucosa healing, and closure of fistulas, with no leakage after up to 20 ml water intragastrically. Standard anti-ulcer agents, after a delay, improve firstly skin healing and then stomach mucosal healing, but not fistula leaking and bursting strength (except for atropine). Conclusion We conclude that BPC 157 may resolve analogous nonhealing of wounds and persistent gastric ulcers better than standard agents.
Access options
Buy single article
Instant access to the full article PDF.
USD 39.95
Price excludes VAT (USA)
Tax calculation will be finalised during checkout.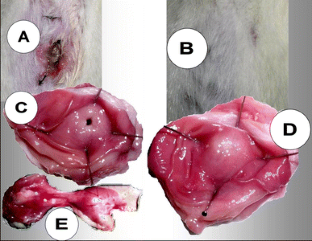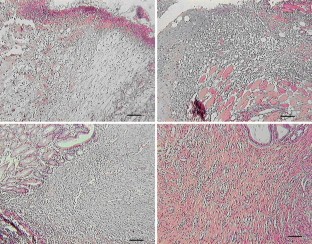 References
Papavramidis ST, Eleftheriadis EE, Papavramidis TS, Kotzampassi KE, Gamvros OG (2004) Endoscopic management of gastrocutaneous fistula after bariatric surgery by using a fibrin sealant. Gastrointest Endosc 59:296–300

Deruyter L, Van Blerk M, Cadière GB, De Graef J, Willems G (1991) Treatment of high-output gastric fistulas with omeprazole. Hepatogastroenterology 38(Suppl 1):83–86

Paran H, Neufeld D, Kaplan O, Klausner J, Freund U (1995) Octreotide for treatment of postoperative alimentary tract fistulas. World J Surg 19:430–433

di Costanzo J, Cano N, Martin J, Richieri JP, Mercier R, Lafille C, Lepeuch D (1987) Treatment of external gastrointestinal fistulas by a combination of total parenteral nutrition and somatostatin. J Parenter Enteral Nutr 11:465–470

Misiewicz JJ (1985) Future trends in the management of peptic ulcer disease. Scand J Gastroenterol Suppl 146:175–184

Szabo S, Vincze A (2000) Growth factors in ulcer healing: lessons from recent studies. J Physiol (Paris) 94:77–81

Christensen S, Riis A, Nørgaard M, Thomsen RW, Tønnesen EM, Larsson A, Sørensen HT (2006) Perforated peptic ulcer: use of pre-admission oral glucocorticoids and 30-day mortality. Aliment Pharmacol Ther 23:45–52

Sikiric P, Petek M, Rucman R, Seiwerth S, Grabarevic Z, Rotkvic I et al (1993) A new gastric peptide BPC. An overview of stomach-organoprotection hypothesis and beneficial effect of BPC. J Physiol (Paris) 87:313–327

Sikiric P, Seiwerth S, Brcic L, Blagaic AB, Zoricic I, Sever M, Klicek R, Radic B, Keller N, Sipos K, Jakir A, Udovicic M, Tonkic A, Kokic N, Turkovic B, Mise S, Anic T (2006) Stable gastric pentadecapeptide BPC 157 in trials for inflammatory bowel disease (PL-10, PLD-116, PL 14736, Pliva, Croatia). Full and distended stomach, and vascular response. Inflammopharmacology 14:214–221

Wood JD (2004) The first Nobel prize for integrated systems physiology: Ivan Petrovich Pavlov, 1904. Physiology 19:326–330

Sikiric P, Seiwerth S, Grabarevic Z, Petek M, Rucman R, Turkovic B et al (1994) The beneficial effect of BPC 157, a 15 amino acid peptide BPC fragment, on gastric and duodenal lesion induced by restraint stress, cysteamine and 96% ethanol in rats. A comparative study with H2 receptor antagonists, dopamine promoters and gut peptides. Life Sci 54:PL63–PL68

Sikiric P, Seiwerth S, Grabarevic Z, Rucman R, Petek M, Jagic V et al (1996) Beneficial effect of novel pentadecapeptide BPC 157 on gastric lesions induced by restraint stress, ethanol, indomethacin, and capsaicin neurotoxicity. Dig Dis Sci 41:1604–1614

Sikiric P, Seiwerth S, Grabarevic Z, Rucman R, Petek M, Jagic V et al (1997) The influence of a novel pentadecapeptide BPC 157 on NG-nitro-L-arginine methylester and L-arginine effect on stomach mucosal integrity and blood pressure. Eur J Pharmacol 332:23–33

Sikiric P, Mikus D, Seiwerth S, Grabarevic Z, Rucman R, Petek M et al (1997) Pentadecapeptide BPC 157, cimetidine, ranitidine, bromocriptine, and atropine effect in cysteamine lesions in totally gastrectromized rats: a model for cytoprotective studies. Dig Dis Sci 42:1029–1037

Bedekovic V, Mise S, Anic T, Staresinic M, Gjurasin M, Kopljar M et al (2003) Different effect of antiulcer agents on rat cysteamine-induced duodenal ulcer after sialoadenectomy, but not gastrectomy. Eur J Pharmacol 477:73–80

Xue XC, Wu YJ, Gao MT, Li WG, Zhao N, Wang ZL, Bao CJ, Yan Z, Zhang YO (2004) Protective effects of pentadecapeptide BPC 157 on gastric ulcer in rats. World J Gastroenterol 10:1032–1036

Sandor Z, Deng XM, Khomenko T, Tarnawski AS, Szabo S (2006) Altered angiogenic balance in ulcerative colitis: a key to impaired healing? Biochem Biophys Res Commun 350:147–150

Veljaca M, Chan K, Guglietta A (1995) Digestion of h-EGF, h-TGF alpha and BPC-15 in human gastric juice. Gastroenterology 108:761

Ruenzi M, Stolte M, Veljaca M, Oreskovic K, Peterson J, Ulcerative Colitis Study Group (2005) A multicenter, randomized, double blind, placebo-controlled phase II study of PL 14736 enema in the treatment of mild-to-moderate ulcerative colitis. Gastroenterology 128:A584

Veljaca M, Krnic Z, Brajsa K, Mildner B, Pavic-Saladojev D, Seveljevic-Jaran D et al (2002) The development of PL 14736 for treatment of inflammatory bowel disease. IUPHAR-GI section symposium, Honolulu, Hawaii, 2002, 13–15 July, O–32.

Veljaca M, Pavic Sladoljev D, Mildner B, Brajsa K, Bubenik M, Stipanicic S et al (2003) Safety, tolerability and pharmacokinetics of PL 14736, a novel agent for treatment of ulcerative colitis, in healthy male volunteers. Gut 51(Suppl III):A309

Mikus D, Sikiric P, Seiwerth S, Petricevic A, Aralica G, Druzijanic N et al (2001) Pentadecapeptide BPC 157 cream improves burn-wound healing and attenuates burn-gastric lesions in mice. Burns 127:817–827

Sikiric P, Seiwerth S, Mise S, Staresinic M, Bedekovic V, Zarkovic N et al (2003) Corticosteroids-impairment healing and gastric pentadecapeptide BPC 157 creams in burned mice. Burns 29:323–334

Seiwerth S, Sikiric P, Grabarevic Z, Zoricic I, Hanzevacki M, Ljubanovic D et al (1997) BPC 157's effect on healing. J Physiol (Paris) 91:173–178

Seveljevic Jaran D, Cuzic S, Dominis Kramaric M, Glojnaric I, Ivetic V, Radosevic S et al (2006) Accelerated healing of excisional skin wound by PL 14736 in alloxan-hyperglycemic rats. Skin Pharmacol Physiol 19:266–274

Xue XC, Wu YJ, Gao MT (2004) Study of the protective effects of pentadecapeptide BPC 157 on wounds in small type pigs. Chin New Drugs J 12:602–604

Ivetic Tkalcevic I, Cuzic S, Brajsa K, Mildner B, Bokulic A, Situm K et al (2007) Enhancement by PL 14736 of granulation and collagen organization in healing wounds and the potential role of egr-1 expression. Eur J Pharmacol 570:212–221

Sebecic B, Nikolic V, Sikiric P, Seiwerth S, Sosa T, Patrlj L et al (1999) Osteogenic effect of a gastric pentadecapeptide, BPC-157, on the healing of segmental bone defect in rabbits: a comparison with bone marrow and autologous cortical bone implantation. Bone 24:195–202

Rao KS, Patil PA, Malur PR (2007) Promotion of cutaneous wound healing by famotidine in Wistar rats. Indian J Med Res 125:149–154

Räntfors J, Cassuto J (2003) Role of histamine receptors in the regulation of edema and circulation postburn. Burns 29:769–777

Numata Y, Terui T, Okuyama R, Hirasawa N, Sugiura Y, Miyoshi I et al (2006) The accelerating effect of histamine on the cutaneous wound-healing process through the action of basic fibroblast growth factor. J Invest Dermatol 126:1403–1409

Yang YX, Lewis JD, Epstein S, Metz DC (2006) Long-term proton pump inhibitor therapy and risk of hip fracture. JAMA 296:2947–2953

Frank S, Madlener M, Pfeilschifter J, Werner S (1998) Induction of inducible nitric oxide synthase and its corresponding tetrahydrobiopterin-cofactor-synthesizing enzyme GTP-cyclohydrolase I during cutaneous wound repair. J Invest Dermatol 111:1058–1064

Eubanks TR, Greenberg JJ, Dobrin PB, Harford FJ, Gamelli RL (1997) The effects of different corticosteroids on the healing colon anastomosis and cecum in a rat model. Am Surg 63:266–269

Golan J, Mitelman S, Baruchin A, Ben-Hur N (1980) Vitamin A and corticosteroid interaction in wound healing in rats. Isr J Med Sci 16:572–575

Filaretova L, Podvigina T, Bagaeva T, Bobryshev P, Takeuchi K (2007) Gastroprotective role of glucocorticoid hormones. J Pharmacol Sci 104:195–201

Sikiric P, Separovic J, Anic T, Buljat G, Mikus D, Seiwerth S et al (1999) The effect of pentadecapeptide BPC 157, H2 blockers and sucralfate on new vessels and new granulation tissue formation. J Physiol (Paris) 93:479–485

Szabo S (1986) Experimental basis for a role for sulfhydryls and dopamine in ulcerogenesis: a primer for cytoprotection–organoprotection. Klin Wochenschr 64:116–122

Torres-García AJ, Argüello JM, Balibrea JL (1994) Gastrointestinal fistulas: pathology and prognosis. Scand J Gastroenterol 207(Suppl):39–41

Krivic A, Anic T, Seiwerth S, Huljev D, Sikiric P (2006) Achilles detachment in rat and stable gastric pentadecapeptide BPC 157: promoted tendon to bone healing and opposed corticosteroid aggravation. J Orthopaed Res 24:982–989

Staresinic M, Sebecic B, Jadrijevic S, Suknaic S, Perovic D, Aralica G et al (2003) Gastric pentadecapeptide BPC 157 accelerates healing of transected rat Achilles tendon and in vitro stimulates tendocytes growth. J Orthopaed Res 21:976–983

Gjurasin M, Miklic P, Buljat G, Perovic D, Jukic I, Sikiric P et al (2003) Selective healing effect of the gastric pentadecapeptide BPC 157 on injured part of the nerve in subtotal sciatic nerve transection. Dig Dis Sci 48:1878

Staresinic M, Petrovic I, Novinscak T, Jukic I, Pevec D, Suknaic S et al (2006) Effective therapy of transected quadriceps muscle in rat: gastric pentadecapeptide BPC 157. J Orthopaed Res 24:1109–1117

Lazic R, Gabric N, Dekaris I, Bosnar D, Boban-Blagaic A, Sikiric P (2005) Gastric pentadecapeptide BPC 157 promotes corneal epithelial defects healing in rats. Coll Antropol 29:321–325

Kalogjera L, Ries M, Baudoin T, Ferencic Z, Trotic R, Pegan B (1997) Dose-dependent protective effect of BPC 157 on capsaicin-induced rhinitis in rats. Eur Arch Otorhinolaryngol 254(Suppl 1):S9–S11

Grabarevic Z, Tisljar M, Artukovic B, Bratulic M, Dzaja P, Seiwerth S et al (1997) The influence of BPC 157 on nitric oxide agonist and antagonist induced lesions in broiler chicks. J Physiol (Paris) 91:139–149

Turkovic B, Sikiric P, Seiwerth S, Mise S, Anic T, Petek M et al (2004) Stable gastric pentadecapeptide BPC 157 studied for inflammatory bowel disease (PLD-116, PL14736, Pliva) induces nitric oxide synthesis. Gastroenterology 126:287

Lovric-Bencic M, Sikiric P, Separovic J, Seiwerth S, Rogic D, Kusec V et al (2004) Doxorubicine congestive heart failure-increased big-endothelin 1 plasma concentration. Reversal by amlodipine, losartan and gastric pentadecapeptide BPC 157 in rat and mouse. J Pharmacol Sci 95:19–26

Petrovic I, Dobric I, Drvis P, Shejbal D, Brcic L, Boban Blagaic A et al (2006) An experimental model of prolonged esophagitis with sphincter failure in rat and therapeutic potential of gastric pentadecapeptide BPC 157. J Pharmacol Sci 102:269–277

Dobric I, Drvis P, Petrovic I, Shejbal D, Brcic L, Boban Blagaic A et al (2007) Prolonged esophagitis after primary dysfunction of the pyloric sphincter in the rat and therapeutic potential of the gastric pentadecapeptide BPC 157. J Pharm Sci 104:7–18

Pawlik WW, Sikiric P, Brzozowski T, Seiwerth S, Drozdowicz D, Pajdo R, Pawlik M, Konturek SJ (2004) Acceleration of ulcer healing by pentadecapeptide BPC 157 in rats. Involvement of endogenous prostaglandins and gastric secretion. Gastroenterology 126:541

Robert A (1979) Cytoprotection by prostaglandins. Gastroenterology 77:761–767

Okabe S, Amagase K (2005) An overview of acetic acid ulcer models–the history and state of the art of peptic ulcer research. Biol Pharm Bull 28:1321–1341

Selye H, Szabo S (1973) Experimental model for production of perforating duodenal ulcers by cysteamine in the rat. Nature 244:458–459

Suzuki T, Tsukamoto Y, Goto H, Hase S, Arisawa T, Asai J (1992) Effects of histamine H2-receptor antagonists and a proton pump inhibitor on the mucosal hydroxyproline content of ethanol-HCl-induced gastric lesions in rats. Digestion 51:161–167

Houck JC (1964) Connective tissue. X. Dermal chemical response to atropine. Proc Soc Exp Biol Med 115:725–728

Arisawa T, Harata M, Kamiya Y, Shibata T, Nagasaka M, Nakamura M, Fujita H, Hasegawa S, Nakamura M, Mizuno T, Tahara T, Ohta Y, Nakano H (2006) Is omeprazole or misoprostol superior for improving indomethacin-induced delayed maturation of granulation tissue in rat gastric ulcers? Digestion 73:32–39

Park PO, Alumets J, Arvidsson S, Grimelius L, Haglund U (1990) The influence of a histamine2-receptor antagonist on the healing of an experimentally induced gastric mucosal lesion. APMIS 98:305–312

Bairy KL, Rao CM, Ramesh KV, Kulkarni DR (1991) Effects of antihistamines on wound healing. Indian J Exp Biol 29:398–399

Karádi O, Nagy Z, Bódis B, Mózsik G (2001) Atropine-induced gastrointestinal cytoprotection dependences to the intact of vagal nerve against indomethacin-induced gastrointestinal mucosal and microvascular damage in rats. J Physiol (Paris) 95:29–33

Clissold SP, Campoli-Richards DM (1986) Omeprazole. An updated review. Drugs 32:15–47

Veljaca M, Lesch CA, Sanchez B, Low J, Guglietta A (1995) Protection of BPC-15 on TNBS-induced colitis in rats: possible mechanisms of action. Gastroenterology 108:936

Veljaca M, Lesch CA, Pllana R, Sanchez B, Chan K, Guglietta A (1994) BPC-15 reduces trinitrobenzene sulfonic acid-induced colonic damage in rats. J Pharmacol Exp Ther 272:417–422

Gelbmann CM, Rogler G, Gross V, Gierend M, Bregenzer N, Andus T et al (2002) Prior bowel resections, perianal disease, and a high initial Crohn's disease activity index are associated with corticosteroid resistance in active Crohn's disease. Am J Gastroenterol 97:1438–1444

Lamarque D, Whittle BJ (2001) Increase in gastric intramucosal hydrogen ion concentration following endotoxin challenge in the rat and the actions of nitric oxide synthase inhibitors. Clin Exp Pharmacol Physiol 28:164–168

Bayir Y, Odabasoglu F, Cakir A, Aslan A, Suleyman H, Halici M et al (2006) The inhibition of gastric mucosal lesion, oxidative stress and neutrophil-infiltration in rats by the lichen constituent diffractaic acid. Phytomedicine 13:584–590

Murakami I, Satoh H, Asano S, Maeda R (1996) Role of capsaicin-sensitive sensory neurons and nitric oxide in the protective effect of lansoprazole, a proton pump inhibitor, on the gastric mucosa in rats. Jpn J Pharmacol 72:137–147

Whittle BJR, Boughton-Smith NK, Moncada S (1992) Biosynthesis and role of the endothelium-derived vasodilator, nitric oxide in gastric mucosa. Ann NY Acad Sci 664:126–139

Tabrizi MN, Chams-Davatchi C, Esmaeeli N, Noormohammadpoor P, Safar F, Etemadzadeh H et al (2007) Accelerating effects of epidermal growth factor on skin lesions of pemphigus vulgaris: a double-blind, randomized, controlled trial. J Eur Acad Dermatol Venereol 21:79–84

Obara K, Ishihara M, Fujita M, Kanatani Y, Hattori H, Matsui T et al (2005) Acceleration of wound healing in healing-impaired db/db mice with a photocrosslinkable chitosan hydrogel containing fibroblast growth factor-2. Wound Repair Regen 13:390–397

Cheng B, Liu HW, Fu XB, Sun TZ, Sheng ZY (2007) Recombinant human platelet-derived growth factor enhanced dermal wound healing by a pathway involving ERK and c-fos in diabetic rats. J Dermatol Sci 45:193–201

Urist MR (1996) The first three decades of bone morphogenetic protein. Osteologie 4:207–233

Mustoe TA, Pierce GF, Thomason A, Gramates P, Sporn MB, Duel TF (1987) Accelarated healing of incisional wounds in rats induced by transforming growth factor-β. Science 237:1333–1336
About this article
Cite this article
Skorjanec, S., Dolovski, Z., Kocman, I. et al. Therapy for Unhealed Gastrocutaneous Fistulas in Rats as a Model for Analogous Healing of Persistent Skin Wounds and Persistent Gastric Ulcers: Stable Gastric Pentadecapeptide BPC 157, Atropine, Ranitidine, and Omeprazole. Dig Dis Sci 54, 46–56 (2009). https://doi.org/10.1007/s10620-008-0332-9
Received:

Accepted:

Published:

Issue Date:

DOI: https://doi.org/10.1007/s10620-008-0332-9
Keywords
Unhealed gastrocutaneous fistulas

Stable gastric pentadecapeptide BPC 157

Atropine

Ranitidine

Omeprazole

Analogous healing

Persistent skin ulcer

Persistent gastric ulcer

Rat