Abstract
Probiotics based on Bacillus strains have been increasingly proposed for prophylactic and therapeutic use against several gastro-intestinal diseases. We studied safety for two Bacillus strains included in a popular East European probiotic. Bacillus subtilis strain that was sensitive to all antibiotics listed by the European Food Safety Authority. Bacillus licheniformis strain was resistant to chloramphenicol and clindamycin. Both were non-hemolytic and did not produce Hbl or Nhe enterotoxins. No bceT and cytK toxin genes were found. Study of acute toxicity in BALB/c mice demonstrated no treatment-related deaths. The oral LD50 for both strains was more than 2 × 1011 CFU. Chronic toxicity studies were performed on mice, rabbits, and pigs and showed no signs of toxicity or histological changes in either organs or tissues. We demonstrated that while certain risks may exist for the B. licheniformis strain considering antibiotic resistance, B. subtilis strain may be considered as non-pathogenic and safe for human consumption.
This is a preview of subscription content,
to check access.
Access this article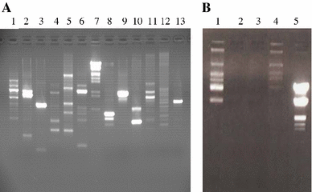 References
Hammerman C, Bin-Nun A, Kaplan M (2006) Safety of probiotics: comparison of two popular strains. BMJ 333:1006–1008

Saarela M, Mogensen G, Fonden R, Matto J, Mattila-Sandholm T (2000) Probiotic bacteria: safety, functional and technological properties. J Biotechnol 84:197–215

Hong HA, Duc LH, Cutting SM (2005) The use of bacterial spore formers as probiotics. FEMS Microbiol Rev 29:813–835

Mazza P (1994) The use of Bacillus subtilis as an antidiarrhoeal microorganism. Boll Chim Farm 133:3–118

Rolfe RD (2000) The role of probiotic cultures in the control of gastrointestinal health. J Nutr 130:396S–402S

Rowland I (1999) Probiotics and benefits to human health—the evidence in favour. Environ Microbiol 1:375–376

Urdaci MC, Pinchuk I (2004) Antimicrobial activity of Bacillus probiotics In: Ricca E, Henriques AO, Cutting SM (eds) Bacterial spore formers: probiotics and emerging applications. Horizon Bioscience, Norfolk, UK, pp 171–182

Logan NA (2004) Safety of aerobic endospore-forming bacteria. In: Ricca E, Henriques AO, Cutting SM (eds) Bacterial spore formers: probiotics and emerging applications. Horizon Bioscience, Norfolk, UK, pp 93–106

Workowski KA, Flaherty JP (1992) Systemic Bacillus species infection mimicking listeriosis of pregnancy. Clin Infect Dis 14:694–966

Wu YJ, Hong TC, Hou CJ, Chou YS, Tsai CH, Yang DI (1999) Bacillus popilliae endocarditis with prolonged complete heart block. Am J Med Sci 317:263–265

Drobniewski FA (1993) Bacillus cereus and related species. Clin Microbiol Rev 6:324–338

Salkinoja-Salonen MS, Vuorio R, Andersson MA, Kampfer P, Andersson MC, Honkanen-Buzalski T, Scoging AC (1999) Toxigenic strains of Bacillus licheniformis related to food poisoning. Appl Environ Microbiol 65:4637–4645

Duc LH, Hong HA, Barbosa TM, Henriques AO, Cutting SM (2004) Characterization of Bacillus probiotics available for human use. Appl Environ Microbiol 70:2161–2171

From C, Pukall R, Schumann P, Hormazabal V, Granum PE (2005) Toxin-producing ability among Bacillus spp. outside the Bacillus cereus group. Appl Environ Microbiol 71:1178–1183

Phelps RJ, McKillip JL (2002) Enterotoxin production in natural isolates of Bacillaceae outside the Bacillus cereus group. Appl Environ Microbiol 68:3147–3151

Rowan NJ, Caldow G, Gemmell CG, Hunter IS (2003) Production of diarrheal enterotoxins and other potential virulence factors by veterinary isolates of bacillus species associated with nongastrointestinal infections. Appl Environ Microbiol 69:2372–2376

FAO/WHO (2002) Joint FAO/WHO (Food and Agriculture Organization/World Health Organization) working group report on drafting guidelines for the evaluation of probiotics in food. London, Ontario, Canada

Sanders ME (2003) Probiotics: considerations for human health. Nutr Rev 61:91–99

European Food Safety Authority (2005) Opinion of the Scientific Committee on a request from EFSA related to a generic approach to the safety assessment by EFSA of microorganisms used in food/feed and the production of food/feed additives. EFSA J 226:1–12

Gracheva NM, Gavrilov AF, Solov'eva AI, Smirnov VV, Sorokulova IB, Reznik SR, Chudnovskaia NV (1996) The efficacy of the new bacterial preparation biosporin in treating acute intestinal infections. Zh Mikrobiol Epidemiol Immunobiol 1:75–77

Smirnov VV, Reznik SR, V'iunitskaia VA, Sorokulova IB, Samgorodskaia NV, Tofan AV (1993) The current concepts of the mechanisms of the therapeutic-prophylactic action of probiotics from bacteria in the genus Bacillus. Mikrobiol Z 55:92–112

Sorokulova IB (1996) Outlook for using bacteria of the genus Bacillus for the design of new biopreparations. Antibiot Khimioter 41:13–15

Sorokulova IB (1998) The safety and reactogenicity of the new probiotic subalin for volunteers. Mikrobiol Z 60:43–46

Youngman P, Perkins J, Losick R (1984) Construction of a cloning site near one end of Tn917 into which foreign DNA may be inserted without affecting transposition in Bacillus subtilis or expression of the transposon-borne erm gene. Plasmid 12:1–9

Hoa NT, Baccigalupi L, Huxham A, Smertenko A, Van PH, Ammendola S, Ricca E, Cutting SM (2000) Characterization of Bacillus species used for oral bacteriotherapy and bacterioprophylaxis of gastrointestinal disorders. Appl Environ Microbiol 66:5241–5247

Sneath PHA (1986) Endospore-forming gram-positive rods and cocci. In: Mair NS, Sharpe ME, Holt JG (eds) Bergey's manual of systematic bacteriology 2. Lippincott Williams &Wilkins, Baltimore, pp 1104–1207

Reva ON, Sorokulova IB, Smirnov VV (2001) Simplified technique for identification of the aerobic spore-forming bacteria by phenotype. Int J Syst Evol Microbiol 51:1361–1371

Hyronimus B, Le Marrec C, Urdaci MC (1998) Coagulin, a bacteriocin-like inhibitory substance produced by Bacillus coagulans I4. J Appl Microbiol. 85:42–50

Weisburg WG, Barns SM, Pelletier DA, Lane DJ (1991) 16S ribosomal DNA amplification for phylogenetic study. J Bacteriol 173:697–703

Pinchuk IV, Bressollier P, Sorokulova IB, Verneuil B, Urdaci MC (2002) Amicoumacin antibiotic production and genetic diversity of Bacillus subtilis strains isolated from different habitats. Res Microbiol 153:269–276

Voskuil MI, Chambliss GH (1993) Rapid isolation and sequencing of purified plasmid DNA from Bacillus subtilis. Appl Environ Microbiol 59:1138–1142

National Committee for Clinical Laboratory Standards (NCCLS) (1997) Performance standards for antimicrobial disk susceptibility tests, 6th edn. Approved standard M2-A5. National Committee for Clinical Laboratory standards, Wayne, PA

Guinebretiere MH, Broussolle V, Nguyen-The C (2002) Enterotoxigenic profiles of food-poisoning and food-borne Bacillus cereus strains. J Clin Microbiol 40:3053–3056

Tallon R, Arias S, Bressollier P, Urdaci MC (2007) Strain- and matrix-dependent adhesion of Lactobacillus plantarum is mediated by proteinaceous bacterial compounds. J Appl Microbiol 102:442–451

Pinchuk I, Starcher BC, Livingston B, Tvninnereim A, Wu S, Appella E, Sidney J, Sette A, Wizel B (2005) A CD8+ T cell heptaepitope minigene vaccine induces protective immunity against Chlamydia pneumoniae. J Immunol 174:5729–5739

Duc LH, Dong TC, Logan NA, Sutherland AD, Taylor J, Cutting SM (2005) Cases of emesis associated with bacterial contamination of an infant breakfast cereal product. Int J Food Microbiol 102:245–251

Scientific Committee on Animal Nutrition (2000) SCAN opinion on the safety of use of Bacillus species in animal nutrition http://www.europa.eu.int/comm/food/fs/sc/scan/out41_en.pdf

Green DH, Wakeley PR, Page A, Barnes A, Baccigalupi L, Ricca E, Cutting SM (1999) Characterization of two Bacillus probiotics. Appl Environ Microbiol 65:4288–4291

Senesi S, Celandroni F, Tavanti A, Ghelardi E (2001) Molecular characterization and identification of Bacillus clausii strains marketed for use in oral bacteriotherapy. Appl.Environ.Microbiol 67:834–839

Silley P (2006) Do bacteria need to be regulated? J Appl Microbiol 101:607–615

von Wright A (2005) Regulating the safety of probiotics—the European approach. Curr Pharm Des 11:17–23

Ivanova EP, Vysotskii MV, Svetashev VI, Nedashkovskaya OI, Gorshkova NM, Mikhailov VV, Yumoto N, Shigeri Y, Taguchi T, Yoshikawa S (1999) Characterization of Bacillus strains of marine origin. Int Microbiol 2:267–271

Reva ON, Vyunitskaya VA, Reznik SR, Kozachko IA, Smirnov VV (1995) Antibiotic susceptibility as a taxonomic characteristic of the genus Bacillus. Int J Syst Bacteriol 45:409–411

Pinchuk IV, Bressollier P, Verneuil B, Fenet B, Sorokulova IB, Megraud F, Urdaci MC (2001) In vitro anti-Helicobacter pylori activity of the probiotic strain Bacillus subtilis 3 is due to secretion of antibiotics. Antimicrob Agents Chemother 45:3156–3161

Donohue DC (2006) Safety of probiotics. Asia Pac J Clin Nutr 15:563–569

Zhou JS, Shu Q, Rutherfurd KJ, Prasad J, Birtles MJ, Gopal PK, Gill HS (2000) Safety assessment of potential probiotic lactic acid bacterial strains Lactobacillus rhamnosus HN001, Lb. acidophilus HN017, and Bifidobacterium lactis HN019 in BALB/c mice. Int J Food Microbiol 56:87–96

Osipova IG, Sorokulova IB, Tereshkina NV, Grigor'eva LV (1998) Safety of bacteria of the genus Bacillus, forming the base of some probiotics. Zh Mikrobiol Epidemiol Immunobiol 6:68–70
Acknowledgments
The authors thank Anne-Marie ELIE for technical assistance.
About this article
Cite this article
Sorokulova, I.B., Pinchuk, I.V., Denayrolles, M. et al. The Safety of Two Bacillus Probiotic Strains for Human Use. Dig Dis Sci 53, 954–963 (2008). https://doi.org/10.1007/s10620-007-9959-1
Received:

Accepted:

Published:

Issue Date:

DOI: https://doi.org/10.1007/s10620-007-9959-1
Keywords