Abstract
Helicobacter pylori infection may cause intrauterine growth restriction (IUGR). However, it is unknown whether the growth of children from H. pylori-infected mothers is also affected or whether transmission of infection from mother to child occurs. This study aimed to determine if maternal H. pylori infection was associated with IUGR and low birth weight in a mouse model, and whether transmission of infection from mother to infant occurs. Female C57BL/6 mice were inoculated with H. pylori (n = 18) or water (control; n = 18) via gavage. Mice were mated at 6 weeks postinfection, with half of the mice sacrificed after 2 weeks of gestation. The remaining mice gave birth and a third of the litter was weighed and sacrificed at birth, during milk feeding (1.5 weeks), and during solid feeding (4 weeks). Stomachs of all mice and whole foetuses were cultured for the presence of H. pylori. There were no differences in litter size or foetus weight between control and H. pylori-infected mice. Pups from infected mothers had a lower weight during milk feeding (control, 5.91 ± 0.23 g; H. pylori, 4.59 ± 0.16 g; p < 0.05) and solid feeding (control, 12.73 ± 0.58 g; H. pylori, 10.01 ± 1.02 g; p < 0.05). H. pylori was not detected by culture in the pups at any age. H. pylori infection in mothers was associated with a decrease in infant weight during milk feeding and after weaning. Transmission of infection from mother to infant was not detected by culture, suggesting that decreased baby weight may be due to decreased milk supply or altered nutrition from the mother.
Access options
Buy single article
Instant access to the full article PDF.
US$ 39.95
Tax calculation will be finalised during checkout.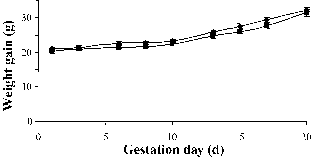 References
1.

Dial EJ, Lichtenberger LM (2002) Effect of lactoferrin on Helicobacter felis induced gastritis. Biochem Cell Biol 80:113–117

2.

Blaser MJ (1998) Helicobacter pylori and gastric disease. BMJ 316:1507–1510

3.

Drumm B, Sherman P, Cutz E, Karmali M (1987) Association of Campylobacter pylori on the gastric mucosa with antral gastritis in children. N Engl J Med 316:1557–1561

4.

Choe YH, Soon KK, Hong YC (2000) Helicobacter pylori infection with iron deficiency and subnormal growth at puberty. Arch Dis Child 82:136–140

5.

Barabino A (2002) Helicobacter pylori-related iron deficiency anaemia: a review. Helicobacter 7:71–75

6.

Erdem A, Arslan M, Erdem M, Yildirim G, Himmetoglu O (2002) Detection of Helicobacter pylori seropositivity in hyperemesis gravidarum and correlation with symptoms. Am J Perinatol 19:87–92

7.

Kocak I, Akcan Y, Ustun C, Demirel C, Cengiz L, Yankik FF (1999) Helicobacter pylori seropositivity in patients with hyperemesis gravidarum. Int J Gynaecol Obstet 66:251–254

8.

Eslick GD, Yan P, Xia H, Murray H, Spurrett B, Talley NJ (2000) Association between Helicobacter pylori infection and fetal intra-uterine growth retardation. J Gastroenterol Hepatol 15(Suppl J):2

9.

Drumm B, Rowland M (2003) The epidemiology of Helicobacter pylori: Where to from here? J Pediatr Gastroenterol Nutr 36:7–8

10.

Rowland M (2000) Transmission of Helicobacter pylori: is it all child's play? Lancet 355:332–333

11.

Brenner H, Rothenbacher D, Bode G, Adler G (1998) Parental history of gastric or duodenal ulcer and Helicobacter pylori infection among preschool children: population based study. BMJ 316:665

12.

Goodman KJ, Correa P (2000) Transmission of Helicobacter pylori among siblings. Lancet 355:358–362

13.

Tindberg Y, Bengtsson C, Granath F, Blennow M, Nyrén O, Granström M (2001) Helicobacter pylori infection in Swedish school children: Lack of evidence of child-to-child transmission outside the family. Gastroenterology 121:310–316

14.

Imamura S, Kita M, Yamaoka Y, Yamamoto T, Ishimaru A, Konishi H, Wakabayashi N, Mitsufuji S, Okanoue T, Imanishi J (2003) Vector potential of cockroaches for Helicobacter pylori infection. Am J Gastroenterol 98:1500–1503

15.

Allen SJ, Thomas JE, Alexander NDE, Bailey R, Emerson PM (2004) Flies and Helicobacter pylori infection. Arch Dis Child 89:1037–1038

16.

Perri F, Pastore M, Leandro G, Clemente R, Ghoos Y, Peeters M, Annese V, Quitadamo M, Latiano A, Rutgeerts P, Andriulli A (1997) Helicobacter pylori infection and growth delay in older children. Arch Dis Child 77:46–49

17.

Rothenbacher D, Incoegglu J, Bode G, Brenner H (2000) Acquisition of Helicobacter pylori infection in a high-risk population occurs within the first two years of life. J Pediatr 136:744–748

18.

Rothenbacher D, Winkler M, Gonser T, Adler G, Brenner H (2002) Role of infected parents in transmission of Helicobacter pylori to their children. Pediatr Infect Dis J 21:674–679

19.

Rothenbacher D, Bode G, Brenner H (2002) History of breastfeeding and Helicobacter pylori infection in pre-school children: results of a population-based study from Germany. Int J Epidemiol 31:632–637

20.

Thomas JE, Austin S, Dale A, McClean P, Harding M, Coward WA, Weaver LT (1993) Protection by human milk IgA against Helicobacter pylori infection in infancy. Lancet 342:121–123

21.

Tuffery AA (1995) Laboratory animals. An introduction for experimenters, 2nd ed. John Wiley and Sons, Chichester, UK, p 379

22.

Tran CD, Gøbel R, Symonds EL (2007) Metallothionein expression in Helicobacter infected pregnant mice, their foetuses and pups. Dig Dis Sci (in press)

23.

Coyle P, Philcox JC, Carey LC, Rofe AM (2002) Metallothionein: the multipurpose protein. Cell Mol Life Sci 59:627–647

24.

Yoshimatsu T, Shirai M, Nagata K, Okita K, Nakazawa T (2000) Transmission of Helicobacter pylori from challenged to nonchallenged nude mice kept in a single cage. Dig Dis Sci 45:747–753

25.

Rossi G, Romagnoli S, Lauretti L, Pancotto L, Taccini E, Rappuoli R, Del Giudice G, Ruggiero P (2004) Helicobacter pylori infection negatively influences pregnancy outcome in a mouse model. Helicobacter 9:152–157

26.

Poole T (1987) The UFAW handbook on: The care and management of laboratory animals, 6th ed. Longman Group, New York,p 277

27.

Takahashi M, Kimura H, Watanabe K (2002) Helicobacter pylori infection in patients with idiopathic short stature. Pediatr Int 44(3):277–280

28.

Richter T, Richter T, List S, Muller DM, Deutscher J, Uhlig HH, Krumbiegel P, Herbarth O, Gutsmuths FJ, Kiess W (2001) Five- to 7-year-old children with Helicobacter pylori infection are smaller than Helicobacter-negative children: a cross-sectional population-based study of 3,315 children. J Pediatr Gastroenterol Nutr 33(4):472–475

29.

Bravo LE, Mera R, Reina JC, Pradilla A, Alzate A, Fontham E, Correa P (2003) Impact of Helicobacter pylori infection on growth of children: a prospective cohort study. J Pediatr Gastroenterol Nutr 37(5):614–619
Acknowledgments
This study was performed at the Gastroenterology Unit, Children, Youth and Women's Health Service, North Adelaide, South Australia, Australia. The results were presented at The World Congress of Gastroenterology (2005) and published in abstract form in Canadian Journal of Gastroenterology, Volume 19, Supplement C, R.0193 (2005). This work was supported by a National Health and Medical Research Council Industry Fellowship to Dr. Tran.
About this article
Cite this article
Gøbel, R., Symonds, E.L., Butler, R.N. et al. Association Between Helicobacter pylori Infection in Mothers and Birth Weight. Dig Dis Sci 52, 3049–3053 (2007). https://doi.org/10.1007/s10620-007-9772-x
Received:

Accepted:

Published:

Issue Date:
Keywords
Helicobacter pylori

Birth weight

Transmission

Mouse model