Abstract
Zinc (Zn) and its binding protein metallothionien (MT) have been proposed to suppress the disease activity in ulcerative colitis. To determine the role of Zn and MT in the dextran sulfate sodium (DSS)-induced model of colitis in mice, a DSS dose-response study was conducted in male C57BL/6 wild-type (MT+/+) and MT-null (MT−/−) mice by supplementing 2%, 3%, and 4% DSS in the drinking water for 6 days. In the intervention study, colitis was induced with 2% DSS, Zn (24 mg/ml as ZnO) was gavaged (0.1 ml) daily, concurrent with DSS administration, and the disease activity index (DAI) was scored daily. Histology, MT levels, and myeloperoxidase (MPO) activity were determined. DAI was increased (P<0.05) by 16% and 21% with 3% and 4% concentrations of DSS, respectively, compared to 2%, evident after 5 days of DSS administration. MPO activity was increased in MT+/+ compared to MT−/− mice and those receiving DSS. Zn administration had a 50% (P<0.05) lower DAI compared to DSS alone. Zn partially prevented the distal colon of MT+/+ by 47% from DSS-induced damage compared to MT−/− mice. MT did not prevent DSS-induced colitis and Zn was partially effective in amelioration of DSS-induced colitis.
Access options
Buy single article
Instant access to the full article PDF.
USD 39.95
Price includes VAT (USA)
Tax calculation will be finalised during checkout.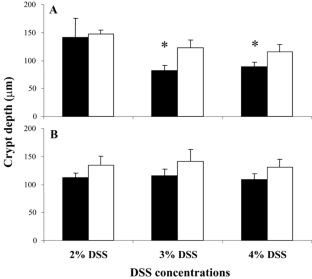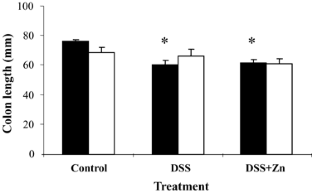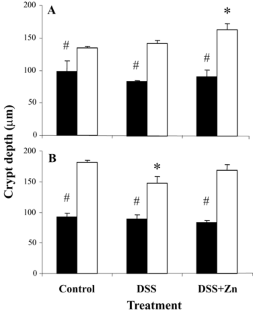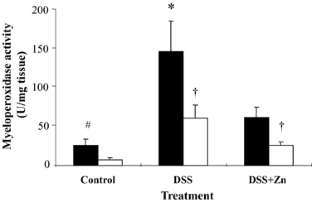 References
1.

Rutgeerts P (2002) A critical assessment of new therapies in inflammatory bowel disease. J Gastroenterol Hepatol 17:S176–S185

2.

Knigge KL (2002) Inflammatory bowel disease. Clin Cornerstone 4(4):49–60

3.

Danese S, Sans M, Fiocchi C (2004) Inflammatory bowel disease: the role of environmental factors. Autoimmun Rev 3(5):394–400

4.

Hugot JP (2004) Inflammatory bowel disease: a complex group of genetic disorders. Best Pract Res Clin Gastroenterol 18(3):451–462

5.

Hanauer SB (2006) Inflammatory bowel disease: epidemiology, pathogenesis, and therapeutic opportunities. Inflamm Bowel Dis 12(Suppl 1):S3–S9

6.

Kruidenier L, Kuiper I, van Duijn W, Marklund SL, van Hogezand RA, Lamers CB, Verspaget HW (2003) Differential mucosal expression of three superoxide dismutase isoforms in inflammatory bowel disease. J Pathol 201:7–16

7.

Segui J, Gironella M, Sans M, Granell S, Gil F, Gimeno M, Coronel P, Pique JM, Panes J (2004) Superoxide dismutase ameliorates TNBS-induced colitis by reducing oxidative stress, adhesion molecule expression, and leukocyte recruitment into the inflamed intestine. J Leukoc Biol 76:537–544

8.

Kruidenier L, van Meeteren ME, Kuiper I, Jaarsma D, Lamers CB, Zijlstra FJ, Verspaget HW (2003) Attenuated mild colonic inflammation and improved survival from severe DSS-colitis of transgenic Cu/Zn-SOD mice. Free Radic Biol Med 34:753–765

9.

Simmonds NJ, Allen RE, Stevens TR, Van Someren RN, Blake DR, Rampton DS (1992) Chemiluminescence assay of mucosal reactive oxygen metabolites in inflammatory bowel disease. Gastroenterology 103(1):186–196

10.

Luk HH, Ko JK, Fung HS, Cho CH (2002) Delineation of the protective role of zinc sulfate on ulcerative colitis in rats. Eur J Pharmacol 443:197–204

11.

Chen BW, Wang HH, Liu JX, Liu XG (1999) Zinc sulfate solution enema decreases inflammation in experimental colitis in rats. J Gastroenterol Hepatol 14:1088–1092

12.

Yoshikawa T, Yamaguchi T, Yoshida N, Yamamoto H, Kitazumi S, Takahashi S, Naito Y, Kondo M (1997) Effect of Z—103 on TNB-induced colitis in rats. Digestion 58(5):464–468

13.

Ohkawara T, Takeda H, Kato K, Miyashita K, Kato M, Iwanaga T, Asaka M (2005) Polaprezinc (N-(3-aminopropionyl)-L-histidinato zinc) ameliorates dextran sulfate sodium-induced colitis in mice. Scand J Gastroenterol 40(11):1321–1327

14.

Sturniolo GC, Fries W, Mazzon E, Di Leo V, Barollo M, D'inca R (2002) Effect of zinc supplementation on intestinal permeability in experimental colitis. J Lab Clin Med 139:311–315

15.

Di Leo V, D'Inca R, Barollo M, Tropea A, Fries W, Mazzon E, Irato P, Cecchetto A, Sturniolo GC (2001) Effect of zinc supplementation on trace elements and intestinal metallothionein concentrations in experimental colitis in the rat. Dig Liver Dis 33:135–139

16.

Tran CD, Butler RN, Howarth GS, Philcox JC, Rofe AM, Coyle P (1999) Regional distribution and localization of zinc and metallothionein in the intestine of rats fed diets differing in zinc content. Scand J Gastroenterol 7:689–695

17.

Sato M, Kondoh M (2002) Recent studies on metallothionein: protection against toxicity of heavy metals and oxygen free radicals. Tohoku J Exp Med 196(1):9–22

18.

Michalska AE, Choo KH (1993) Targeting and germ-line transmission of a null mutation at the metallothionein I and II loci in mouse. Proc Natl Acad Sci USA 90:8088–8092

19.

Korenaga D, Takesue F, Kido K, Yasuda M, Inutsuka S, Honda M, Nagahama S (2002) Impaired antioxidant defence system of colonic tissue and cancer development in dextran sodium sulfate sodium-induced colitis in mice. J Surg Res 102:144–149

20.

Vowinkel T, Kalogeris TJ, Mori M, Krieglstein CF, Granger DN (2004) Impact of dextran sulfate sodium load on the severity of inflammation in experimental colitis. Dig Dis Sci 49:556–564

21.

Melgar S, Karlsson A, Michaelsson E (2005) Acute colitis induced by dextran sulfate sodium progresses to chronicity in C57BL/6 but not in BALB/c mice: correlation between symptoms and inflammation. Am J Physiol Gastrointest Liver Physiol 288(6):G1328–G1338

22.

Geier MS, Tenikoff D, Yazbeck R, McCaughan GW, Abbott CA, Howarth GS (2005) Development and resolution of experimental colitis in mice with targeted deletion of Dipeptidyl Peptidase IV. J Cell Physiol 204:687–692

23.

Howarth GS, Xian CJ, Read LC (2000) Pre-disposition to colonic dysplasia is unaffected by continuous administration of insulin-like growth factor-I for twenty weeks in a rat model of chronic inflammatory bowel disease. Growth Factors 18:119–133

24.

Howarth GS, Francis GL, Cool JC, Xu X, Byard RW, Read LC (1996) Milk growth factors enriched from cheese whey ameliorates intestinal damage by methotrexate when administered orally to rats. J Nutr 126:2519–2530

25.

Bradley PP, Priebat DA, Christensen RD, Rothstein G (1982) Measurement of cutaneous inflammation: estimation of neutrophil content with an enzyme marker. J Invest Dermatol 78:206–209

26.

Oz HS, Chen T, de Villiers WJ, McClain CJ (2005) Metallothionein overexpression does not protect against inflammatory bowel disease in a murine colitis model. Med Sci Monit 11:BR69–BR73

27.

Tran CD, Butler RN, Philcox JC, Rofe AM, Howarth GS, Coyle P (1998) Regional distribution of metallothionein and zinc in the mouse gut: comparison with metallothionien–null mice. Biol Trace Elem Res 63(3):239–251

28.

Mulder TP, Verspaget HW, Janssens AR, de Bruin PA, Pena AS, Lamers CB (1991) Decrease in two intestinal copper/zinc containing proteins with antioxidant function in inflammatory bowel disease. Gut 32(10):1146–1150

29.

Sturniolo GC, Mestriner C, Lecis PE, D'Odorico A, Venturi C, Irato P, Cecchetto A, Tropea A, Longo G, D'Inca R (1998) Altered plasma and mucosal concentrations of trace elements and antioxidants in active ulcerative colitis. Scand J Gastroenterol 33(6):644–649

30.

Lih-Brody L, Powell SR, Collier KP, Reddy GM, Cerchia R, Kahn E, Weissman GS, Katz S, Floyd RA, McKinley MJ, Fisher SE, Mullin GE (1996) Increased oxidative stress and decreased antioxidant defenses in mucosa of inflammatory bowel disease. Dig Dis Sci 41(10):2078–2086

31.

Bruwer M, Schmid KW, Metz KA, Krieglstein CF, Senninger N, Schurmann G (2001) Increased expression of metallothionein in inflammatory bowel disease. Inflam Res 50:289–293

32.

Simmonds NJ, Rampton DS (1993) Inflammatory bowel disease: a radical view. Gut 34(7):865–868

33.

Dieleman LA, Palmen MJ, Akol H, Bloemena E, Pena AS, Meuwissen SG, Van Rees EP (1998) Chronic experimental colitis induced by dextran sulphate sodium (DSS) is characterized by Th1 and Th2 cytokines. Clin Exp Immunol 114:385–391

34.

Vetuschi A, Latella G, Sferra R, Caprilli R, Gaudio E (2002) Increased proliferation and apoptosis of colonic epithelial cells in dextran sulfate sodium-induced colitis in rats. Dig Dis Sci 47:1447–1457
Acknowledgments
The authors would also like to thank Ms. Kerry Lymn and Mr. Chad Mauger for technical assistance throughout the project and Mr. Mark Geier for assistance with histological analysis. This work was supported by the National Health and Medical Research Council Industry Fellowship to Dr. Tran.
About this article
Cite this article
Tran, C.D., Ball, J.M., Sundar, S. et al. The Role of Zinc and Metallothionein in the Dextran Sulfate Sodium-Induced Colitis Mouse Model. Dig Dis Sci 52, 2113–2121 (2007). https://doi.org/10.1007/s10620-007-9765-9
Received:

Accepted:

Published:

Issue Date:
Keywords
Inflammatory bowel disease

DSS-induced colitis

Zinc

Metallothionein (MT)

MT knockout