Abstract
The efficacy of electroacupuncture (EA) for treating patients with diarrhea-predominant IBS has been confirmed in the authors' former research, but the regulatory mechanism of EA in IBS is still unknown. The aim of this study was to explore the relationship between the effect of EA on treating IBS rats and the activation and proliferation of mast cell (MC), the secretion of substance P(SP), and vasoactive intestinal polypeptide (VIP). The IBS rat model was set up with stress of binding limbs and colorectal distention. All rats were randomly assigned to four groups (Normal, Model, Tegaserod and EA). Hematoxylin and eosin staining has been used to observe the pathological change in the rats' colonic mucosa and an AWR scoring system has been applied to evaluate improvement of visceral hypersensitivity in various methods of the different groups. Toluidine blue improved method (TBI) and immunohistochemistry have also been involved in observations of mucous mast cells in the colon, change of c-fos positive cells, and secretion of SP, SPR, VIP, VIPR in the local colon. Firstly, the threshold of visceral sensitivity in the rats model with IBS was remarkably reduced (P < 0.01). The MC count in colonic mucosa and c-fos positive cells count increased significantly (P < 0.01) with positive correlation within each. Secondly, EA on ST-25 and Tegaserod pouring into the stomach can inhibit the proliferation and activation of MC in the colon and regulate secretion of SP, SPR, VIP, VIPR (P < 0.01, P < 0.05), while the effect of EA is obviously superior to Tegaserod. We concluded, firstly, that the abnormal proliferation and activation of mucous mast cells in the colon, and oversecretion of neuropeptides such as SP, VIP and their receptors could be one of key mechanisms of etiology of IBS. Secondly, the inhibition of activation and proliferation and the secretion of SP, VIP could be major effects of EA when treating rats with IBS.
Access options
Buy single article
Instant access to the full article PDF.
US$ 39.95
Tax calculation will be finalised during checkout.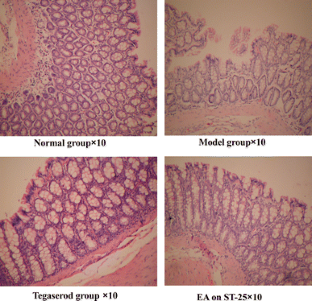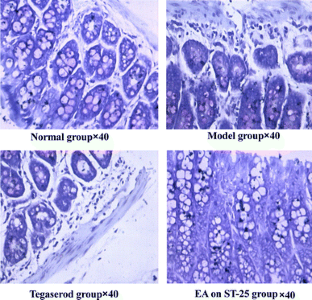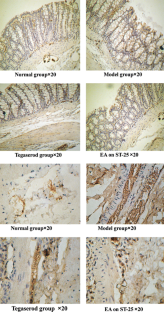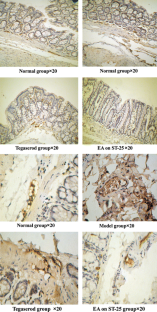 Abbreviations
MC:

Mast Cell

IBS:

Irritable bowel syndrome

TBI:

Toluidine blue improved method

CRD:

Colorectal distention

SP:

Substance P

VIP:

Vasoactive intestinal polypeptide

EA:

Electroacupuncture

MMC:

Mucous mast cell
References
1.

Zouiten ML, Karoui S, Boubaker J, Fekih M, Mechmeche R, Filali A (2006) The pathophysiology of irritable bowel syndrome. Tunis Med 84:269–274

2.

Farhadi A, Keshavarzian A, Van de Kar LD, Jakate S, Domm A, Zhang L, Shaikh M, Banan A, Fields JZ (2005) Heightened responses to stressors in patients with inflammatory bowel disease. Am J Gastroenterol 100:1796–1804

3.

Yang YS, Zhou DY, Zhang WD, Zhang ZS, Song YG (1997) Mast cells of ileocecal junction in irritable bowel syndrome. Chin J Intern Med 36:231–233

4.

Lewin I, Jacob-Hirsch J, Zang ZC, Kupershtein V, Szallasi Z, Rivera J, Razin E (1996) Aggregation of the Fc epsilon RI in mast cells induced the synthesis of Fos-interacting protein and increases its DNA binding activity: the dependence on protein kinase C-β. J Biol Chem 271:1514–1519

5.

Metcalfe DD, Baram D, Mekori YA (1997) Mast cells. Physiol Rev 77:1033–1079

6.

Ansel JC, Brown JR, Payan DG, Brown MA (1993) Substance P selectively activates TNF-alpha gene expression in murine mast cells. J Immunol 150:4478–4485

7.

Tuncel N, Tore F, Sahinturk V, Ak D, Tuncel M (2000) Vasoactive intestinal peptide inhibits degranulation and changes granular content of mast cells: a potential therapeutic strategy in controlling septic shock. Peptides 21:81–89

8.

Espejo EF, Gil E (1998) Antagonism of perpheral 5-HT4 receptors reduces visceral and cutaneous pain in mice, and induces visceral analgesia after simultaneous inactivation of 5-HT3 receptors. Brain Res 788:20–24

9.

Kozlowski CM, Green A, Grundy D, Boissonade FM, Bountra C (2000) The 5-HT(3) receptor antagonist alosetron inhibits the colorectal distention induced depressor response and spinal c-fos expression in the anesthetised rat. Gut 46:474–480

10.

AL-chaer ED, Kawasaki M, Pasricha PJ (2000) A new model of chronic visceral hypersensitivity in adult rats induced by colon irritation during postnatal development. Gastroenterology 119:1276–1285

11.

Williams CL, Villar RG, Peterson JM, Burks TF (1988) Stress-induced changes in intestinal transit in the rat: a model for irritable bowel syndrome. Gastroenterology 94:611–617

12.

Tache Y, Perdue MH (2004) Role of peripheral CRF signalling pathays in stress-related alterations of gut motility and mucosal function. Neurogastroenterol Motil 16(Suppl 1):137

13.

Yamamoto O, Niida H, Tajima K, Shirouchi Y, Kyotani Y, Ueda F, Kise M, Kimura K (1998) Effect of YNS-15 P: a new alpha-2 adrenoceptor antagonist on stress stimulated colonic propulsion in rats. J Pharmacol Exp Ther 287:691–696

14.

Barbara G, De Giorgio R, Stanghellini V, Cremon C, Corinaldesi R (2002) A role for inflammation in irritable bowel syndrome? Gut 51:141–144

15.

Gwee KA, Leong YL, Graham C, McKendrick MW, Collins SM, Walters SJ, Underwood JE, Read NW (1999) The role of psychological and biological factors in postinfective gut dysfunction. Gut 44:400–406

16.

Tornblom H, Lindberg G, Nyberg B, Veress B (2002) Fullthickness biopsy of the jejunum reveals inflammation and enteric neuropathy in irritable bowel syndrome. Gastroenterology 123:1972–1979

17.

Dong WZ, Zou DW, Li ZS, Xun GM, Zou XP, Zhu AY, Yin N, Man XH (2004) Study of visceral hypersensitivity in irritable bowel syndrome. Chin J Dig 24:18–22

18.

O'Sullivan M, Clayton N, Breslin NP, Harman I, Bountra C, McLaren A, O'Morain CA (2000) Increased mast cells in the irritable bowel syndrome. Neurogastroenterol Motil 12:449–457

19.

Bauer O, Razin E (2000) Mast cell–nerve interactions. News Physiol Sci 15:213–218

20.

Zar S, Kumar D (2002) Role of food hypersensitivity in irritable bowel syndrome. Minerva Med 93:403–412

21.

Gebhart GF (2000) Pathobiology of visceral pain: molecular mechanisms and therapeutic implications IV. Visceral afferent contributions to the pathobiology of visceral pain. Am J Physiol Gastrointest Liver Physiol 278:G834–G838

22.

La JH, Kim TW, Sung TS, Kim HJ, Kim JY, Yang IS (2004) Role of mucosal mast cells in visceral hypersensitivity in a rat model of irritable bowel syndrome. J Vet Sci 5:319–324
Acknowledgments
This work was supported by Shanghai Leading Academic Discipline Project, Project No. T0302, National Basic Research Program of China (973 program) No. 2005 CB523306, and National Natural Science Foundation of China, No. 30371806. Many thanks go to the editor for his invaluable suggestions and advice during the final stages of the preparation of this paper.
About this article
Cite this article
Wu, HG., Jiang, B., Zhou, EH. et al. Regulatory Mechanism of Electroacupuncture in Irritable Bowel Syndrome: Preventing MC Activation and Decreasing SP VIP Secretion. Dig Dis Sci 53, 1644–1651 (2008). https://doi.org/10.1007/s10620-007-0062-4
Received:

Accepted:

Published:

Issue Date:
Keywords
Irritable bowel disease

Mucosal mast cell

Electroacupuncture therapy

Regulatory mechanism

Substance P Vasoactive intestinal polypeptide