Abstract
Background Gastroesophageal reflux disease (GERD) is a well-recognized cause of impaired sleep in patients with frequent GERD symptoms, as well as those with sleep apnea. GERD's role in sleep disturbance of minimally symptomatic patients with poor sleep quality is less clear. Aim We aimed to define the prevalence of GERD-related sleep disturbance in minimally-symptomatic subjects with demonstrated insomnia, and to assess the changes in sleep efficiency in these subjects after vigorous acid suppression. Methods We recruited subjects aged 18–75 years reporting at least 6 months of insomnia, and sleep difficulty at least three nights per week. Subjects with a BMI > 30, a history of snoring or ongoing use of proton pump inhibitor or H2 receptor antagonist were excluded. Subjects underwent concurrent sleep study with dual channel 24-h pH study. Sleep efficiency, defined as the percentage of time after sleep initiation that the subject actually slept, and spontaneous arousal index, defined as the number of arousals per hour, were calculated. Those with a sleep study demonstrating poor sleep quality (sleep efficiency of <83%, and >10 arousals/h for those aged <45, and >15 for those who were 45 or older) and no obstructive sleep apnea were treated with rabeprazole 20 mg PO BID × 14 days. After 14 days, the subjects underwent repeat sleep study with pH monitoring. The GERD Symptom Assessment Scale (GSAS), the Epworth Sleepiness Scale (ESS) and the Functional Outcomes of Sleep Questionnaire (FOSQ) were administered to subjects at study inception and after 2 weeks of therapy. Results Twenty-four subjects reporting insomnia were enrolled, and 20 met criteria for disordered sleep and no OSA. Seventeen completed both the first and second studies, and 16 were adequate for analysis. Baseline GSAS demonstrated trivial or no reflux symptoms in the cohort (no subject scored >8 out of 45 on GSAS, corresponding to a median rating of reflux symptoms of "not at all"). Four of 16 subjects (25%) demonstrated abnormal pH studies at baseline. All four had normalization of acid exposures on PPI. After 2 weeks of treatment, three of these four subjects had normalization of sleep efficiency, compared to 4 of 12 of the subjects with normal Johnson-DeMeester scores. Repeated measures analysis showed significant improvement in spontaneous arousal index between the first and second study for the whole group (P < 0.0035). Pre- and post-therapy ESS and FOSQ scores were not significantly different. Conclusions Despite the lack of GERD symptoms, a significant minority of subjects with sleep disturbance have abnormal acid exposures. These preliminary data suggest that aggressive treatment of GERD in such patients may result in improvement in sleep efficiency.
Access options
Buy single article
Instant access to the full article PDF.
USD 39.95
Price excludes VAT (USA)
Tax calculation will be finalised during checkout.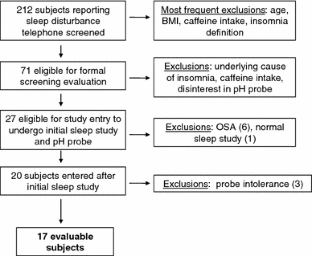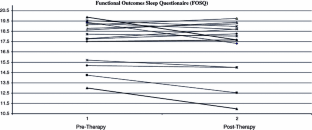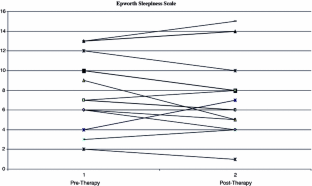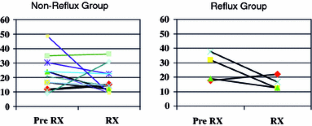 References
Gislason T, Janson C, Vermeire P, Plaschke P, Bjornsson E, Gislason D et al (2002) Respiratory symptoms and nocturnal gastroesophageal reflux: a population-based study of young adults in three European countries. Chest 121(1):158–163

Shaker R, Castell DO, Schoenfeld PS, Spechler SJ (2003) Nighttime heartburn is an under-appreciated clinical problem that impacts sleep and daytime function: the results of a Gallup survey conducted on behalf of the American Gastroenterological Association. Am J Gastroenterol 98(7):1487–1493

Field SK, Flemons WW (2002) Is the relationship between obstructive sleep apnea and gastroesophageal reflux clinically important? Chest 121(6):1730–1733

Johnson DA, Orr WC, Crawley JA, Traxler B, McCullough J, Brown KA et al (2005) Effect of esomeprazole on nighttime heartburn and sleep quality in patients with GERD: a randomized, placebo-controlled trial. Am J Gastroenterol 100(9):1914–1922

Guda N, Partington S, Vakil N (2004) Symptomatic gastro-oesophageal reflux, arousals and sleep quality in patients undergoing polysomnography for possible obstructive sleep apnoea. Aliment Pharmacol Ther 20(10):1153–1159

Demeter P, Pap A (2004) The relationship between gastroesophageal reflux disease and obstructive sleep apnea. J Gastroenterol 39(9):815–820

Kim HN, Vorona RD, Winn MP, Doviak M, Johnson DA, Ware JC (2005) Symptoms of gastro-oesophageal reflux disease and the severity of obstructive sleep apnoea syndrome are not related in sleep disorders center patients. Aliment Pharmacol Ther 21(9):1127–1133

Valipour A, Makker HK, Hardy R, Emegbo S, Toma T, Spiro SG (2002) Symptomatic gastroesophageal reflux in subjects with a breathing sleep disorder. Chest 121(6):1748–1753

Johns MW (1992) Reliability and factor analysis of the Epworth Sleepiness Scale. Sleep 15(4):376–381

Johns MW (1991) A new method for measuring daytime sleepiness: the Epworth sleepiness scale. Sleep 14(6):540–545

Johns MW (1993) Daytime sleepiness, snoring, and obstructive sleep apnea. The Epworth Sleepiness Scale Chest 103(1):30–36

Weaver TE, Laizner AM, Evans LK, Maislin G, Chugh DK, Lyon K et al (1997) An instrument to measure functional status outcomes for disorders of excessive sleepiness. Sleep 20(10):835–843

Orr WC, Heading R, Johnson LF, Kryger M (2004) Review article: sleep and its relationship to gastro-oesophageal reflux. Aliment Pharmacol Ther 20(Suppl 9):39–46

Orr WC, Elsenbruch S, Harnish MJ, Johnson LF (2000) Proximal migration of esophageal acid perfusions during waking and sleep. Am J Gastroenterol 95(1):37–42

Orr WC, Johnson LF (1998) Responses to different levels of esophageal acidification during waking and sleep. Dig Dis Sci 43(2):241–245

Hila A, Castell DO (2005) Nighttime reflux is primarily an early event. J Clin Gastroenterol 39(7):579–583

Orr WC, Goodrich S, Robert J (2005) The effect of acid suppression on sleep patterns and sleep-related gastro-oesophageal reflux. Aliment Pharmacol Ther 21(2):103–108

Phillips B, Mannino D (2005) Correlates of sleep complaints in adults: the ARIC study. J Clin Sleep Med 1(3):277–283

Bartlett DJ, Marshall NS, Williams A, Grunstein RR (2007) Sleep health New South Wales: chronic sleep restriction and daytime sleepiness. Intern Med J (in press)

Morphy H, Dunn KM, Lewis M, Boardman HF, Croft PR (2007) Epidemiology of insomnia: a longitudinal study in a UK population. Sleep 30(3):274–280

Janson C, Lindberg E, Gislason T, Elmasry A, Boman G (2001) Insomnia in men-a 10-year prospective population based study. Sleep 24(4):425–430

Hublin C, Kaprio J, Partinen M, Koskenvuo M (2001) Insufficient sleep-a population-based study in adults. Sleep 24(4):392–400

Dimarino AJ Jr, Banwait KS, Eschinger E, Greenberg A, Dimarino M, Doghramji K et al (2005) The effect of gastro-oesophageal reflux and omeprazole on key sleep parameters. Aliment Pharmacol Ther 22(4):325–329
Acknowledgements
This work was supported by an investigator-initiated research grant from Eisai, Inc, and Ortho-McNeil Janssen Scientific Affairs, LLC (Shaheen).
Additional information
This work was presented in abstract form at the Annual Meeting of the Associated Professional Sleep Societies (SLEEP 2007), Minneapolis, MN, June 9–14, 2007.
About this article
Cite this article
Shaheen, N.J., Madanick, R.D., Alattar, M. et al. Gastroesophageal Reflux Disease as an Etiology of Sleep Disturbance in Subjects with Insomnia and Minimal Reflux Symptoms: A Pilot Study of Prevalence and Response to Therapy. Dig Dis Sci 53, 1493–1499 (2008). https://doi.org/10.1007/s10620-007-0057-1
Received:

Accepted:

Published:

Issue Date:

DOI: https://doi.org/10.1007/s10620-007-0057-1
Keywords