Abstract
In cystic fibrosis (CF), pancreatic insufficiency and a diminished bile acid pool cause malabsorption of important nutrients and dietary components leading to deficiency, poor nutritional status, and oxidative stress. Of particular significance is the malabsorption of fat-soluble nutrients and antioxidants, which are important for normal immune and neurologic function. Patients with CF often are deficient in these compounds despite supplementation with the current standard of care therapy. The objective was to compare the pharmacokinetic profile of this water-soluble vitamin E formulation (Aqua-E) with an oil-based softgel formulation in a malabsorbing patient population. Patients with CF who had documented malabsorption were recruited for participation in this pharmacokinetic study. Patients who met inclusion and exclusion criteria discontinued vitamin E supplementation, except for that in a multivitamin, for 7 to 21 days before the day of dosing. Patients were randomized to a single dose of 20 ml of Aqua-E or three oil-based softgels, which contained equivalent amounts of tocopherols. Blood was drawn from patients at time 0, 2, 4, 8, 24, 48, and 168 hr and analyzed for tocopherols. Eight patients were enrolled in the study and randomized to Aqua-E or softgels. The primary outcome, the absorption of γ-tocopherol in Aqua-E (AUC=115 μg/ml*hr), was significantly greater than that of oil-based softgels (AUC=25.3 μg/ml*hr; P=0.013). Total-tocopherols (α+γ+δ) in Aqua-E (AUC=294 μg/ml*hr) showed a strong trend toward increased absorption compared with that of oil-based softgels (AUC=117 μg/ml*hr; P=0.09). In conclusion, this novel, water-soluble formulation showed a marked and statistically significant increase in absorption of γ-tocopherol in malabsorbing patients with CF compared with an oil-based formulation.
This is a preview of subscription content, log in to check access.
Access options
Buy single article
Instant access to the full article PDF.
US$ 39.95
Price includes VAT for USA
Subscribe to journal
Immediate online access to all issues from 2019. Subscription will auto renew annually.
US$ 199
This is the net price. Taxes to be calculated in checkout.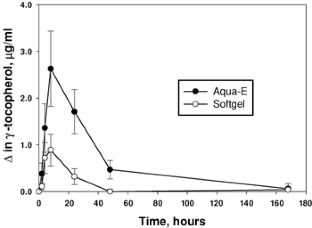 References
1.

Feranchak AP (2004) Hepatobiliary complications of cystic fibrosis. Curr Gastroenterol Rep 6:231–239

2.

Colombo C, Battezzati PM (1996) Hepatobiliary manifestations of cystic fibrosis. Eur J Gastroenterol Hepatol 8:748–754

3.

Bargon J, Stein J, Dietrich CF, Muller U, Caspary WF, Wagner TO (1999) [Gastrointestinal complications of adult patients with cystic fibrosis]. Z Gastroenterol 37:739–749

4.

Walters MP, Littlewood JM (1998) Faecal bile acid and dietary residue excretion in cystic fibrosis: age group variations. J Pediatr Gastroenterol Nutr 27:296–300

5.

Strandvik B (2004) Fatty acid metabolism in cystic fibrosis. N Engl J Med 350:605–607

6.

O'Brien S, Mulcahy H, Fenlon H, O'Broin A, Casey M, Burke A, FitzGerald MX, Hegarty JE (1993) Intestinal bile acid malabsorption in cystic fibrosis. Gut 34:1137–1141

7.

Kalivianakis M, Minich D (1999) Fat malabsorption in cystic fibrosis patients receiving enzyme replacement therapy is due to impaired intestinal uptake of long-chain fatty acids. Am J Clin Nutr 69:127–134

8.

Back E, Frindt C, Nohr D, Frank J, Ziebach R, Stern M, Ranke M, Biesalski HK (2004) Antioxidant deficiency in cystic fibrosis: when is the right time to take action? Am J Clin Nutr 80:374–384

9.

Lancellotti L, D'Orazio C, Mastella G, Mazzi G, Lippi U (1996) Deficiency of vitamins E and A in cystic fibrosis is independent of pancreatic function and current enzyme and vitamin supplementation. Eur J Pediatr 155:281–285

10.

Wood L, Fitzgerald DA, Gibson PG, Cooper DM, Collins CE, Garg ML (2001) Oxidative stress in cystic fibrosis: dietary and metabolic factors. J Am Coll Nutr 20(2 Suppl):157–165

11.

Homnick DN, Cox JH, DeLoof MJ, Ringer TV (1993) Carotenoid levels in normal children and in children with cystic fibrosis. J Pediatr 122(5 Pt 1):703–707

12.

Sokol R, Papas AM (1998) Antioxidants and neurological diseases. In: Papas AM (ed) Antioxidant status, diet, nutrition and health. CRC Press, Boca Raton, pp 567–590

13.

Kayden H, Traber MG (1993) Absorption, lipoprotein transport and regulation of plasma concentrations of vitamin E in humans. J Lipid Res 34:343–358

14.

Brown R, Wyatt H, Price JF, Kelly FJ (1996) Pulmonary dysfunction in cystic fibrosis is associated with oxidative stress. Eur Respir J 9:334–339

15.

Renner S, Rath R, Rust P, Lehr S, Frischer T, Elmadfa I, Eichler I (2001) Effects of beta-carotene supplementation for six months on clinical and laboratory parameters in patients with cystic fibrosis. Thorax 56:48–52.

16.

Winklhofer-Roob BM, van't Hof MA, Shmerling DH (1996) Long-term oral vitamin E supplementation in cystic fibrosis patients: RRR-alpha-tocopherol compared with all-rac-alpha-tocopheryl acetate preparations. Am J Clin Nutr 63:722–728.

17.

Winklhofer-Roob B, Ziouzenkova O, Puhl H, Ellemunter H, Greiner P, Muller G, van't Hof MA, Esterbauer H, Shmerling DH (1995) Impaired resistance to oxidation of low density lipoprotein in cystic fibrosis: improvement during vitamin E supplementation. Free Radic Biol Med 19:725–733

18.

Wood L, Fitzgerald DA, Lee AK, Garg ML (2003) Improved antioxidant and fatty acid status of patients with cystic fibrosis after antioxidant supplementation is linked to improved lung function. Am J Clin Nutr 77:150–159

19.

Wolf G (1997) gamma-Tocopherol: an efficient protector of lipids against nitric oxide-initiated peroxidative damage. Nutr Rev 55:376–378

20.

Molina J, Jimenez-Jimenez FJ, Orti-Pareja M, Navarro J (1998) The role of nitric oxide in neurodegeneration. Potential for pharmacological intervention. Drugs Aging 12:251–259

21.

Feranchak A, Sontag MK, Wagener JS, Hammond KB, Accurso FJ, Sokol RJ (1999) Prospective, long-term study of fat-soluble vitamin status in children with cystic fibrosis identified by newborn screen. J Pediatr 135:601–610

22.

Boyle MP, Noschese ML, Watts SL, Davis ME, Stenner SE, Lechtzin N (2005) Failure of high-dose ergocalciferol to correct vitamin D deficiency in adults with cystic fibrosis. Am J Respir Crit Care Med 172:212–217

23.

Soltani-Frisk S, Gronowitz E, Andersson H, Strandvik B (2001) Water-miscible tocopherol is not superior to fat-soluble preparation for vitamin E absorption in cystic fibrosis. Acta Paediatr 90:1112–1115

24.

Dintaman J, Silverman JA (1999) Inhibition of P-glycoprotein by D-alpha-tocopheryl polyethylene glycol 1000 succinate (TPGS). Pharm Res 16:1550–1556

25.

Argao E, Heubi JE, Hollis BW, Tsang RC (1992) d-Alpha-tocopheryl polyethylene glycol 1 000 succinate enhances the absorption of vitamin D in chronic cholestatic liver disease of infancy and childhood. Pediatr Res 31:146–150

26.

Dimitrov NV, Meyer-Leece C, McMillan J, Gilliland D, Perloff M, Malone W (1996) Plasma alpha-tocopherol concentrations after supplementation with water- and fat-soluble vitamin E. Am J Clin Nutr 64:329–335

27.

Jiang Q, Elson-Schwab I, Courtemanche C, Ames BN (2000) Gamma-tocopherol and its major metabolite, in contrast to alpha-tocopherol, inhibit cyclooxygenase activity in macrophages and epithelial cells. Proc Natl Acad Sci U S A 97:11494–11499

28.

Jiang Q, Ames BN (2003) Gamma-tocopherol, but not alpha-tocopherol, decreases proinflammatory eicosanoids and inflammation damage in rats. FASEB J 17:816–822

29.

Himmelfarb J, Kane J, McMonagle E, Zaltas E, Bobzin S, Boddupalli S, Phinney S, Miller G (2003) Alpha and gamma tocopherol metabolism in healthy subjects and patients with end-stage renal disease. Kidney Int 64:978–991

30.

Helzlsouer KJ, Huang HY, Alberg AJ, Hoffman S, Burke A, Norkus EP, Morris JS, Comstock GW (2000) Association between alpha-tocopherol, gamma-tocopherol, selenium, and subsequent prostate cancer. J Natl Cancer Inst 92:2018–2023

31.

Morris MC, Evans DA, Tangney CC, Bienias JL, Wilson RS, Aggarwal NT, Scherr PA (2005) Relation of the tocopherol forms to incident Alzheimer disease and to cognitive change. Am J Clin Nutr 81:508–514

32.

Naito Y, Shimozawa M, Kuroda M, Nakabe N, Manabe H, Katada K, Kokura S, Ichikawa H, Yoshida N, Noguchi N, Yoshikawa T (2005) Tocotrienols reduce 25-hydroxycholesterol-induced monocyte-endothelial cell interaction by inhibiting the surface expression of adhesion molecules. Atherosclerosis 180:19–25

33.

Wada S, Satomi Y, Murakoshi M, Noguchi N, Yoshikawa T, Nishino H (2005) Tumor suppressive effects of tocotrienol in vivo and in vitro. Cancer Lett 229:181–191

34.

Sen CK, Khanna S, Roy S, Packer L (2000) Molecular basis of vitamin E action. Tocotrienol potently inhibits glutamate-induced pp60(c-Src) kinase activation and death of HT4 neuronal cells. J Biol Chem 275:13049–13055

35.

Handelman GJ, Epstein WL, Peerson J, Spiegelman D, Machlin LJ, Dratz EA (1994) Human adipose alpha-tocopherol and gamma-tocopherol kinetics during and after 1 y of alpha-tocopherol supplementation. Am J Clin Nutr 59:1025–1032

36.

Traber MG, Kayden HJ (1989) Preferential incorporation of alpha-tocopherol vs gamma-tocopherol in human lipoproteins. Am J Clin Nutr 49:517–526
Acknowledgments
The authors thank Joyce Swift and Valerie Senior for clinical trial coordination and other assistance provided. Assistance with sample collection and processing was provided by the clinical laboratory at East Tennessee State University Physicians and Associates.
Additional information
The investigation materials were provided by Yasoo Health Inc., Johnson City, TN. Experimental materials were donated by Eisai Food & Chemical Company, and Cargill Health and Food Technologies Eastman Chemical Company, which also conducted the TPGS analysis.
About this article
Cite this article
Papas, K., Kalbfleisch, J. & Mohon, R. Bioavailability of a Novel, Water-Soluble Vitamin E Formulation in Malabsorbing Patients. Dig Dis Sci 52, 347–352 (2007). https://doi.org/10.1007/s10620-006-9489-2
Received:

Accepted:

Published:

Issue Date:
Keywords
Vitamin E

Tocopherol

Malabsorption

Bioavailability

Water-soluble

Cystic fibrosis

Nutrition

Cholestasis

Vitamin E deficiency

TPGS