Abstract
To assess the impact of transcutaneous electrical nerve stimulation (TENS) at gastrointestinal (GI) acupoints on GI symptoms and quality of life in scleroderma patients, 17 patients filled out SF-36 and GI symptom questionnaires before the electrocardiogram was recorded for two intervals: baseline and TENS. At home, patients applied TENS for 14 days, then were reassessed.
Acutely, TENS application significantly increased sympathetic and vagal activities vs. baseline (P= 0.02 and P= 0.004), respectively. Prolonged TENS application normalized the sympathovagal balance (P= 0.04), decreased GI symptom scores (P= 0.02) and increased the physical functioning score (SF36), which strongly correlated with the change in the sympathovagal balance (r= 0.6, P= 0.02). In conclusion, TENS at GI acupoints offers a potential option in the treatment of upper GI symptoms, but further study is necessary.
Access options
Buy single article
Instant access to the full article PDF.
USD 39.95
Price includes VAT (USA)
Tax calculation will be finalised during checkout.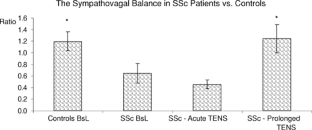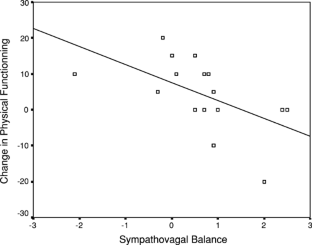 References
1.

Sjögren RW (1996) Gastrointestinal features of scleroderma. Curr Opin Rheumatol 8:569–575

2.

Cossutta R, Zeni S, Soldi A, Colombelli P, Belloti Masserini A, Fantini F (2002) Evaluation of quality of life in patients with systemic sclerosis by administering the SF-36 questionnaire. Rematismo 54(2):122–127

3.

Steen V, Medsger T (2000) Severe organ involvement in systemic sclerosis with diffuse scleroderma. Arth Rheum 43(11):2437–2444

4.

Sonnex C, Paice E, White AG (1986) Autonomic neuropathy in systemic sclerosis: a case report and evaluation of six patients. Ann Rheum Dis 45:957–960

5.

Greydanus MP, Camilleri M (1989) Abnormal postcibal antral and small bowel motility due to neuropathy or myopathy in systemic sclerosis. Gastroenterology 96:110–115

6.

Bortolotti M, Bolondi L, Santi V, Sarti P, Brunelli F, Barbara L (1995) Patterns of gastric emptying in dysmotility-like dyspepsia. Scand J Gastroenterol 30(5):408–410

7.

Maddern GJ, Horowitz M, Jamieson GG, Chatterton BE, Collins PJ, Roberts-Thomson P (1984) Abnormalities of esophageal and gastric emptying in progressive systemic sclerosis. Gastroenterology 87(4):922–926

8.

Marie I, Levesque H, Ducrotte P, Denis P, Hellot MF, Benichou J, Cailleux N, Courtois H (2001) Gastric involvement in systemic sclerosis—a prospective study. Am J Gastroenterol 96(1):77–83

9.

McNearney T, Lin X, Shrestha, Lisse J, Chen JD (2002) Characterization of gastric myoelectrical rhythms in patients with systemic sclerosis using multichannel surface electrogastrography. Dig Dis Sci 47(4):690–698

10.

Sjögren RW (1994) Gastrointestinal motility disorders in scleroderma. Arth Rheum 37:1265–1282

11.

Wegener M, Adamek RJ, Wedmann B, Jergas M, Altmeyer P (1994) Gastrointestinal transit through esophagus, stomach, small and large intestine in patients with progressive systemic sclerosis. Dig Dis Sci 39(10):2209–2215

12.

Madsen JL, Hendel L (1992) Gastrointestinal transit times of radiolabeled meal in progressive systemic sclerosis. Dig Dis Sci 37(9):1404–1408

13.

Lock G, Straub RH, Zeuner M, et al. (1998) Association of autonomic nervous dysfunction and esophageal dysmotility in systemic sclerosis. J Rheumatol 25(7):1330–1335

14.

Dessein PH, Joffe Bi, Metz RM, Millar DL, Lawson M, Stanwix AE (1992) Autonomic dysfunction in systemic sclerosis: sympathetic overactivity and instability. Am J Med 93(2):143–150

15.

Camilleri M (2003) Diagnosis and treatment of enteric neuromuscular diseases. Clin Auton Res 13(1):10–15

16.

Franck-Larsson K, Hedenstrom H, Dahl R, Ronnblom A (2003) Delayed gastric emptying in patients with diffuse versus limited systemic sclerosis, unrelated to gastrointestinal symptoms and myoelectric gastric activity. Scand J Rheumatol 32(6):348–355

17.

Dundee JW, Chestnutt WN, Ghaly RG, Lynas AGA (1986) Traditional Chinese acupuncture: A potential useful antiemetic? Br Med J 293:583–584

18.

Ghaly RG, Fitzpatrick KTJ, Dundee JW (1987) Antiemetic studies with traditional Chinese acupuncture—a comparison of manual needling with electrical stimulation and commonly used antiemetics. Anaesthesia 42:1108–1110

19.

Dundee JW, Ghaly RG, Fitzpatrick KTJ, Abram WP, Lynch GA (1989) Acupuncture prophylaxis of cancer chemotherapy-induced sickness. J Roy Soc Med 82:268–271

20.

Dundee JW, Ghaly RG, Fitzpatrick KTJ, Lynch GA, Abram WP (1987) Acupuncture to prevent cisplatin-associated vomiting. Lancet 1:1083

21.

Maeda M, Ichiki Y, Sumi A, Mori S (1988) A trial of acupuncture for progressive systemic sclerosis. J Dermatol 15(2):133–140

22.

Kaada B (1987) Successful treatment of esophageal dysmotility and Raynaud's phenomenon in systemic sclerosis and achalasia by transcutaneous nerve stimulation. Increase in plasma VIP concentration. Scand J Gastroenterol 22:1137–1146

23.

Wollaston DE, Xu X, Tokumaru O, Chen JD, McNearney TA (2005) Patients with systemic sclerosis have unique and persistent alterations in gastric myoelectrical activity with acupressure to Neiguan point PC6. J Rheumatol 32(3):494–501

24.

Klippel JH, ed (2001) Primer on the rheumatic diseases. Arthritis Foundation, Atlanta, GA, p 353

25.

Masi AT, Rodnan GP, Medsger TA Jr, et al. (1980) Preliminary criteria for the classification of systemic sclerosis (scleroderma). Arth Rheum 23:581–590

26.

Qian L, Peters LJ, Chen JD (1999) Effects of electroacupuncture on gastric migrating myoelectrical complex in dogs. Dig Dis Sci 44:56–62

27.

Lin XM, Liang J, Ren J, Mu F, Zhang M, Chen JDZ (1997) Electrical stimulation of acupuncture points enhances gastric myoelectrical activity in human. Am J Gastroenterol 92:1527–1530

28.

Zhang EQ, ed (1990) Chinese acupuncture and moxibustion. Shanghai College of Traditional Chinese Medicine, Shanghai

29.

Lu CL, Zou X, Orr WC, Chen JD (1999) Postprandial changes of sympathovagal balance measured by heart rate variability. Dig Dis Sci 44(4):857–861

30.

Lembo T, Naliboff B, Munakata J, et al. (1999) Symptoms and visceral perception in patients with pain predominant irritable bowel syndrome. Am J Gastroenterol 94:1320–1326

31.

Groll D, Vanner S, Depew W, et al. (2002) The IBS-36: a new quality of life measure for irritable bowel syndrome. Am J Gastroenterol 97:962–971

32.

Danieli E, Airo P, Bettoni L, et al. (2005) Health-related quality of life measured by the Short Form 36 (SF-36) in systemic sclerosis: correlations with indexes of disease activity and severity, disability, and depressive symptoms. Clin Rheumatol 24(1):48–54

33.

Georges C, Chassany O, Mouthon L, et al. (2004) Quality of life assessment with the MOS-SF36 in patients with systemic sclerosis. Rev Med Interne 25(1):16–21

34.

Hermosillo AG, Ortiz R, Dabague J, Casanova JM, Martinez-Lavin M (1994) Autonomic dysfunction in diffuse scleroderma vs CREST: an assessment by computerized heart rate variability. J Rheumatol 21(10):1849–1854

35.

Wranicz J, Zielinska M, Cygankiewicz I, Dziankowska-Bartkowiak B, Sysa-Jedrzejowska A (2002) Early cardiovascular involvement in patients with systemic sclerosis (SSc). Med Sci Monit 8(2):CR78–CR82

36.

Lagana B, Gentile R, Vella C, et al. (1997) Heart and autonomic nervous system in connective tissue disorders. Rec Prog Med 88(12):579–584

37.

Ferri C, Emdin M, Giuggioli D, et al. (1997) Autonomic dysfunction in systemic sclerosis: time and frequency domain 24 hour heart rate variability analysis. Br J Rheumatol 36(6):669–676

38.

Morelli S, Piccirillo G, Fimognari F, et al. (1996) Twenty-four hour heart period variability in systemic sclerosis. J Rheumatol 23(4):643–645

39.

Sgreccia A, Morelli S, Ferrante L, et al. (1998) QT interval and QT dispersion in systemic sclerosis (scleroderma). J Intern Med 243(2):127–132

40.

Pancera P, Sansone S, Presciuttini B, et al. (1999) Autonomic nervous system dysfunction in sclerodermic and primary Raynaud's phenomenon. Clin Sci (Lond) 96(1):49–57

41.

Buonocore M, Mortara A, La Rovere MT, Casale R (1992) Cardiovascular effects of TENS: heart rate variability and plethysmographic wave evaluation in a group of normal subjects. Funct Neurol 7(5):391–394

42.

Mearin F, Zacchi P, Armengol JR, Vilardell M, Malagelada JR (1990) Effect of transcutaneous nerve stimulation on esophageal motility in patients with achalasia and scleroderma. Scand J Gastroenterol 25:1018–1023

43.

Chen S, Ma SX (2003) Nitric oxide on acupuncture (ST36)-induced depressor response in the gracile nucleus. J Neurophysiol 90:780–785

44.

Tsou MT, Huang CH, Chiu JH (2004) Electroacupuncture on PC6 (Neiguan) attenuates ischemia/reperfusion injury in rat hearts. Am J Chin Med 32(6):951–965

45.

Shiotani A, Tatewaki M, Hoshino E, Takahashi T (2004) Effects of electroacupuncture on gastric myoelectrical activity in healthy humans. Neurogastroenterol Motil 16(3):293–298

46.

Sato A, Sato Y, Suzuki A, Uchida S (1993) Neural mechanisms of the reflex inhibition and excitation of gastric motility elicited by acupuncture-like stimulation in anesthetized rats. Neurosci Res 18:53–62

47.

Tatewaki M, Harris M, Uemura K et al. (2003) Dual effects of acupuncture on gastric motility in conscious rats. Am J Physiol Regul Integr Comp Physiol 285:R862–R872

48.

Ma SX (2004) Neurobiology of acupuncture: Toward CAM. Evid Based Compl Altern Med 1(1):41–47

49.

Ouyang H, Yin J, Chen JDZ (2000) Transcutaneous electrical stimulation of acupuncture points increases vagal activity in healthy humans. Neurogastroenterol Motil 12(5):490

50.

Straub RH, Baerwald CG, Wahle M, Janig W (2005) Autonomic dysfunction in rheumatic diseases. Rheum Dis Clin North Am 31(1):61–75

51.

Korach M, Sharshar T, Jarrin I, Fouillot JP, Raphael JC, Gajdos P, Annane D (2001) Cardiac variability in critically ill adults: influence of sepsis. Crit Care Med 29(7):1380–1385

52.

Winchell RJ, Hoyt DB (1996) Spectral analysis of heart rate variability in the ICU: a measure of autonomic function. J Surg Res 63(1):11–16

53.

Hathaway DK, Wicks MN, Cashion AK, Cowan PA, Milstead EJ, Gaber AO (2000) Posttransplant improvement in heart rate variability correlates with improved quality of life. West J Nurs Res 22(6):749–768

54.

Keselbrener L, Akselrod S, Ahiron A, Eldar M, Barak Y, Rotstein Z (2000) Is fatigue in patients with multiple sclerosis related to autonomic dysfunction? Clin Auton Res 10(4):169–175

55.

Chen JD, Qian L, Ouyang H, Yin J (2003) Gastric electrical stimulation with short pulses reduces vomiting but not dysrhythmias in dogs. Gastroenterology 124(2):401–409

56.

Chou JW, Chang YH, Chang CS, Chen GH (2003) The effect of different frequency electrical acu-stimulation on gastric myoelectrical activity in healthy subjects. Hepatogastroenterology 50(50):582–586

57.

Orr WC, Zhang M, McClanahan J, Sloan S, Chen JDZ (2000) Gastric myoelectrical activity in older adults with symptomatic gastroesophageal reflux disease. Aliment Pharmacol Ther 14:337–343

58.

Vigo DE, Guinjoan SM, Scaramal M, Nicola Siri L, Cardinali DP (2005) Wavelet transform shows age-related changes of heart rate variability within independent frequency components. Auton Neurosci 123(1–2):94–100
Acknowledgement
This work received grant support from NIH/NIA (R21) AG023951.
About this article
Cite this article
Sallam, H., McNearney, T.A., Doshi, D. et al. Transcutaneous Electrical Nerve Stimulation (TENS) Improves Upper GI Symptoms and Balances the Sympathovagal Activity in Scleroderma Patients. Dig Dis Sci 52, 1329 (2007). https://doi.org/10.1007/s10620-006-9257-3
Received:

Accepted:

Published:
Keywords
Gastrointestinal symptoms

Heart rate variability

Systemic sclerosis