Abstract
Obese patients with gastroesophageal reflux disease (GERD) may experience resolution of symptoms utilizing a very low-carbohydrate diet. The mechanism of this improvement is unknown. This studied aimed to prospectively assess changes in distal esophageal acid exposure and GERD symptoms among obese adults initiating a very low-carbohydrate diet. We studied obese individuals with GERD initiating a diet containing less than 20 g/day of carbohydrates. Symptom severity was assessed using the GERD Symptom Assessment Scale—Distress Subscale (GSAS-ds). Participants underwent 24-hr esophageal pH probe testing and initiated the diet upon its completion. Within 6 days, a second pH probe test was performed. Outcomes included changes in the Johnson-DeMeester score, percentage total time with a pH<4 in the distal esophagus, and GSAS-ds scores. Eight participants were enrolled. Mean Johnson-DeMeester score decreased from 34.7 to 14.0 (P=0.023). Percentage time with pH<4 decreased from 5.1% to 2.5% (P=0.022). Mean GSAS-ds score decreased from 1.28 to 0.72 (P=0.0004). These data suggest that a very low-carbohydrate diet in obese individuals with GERD significantly reduces distal esophageal acid exposure and improves symptoms.
This is a preview of subscription content, log in to check access.
Access options
Buy single article
Instant access to the full article PDF.
US$ 39.95
Price includes VAT for USA
Subscribe to journal
Immediate online access to all issues from 2019. Subscription will auto renew annually.
US$ 199
This is the net price. Taxes to be calculated in checkout.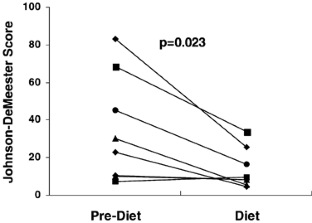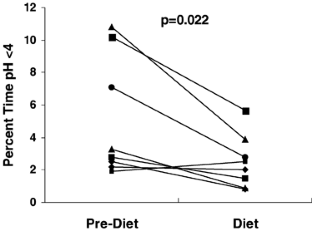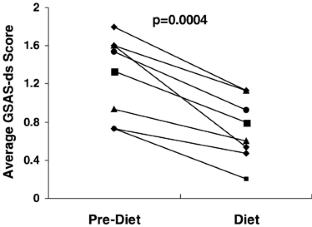 References
1.

Locke GR 3rd, Talley NJ, Fett SL, Zinsmeister AR, Melton LJ 3rd (1997) Prevalence and clinical spectrum of gastroesophageal reflux: a population-based study in Olmsted County, Minnesota. Gastroenterology 112(5):1448–1456

2.

Sandler RS, Everhart JE, Donowitz M, et al. (2002) The burden of selected digestive diseases in the United States. Gastroenterology 122(5):1500–1511

3.

Locke GR 3rd, Talley NJ, Fett SL, Zinsmeister AR, Melton LJ 3rd (1999) Risk factors associated with symptoms of gastroesophageal reflux. Am J Med 106(6):642–649

4.

Nandurkar S, Locke GR, 3rd, Fett S, Zinsmeister AR, Cameron AJ, Talley NJ (2004) Relationship between body mass index, diet, exercise and gastro-oesophageal reflux symptoms in a community. Aliment Pharmacol Ther 20(5):497–505

5.

Tutuian R, Castell DO (2003) Management of gastroesophageal reflux disease. Am J Med Sci 326(5):309–318

6.

Kjellin A, Ramel S, Rossner S, Thor K (1996) Gastroesophageal reflux in obese patients is not reduced by weight reduction. Scand J Gastroenterol 31(11):1047–1051

7.

Meining A, Classen M (2000) The role of diet and lifestyle measures in the pathogenesis and treatment of gastroesophageal reflux disease. Am J Gastroenterol 95(10):2692–2697

8.

DeVault KR, Castell DO (2005) Updated guidelines for the diagnosis and treatment of gastroesophageal reflux disease. Am J Gastroenterol 100(1):190–200

9.

Fraser-Moodie CA, Norton B, Gornall C, Magnago S, Weale AR, Holmes GK (1999) Weight loss has an independent beneficial effect on symptoms of gastro-oesophageal reflux in patients who are overweight. Scand J Gastroenterol 34(4):337–40

10.

Yancy WS, Jr., Provenzale D, Westman EC (2001) Improvement of gastroesophageal reflux disease after initiation of a low-carbohydrate diet: five brief case reports. Altern Ther Health Med 7(6):120, 116–119

11.

Rothman M, Farup C, Stewart W, Helbers L, Zeldis J (2001) Symptoms associated with gastroesophageal reflux disease: development of a questionnaire for use in clinical trials. Dig Dis Sci 46(7):1540–1549

12.

Damiano A, Handley K, Adler E, Siddique R, Bhattacharyja A (2002) Measuring symptom distress and health-related quality of life in clinical trials of gastroesophageal reflux disease treatment: further validation of the Gastroesophageal Reflux Disease Symptom Assessment Scale (GSAS). Dig Dis Sci 47(7):1530–1537

13.

Weusten B, Smout A (2004) Ambulatory monitoring of esophageal pH and pressure. In: Castell D, Richter J (eds) The esophagus, 4th ed. Lippincott, Williams, & Wilkins, Philadelphia, PA, pp 136–150

14.

Johnson LF, Demeester TR (1974) Twenty-four-hour pH monitoring of the distal esophagus. A quantitative measure of gastroesophageal reflux. Am J Gastroenterol 62(4):325–332

15.

Streets CG, DeMeester TR (2003) Ambulatory 24-hr esophageal pH monitoring: why, when, and what to do. J Clin Gastroenterol 37(1):14–22

16.

Swiatkowski M, Budzynski J, Klopocka M, et al. (2004) The effect of eight weeks of rabeprazole therapy on nitric oxide plasma level and esophageal pH and motility and motility nitric oxide plasma level in patients with erosive esophagitis. Med Sci Monit 10(2):CR46–CR51

17.

Ladas SD, Tassios PS, Raptis SA (2000) Selection of patients for successful maintenance treatment of esophagitis with low-dose omeprazole: use of 24-hr gastric pH monitoring. Am J Gastroenterol 95(2):374–380

18.

Stern L, Iqbal N, Seshadri P, et al. (2004) The effects of low-carbohydrate versus conventional weight loss diets in severely obese adults: one-year follow-up of a randomized trial. Ann Intern Med 140(10):778–785

19.

Yancy WS Jr, Olsen MK, Guyton JR, Bakst RP, Westman EC (2004) A low-carbohydrate, ketogenic diet versus a low-fat diet to treat obesity and hyperlipidemia: a randomized, controlled trial. Ann Intern Med 140(10):769–777

20.

El-Serag HB, Satia JA, Rabeneck L (2005) Dietary intake and the risk of gastro-oesophageal reflux disease: a cross sectional study in volunteers. Gut 54(1):11–17

21.

Wiener GJ, Morgan TM, Copper JB, et al. (1988) Ambulatory 24-hr esophageal pH monitoring. Reproducibility and variability of pH parameters. Dig Dis Sci 33(9):1127–1133

22.

Vaezi MF, Schroeder PL, Richter JE (1997) Reproducibility of proximal probe pH parameters in 24-hr ambulatory esophageal pH monitoring. Am J Gastroenterol 92(5):825–829

23.

Piche T, Zerbib F, Varannes SB, et al. (2000) Modulation by colonic fermentation of LES function in humans. Am J Physiol Gastrointest Liver Physiol 278(4):G578–G584

24.

Piche T, des Varannes SB, Sacher-Huvelin S, Holst JJ, Cuber JC, Galmiche JP (2003) Colonic fermentation influences lower esophageal sphincter function in gastroesophageal reflux disease. Gastroenterology 124(4):894–902

25.

Clave P, Gonzalez A, Moreno A, et al. (1998) Endogenous cholecystokinin enhances postprandial gastroesophageal reflux in humans through extrasphincteric receptors. Gastroenterology 115(3):597–604

26.

Zerbib F, Bruley DesVarannes S, et al. (1998) Endogenous cholecystokinin in postprandial lower esophageal sphincter function and fundic tone in humans. Am J Physiol 275(6, Pt 1):G1266–G1273

27.

Ledeboer M, Masclee AA, Batstra MR, Jansen JB, Lamers CB (1995) Effect of cholecystokinin on lower oesophageal sphincter pressure and transient lower oesophageal sphincter relaxations in humans. Gut 36(1):39–44

28.

Straathof JW, Tieleman S, Lamers CB, Masclee AA (2000) Effect of somatostatin on lower esophageal sphincter characteristics in man. Scand J Gastroenterol 35(9):910–915

29.

Lidums I, Lehmann A, Checklin H, Dent J, Holloway RH (2000) Control of transient lower esophageal sphincter relaxations and reflux by the GABA(B) agonist baclofen in normal subjects. Gastroenterology 118(1):7–13

30.

Stacher G, Lenglinger J, Bergmann H, et al. (2000) Gastric emptying: A contributory factor in gastro-oesophageal reflux activity? Gut 47(5):661–666

31.

Buckles DC, Sarosiek I, McMillin C, McCallum RW (2004) Delayed gastric emptying in gastroesophageal reflux disease: reassessment with new methods and symptomatic correlations. Am J Med Sci 327(1):1–4
About this article
Cite this article
Austin, G.L., Thiny, M.T., Westman, E.C. et al. A Very Low-Carbohydrate Diet Improves Gastroesophageal Reflux and Its Symptoms. Dig Dis Sci 51, 1307–1312 (2006). https://doi.org/10.1007/s10620-005-9027-7
Received:

Accepted:

Published:

Issue Date:
Keywords
Gastroesophageal reflux disease

Very low-carbohydrate diet

Obesity

24-hr ambulatory esophageal pH monitoring