Abstract
Hydrops Fetalis is an abnormal condition in the fetus by an accretion of unusual fluid or edema in two or more fetal cavities for instance ascites, pericardial and pleural effusion. Accumulation of atypical fluid above 2 mm needs extra attention of radiologists. Ultrasound imaging technique helps to diagnose the fluid accumulation within the pericardial tissues. The trained medicinal practitioners also find difficult to analyse the hydrops due to the low assessment gray scale ultrasound images. The segmentation of hydrops fetalis from the fetal heart ultrasound image helps the sonographists and pediatrists to diagnose easily and effectively at the early stage itself. The low quality and poor resolution ultrasound image, make the segmentation process difficult. We use the spatially constrained-distance regularized level set evolution algorithm for segmenting the hydrops region.
Access options
Buy single article
Instant access to the full article PDF.
US$ 39.95
Tax calculation will be finalised during checkout.
Subscribe to journal
Immediate online access to all issues from 2019. Subscription will auto renew annually.
US$ 79
Tax calculation will be finalised during checkout.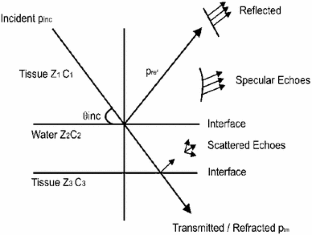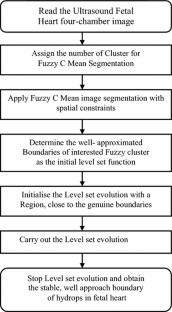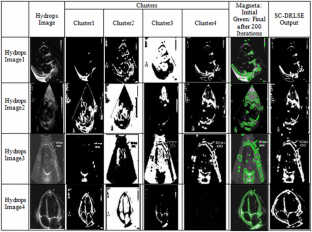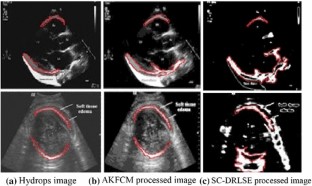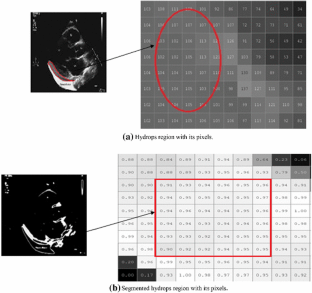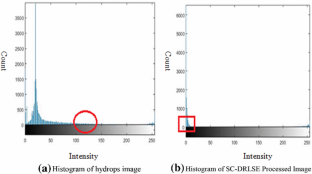 References
1.

Czernik C, Proquitte H, Metze B, Buhrer C(2011) Hydrops fetalis-has there been a change in diagnostic spectrum and mortality? J Matern Fetal Neonatal Med 24(2):258–263

2.

Okete TC, Egbugara MN, Ezeneyeaku CC, Ikeako LC (2013) Non-immune hydrops fetalis. Niger J Med 22(4):266 (ISSN 1115-2163)

3.

Santo S, Mansour S, Thilaganathan B, Homfray T, Papageorghiou A, Calvert S, Bhide A (2011) Prenatal diagnosis of nonimmune hydrops fetalis: what do we tell the parents? Santo Prenat Diagn. https://doi.org/10.1002/pd.2677

4.

An X, Wang J, Zhuang X, Dai J, Lu C, Li X, Yan Y (2015) Clinical features of neonates with hydrops fetalis. Am J Med Genet. https://doi.org/10.1055/s-0035-1552934. (ISSN 0735-1631)

5.

Bellini C, Donarini G, Paladini D, Calevo MG, Bellini T, Ramenghi LA, Hennekam RC (2015) Etiology of non-immune hydrops fetalis: An update. Am J Med Genet Part A 9999:1–7

6.

Heinonen S, RyynaNen M, Kirkinen P (2000) Etiology and outcome of second trimester non-immunologic fetal hydrops. Acta Obstet Gynecol Scand 79:15–18 (ISSN 0001-6349)

7.

Yurdakok M (2014) Non-immune hydrops fetalis. J Pediatr Neonatal Individ Med 3(2):e030214. https://doi.org/10.7363/030214

8.

Randenberg AL et al (2010) Nonimmune hydrops fetalis part II: does etiology influence mortality? Neonatal Netw 29(6):367–380

9.

Fukushima K, Morokuma S, Fujita Y, Tsukimori K, Satoh S, Ochiai M, Hara T, Taguchi T, Wake N (2011) Short-term and long-term outcomes of 214 cases of non-immune hydrops fetalis. Early Human Dev 87:571–575

10.

Ruano R, Ramalho AS, Cardoso AK, Moise K Jr, Zugaib M (2011) Prenatal diagnosis and natural history of fetuses presenting with pleural effusion. Prenatal Diagn 31:496–499

11.

Erdemoglu M, Kuyumcuoglu U, Guzel AI, Celik Y, Kale E (2011) Amniotic fluid amino acid levels in non-immune hydrops fetalis: a case-control study. Braz J Med Biol Res 44(7):725–728. https://doi.org/10.1590/S0100-879X2011007500076

12.

Hasnani-Samnani Z, Mahmoud MI, Farid I, Naggar Al, Ahmed E (2013) Non-immune hydrops Qatar experience. J Matern Fetal Neonatal Med 26:449–453

13.

Moreno CA, Kanazawa T, Barini R, Nomura ML, Andrade KC, Gomes CP, Heinrich JK, Giugliani R, Burin M, Cavalcanti DP (2013) Non-immune hydrops fetalis: a prospective study of 53 cases. Am J Med Genet 161A:3078–3086

14.

Ng ZM, Seet MJ, Erng MN, Buendia F, Chang AS, Sriram B (2013) Nonimmune hydrops fetalis in a children's hospital: a six-year series. Singap Med J 54:487–490

15.

DeAsilets V, Audibert F (2013) Investigation and management of non immune fetal hydrops, SOGC Clinical Practice Guideline No. 297. J Obstet Gynaecol Can 35:923–936

16.

Colney SL, Singh TN, Devi AJ, Ajita R (2015) Nonimmune hydrops fetalis: a case report. J Evol Med Dent Sci 4(15):2621–2625

17.

Norton ME, Chauhan SP, Dashe JS (2015) Nonimmune hydrops fetalis. Am J Obstet Gynecol. pp 127–139. https://doi.org/10.1016/j.ajog.2014.12.018

18.

Vora P, Jassawalla MJ, Bhalerao S, Bansal V (2016) Non immune hydrops—an enigma. JPGO 3(2)

19.

Babeeta, SK, Deepak K (2016) Recurrent Non immune hydrops fetalis with polyhydramnios: a case report. Indian J Med Case Rep 5 (2). ISSN: 2319–3832 (Online)

20.

Rianto I, Pranowo P (2013) Distance regularized level set evolution for medical image segmentation. In: CITACEE, Semarang. 16 Nov 2013. (ISSN: 2338-5154)

21.

Lorena et al (2016) Left ventricle segmentation in fetal echocardiography using a multi-texture active appearance model based on the steered Hermite transform. Comput Methods Progr Biomed 137:231–245

22.

Yu L et al (2016) Segmentation of fetal left ventricle in echocardiographic sequences based on dynamic convolutional neural networks. IEEE Trans Biomed Eng. https://doi.org/10.1109/TBME.2016.2628401

23.

Allan G et al (2017) Simultaneous analysis of 2D echo views for left atrial segmentation and disease detection. IEEE Trans Med Imaging 36(1):40–50

24.

Wang S, Geng Z, Zhang J, Chen Y, Wang Jin (2014) A fuzzy C-means model based on the spatial structural information for brain MRI segmentation. Int J Signal Process Image Process Pattern Recognit 7(1):313–322

25.

Li C, Xu C, Gui C, Fox MD (2010) Distance regularized level set evolution and its application to image segmentation. IEEE Trans Image Process 19(12):3243–3254
Acknowledgements
The authors would like to thank the Physician Dr. K. Senthil Rajan, Ashwin Scans-Radiology centre for providing data and valuable suggestions to carry out this work.
About this article
Cite this article
Nageswari, C.S., HelenPrabha, K. Spatially constrained distance regularized level set evolution method for segmentation of hydrops fetalis from ultrasound fetal heart images. Des Autom Embed Syst 22, 45–64 (2018). https://doi.org/10.1007/s10617-017-9199-3
Received:

Accepted:

Published:

Issue Date:
Keywords
AKFCM

Hydrops fetalis

LSF

NIHF

SC-DRLSE

SFCM