Abstract
LINC00504 acts as an oncogene and associates with unfavorable prognosis in patients with lung cancer. Silencing LINC00504 may be a promising strategy for treatment of lung cancer and its effects were firstly investigated in lung cancer cells this study. The gene expression level of miR-876-3p as well as LINC00504 were measured via PCR assay. The cell proliferation was investigated through Cell Counting Kit-8 (CCK-8) assay and colony formation assay. Flow cytometry was applied for detection of cell apoptosis. Wound healing and transwell assay were performed for measurement of cell migration and invasion respectively. The apoptosis related protein expressions were measured by western blot. Luciferase report assay was conducted for verification the target gene. LINC00504 was higher expressed in five types of lung cancer cells studied herein when compared with the control normal cells. LINC00504 knockdown exerted inhibitory effects on cell apoptosis, cell migration as well as cell invasion and promoted cell apoptosis. All the effects mentioned above were counteracted by miR-876-3p inhibitor. Silencing LINC00504 possessed anti-proliferation, repression of cell invasion as well as migration and pro-apoptosis effects via targeting up-regulation of miR-876-3p in lung cancer cells, proving the new therapeutic targets and highlighting the potential application in future diagnosis and treatment in lung cancer.
Access options
Buy single article
Instant access to the full article PDF.
USD 39.95
Price excludes VAT (USA)
Tax calculation will be finalised during checkout.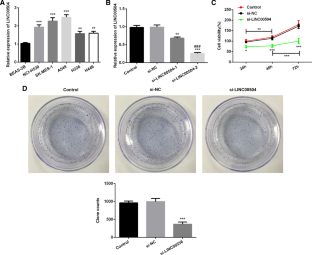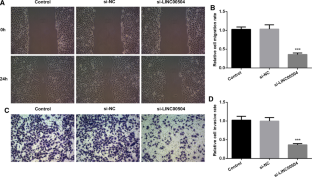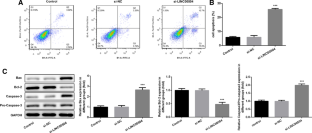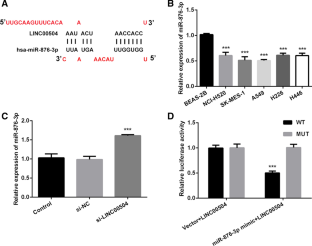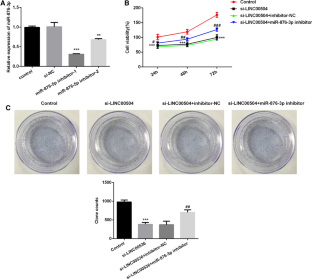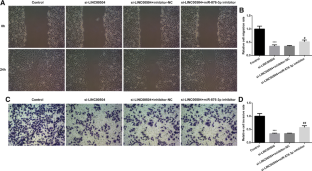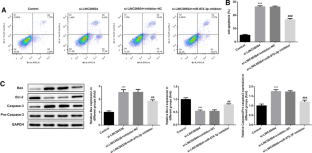 Availability of data and materials
The datasets used and/or analyzed during the current study are available from the corresponding author on reasonable request.
Code availability
The code used during the current study are available from the corresponding author.
References
Becher H, Belau M, Winkler V, Aigner A (2018) Estimating lung cancer mortality attributable to second hand smoke exposure. Germ Int J Public Health 63:367–375. https://doi.org/10.1007/s00038-017-1022-1

Bray F, Ferlay J, Soerjomataram I, Siegel RL, Torre LA, Jemal A (2018) Global cancer statistics 2018: GLOBOCAN estimates of incidence and mortality worldwide for 36 cancers in 185 countries CA: a cancer. J Clin 68:394–424. https://doi.org/10.3322/caac.21492

Chen L, Ren P, Zhang Y, Gong B, Yu D, Sun X (2020) Long noncoding RNA GAS5 increases the radiosensitivity of A549 cells through interaction with the miR21/PTEN/Akt axis. Oncol Rep. https://doi.org/10.3892/or.2020.7467

Chen Z et al (2020b) Up-regulated LINC01234 promotes non-small-cell lung cancer cell metastasis by activating VAV3 and repressing BTG2 expression. J Hematol Oncol 13:7. doi:https://doi.org/10.1186/s13045-019-0842-2

Deng H, Xie C, Ye Y, Du Z (2020) MicroRNA-1296 expression is associated with prognosis and inhibits cell proliferation and invasion by Wnt signaling in non-small cell lung cancer. Oncol Lett 19:623–630. https://doi.org/10.3892/ol.2019.11154

Feng J, Ma J, Liu S, Wang J, Chen Y (2019) A noncoding RNA LINC00504 interacts with c-Myc to regulate tumor metabolism in colon cancer. J Cell Biochem 120:14725–14734. https://doi.org/10.1002/jcb.28733

Ferlay J et al (2019) Estimating the global cancer incidence and mortality in 2018: GLOBOCAN sources and methods International. J Cancer 144:1941–1953. https://doi.org/10.1002/ijc.31937

He W, Zhang Y, Xia S (2020) LncRNA NNT-AS1 promotes non-small cell lung cancer progression through regulating miR-22-3p/YAP1 axis. Thoracic Cancer. https://doi.org/10.1111/1759-7714.13280

Hu X, Tan S, Yin H, Khoso PA, Xu Z, Li S (2020) Selenium-mediated gga-miR-29a-3p regulates LMH cell proliferation, invasion, and migration by targeting COL4A2. Metallomics. https://doi.org/10.1039/c9mt00266a

Jassem E, Szymanowska A, Sieminska A, Jassem J (2009) [Smoking and lung cancer]. Pneumonologia i alergologia polska 77:469–473

Jiang W, Kai J, Li D, Wei Z, Wang Y, Wang W. lncRNA HOXB-AS3 exacerbates proliferation, migration, and invasion of lung cancer via activating the PI3K-AKT pathway. J Cell Physiol. doi: https://doi.org/10.1002/jcp.29618

Li S, Hou X, Wu C, Han L, Li Q, Wang J, Luo S, Biomedicine (2020) MiR-645 promotes invasiveness, metastasis and tumor growth in colorectal cancer by targeting EFNA5. Pharmacotherapy  125:109889. https://doi.org/10.1016/j.biopha.2020.109889

Liu Y, He X, Chen Y, Cao D (2020) Long non-coding RNA LINC00504 regulates the Warburg effect in ovarian cancer through inhibition of miR-1244. Mol Cell Biochem 464:39–50. https://doi.org/10.1007/s11010-019-03647-z

Ma HP, Wang LX, Li W, Guo HH, Wu Y, Li XY (2020) Upregulation of LINC00504 is associated with aggressive progression and poor prognosis in non-small cell lung cancer European. Rev Med Pharmacol Sci 24:699–703. https://doi.org/10.26355/eurrev_202001_20047

Munnia A, Giese RW, Polvani S, Galli A, Cellai F, Peluso MEM (2017) Bulky DNA adducts, tobacco smoking, genetic susceptibility, and lung cancer. Risk Adv Clin Chem 81:231–277. https://doi.org/10.1016/bs.acc.2017.01.006

Peng C, Huang K, Liu G, Li Y, Yu C (2019) MiR-876-3p regulates cisplatin resistance and stem cell-like properties of gastric cancer cells by targeting TMED3. J Gastroenterol Hepatol 34:1711–1719. https://doi.org/10.1111/jgh.14649

Ren T et al (2020) miR20b promotes growth of nonsmall cell lung cancer through a positive feedback loop of the Wnt/betacatenin signaling pathway. Int J Oncol 56:470–479. doi:https://doi.org/10.3892/ijo.2019.4940

Siegel RL, Miller KD, Jemal A (2019) Cancer statistics, 2019 CA: a cancer. J Clin 69:7–34. https://doi.org/10.3322/caac.21551

Tan T, Xu XH, Lu XH, Wang XW (2020) MiRNA-200a-3p suppresses the proliferation, migration and invasion of non-small cell lung cancer through targeting IRS2. Eur Rev Med Pharmacol Sci. 24:712–720. https://doi.org/10.26355/eurrev_202001_20050

Tang J, Xu J, Zhi Z, Wang X, Wang Y, Zhou Y, Chen R (2019) MiR-876-3p targets KIF20A to block JAK2/STAT3 pathway in glioma American. J Transl Res 11:4957–4966

Vescovo VD, Denti MA (2015) microRNA and Lung Cancer. In: Santulli G (ed) microRNA: Cancer: From Molecular Biology to Clinical Practice. Springer International Publishing, Cham, pp 153–177. doi:https://doi.org/10.1007/978-3-319-23730-5_9

Wang Z, Zhu X, Zhang T, Yao F (2020) miR-512-5p suppresses the progression of non-small cell lung cancer by targeting beta-catenin. Oncol Lett 19:415–423. https://doi.org/10.3892/ol.2019.11102

Yang F, Zhao WJ, Jia CL, Li XK, Wang Q, Chen ZL, Jiang Q (2018) MicroRNA-876-3p functions as a tumor suppressor gene and correlates with cell metastasis in pancreatic adenocarcinoma via targeting JAG2 American. J Cancer Res 8:636–649
Ethics declarations
Conflict of interests
The author declares no conflict of interest.
Ethics approval
The experiment was approved by the ethics committee Fu Yang People's Hospital.
Consent to participate
Not applicable.
Additional information
Publisher's Note
Springer Nature remains neutral with regard to jurisdictional claims in published maps and institutional affiliations.
About this article
Cite this article
Zhang, Z. Silencing LINC00504 inhibits cell proliferation, invasion as well as migration and promotes cell apoptosis in lung cancer cells via upregulating miR-876-3p. Cytotechnology 72, 807–817 (2020). https://doi.org/10.1007/s10616-020-00424-5
Received:

Accepted:

Published:

Issue Date:

DOI: https://doi.org/10.1007/s10616-020-00424-5
Keywords
LINC00504

miR-876-3p

Lung cancer

Cell apoptosis

Cell invasion and migration