Abstract
Early diagnosis and changes associated with atherosclerosis are crucial in clinical medicine. However, atherosclerosis is a multifactorial disease. Asiaticoside (AA), a triterpenoid derived from Centella asiatica, has anti-inflammatory activity. Endothelium-derived nitric oxide is important in modulating vascular tone in a distinct vessel size-dependent manner; it plays a dominant role in conduit arteries and endothelium-dependent hyperpolarisation in resistance vessels. This study evaluated the effects of AA administration on human umbilical endothelial cells with oxidised low-density lipoprotein-induced inflammation. We measured the levels of intercellular adhesion molecule-1 (ICAM-1) and vascular cell adhesion molecule-1 (VCAM-1). Our results indicated that 10–30 μM AA modulated endothelial hyper permeability, adenosine triphosphate levels, ICAM-1 expression, VCAM-1 expression, E-selectin levels, and PECAM-1 expression to 90% (p < 0.005), 80% (p < 0.05), 105% (p < 0.01), 65% (p < 0.005), 70% (p < 0.05), and 105% (p < 0.01), respectively. Taken together, our data suggest that AA inhibits the augmentation of endothelial permeability, thus preventing the early events of atherosclerosis.
This is a preview of subscription content, log in to check access.
Access options
Buy single article
Instant access to the full article PDF.
US$ 39.95
Price includes VAT for USA
Subscribe to journal
Immediate online access to all issues from 2019. Subscription will auto renew annually.
US$ 199
This is the net price. Taxes to be calculated in checkout.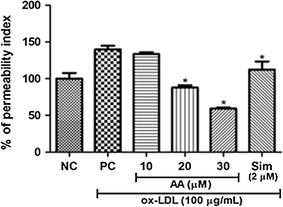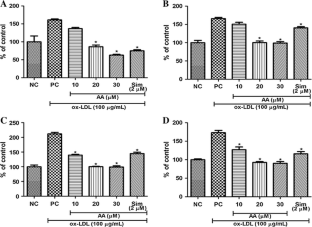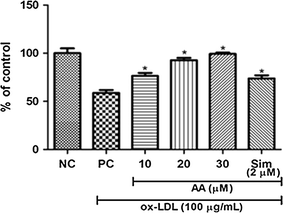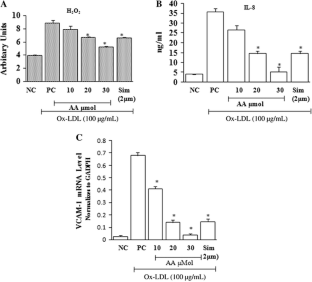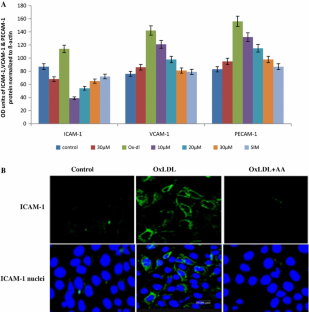 References
Ang KP, Tan HK, Selvaraja M, Kadir AA, Somchit MN, Akim AM et al (2011) Cryptotanshinone attenuates in vitro oxLDL-induced pre-lesional atherosclerotic events. Planta Med 77:1782–1787. https://doi.org/10.1055/s-0030-1271119

Belcaro G, Ippolito E, Dugall M, Hosoi M, Cornelli U, Ledda A et al (2015) Pycnogenol(R) and Centella asiatica in the management of asymptomatic atherosclerosis progression. Int Angiol J Int Union Angiol 34:150–157

Belcaro G, Dugall M, Ippolito E, Hosoi M, Cornelli U, Ledda A et al (2017) Pycnogenol(R) and Centella asiatica to prevent asymptomatic atherosclerosis progression in clinical events. Minerva Cardioangiol 65:24–31. https://doi.org/10.23736/S0026-4725.16.04008-1

Berliner JA, Subbanagounder G, Leitinger N, Watson AD, Vora D (2001) Evidence for a role of phospholipid oxidation products in atherogenesis. Trends Cardiovasc Med 11:142–147

Bian D, Zhang J, Wu X, Dou Y, Yang Y, Tan Q et al (2013) Asiatic acid isolated from Centella asiatica inhibits TGF-beta1-induced collagen expression in human keloid fibroblasts via PPAR-gamma activation. Int J Biol Sci 9:1032–1042. https://doi.org/10.7150/ijbs.7273

Cho CW, Choi DS, Cardone MH, Kim CW, Sinskey AJ, Rha C (2006) Glioblastoma cell death induced by asiatic acid. Cell Biol Toxicol 22:393–408. https://doi.org/10.1007/s10565-006-0104-2

Di Tomo P, Di Silvestre S, Cordone VG, Giardinelli A, Faricelli B, Pipino C et al (2015) Centella asiatica and lipoic acid, or a combination thereof, inhibit monocyte adhesion to endothelial cells from umbilical cords of gestational diabetic women. Nutr Metab Cardiovasc Dis NMCD 25:659–666. https://doi.org/10.1016/j.numecd.2015.04.002

Diaz MN, Frei B, Vita JA, Keaney JF Jr (1997) Antioxidants and atherosclerotic heart disease. N Engl J Med 337:408–416. https://doi.org/10.1056/NEJM199708073370607

Fong LY, Ng CT, Zakaria ZA, Baharuldin MT, Arifah AK, Hakim MN et al (2015) Asiaticoside inhibits TNF-α-Induced endothelial hyperpermeability of human aortic endothelial cells. Phytother Res 29:1501–1508. https://doi.org/10.1002/ptr.5404

Giribabu N, Srinivasarao N, Swapna Rekha S, Muniandy S, Salleh N (2014) Centella asiatica attenuates diabetes induced hippocampal changes in experimental diabetic rats. Evid Based Complement Altern Med eCAM 2014:592062. https://doi.org/10.1155/2014/592062

Gurfinkel DM, Chow S, Hurren R, Gronda M, Henderson C, Berube C et al (2006) Disruption of the endoplasmic reticulum and increases in cytoplasmic calcium are early events in cell death induced by the natural triterpenoid Asiatic acid. Apoptosis 11:1463–1471. https://doi.org/10.1007/s10495-006-9086-z

Holvoet P, Mertens A, Verhamme P, Bogaerts K, Beyens G, Verhaeghe R et al (2001) Circulating oxidized LDL is a useful marker for identifying patients with coronary artery disease. Arterioscler Thromb Vasc Biol 21:844–848

Karman RJ, Garcia JG, Hart CM (1997) Endothelial cell monolayer dysfunction caused by oxidized low density lipoprotein: attenuation by oleic acid. Prostaglandins Leukot Essent Fatty Acids 56:345–353

Kimura Y, Sumiyoshi M, Samukawa K, Satake N, Sakanaka M (2008) Facilitating action of asiaticoside at low doses on burn wound repair and its mechanism. Eur J Pharmacol 584:415–423. https://doi.org/10.1016/j.ejphar.2008.02.036

Kuhlencordt PJ, Gyurko R, Han F, Scherrer-Crosbie M, Aretz TH, Hajjar R et al (2001) Accelerated atherosclerosis, aortic aneurysm formation, and ischemic heart disease in apolipoprotein E/endothelial nitric oxide synthase double-knockout mice. Circulation 104:448–454

Kwon KJ, Bae S, Kim K, An IS, Ahn KJ, An S et al (2014) Asiaticoside, a component of Centella asiatica, inhibits melanogenesis in B16F10 mouse melanoma. Mol Med Rep 10:503–507. https://doi.org/10.3892/mmr.2014.2159

Lee YS, Jin DQ, Kwon EJ, Park SH, Lee ES, Jeong TC et al (2002) Asiatic acid, a triterpene, induces apoptosis through intracellular Ca2+ release and enhanced expression of p53 in HepG2 human hepatoma cells. Cancer Lett 186:83–91

Lee JW, Park HA, Kwon OK, Jang YG, Kim JY, Choi BK et al (2016) Asiatic acid inhibits pulmonary inflammation induced by cigarette smoke. Int Immunopharmacol 39:208–217. https://doi.org/10.1016/j.intimp.2016.07.010

Leng DD, Han WJ, Rui Y, Dai Y, Xia YF (2013) In vivo disposition and metabolism of madecassoside, a major bioactive constituent in Centella asiatica (L.) Urb. J Ethnopharmacol 150:601–608. https://doi.org/10.1016/j.jep.2013.09.004

Luo Y, Fu C, Wang Z, Zhang Z, Wang H, Liu Y (2015) Asiaticoside attenuates the effects of spinal cord injury through antioxidant and antiinflammatory effects, and inhibition of the p38MAPK mechanism. Mol Med Rep 12:8294–8300. https://doi.org/10.3892/mmr.2015.4425

Ma X, Qiu R, Dang J, Li J, Hu Q, Shan S et al (2015) ORMDL3 contributes to the risk of atherosclerosis in Chinese Han population and mediates oxidized low-density lipoprotein-induced autophagy in endothelial cells. Sci Rep 5:17194. https://doi.org/10.1038/srep17194

Mook-Jung I, Shin JE, Yun SH, Huh K, Koh JY, Park HK et al (1999) Protective effects of asiaticoside derivatives against beta-amyloid neurotoxicity. J Neurosci Res 58:417–425

Moran AE, Roth GA, Narula J, Mensah GA (2014) 1990–2010 global cardiovascular disease atlas. Glob Heart 9:3–16. https://doi.org/10.1016/j.gheart.2014.03.1220

Muller C, Salvayre R, Negre-Salvayre A, Vindis C (2011) Oxidized LDLs trigger endoplasmic reticulum stress and autophagy: prevention by HDLs. Autophagy 7:541–543

Naruse K, Shimizu K, Muramatsu M, Toki Y, Miyazaki Y, Okumura K et al (1994) Long-term inhibition of NO synthesis promotes atherosclerosis in the hypercholesterolemic rabbit thoracic aorta. PGH2 does not contribute to impaired endothelium-dependent relaxation. Arterioscler Thromb J Vasc Biol 14:746–752

Pakdeechote P, Bunbupha S, Kukongviriyapan U, Prachaney P, Khrisanapant W, Kukongviriyapan V (2014) Asiatic acid alleviates hemodynamic and metabolic alterations via restoring eNOS/iNOS expression, oxidative stress, and inflammation in diet-induced metabolic syndrome rats. Nutrients 6:355–370. https://doi.org/10.3390/nu6010355

Park BC, Bosire KO, Lee ES, Lee YS, Kim JA (2005) Asiatic acid induces apoptosis in SK-MEL-2 human melanoma cells. Cancer Lett 218:81–90. https://doi.org/10.1016/j.canlet.2004.06.039

Park BC, Paek SH, Lee YS, Kim SJ, Lee ES, Choi HG et al (2007) Inhibitory effects of asiatic acid on 7,12-dimethylbenz [a] anthracene and 12-O-tetradecanoylphorbol 13-acetate-induced tumor promotion in mice. Biol Pharm Bull 30:176–179

Schechter LE, Smith DL, Rosenzweig-Lipson S, Sukoff SJ, Dawson LA, Marquis K et al (2005) Lecozotan (SRA-333): a selective serotonin 1A receptor antagonist that enhances the stimulated release of glutamate and acetylcholine in the hippocampus and possesses cognitive-enhancing properties. J Pharmacol Exp Ther 314:1274–1289. https://doi.org/10.1124/jpet.105.086363

Scott GK, Goga A, Bhaumik D, Berger CE, Sullivan CS, Benz CC (2007) Coordinate suppression of ERBB2 and ERBB3 by enforced expression of micro-RNA miR-125a or miR-125b. J Biol Chem 282:1479–1486

Shah D, Romero F, Zhu Y, Duong M, Sun J, Walsh K et al (2015) C1q deficiency promotes pulmonary vascular inflammation and enhances the susceptibility of the lung endothelium to injury. J Biol Chem 290:29642–29651. https://doi.org/10.1074/jbc.M115.690784

Sharma S, Gupta R, Thakur SC (2014) Attenuation of collagen induced arthritis by Centella asiatica methanol fraction via modulation of cytokines and oxidative stress. Biomed Environ Sci BES 27:926–938. https://doi.org/10.3967/bes2014.133

Shu X, Keller TC, Begandt D, Butcher JT, Biwer L, Keller AS et al (2015) Endothelial nitric oxide synthase in the microcirculation. Cell Mol Life Sci CMLS 72:4561–4575. https://doi.org/10.1007/s00018-015-2021-0

Simmons D, Makgoba MW, Seed B (1998) ICAM-1, and adhesion ligand of LFA-1, is homologous to the neural cell adhesion molecule NCAM. Nature 331:624–627

Sukhovershin RA, Yepuri G, Ghebremariam YT (2015) Endothelium-derived nitric oxide as an antiatherogenic mechanism: implications for therapy. Methodist DeBakey Cardiovasc J 11:166–171. https://doi.org/10.14797/mdcj-11-3-166

Tang XL, Yang XY, Jung HJ, Kim SY, Jung SY, Choi DY et al (2009) Asiatic acid induces colon cancer cell growth inhibition and apoptosis through mitochondrial death cascade. Biol Pharm Bull 32:1399–1405

Wang Q, Ji J, Hao S, Zhang M, Li K, Qiao T (2016) Iron together with lipid downregulates protein levels of ceruloplasmin in macrophages associated with rapid foam cell formation. J Atheroscler Thromb 23:1201–1211. https://doi.org/10.5551/jat.32292

Xu MF, Xiong YY, Liu JK, Qian JJ, Zhu L, Gao J (2012) Asiatic acid, a pentacyclic triterpene in Centella asiatica, attenuates glutamate-induced cognitive deficits in mice and apoptosis in SH-SY5Y cells. Acta Pharmacol Sin 33:578–587. https://doi.org/10.1038/aps.2012.3

Xu L, Wang S, Li B, Sun A, Zou Y, Ge J (2015) A protective role of ciglitazone in ox-LDL-induced rat microvascular endothelial cells via modulating PPARγ-dependent AMPK/eNOS pathway. J Cell Mol Med 19:92–102. https://doi.org/10.1111/jcmm.12463

Yeo TW, Lampah DA, Gitawati R, Tjitra E, Kenangalem E, McNeil YR et al (2007) Impaired nitric oxide bioavailability and l-arginine reversible endothelial dysfunction in adults with falciparum malaria. J Exp Med 204:2693–2704. https://doi.org/10.1084/jem.20070819

Zapolska-Downar D, Siennicka A, Kaczmarczyk M, Kolodziej B, Naruszewicz M (2004) Simvastatin modulates TNFalpha-induced adhesion molecules expression in human endothelial cells. Life Sci 75:1287–1302. https://doi.org/10.1016/j.lfs.2004.03.005

Zhang LN, Zheng JJ, Zhang L, Gong X, Huang H, Wang CD et al (2011) Protective effects of asiaticoside on septic lung injury in mice. Exp Toxicol Pathol 63:519–525. https://doi.org/10.1016/j.etp.2010.04.002
Ethics declarations
Conflict of interest
The authors declare that they have no conflict of interest.
About this article
Cite this article
Jing, L., Haitao, W., Qiong, W. et al. Anti inflammatory effect of asiaticoside on human umbilical vein endothelial cells induced by ox-LDL. Cytotechnology 70, 855–864 (2018). https://doi.org/10.1007/s10616-018-0198-4
Received:

Accepted:

Published:

Issue Date:
Keywords
Asiaticoside

Adhesion molecule

Inflammation

Atherosclerosis

Endothelium