Abstract
Anti-cancer tyrosine kinase inhibitors (TKIs) are effective in many types of cancers including non-small cell lung cancer, while appearance of TKI-resistant tumors suggests a need for the development of their potentiation strategies. We have previously shown that a methoxyflavanone derivative from the Asian medicinal herb Perilla frutescens (Perilla-derived methoxyflavanone; PDMF) shows a prominent anti-tumor activity against A549 human lung adenocarcinoma. Here we show that PDMF and anti-cancer TKIs (nilotinib, bosutinib, dasatinib, and ponatinib) synergistically suppress proliferation of A549 cells. Flow cytometric analysis indicated that co-stimulation with nilotinib (4 μM) and PDMF induced G2/M cell cycle arrest in low PDMF doses (10–50 μM), whereas this combination triggered de novo G1 arrest in higher PDMF dosages (50–125 μM). We also found that co-administration with nilotinib and PDMF significantly suppressed in vivo tumorigenicity of A549 cells in athymic nude mice.
This is a preview of subscription content, log in to check access.
Access options
Buy single article
Instant access to the full article PDF.
US$ 39.95
Price includes VAT for USA
Subscribe to journal
Immediate online access to all issues from 2019. Subscription will auto renew annually.
US$ 199
This is the net price. Taxes to be calculated in checkout.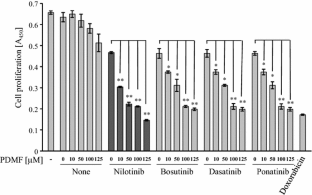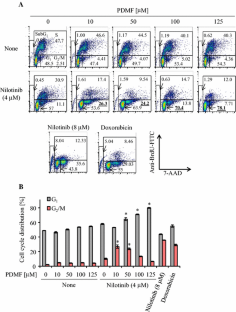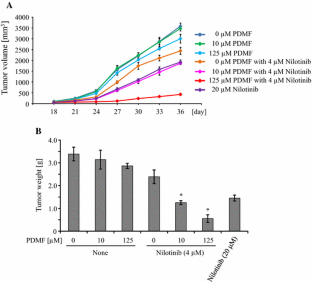 References
Cao H, Yu S, Chen D, Jing C, Wang Z, Ma R, Liu S, Ni J, Feng J, Wu J (2016) Liver X receptor agonist T0901317 reverses resistance of A549 human lung cancer cells to EGFR-TKI treatment. FEBS Open Bio 7:35–43

Chou TC, Talalay P (1984) Quantitative analysis of dose-effect relationships: the combined effects of multiple drugs or enzyme inhibitors. Adv Enzyme Reg 22:27–55

Garg AK, Buchholz TA, Aggarwal BB (2005) Chemosensitization and radiosensitization of tumors by plant polyphenols. Antioxid Redox Signal 7:1630–1647

Ghorbani A, Nazari M, Jeddi-Tehrani M, Zand H (2012) The citrus flavonoid hesperidin induces p53 and inhibits NF-κB activation in order to trigger apoptosis in NALM-6 cells: involvement of PPARγ-dependent mechanism. Eur J Nutr 51:39–46

Graf BA, Milbury PE, Blumberg JB (2005) Flavonols, flavones, flavanones, and human health: epidemiological evidence. J Med Food 8:281–290

Gridelli C, De Marinis F, Cappuzzo F, Di Maio M, Hirsch FR, Mok T, Morgillo F, Rosell R, Spigel DR, Yang JC, Ciardiello F (2014) Treatment of advanced non–small-cell lung cancer with epidermal growth factor receptor (EGFR) mutation or ALK gene rearrangement: results of an international expert panel meeting of the Italian Association of Thoracic Oncology. Clin Lung Cancer 15:173–181

Ito K, Semba T, Uenaka T, Wakabayashi T, Asada M, Funahashi Y (2014) Enhanced anti-angiogenic effect of E7820 in combination with erlotinib in epidermal growth factor receptor-tyrosine kinase inhibitor-resistant non-small-cell lung cancer xenograft models. Cancer Sci 105:1023–1031

Jin CY, Park C, Lee JH, Chung KT, Kwon TK, Kim GY, Choi BT, Choi YH (2009) Naringenin-induced apoptosis is attenuated by Bcl-2 but restored by the small molecule Bcl-2 inhibitor, HA 14-1, in human leukemia U937 cells. Toxicol In Vitro 23:259–265

Kamei R, Fujimura T, Matsuda M, Kakihara K, Hirakawa N, Baba K, Ono K, Arakawa K, Kawamoto S (2017) A flavanone derivative from the Asian medicinal herb (Perilla frutescens) potently suppresses IgE-mediated immediate hypersensitivity reactions. Biochem Biophys Res Commun 483:674–679

Kim YA, Kim H, Seo Y (2013) Antiproliferative effect of flavonoids from the halophyte Vitex rotundifolia on human cancer cells. Nat Prod Commun 8:1405–1408

Krause DS, Van Etten RA (2005) Tyrosine kinases as targets for cancer therapy. N Engl J Med 353:172–187

Kuno T, Tsukamoto T, Hara A, Tanaka T (2012) Cancer chemoprevention through the induction of apoptosis by natural compounds. J Biophys Chem 3:19431

Liu C, Wang Y, Xie S, Zhou Y, Ren X, Li X, Cai Y (2011) Liquiritigenin induces mitochondria-mediated apoptosis via cytochrome c release and caspases activation in HeLa Cells. Phytother Res 25:277–283

Meoni G, Cecere FL, Lucherini E, Di Costanzo F (2013) Medical treatment of advanced non-small cell lung cancer in elderly patients: a review of the role of chemotherapy and targeted agents. J Geriatr Oncol 4:282–290

Milano V, Piao Y, LaFortune T, de Groot J (2009) Dasatinib-induced autophagy is enhanced in combination with temozolomide in glioma. Mol Cancer Ther 8:394–406

Molina JR, Yang P, Cassivi SD, Schild SE, Adjei AA (2008) Non-small cell lung cancer: epidemiology, risk factors, treatment, and survivorship. Mayo Clin Proc 5:584–594

Nautiyal J, Kanwar SS, Yu Y, Majumdar AP (2011) Combination of dasatinib and curcumin eliminates chemo-resistant colon cancer cells. J Mol Signal 6:7

Park HJ, Kim MJ, Ha E, Chung JH (2008a) Apoptotic effect of hesperidin through caspase3 activation in human colon cancer cells, SNU-C4. Phytomedicine 15:147–151

Park JH, Jin CY, Lee BK, Kim GY, Choi YH, Jeong YK (2008b) Naringenin induces apoptosis through downregulation of Akt and caspase-3 activation in human leukemia THP-1 cells. Food Chem Toxicol 46:3684–3690

Rosell R, Moran T, Queralt C, Porta R, Cardenal F, Camps C, Majem M, Lopez-Vivanco G, Isla D, Provencio M, Insa A, Massuti B, Gonzalez-Larriba JL, Paz-Ares L, Bover I, Garcia-Campelo R, Moreno MA, Catot S, Rolfo C, Reguart N, Palmero R, Sánchez JM, Bastus R, Mayo C, Bertran-Alamillo J, Molina MA, Sanchez JJ, Taron M, Spanish Lung Cancer Group (2009) Screening for epidermal growth factor receptor mutations in lung cancer. N Engl J Med 361:958–967

Sak K (2012) Chemotherapy and dietary phytochemical agents. Chemother Res Pract 2012:282570

Siegel R, Naishadham D, Jemal A (2013) Cancer statistics, 2013. CA Cancer J Clin 63:11–30

Surh YJ (2003) Cancer chemoprevention with dietary phytochemicals. Nat Rev Cancer 3:768–780

Szliszka E, Czuba ZP, Jernas K, Król W (2008) Dietary flavonoids sensitize HeLa cells to tumor necrosis factor-related apoptosis-inducing ligand (TRAIL). Int J Mol Sci 9:56–64

Tomayko MM, Reynolds CP (1989) Determination of subcutaneous tumor size in athymic (nude) mice. Cancer Chemother Pharmacol 24:148–154

Zhang P, Gao WY, Turner S, Ducatman BS (2003) Gleevec (STI-571) inhibits lung cancer cell growth (A549) and potentiates the cisplatin effect in vitro. Mol Cancer 2:1

Zhang SP, Zhou YJ, Liu Y, Cai YQ (2009) Effect of liquiritigenin, a flavanone existed from Radix glycyrrhizae on pro-apoptotic in SMMC-7721 cells. Food Chem Toxicol 47:693–701
Acknowledgements
This work was financially supported by the Mishima Food Co., Ltd (to S. Kawamoto). N. Hirakawa and K. Baba are employees of the Mishima Food Co., Ltd. A. A. Abd El-Hafeez was supported by the Ministry of Education, Culture, Sports, Science, and Technology, MEXT, Japan.
Ethics declarations
Conflict of interest
The authors declare that they have no conflict of interest.
Electronic supplementary material
Below is the link to the electronic supplementary material.
About this article
Cite this article
Abd El-Hafeez, A.A., Fujimura, T., Kamei, R. et al. Synergistic tumor suppression by a Perilla frutescens-derived methoxyflavanone and anti-cancer tyrosine kinase inhibitors in A549 human lung adenocarcinoma. Cytotechnology 70, 913–919 (2018). https://doi.org/10.1007/s10616-017-0124-1
Received:

Accepted:

Published:

Issue Date:
Keywords
A549 cells

Lung cancer

Methoxyflavanone

Perilla frutescens

Tyrosine kinase inhibitors