Abstract
Perilla frutescens is an Asian dietary herb consumed as an essential seasoning in Japanese cuisine as well as used for a Chinese medicine. Here, we report that a newly found methoxyflavanone derivative from P. frutescens (Perilla-derived methoxyflavanone, PDMF; 8-hydroxy-5,7-dimethoxyflavanone) shows carcinostatic activity on human lung adenocarcinoma, A549. We found that treatment with PDMF significantly inhibited cell proliferation and decreased viability through induction of G2/M cell cycle arrest and apoptosis. The PDMF stimulation induces phosphorylation of tumor suppressor p53 on Ser15, and increases its protein amount in conjunction with up-regulation of downstream cyclin-dependent kinase inhibitor p21Cip1/Waf1 and proapoptotic caspases, caspase-9 and caspase-3. We also found that small interfering RNA knockdown of p53 completely abolished the PDMF-induced G2/M cell cycle arrest, and substantially abrogated its proapoptotic potency. These results suggest that PDMF represents a useful tumor-preventive phytochemical that triggers p53-driven G2/M cell cycle arrest and apoptosis.
This is a preview of subscription content, log in to check access.
Access options
Buy single article
Instant access to the full article PDF.
US$ 39.95
Price includes VAT for USA
Subscribe to journal
Immediate online access to all issues from 2019. Subscription will auto renew annually.
US$ 199
This is the net price. Taxes to be calculated in checkout.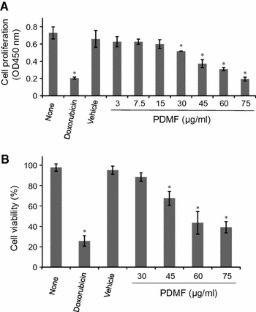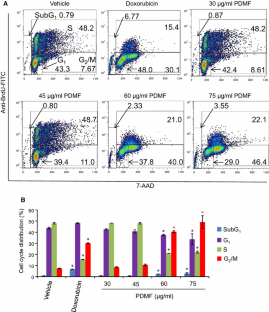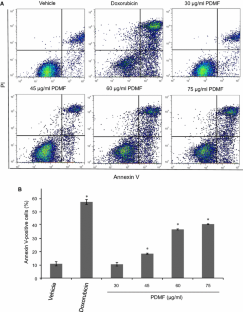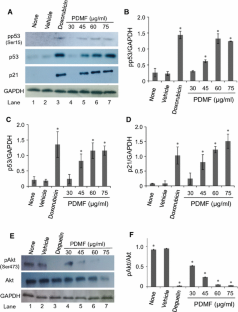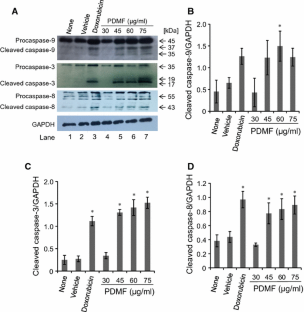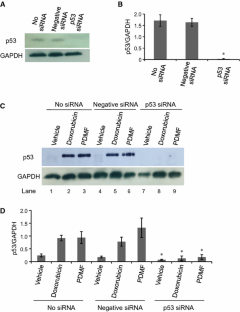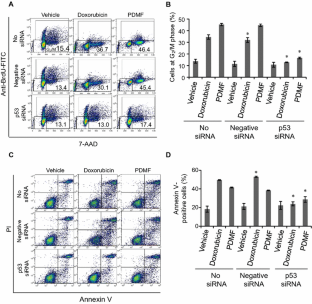 References
Agarwal ML, Agarwal A, Taylor WR, Chernova O, Sharma Y, Stark GR (1998) A p53-dependent S-phase checkpoint helps to protect cells from DNA damage in response to starvation for pyrimidine nucleotides. Proc Natl Acad Sci USA 95:14775–14780

Amaral JD, Xavier JM, Steer CJ, Rodrigues CM (2010) The role of p53 in apoptosis. Discov Med 9:145–152

Arul D, Subramanian P (2013) Naringenin (citrus flavonone) induces growth inhibition, cell cycle arrest and apoptosis in human hepatocellular carcinoma cells. Pathol Oncol Res 19:763–770

Ashkenazi A, Dixit VM (1999) Apoptosis control by death and decoy receptors. Curr Opin Cell Biol 11:255–260

Ayob Z, Mohd Bohari SP, Abd Samad A, Jamil S (2014) Cytotoxic activities against breast cancer cells of local justicia gendarussa crude extracts. Evid Based Complement Alternat Med 2014:732980

Azzoli CG, Baker S Jr, Temin S, Pao W, Aliff T, Brahmer J, Johnson DH, Laskin JL, Masters G, Milton D, Nordquist L, Pfister DG, Piantadosi S, Schiller JH, Smith R, Smith TJ, Strawn JR, Trent D, Giaccone G (2009) American society of clinical oncology clinical practice guideline update on chemotherapy for stage IV non-small-cell lung cancer. J Clin Oncol 27:6251–6266

Banno N, Akihisa T, Tokuda H, Yasukawa K, Higashihara H, Ukiya M, Watanabe K, Kimura Y, Hasegawa JI, Nishino H (2004) Triterpene acids from the leaves of Perilla frutescens and their anti-inflammatory and antitumor-promoting effects. Biosci Biotechnol Biochem 68:85–90

Chen JC, Lu KW, Tsai ML, Hsu SC, Kuo CL, Yang JS, Hsia TC, Yu CS, Chou ST, Kao MC, Chung JG (2009) Gypenosides induced G0/G1 arrest via CHk2 and apoptosis through endoplasmic reticulum stress and mitochondria-dependent pathways in human tongue cancer SCC-4 cells. Oral Oncol 45:273–283

Cohen GM (1997) Caspases: the executioners of apoptosis. Biochem J 326:1–16

El-Deiry WS, Tokino T, Velculescu VE, Levy DB, Parsons R, Trent JM, Lin D, Mercer WE, Kinzler KW, Vogelstein B (1993) WAF1, a potential mediator of p53 tumor suppression. Cell 75:817–825

Elmore S (2007) Apoptosis: a review of programmed cell death. Toxicol Pathol 35:495–516

Flatt PM, Tang LJ, Scatena CD, Szak ST, Pietenpol JA (2000) p53 regulation of G2 checkpoint is retinoblastoma protein dependent. Mol Cell Biol 20:4210–4223

Habtemariam S, Dagne E (2010) Comparative antioxidant, prooxidant and cytotoxic activity of sigmoidin A and eriodictyol. Planta Med 76:589–594

Hengartner MO (2000) The biochemistry of apoptosis. Nature 407:770–776

Kamei R, Fujimura T, Matsuda M, Kakihara K, Hirakawa N, Baba K, Ono K, Arakawa K, Kawamoto S (2017) A flavanone derivative from the Asian medicinal herb (Perilla frutescens) potently suppresses IgE-mediated immediate hypersensitivity reactions. Biochem Biophys Res Commun 483:674–679

Kim MJ, Kim HK (2009) Perilla leaf extract ameliorates obesity and dyslipidemia induced by high-fat diet. Phytother Res 23:1685–1690

Kim MK, Lee HS, Kim EJ, Won NH, Chi YM, Kim BC, Lee KW (2007) Protective effect of aqueous extract of Perilla frutescens on tert-butyl hydroperoxide-induced oxidative hepatotoxicity in rats. Food Chem Toxicol 45:1738–1744

Kim SH, Kim SH, Lee SC, Song YS (2009) Involvement of both extrinsic and intrinsic apoptotic pathways in apoptosis induced by genistein in human cervical cancer cells. Ann N Y Acad Sci 1171:196–201

Kwak Y, Ju J (2015) Inhibitory activities of Perilla frutescens britton leaf extract against the growth, migration, and adhesion of human cancer cells. Nutr Res Pract 9:11–16

Kwak CS, Yeo EJ, Moon SC, Kim YW, Ahn HJ, Park SC (2009) Perilla leaf, Perilla frutescens, induces apoptosis and G1 phase arrest in human leukemia HL-60 cells through the combinations of death receptor-mediated, mitochondrial, and endoplasmic reticulum stress-induced pathways. J Med Food 12:508–517

Lehman TA, Bennett WP, Metcalf RA, Welsh JA, Ecker J, Modali RV, Ullrich S, Romano JW, Appella E, Testa JR, Gerwin BA, Harris C (1991) p53 mutations, ras mutations, and p53-heat shock 70 protein complexes in human lung carcinoma cell lines. Cancer Res 51:4090–4096

Li M, Zhang F, Wang X, Wu X, Zhang B, Zhang N, Wu W, Wang Z, Weng H, Liu S, Gao G, Mu J, Shu Y, Bao R, Cao Y, Lu J, Gu J, Zhu J, Liu Y (2015) Magnolol inhibits growth of gallbladder cancer cells through the p53 pathway. Cancer Sci 106:1341–1350

Lin CS, Kuo CL, Wang JP, Cheng JS, Huang ZW, Chen CF (2007) Growth inhibitory and apoptosis inducing effect of Perilla frutescens extract on human hepatoma HepG2 cells. J Ethnopharmacol 112:557–567

Ma GF, Chen SY, Sun ZR, Miao Q, Liu YM, Zeng XQ, Luo TC, Ma LL, Lian JJ, Song DL (2013) FoxP3 inhibits proliferation and induces apoptosis of gastric cancer cells by activating the apoptotic signaling pathway. Biochem Biophys Res Commun 430:804–809

Makino T, Furuta Y, Fujii H, Nakagawa T, Wakushima H, Saito K, Kano Y (2001) Effect of oral treatment of Perilla frutescens and its constituents on type-I allergy in mice. Biol Pharm Bull 24:1206–1209

Makino T, Furuta Y, Wakushima H, Fujii H, Saito K, Kano Y (2003) Anti-allergic effect of Perilla frutescens and its active constituents. Phytother Res 17:240–243

Manning BD, Cantley LC (2007) AKT/PKB signaling: navigating downstream. Cell 129:1261–1274

Meng LH, Lozano YF, Gaydou EM, Li B (2009) Antioxidant zctivities of polyphenols extracted from Perilla frutescens varieties. Molecules 14:133–140

Ogawara Y, Kishishita S, Obata T, Isazawa Y, Suzuki T, Tanaka K, Masuyama N, Gotoh Y (2002) Akt enhances Mdm2-mediated ubiquitination and degradation of p53. J Biol Chem 277:21843–21850

Osakabe N, Yasuda A, Natsume M, Sanbongi C, Kato Y, Osawa T, Yoshikawa T (2002) Rosmarinic acid, a major polyphenolic component of Perilla frutescens, reduces lipopolysaccharide (LPS)-induced liver injury in D-Galactosamine (D-GalN)-sensitized mice. Free Radic Biol Med 33:798–806

Ridge CA, McErlean AM, Ginsberg MS (2013) Epidemiology of lung cancer. Semin Intervent Radiol 30:93–98

Riedl SJ, Salvesen GS (2007) The apoptosome: signaling platform of cell death. Nat Rev Mol Cell Biol 8:405–413

Sandler AB, Nemunaitis J, Denham C, von Pawel J, Cormier Y, Gatzemeier U, Mattson K, Manegold C (2000) Phase III trial of gemcitabine plus cisplatin versus cisplatin alone in patients with locally advanced or metastatic non-small-cell lung cancer. J Clin Oncol 18:122–130

Schuler M, Bossy-Wetzel E, Goldstein JC, Fitzgerald P, Green DR (2000) p53 induces apoptosis by caspase activation through mitochondrial cytochrome c release. J Biol Chem 275:7337–7342

Siliciano JD, Canman CE, Taya Y, Sakaguchi K, Appella E, Kastan MB (1997) DNA damage induces phosphorylation of the amino terminus of p53. Genes Dev 11:3471–3481

Socinski MA (2014) Update on taxanes in the first-line treatment of advanced non-small-cell lung cancer. Curr Oncol 21:e691–e703

Srinivasan S, Koduru S, Kumar R, Venguswamy G, Kyprianou N, Damodaran C (2009) Diosgenin targets Akt-mediated prosurvival signaling in human breast cancer cells. Int J Cancer 125:961–967

Takano H, Osakabe N, Sanbongi C, Yanagisawa R, Inoue KI, Yasuda A, Natsume M, Baba S, Ichiishi EI, Yoshikawa T (2004) Extract of Perilla frutescens enriched for rosmarinic acid, a polyphenolic phytochemical, inhibits seasonal allergic rhinoconjunctivitis in humans. Exp Biol Med 229:247–254

Tibbetts RS, Brumbaugh KM, Williams JM, Sarkaria JN, Cliby WA, Shieh SY, Taya Y, Prives C, Abraham RT (1999) A role for ATR in the DNA damage-induced phosphorylation of p53. Genes Dev 13:152–157

Ueda H, Yamazaki M (1997) Inhibition of tumor necrosis factor-alpha production by orally administering a Perilla leaf extract. Biosci Biotechnol Biochem 61:1292–1295

Ueda H, Yamazaki M (2001) Anti-inflammatory and anti-allergic actions by oral administration of a Perilla leaf extract in mice. Biosci Biotechnol Biochem 65:1673–1675

Ueda H, Yamazaki C, Yamazaki M (2002) Luteolin as an anti-inflammatory and anti-allergic constituent of Perilla frutescens. Biol Pharm Bull 25:1197–1202

Ueda H, Yamazaki C, Yamazaki M (2003) Inhibitory effect of Perilla leaf extract and luteolin on mouse skin tumor promotion. Biol Pharm Bull 26:560–563
Acknowledgements
This work was financially supported by the Mishima Food Co., Ltd. N. Hirakawa and K. Baba are employees of the Mishima Food Co., Ltd. Abd El-Hafeez A. A. was supported by the Ministry of Education, Culture, Sports, Science, and Technology, MEXT, Japan.
Ethics declarations
Conflict of interest
None of other authors have conflict of interest.
About this article
Cite this article
Abd El-Hafeez, A.A., Fujimura, T., Kamei, R. et al. A methoxyflavanone derivative from the Asian medicinal herb (Perilla frutescens) induces p53-mediated G2/M cell cycle arrest and apoptosis in A549 human lung adenocarcinoma. Cytotechnology 70, 899–912 (2018). https://doi.org/10.1007/s10616-017-0116-1
Received:

Accepted:

Published:

Issue Date:
Keywords
Apoptosis

Flavanone

G2/M cell cycle arrest

Lung cancer

p53

Perilla frutescens