Abstract
Snake fruit (Salacca edulis Reinw.) is a tropical fruit produced in Indonesia. Snake fruit peel is normally discarded as waste. In the present study, it was revealed that snake fruit peel has high bioactivities on stimulation of the immune system. Snake fruit peel extract (SFPE) was prepared by extracting snake fruit peel powder in water for 15 h at 4 °C. SFPE enhanced phagocytotic activity of murine macrophage-like J774.1 cells. Production of cytokine such as tumour necrosis factor (TNF)-α and interleukin (IL)-6 was also stimulated by SFPE. The gene expression levels for these cytokines were elevated. Immunoblot analysis revealed that SFPE enhanced not only nuclear factor (NF)-κB but also mitogen-activated protein kinases signalling cascades such as JNK and p38 in macrophage. Overall findings suggested that SFPE has a potential beneficial effect to promote our body health through the stimulation of macrophage.
Access options
Buy single article
Instant access to the full article PDF.
US$ 39.95
Tax calculation will be finalised during checkout.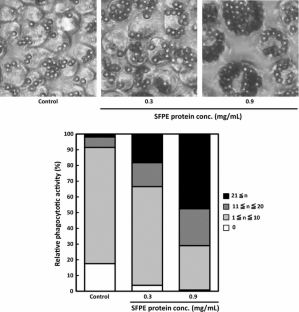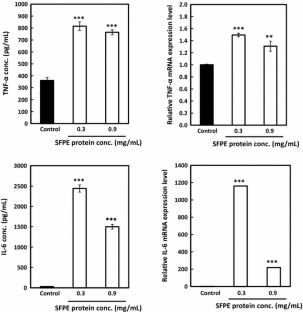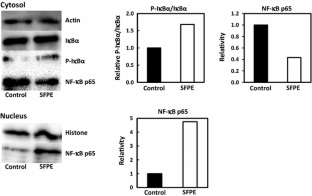 References
Aderem A, Ulevitch RJ (2000) Toll-like receptors in the induction of the innate immune response. Nature 406:782–787

Anand RJ, Kohler JW, Cavallo JA, Li J, Dubowski T, Hackam DJ (2007) Toll-like receptor 4 plays a role in macrophage phagocytosis during peritoneal sepsis. J Pediatr Surg 42:927–933

Bafna AR, Mishra SH (2006) Immunostimulatory effect of methanol extract of Curculigo orchioides on immunosuppressed mice. J Ethnopharmacol 104:1–4

Brown GD, Taylor PR, Reid DM, Willment JA, Williams DL, Martinez-Pomares L, Wong SYC, Gordon S (2002) Dectin-1 is a major β-glucan receptor on macrophages. J Exp Med 196:407–412

Daifuku M, Nishi K, Okamoto T, Nakano H, Nishimoto S, Sugahara T (2012) Immunostimulatory effects of water extract from bulbus arteriosus in tuna in vitro. J Funct Foods 4:263–270

Davis RJ (2000) Signal transduction by the JNK group of MAP kinases. Cell 103:239–252

Deng GF, Shen C, Xu XR, Kuang RD, Guo YJ, Zeng LS, Gao LL, Lin X, Xie JF, Xia EQ, Li S, Wu S, Chen F, Ling WH, Li HB (2012) Potential of fruit wastes as natural resources of bioactive compounds. Int J Mol Sci 13:8308–8323

Feuerstein GZ, Liu T, Barone FC (1994) Cytokines, inflammation, and brain injury: role of tumor necrosis factor-α. Cerebrovasc Brain Metab Rev 6:341–360

Gorina R, Font-Nieves M, Márquez-Kisinousky L, Santalucia T, Planas AM (2011) Astrocyte TLR4 activation induces a proinflammatory environment through the interplay between MyD88-dependent NF-κB signaling, MAPK, and Jak1/Stat1 pathways. Glia 59:242–255

Guijarro-Muñoz I, Compte M, Álvarez-Cienfuegos A, Álvarez-Vallina L, Sanz L (2014) Lipopolysaccharide activates Toll-like receptor 4 (TLR4)-mediated NF-κB signaling pathway and proinflammatory response in human pericytes. J Biol Chem 289:2457–2468

Hayden MS, Ghosh S (2004) Signaling to NF-κB. Genes Dev 18:2195–2224

Herre J, Marshall ASJ, Caron E, Edwards AD, Williams DL, Schweighoffer E, Tybulewicz V, Reis e Sousa C, Gordon S, Brown GD (2004) Dectin-1 uses novel mechanisms for yeast phagocytosis in macrophages. Blood 104:4038–4045

Hume DA (2006) The mononuclear phagocyte system. Curr Opin Immunol 18:49–53

Janeway CA Jr, Medzhitov R (2002) Innate immune recognition. Annu Rev Immunol 20:197–216

Katsiari CG, Liossis SNC, Sfikakis PP (2010) The pathophysiologic role of monocytes and macrophages in systemic lupus erythematosus: a reappraisal. Semin Arthritis Rheum 39:491–503

Kumalasari ID, Nishi K, Harmayani E, Raharjo S, Sugahara T (2013) Effect of bengkoang (Pachyrhizuserosus) fiber extract on murine macrophage-like J774.1 cells and mouse peritoneal macrophages. J Funct Foods 5:582–589

Kumalasari ID, Nishi K, Putra ABN, Sugahara T (2014) Activation of macrophages stimulated by the bengkoang fiber extract through toll-like receptor 4. Food Funct 5:1403–1408

Lee JS, Hong EK (2011) Immunostimulating activity of the polysaccharides isolated from Cordycepsmilitaris. Int Immunopharmacol 11:1226–1233

Leontowicz H, Leontowicz M, Drzewiecki J, Haruenkiy R, Poovarodom S, Park YS, Jung ST, Kang SG, Trakhtenberg S, Gorinstein S (2006) Bioactive properties of snake fruit (Salacca edulis Reinw.) and Mangosteen (Garcinia mangostana) and their influence on plasma lipid profile and antioxidant activity in rats fed cholesterol. Eur Food Res Technol 223:697–703

Li F, Li S, Li HB, Deng GF, Ling WH, Wu S, Xu XR, Chen F (2013) Antiproliferative activity of peels, pulps and seeds of 61 fruits. J Funct Foods 5:1298–1309

Logambal SM, Venkatalakshmi S, Michael RD (2000) Immunostimulatory effect of leaf extract of Ocimum sanctum Linn. in Oreochromis mossambicus (Peters). Hydrobiologia 430:113–120

Lu YC, Yeh WC, Ohashi PS (2008) LPS/TLR4 signal transduction pathway. Cytokine 42:145–151

Monobe M, Ema K, Kato F, Maeda-Yamamoto M (2008) Immunostimulating activity of a crude polysaccharide derived from green tea (Camellia sinensis) extract. J Agric Food Chem 56:1423–1427

Muraguchi A, Hirano T, Tang B, Matsuda T, Horii Y, Nakajima K, Kishimoto T (1988) The essential role of B cell stimulatory factor 2 (BSF-2/IL-6) for the terminal differentiation of B cells. J Exp Med 167:332–344

New L, Han J (1998) The p38 MAP kinase pathway and its biological function. Trends Cardiovasc Med 8:220–228

Nishi K, Kondo A, Okamoto T, Nakano H, Daifuku M, Nishimoto S, Sugahara T (2011) Immunostimulatory in vitro and in vivo effects of a water-soluble extract from kale. Biosci Biotechnol Biochem 75:40–46

Ono K, Han J (2000) The p38 signal transduction pathway: activation and function. Cell Signal 12:1–13

Pantic JM, Mechkarska M, Lukic ML, Conlon JM (2014) Effects of tigerinin peptides on cytokine production by mouse peritoneal macrophages and spleen cells and by human peripheral blood mononuclear cells. Biochimie 101:83–92

Putra ABN, Morishige H, Nishimoto S, Nishi K, Shiraishi R, Doi M, Sugahara T (2012) Effect of collagens from jellyfish and bovine Achilles tendon on the activity of J774.1 and mouse peritoneal macrophage cells. J Funct Foods 4:504–512

Putra ABN, Nishi K, Shiraishi R, Doi M, Sugahara T (2014) Jellyfish collagen stimulates production of TNF-α and IL-6 by J774.1 cells through activation of NF-κB and JNK via TLR4 signaling pathway. Mol Immunol 58:32–37

Putra ABN, Nishi K, Shiraishi R, Doi M, Sugahara T (2015) Jellyfish collagen stimulates maturation of mouse bone marrow-derived dendritic cells. J Funct Foods 14:308–317

Roberfroid MB (2002) Functional foods: concepts and application to inulin and oligo fructose. Br J Nutr 87:139–143

Schepetkin IA, Quinn MT (2006) Botanical polysaccharides: macrophage immunomodulation and therapeutic potential. Int Immunopharmacol 6:317–333

Sica A, Wang JM, Colotta F, Dejana E, Mantovani A, Oppenheim JJ, Larsen CG, Zachariae COC, Matsushima K (1990) Monocyte chemotactic and activating factor gene expression induced in endothelial cells by IL-1 and tumor necrosis factor. J Immunol 144:3034–3038

Tosi MF (2005) Innate immune responses to infection. J Allergy Clin Immunol 116:241–249

Weston RW, Davis RJ (2002) The JNK signal transduction pathway. Curr Opin Genet Dev 12:14–21

Zaini NAM, Osman A, Hamid AA, Ebrahimpour A, Saari N (2013) Purification and characterization of membrane-bound polyphenoloxidase (mPPO) from snake fruit [Salacca zalacca (Gaertn.) Voss]. Food Chem 136:407–414

Zhang G, Ghosh S (2001) Toll-like receptor-mediated NF-κB activation: a phylogenetically conserved paradigm in innate immunity. J Clin Invest 107:13–19
About this article
Cite this article
Wijanarti, S., Putra, A.B.N., Nishi, K. et al. Immunostimulatory activity of snake fruit peel extract on murine macrophage-like J774.1 cells. Cytotechnology 68, 1737–1745 (2016). https://doi.org/10.1007/s10616-015-9925-2
Received:

Accepted:

Published:

Issue Date:
Keywords
J774.1 cells

NF-κB

Macrophage

MAP kinase

Phagocytosis

Snake fruit