Abstract
The temperate symbiotic sea anemone Anemonia viridis, a member of the Cnidaria phylum, is a relevant experimental model to investigate the molecular and cellular events involved in the preservation or in the rupture of the symbiosis between the animal cells and their symbiotic microalgae, commonly named zooxanthellae. In order to increase research tools for this model, we developed a primary culture from A. viridis animal cells. By adapting enzymatic dissociation protocols, we isolated animal host cells from a whole tentacle in regeneration state. Each plating resulted in a heterogeneous primary culture consisted of free zooxanthellae and many regular, small rounded and adherent cells (of 3–5 μm diameter). Molecular analyses conducted on primary cultures, maintained for 2 weeks, confirmed a specific signature of A. viridis cells. Further serial dilutions and micromanipulation allowed us to obtain homogenous primary cultures of the small rounded cells, corresponding to A. viridis "epithelial-like cells". The maintenance and the propagation over a 4 weeks period of primary cells provide, for in vitro cnidarian studies, a preliminary step for further investigations on cnidarian cellular pathways notably in regard to symbiosis interactions.
This is a preview of subscription content, log in to check access.
Access options
Buy single article
Instant unlimited access to the full article PDF.
US$ 39.95
Price includes VAT for USA
Subscribe to journal
Immediate online access to all issues from 2019. Subscription will auto renew annually.
US$ 199
This is the net price. Taxes to be calculated in checkout.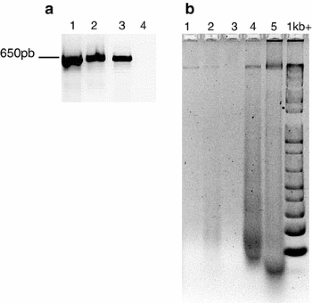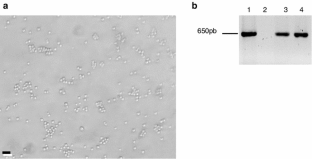 References
Apte S, Khoury F, Roth W, Schlichter D (1996) Transport of amino acids into freshly isolated cells from a sea anemone. Endocytobiosis Cell Res 11:129–146

Domart-Coulon IJ, Elbert DC, Scully EP, Calimlim PS, Ostrander GK (2001) Aragonite crystallization in primary cell cultures of multicellular isolates from a hard coral, Pocillopora damicornis. Proc Natl Acad Sci USA 98:11885–11890

Domart-Coulon I, Tambutte S, Tambutte E, Allemand D (2004) Short term viability of soft tissue detached from the skeleton of reef-building corals. J Exp Mar Biol Ecol 309:199–217

Frank U, Rinkevich B (1999) Scyphozoan jellyfish's mesoglea supports attachment, spreading and migration of anthozoans' cells in vitro. Cell Biol Int 23:307–311

Frank U, Rabinowitz C, Rinkevich B (1994) In vitro establishment of continuous cell cultures and cell lines from ten colonial cnidarians. Mar Biol 120:491–499

Furla P, Bénazet-Tambutté S, Jaubert J, Allemand D (1998) Functional polarity of the tentacle of the sea anemone Anemonia viridis: role in inorganic carbon acquisition. Am J Physiol 274:303–310

Furla P, Allemand D, Orsenigo MN (2000) Involvement of H(+)-ATPase and carbonic anhydrase in inorganic carbon uptake for endosymbiont photosynthesis. Am J Physiol Regul Integr Comp Physiol 278:870–881

Ganot P, Moya A, Magnone V, Allemand D, Furla P, Sabourault C (2011) Adaptations to endosymbiosis in a cnidarian-dinoflagellate association: differential gene expression and specific gene duplications. PLoS Genet 7:e1002187

Gates RD, Muscatine L (1992) Three methods for isolating viable anthozoan endoderm cells with their intracellular symbiotic dinoflagellates. Coral Reefs 11:143–145

Kopecky EJ, Ostander G (1999) Isolation and primary culture of viable multicellular endothelial isolates from hard corals. In Vitro Cell Dev Biol Anim 35:616–624

Merle PL, Sabourault C, Richier S, Allemand D, Furla P (2007) Catalase characterization and implication in bleaching of a symbiotic sea anemone. Free Radic Biol Med 42:236–246

Moya A, Ganot P, Furla P, Sabourault C (2012) The transcriptomic response to thermal stress is immediate, transient and potentiated by ultraviolet radiation in the sea anemone Anemonia viridis. Mol Ecol 21:1158–1174

Richier S, Merle PL, Furla P, Pigozzi D, Sola F, Allemand D (2003) Characterization of superoxide dismutases in anoxia- and hyperoxia-tolerant symbiotic cnidarians. Biochim Biophys Acta 162:84–91

Richier S, Sabourault C, Courtiade J, Zucchini N, Allemand D, Furla P (2006) Oxidative stress and apoptotic events during thermal stress in the symbiotic sea anemone, Anemonia viridis. FEBS J 273:4186–4198

Rinkevich B (1999) Cell cultures from marine invertebrates: obstacles, new approaches and recent improvements. J Biotechnol 170:133–153

Rinkevich B (2005) Marine invertebrate cell cultures: new millennium trends. Mar Biotechnol 7:429–439

Rinkevich B (2011) Cell cultures from marine invertebrates: new insights for capturing endless stemness. Mar Biotechnol 13:345–354

Roberts JM, Davies PS, Fixter LM, Preston T (1999) Primary site and initial products of ammonium assimilation in the symbiotic sea anemone Anemonia viridis. Mar Biol 135:223–236

Sabourault C, Ganot P, Deleury E, Allemand D, Furla P (2009) Comprehensive EST analysis of the symbiotic sea anemone, Anemonia viridis. BMC Genomics 10:333

Savage AM, Goodson MS, Visram S, Trapido-Rosenthal H, Wiedenmann J, Douglas AE (2002) Molecular diversity of symbiotic algae at the latitudinal margins of their distribution: dinoflagellates of the genus Symbiodinium in corals and sea anemones. Mar Ecol Prog Ser 244:17–26

Zamoum T, Furla P (2012) Symbiodinium isolation by NaOH treatment. J Exp Biol 215:3875–3880
Acknowledgments
S.B.V. is grateful to Drs. Philippe Ganot and Cécile Sabourault for npc1 primers gift and PCR technical advice. Authors are also grateful to Brigitte Poderini, for sea anemone maintenance.
Additional information
Nathalie Joli and Juliette Olivré contributed equally to this work.
About this article
Cite this article
Barnay-Verdier, S., Dall'Osso, D., Joli, N. et al. Establishment of primary cell culture from the temperate symbiotic cnidarian, Anemonia viridis . Cytotechnology 65, 697–704 (2013) doi:10.1007/s10616-013-9566-2
Received:

Accepted:

Published:

Issue Date:
Keywords
Cnidarian

Primary cell culture

Symbiosis