Abstract
Taking into account that oxidative stress is among the factors causing cancer-related death; chemoprevention which consists in using antioxidant substances such as phenolics could prevent cancer formation and progression. In the present study, phenolic contents and antioxidant activities of methanolic extracts from the halophyte Tamarix gallica shoots were determined. Moreover, the anticancer effect of this species on human colon cancer cells and the likely underlying mechanisms were also investigated. Shoot extracts showed an appreciable total phenolic content (85 mg GAE/g DW) and a high antioxidant activity (IC50 = 3.3 μg/ml for DPPH test). At 50 and 100 μg/ml, shoot, leaf, and flower extracts significantly inhibited Caco-2 cell growth. For instance, almost all plant part extracts inhibited cell growth by 62 % at the concentration 100 μg/ml. DAPI staining results revealed that these extracts decrease DNA synthesis and confirm their effect on Caco-2 cells proliferation, principally at 100 μg/ml. More importantly, cell mitosis was arrested at G2/M phase. The changes in the cell-cycle-associated proteins (cyclin B1, p38, Erk1/2, Chk1, and Chk2) are correlated with the changes in cell cycle distribution. Taken together, our data suggest that T. gallica is a promising candidate species to be used as a source of anticancer biomolecules.
Access options
Buy single article
Instant access to the full article PDF.
USD 39.95
Price excludes VAT (USA)
Tax calculation will be finalised during checkout.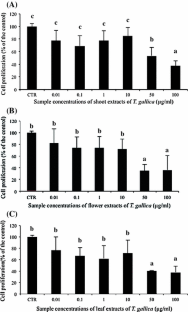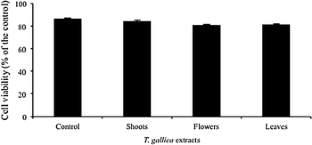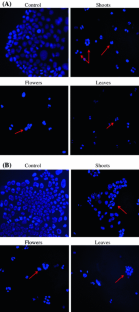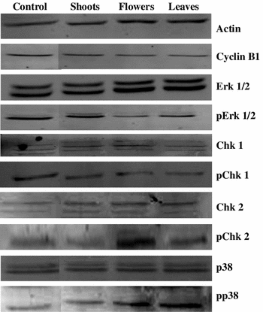 References
Bourgou S, Ksouri R, Bellila A, Skandrani I, Falleh H, Marzouk B (2008) Phenolic composition and biological activities of Tunisian Nigella sativa L. shoots and roots. C R Biol 331:48–55

Bulavin DV, Demidov ON, Saito S, Kauraniemi P, Phillips C, Amundson SA, Ambrosino C, Sauter G, Nebreda AR, Anderson CW, Kallioniemi A, Fornace AJ Jr, Appella E (2002) Amplification of PPM1D in human tumors abrogates p53 tumor-suppressor activity. Nat Genet 31:210–215

Bulavin DV, Fornace AJ Jr (2004) p38 MAP Kinase's emerging role as a tumor suppressor. Adv Cancer Res 92:95–118

Bulavin DV, Phillips C, Nannenga B, Timofeev O, Donehower LA, Anderson CW, Appella E, Fornace AJ Jr (2004) Inactivation of the Wip1 phosphatase inhibits mammary tumorigenesis through p38 MAPK-mediated activation of the p16(Ink4a)-p19(Arf) pathway. Nat Genet 36:343–350

Cai XZ, Wang J, Li XD, Wang GL, Liu FN, Cheng MS, Li F (2009) Curcumin suppresses proliferation and invasion in human gastric cancer cells by downregulation of PAK1 activity and cyclin D1 expression. Cancer Biol Ther 8:1360–1368

Canagarajah BJ, Khokhlatchev A, Cobb MH, Goldsmith EI (1997) Activation mechanism of the MAP Kinase ERK2 by dual phosphorylation. Cell 90:859–869

Cárdenas MG, Blank VC, Marder M, Roguin LP (2008) 2′-Nitroflavone induces cell cycle arrest and apoptosis in HeLa human cervical carcinoma cells. Cancer Lett 268:146–157

Castedo M, Perfettini JL, Roumier T, Yakushijin K, Horne D, Medema R, Kroemer G (2004) The cell cycle checkpoint kinase Chk2 is a negative regulator of mitotic catastrophe. Oncogene 23:4353–4361

Chen L, Mayer JA, Krisko TI, Speers CW, Wang T, Hilsenbeck SG, Brown PH (2009) Inhibition of the p38 kinase suppresses the proliferation of human ER-negative breast cancer cells. Cancer Res 69:8853–8861

Cho SH, Toouli CD, Fujii GH, Crain C, Parry D (2005) Chk1 is essential for tumor cell viability following activation of the replication checkpoint. Cell Cycle 4:131–139

Conour JE, Graham WV, Gaskins HR (2004) A combined in vitro = bioinformatic investigation of redox regulatory mechanisms governing cell cycle progression. Physiol Genomics 18:196–205

Dewanto V, Wu X, Adom KK, Liu RH (2002) Thermal processing enhances the nutritional value of tomatoes by increasing total antioxidant activity. J Agric Food Chem 50:3010–3014

Dumesic PA, Scholl FA, Barragan DI, Khavari PA (2000) Erk1/2 MAP kinases are required for epidermal G2/M progression. J Cell Biol 185:409–422

Falleh H, Ksouri R, Chaieb K, Karray-Bouraoui N, Trabelsi N, Boulaaba M, Abdelly C (2008) Phenolic composition of Cynara cardunculus L. organs, and their biological activities. C R Biol 331:372–379

Gülcin I, Uguz MT, Oktay M, Beydemir S, Küfrevioglu OI (2004) Evaluation of the antioxidant and antimicrobial activities of Clary Sage (Salvia sclarea L.). Turk J Agric For 28:25–33

Hatano H, Kagawa T, Yasuhara J, Okuda T (1988) Two new flavonoids and other constituents in licorice root: their relative astringency and radical scavenging effect. Chem Pharm Bull 36:1090–1097

Jin C, Strembiski W, Kulchytska Y, Micetich RG, Daneshtalab M (1999) Flavonoid glycosides from Ledum palustre subsp. decumbens. Daru 7:5–8

Kennedy NJ, Davis RJ (2003) Role of JNK in tumor development. Cell Cycle 2:199–201

Kennedy NJ, Cellurale C, Davis RJ (2007) A radical role for p38 MAPK in tumor initiation. Cancer Cell 11:101–103

Ksouri R, Falleh H, Megdiche W, Trabelsi N, Mhamdi B, Chaieb K, Bakrouf A, Magné C, Abdelly C (2009) Antioxidant and antimicrobial activities of the edible medicinal halophyte Tamarix gallica L. and related polyphenolic constituents. Food Chem Toxicol 47:2083–2091

Kuntz S, Wenzel U, Daniel H (1999) Comparative analysis of the effects of flavonoids on proliferation, cytotoxicity, and apoptosis in human colon cancer cell lines. Eur J Nutr 38:133–142

Lavoie JN, L'Allemain G, Brunet A, Muller R, Pouyssegur J (1996) Cyclin D1 expression is regulated positively by the p42/p44MAPK and negatively by the p38/HOGMAPK pathway. J Biol Chem 271:20608–20616

Lee YL, Yang JH, Mau JL (2008) Antioxidant properties of water extracts from Monascus fermented soybeans. Food Chem 106:1128–1137

Liu WK, Cheung FWK, Liu BPL, Li C, Ye W, Che CT (2008) Involvement of p21 and FasL in induction of cell cycle arrest and apoptosis by neochamaejasmin A in human prostate LNCaP cancer cells. J Nat Prod 71:842–846

Luo XM, Basile MJ, Kennelly EJ (2002) Polyphenolic antioxidants from the fruit of Chrysophyllum cainito L. (Star Apple). J Agric Food Chem 50:1379–1382

Malumbres M, Barbacid M (2007) Cell cycle kinases in cancer. Curr Opin Genet Dev 17:60–65

Manke IA, Nguyen A, Lim D, Stewart MQ, Elia AE, Yaffe MB (2005) MAPKAP kinase-2 is a cell cycle checkpoint kinase that regulates the G2/M transition and S phase progression in response to UV irradiation. Mol Cell 17:37–48

Mao F, Xiao B, Jiang Z, Zhao J, Huang X, Guo J (2011) Anticancer effect of Lycium barbarum polysaccharides on colon cancer cells involves G0/G1 phase arrest. Med Oncol 28:121–126

Mosmann T (1983) Rapid colorimetric assay for cellular growth and survival: application to proliferation and cytotoxicity assays. J Immunol Methods 65:55–63

Murray AW (2004) Recycling the cell cycle: cyclins revisited. Cell 116:221–234

Negro C, Tommasi L, Miceli A (2003) Phenolic compounds and antioxidant activity from red grape marc extracts. Bioresource Tech 87:41–44

Okita K, Sakaida I, Hino K (2002) Current strategies for chemoprevention of hepatocellular carcinoma. Oncology 62:24–28

Orabi MAA, Taniguchi S, Yoshimura M, Yoshida T, Kishino K, Sakagami H, Hatano T (2010) Hydrolyzable tannins of tamaricaceous plants. III. (1) Hellinoyl- and macrocyclic type ellagitannins from Tamarix nilotica. J Nat Prod 73:870–879

Oszmianski J, Wojdylo A, Lamer-Zarawska E, Swiader K (2007) Antioxidant tannins from Rosaceae plant roots. Food Chem 100:579–583

Oyaizu M (1986) Studies on products of the browning reaction. Antioxidative activities of browning reaction products prepared from glucosamine. Jap J Nutr 44:307–315

Pachón-Peña G, Reyes-Zurita FJ, Deffieux G, Azqueta A, De Cerain AL, Centelles JJ, Creppy EE, Cascante M (2009) Antiproliferative effect of flavomannin-6,6′-dimethylether from Tricholoma equestre on Caco-2 cells. Toxicol 264:192–197

Roberts PJ, Der CJ (2007) Targeting the Raf-MEK-ERK mitogen-activated protein kinase cascade for the treatment of cancer targeting the Raf-MEK-ERK MAPK cascade. Oncogene 26:3291–3310

Sarsour EH, Kumar MG, Chaudhuri L, Kalen AL, Goswami PC (2009) Redox control of the cell cycle in health and disease. Antioxid Redox Signal 11:2985–3011

Sehrawat A, Sultana S (2006) Evaluation of possible mechanisms of protective role of Tamarix gallica against DEN initiated and 2-AAF promoted hepatocarcinogenesis in male Wistar rats. Life Sci 79:1456–1465

Singh JP, Selvendiran K, Banu SM, Padmavathi R, Sakthisekaran D (2004) Protective role of apigenin on the status of lipid peroxidation and antioxidant defense against hepatocarcinogenesis in Wistar albino rats. Phytomedicine 11:309–314

Sun B, Richardo-da-Silvia JM, Spranger I (1998) Critical factors of vanillin assay for catechins and proanthocyanidins. J Agric Food Chem 46:4267–4274

Um YR, Kong CS, Lee JI, Kim YA, Nam TJ, Seo Y (2010) Evaluation of chemical constituents from Glehnia littoralis for antiproliferative activity against HT-29 human colon cancer cells. Process Biochem 45:114–119

Wang W, Heideman L, Chung CS, Pelling JC, Koehler KJ, Birt DF (2000) Cell-cycle arrest at G2/M and growth inhibition by apigenin in human colon carcinoma cell lines. Mol Carcinog 28:102–110

Wang JL, Wang X, Wang H, Iliakis G, Wang Y (2002) Chk1-regulated S-phase checkpoint response reduces camptothecin cytotoxicity. Cell Cycle 1:267–272

Weng CJ, Yen GC (2012) Chemopreventive effects of dietary phytochemicals against cancer invasion and metastasis: phenolic acids, monophenol, polyphenol, and their derivatives. Cancer Treat Rev 38:76–87

Wu ZZ, Chien CM, Yang SH, Lin YH, Hu XW, Lu YJ, Wu MJ, Lin SR (2006) Induction of G2/M phase arrest and apoptosis by a novel enediyne derivative, THDA, in chronic myeloid leukemia (K562) cells. Mol Cell Biochem 292:99–105

Yang YT, Weng CJ, Ho CT, Yen GC (2009) Resveratrol analog-3,5,4′-trimethoxy-trans-stilbene inhibits invasion of human lung adenocarcinoma cells by suppressing the MAPK pathway and decreasing matrix metalloproteinase-2 expression. Mol Nutr Food Res 53:407–416
Acknowledgments
This study partially was supported by the JICA-JST Science and Technology Research Partnership for Sustainable Development (SATREPS) Project: "Valorization of Bio-resources in Semi-Arid and Arid Land for Regional Development".
About this article
Cite this article
Boulaaba, M., Tsolmon, S., Ksouri, R. et al. Anticancer effect of Tamarix gallica extracts on human colon cancer cells involves Erk1/2 and p38 action on G2/M cell cycle arrest. Cytotechnology 65, 927–936 (2013). https://doi.org/10.1007/s10616-013-9564-4
Received:

Accepted:

Published:

Issue Date:

DOI: https://doi.org/10.1007/s10616-013-9564-4
Keywords
Tamarix gallica

Phenolic contents

Antioxidant activities

Caco-2 cells

Anticancer effect

Cell cycle arrest