Abstract
Spondias pinnata, a commonly distributed tree in India, previously proven for various pharmacological properties and also reported for efficient anti-oxidant, free radical scavenging and iron chelating activity, continuing this, the present study is aimed to investigate the role of 70 % methanolic extract of S. pinnata bark (SPME) in promoting apoptosis in human lung adenocarcinoma cell line (A549) and human breast adenocarcinoma cell line (MCF-7). These two malignant cell lines and a normal cell line were treated with increasing concentrations of SPME and cell viability is calculated. SPME showed significant cytotoxicity to both A549 and MCF-7 cells with an IC50 value of 147.84 ± 3.74 and 149.34 ± 13.30 μg/ml, respectively, whereas, comparatively no cytotoxicity was found in normal human lung fibroblast cell line (WI-38): IC50 932.38 ± 84.44 μg/ml. Flow cytometric analysis and confocal microscopic studies confirmed that SPME is able to induce apoptosis in both malignant cell lines. Furthermore, immunoblot result proposed the pathway of apoptosis induction by increasing Bax/Bcl-2 ratio in both cell types, which results in the activation of the caspase-cascade and ultimately leads to the cleavage of Poly adeno ribose polymerase. For the first time this study proved the anticancer potential of SPME against human lung and breast cancer by inducing apoptosis through the modulation of Bcl-2 family proteins. This might take S. pinnata in light to investigate it for further development as therapeutic anticancer source.
Access options
Buy single article
Instant access to the full article PDF.
US$ 39.95
Tax calculation will be finalised during checkout.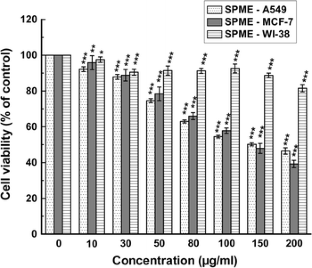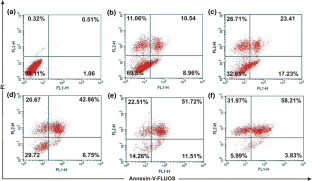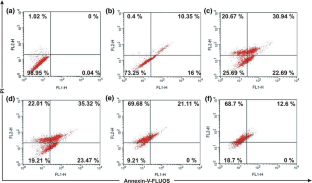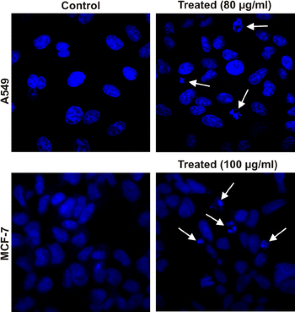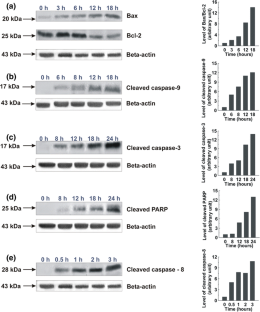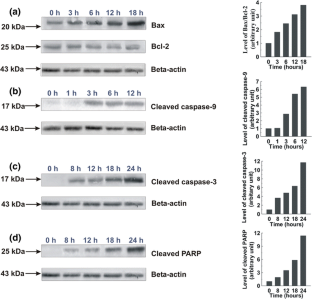 References
Allen RT, Hunter WJ 3rd, Agrawal DK (1997) Morphological and biochemical characterization and analysis of apoptosis. J Pharmacol Toxicol 37:215–228. doi:10.1016/S1056-8719(97)00033-6

Anto RJ, Mukhopadhyay A, Denning K, Aggarwal BB (2002) Curcumin (diferuloylmethane) induces apoptosis through activation of caspase-8, BID cleavage and cytochrome c release: its suppression by ectopic expression of Bcl-2 and Bcl-xl. Carcinogenesis 23:143–150. doi:10.1093/carcin/23.1.143

Bibitha B, Jisha VK, Salitha CV, Mohan S, Valsa AK (2002) Antibacterial activity of different plant extracts. Indian J Microbiol 42:361–363

Chan KT, Meng FY, Li Q, Ho CY, Lam TS, To Y, Lee WH, Li M, Chu KH, Toh M (2010) Cucurbitacin B induces apoptosis and S phase cell cycle arrest in BEL-7402 human hepatocellular carcinoma cells and is effective via oral administration. Cancer Lett 294:118–124. doi:10.1016/j.canlet.2010.01.029

Christiansen S, Autschbach R (2006) Doxorubicin in experimental and clinical heart failure. Eur J Cardio-Thoracic 30:611–616. doi:10.1016/j.ejcts.2006.06.024

Donepudi M, Sweeney AM, Briand C, Grutter MG (2003) Insights into the regulatory mechanism for caspase-8 activation. Mol Cell 11:543–549. doi:10.1016/S1097-2765(03)00059-5

Fisher B, Costantino JP, Wickerham DL, Cecchini RS, Cronin WM, Robidoux A, Bevers TB, Kavanah MT, Atkins JN, Margolese RG, Runowicz CD, James JM, Ford LG, Wolmark N (2005) Tamoxifen for the Prevention of Breast Cancer: current Status of the National Surgical Adjuvant Breast and Bowel Project P-1 Study. J Natl Cancer I 97:1652–1662. doi:10.1093/jnci/dji372

Ghoshal PK, Thakur S (1981) Structural features of the acidic polysaccharide of Spondias pinnata gum exudate. Carbohyd Res 98:75–83. doi:10.1016/S0008-6215(00)87143-8

Hazra B, Biswas S, Mandal N (2008) Antioxidant and free radical scavenging activity of Spondias pinnata. BMC Complement Altern Med 8:63. doi:10.1186/1472-6882-8-63

Hazra B, Sarkar R, Mandal N (2013) Spondias pinnata stem bark extract lessens iron overloaded liver toxicity due to hemosiderosis in Swiss albino mice. Ann Hepatol 12:123–129

Hu W, Kavanagh JJ (2003) Anticancer therapy targeting the apoptotic pathway. Lancet Oncol 4:721–729. doi:10.1016/S1470-2045(03)01277-4

Leksomboon C, Thaveechai N, Kositratana W (2001) Potential of plant extracts for controlling citrus canker of lime. Kasetsart J (Nat Sci) 35:392–396

Lin YJ, Liu YS, Yeh HH, Cheng TL, Wang LF (2012) Self-assembled poly (ε-caprolactone)-g-chondroitin sulfate copolymers as an intracellular doxorubicin delivery carrier against lung cancer cells. Int J Nanomedicine 7:4169–4183. doi:10.2147/IJN.S33602

Machana S, Weerapreeyakul N, Barusrux S, Nonpunya A, Sripanidkulchai B, Thitimetharoch T (2011) Cytotoxic and apoptotic effects of six herbal plants against the human hepatocarcinoma (HepG2) cell line. BMC Chin Med 6:39. doi:10.1186/1749-8546-6-39

Mahanta RK, Rout SD, Sahu HK (2006) Ethnomedicinal plant resources of Similipal biosphere reserve, Orissa, India. Zoos Print J 21:2372–2374

Martínez V, Barberá O, Sánchez-Parareda J, Marco JA (1987) Phenolic and acetylenic metabolites from Artemisia assoana. Phytochem 26:2619–2624. doi:10.1016/S0031-9422(00)83891-1

Moreno-Aspitia A, Perez EA (2009) Anthracycline- and/or taxane-resistant breast cancer: results of a literature review to determine the clinical challenges and current treatment trends. Clin Ther 31:1619–1640. doi:10.1016/j.clinthera.2009.08.005

Mosmann T (1983) Rapid colorimetric assay for cellular growth and survival: application to proliferation and cytotoxicity assays. J Immunol Meth 65:55–63. doi:10.1016/0022-1759(83)90303-4

Murray AW (2004) Recycling the cell cycle: cyclins revisited. Cell 116:221–234. doi:10.1016/S0092-8674(03)01080-8

Orren DK, Petersen LN, Bohr VA (1997) Persistent DNA damage inhibits S-phase and G2 progression, and results in apoptosis. Mol Biol Cell 8:1129–1142

Pastorino JG, Chen ST, Tafani M, Snyder JW, Farber JL (1998) The overexpression of Bax produces cell death upon induction of the mitochondrial permeability transition. J Biol Chem 273:7770–7775. doi:10.1074/jbc.273.13.7770

Reed JC (1997) Double identity for proteins of the Bcl-2 family. Nature 387:773–776. doi:10.1038/42867

Sarkar R, Mandal N (2011) In vitro cytotoxic effect of hydroalcoholic extracts of medicinal plants on Ehrlich's Ascites Carcinoma. Int J Phytom 3:370–380. doi:10.5138/ijpm.v3i3.322

Shi Y (2002) Mechanisms of caspase activation and inhibition during apoptosis. Mol Cell 9:459–470. doi:10.1110/ps.04789804

Tian Z, Shen J, Moseman AP, Yang Q, Yang J, Xiao P, Wu E, Kohane IS (2008) Dulxanthone A induces cell cycle arrest and apoptosis via up-regulation of p53 through mitochondrial pathway in HepG2 cells. Int J Cancer 122:31–38. doi:10.1002/ijc.23048

Torres K, Horwitz SB (1998) Mechanisms of taxol-induced cell death are concentration dependent. Cancer Res 58:3620–3626

Wang YB, Qin J, Zheng XY, Bai Y, Yang K, Xie LP (2010) Diallyl trisulfide induces Bcl-2 and caspase-3-dependent apoptosis via downregulation of Akt phosphorylation in human T24 bladder cancer cells. Phytomed 17:363–368. doi:10.1016/j.phymed.2009.07.019

Wonders KY, Reigle BS (2009) Trastuzumab and doxorubicin-related cardiotoxicity and the cardioprotective role of exercise. Integr Cancer Ther 8:17–21. doi:10.1161/01.CIR.102.3.272
Acknowledgments
The authors would like to acknowledge Council of Scientific and Industrial Research, Govt. of India for providing the necessary funds to conduct the study. Acknowledgments are also due to Mr. Ranjit K. Das and Mr. Pradip K. Mallick for their technical assistance.
About this article
Cite this article
Ghate, N.B., Hazra, B., Sarkar, R. et al. In vitro anticancer activity of Spondias pinnata bark on human lung and breast carcinoma. Cytotechnology 66, 209–218 (2014). https://doi.org/10.1007/s10616-013-9553-7
Received:

Accepted:

Published:

Issue Date:
Keywords
Spondias pinnata

Anticancer

Apoptosis

Caspase

Bax/Bcl-2