Abstract
In this study, we evaluated the efficacy of Lactobacillus gasseri OLL2809 on endometriosis by the randomized, double-blind and placebo-controlled clinical study, especially against pain, which is one of the causative factors to decrease the quality of life. Sixty-six patients clinically diagnosed with endometriosis were enrolled in this study, 62 of which have successfully completed the trial. The tablets containing 100 mg of L. gasseri OLL2809 (active tablet, n = 29) or placebo tablets (n = 33) were ingested once a day for 12 weeks. Visual analog scale (VAS) of pain intensity at the menstrual period and verbal rating scale (VRS) of dysmenorrhea were significantly improved by the ingestion of the active tablets as compared with placebo tablets. There was no significant change of blood examination and biochemical examination of blood in the enrolled patients. Above results show that the tablet containing L. gasseri OLL2809 is effective on endometriosis, especially against menstrual pain and dysmenorrhea. Moreover, it was found that the tablet has no adverse effects. Therefore, it was suggested that the tablet containing L. gaserri OLL2809 contributes to improve the quality of life in the patients with endometriosis.
Access options
Buy single article
Instant access to the full article PDF.
USD 39.95
Price excludes VAT (USA)
Tax calculation will be finalised during checkout.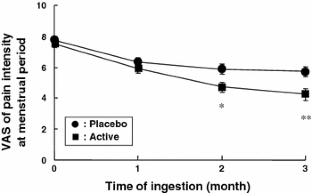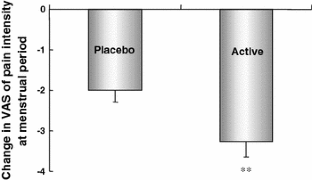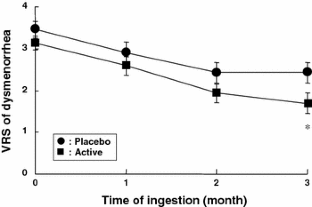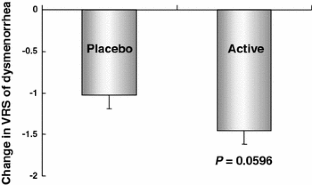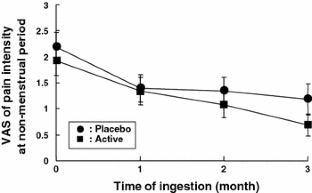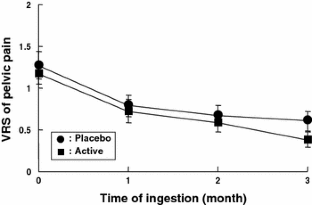 Abbreviations
VAS:

Visual analog scale

VRS:

Verbal rating scale

NK:

Natural killer

IL:

Interleukin

QOL:

Quality of life
References
Amaral VF, Ferriani RA, Sá MF, Nogueira AA, Rosa e Silva JC, Rosa e Silva AC, Moura MD (2006) Positive correlation between serum and peritoneal fluid CA-125 levels in women with pelvic endometriosis. Sao Paulo Med J 124:223–227

Andersch B, Milsom I (1982) An epidemiologic study of young women with dysmenorrhea. Am J Obstet Gynecol 144:655–660

Bartosik D, Jacobs SL, Kelly LJ (1986) Endometrial tissue in peritoneal fluid. Fertil Steril 46:796–800

Crosignani P, Olive D, Bergqvist A, Luciano A (2006) Advances in the management of endometriosis: an update for clinicians. Hum Reprod Update 12:179–189

Gazvani R, Smith L, Fowler PA (2002) Effect of interleukin-8 (IL-8), anti-IL-8, and IL-12 on endometrial cell survival in combined endometrial gland and stromal cell cultures derived from women with and without endometriosis. Fertil Steril 77:62–67

Giudice LC, Kao LC (2004) Endometriosis. Lancet 364:1789–1799

Gotoh M, Sashihara T, Ikegami S, Yamaji T, Kino K, Orii N, Taketomo N, Okubo K (2009) Efficacy of oral administration of a heat-killed Lactobacillus gasseri OLL2809 on patients of Japanese cedar pollinosis with high Japanese-cedar pollen-specific IgE. Biosci Biotechnol Biochem 73:1971–1977

Hill JA (1992) Immunology and endometriosis. Fertil Steril 58:262–264

Ho HN, Chao KH, Chen HF, Wu MY, Yang YS, Lee TY (1995) Peritoneal natural killer cytotoxicity and CD25+ CD3+ lymphocyte subpopulation are decreased in women with stage III–IV endometriosis. Hum Reprod 10:2671–2675

Ho HN, Wu MY, Yang YS (1997) Peritoneal cellular immunity and endometriosis. Am J Reprod Immunol 38:400–412

Kikuchi Y, Ishikawa N, Hirata J, Imaizumi E, Sasa H, Nagata I (1993) Changes of peripheral blood lymphocyte subsets before and after operation of patients with endometriosis. Acta Obstet Gynecol Scand 72:157–161

Kobayashi M, Fitz L, Ryan M, Hewick RM, Clark SC, Chan S, Loudon R, Sherman F, Perussia B, Trinchieri G (1989) Identification and purification of natural killer cell stimulatory factor (NKSF), a cytokine with multiple biologic effects on human lymphocytes. J Exp Med 170:827–845

Kusakabe K, Morishima S, Nakamuta N, Li ZL, Otsuki Y (2007) Effect of danazol on NK cells and cytokines in the mouse uterus. J Reprod Dev 53:87–94

Maiorana A, Cicerone C, Niceta M, Alio L (2007) Evaluation of serum CA 125 levels in patients with pelvic pain related to endometriosis. Int J Biol Markers 22:200–202

Mäyrä-Mäkien A, Bigret M (1993) Industrial use and production of lactic acid bacteria. In: Salminen S, Von Wright A (eds) Lactic acid bacteria. Marcel Dekker, New York, pp 65–95

Mazzeo D, Viganó P, Di Blasio AM, Sinigaglia F, Vignali M, Panina-Bordignon P (1998) Interleukin-12 and its free p40 subunit regulate immune recognition of endometrial cells: potential role in endometriosis. J Clin Endocrinol Metab 83:911–916

Naidu AS, Bidlack WR, Clemens RA (1999) Probiotic spectra of lactic acid bacteria (LAB). Crit Rev Food Sci Nutr 39:13–126

Olive DL, Pritts EA (2001) Treatment of endometriosis. N Engl J Med 345:266–275

Oosterlynck DJ, Cornillie FJ, Waer M, Vandeputte M, Koninckx PR (1991) Women with endometriosis show a defect in natural killer activity resulting in a decreased cytotoxicity to autologous endometrium. Fertil Steril 56:45–51

Oosterlynck DJ, Meuleman C, Waer M, Vandeputte M, Koninckx PR (1992) The natural killer activity of peritoneal fluid lymphocytes is decreased in women with endometriosis. Fertil Steril 58:290–295

Quaranta MG, Porpora MG, Mattioli B, Giordani L, Libri I, Ingelido AM, Cerenzia P, Di Felice A, Abballe A, De Felip E, Viora M (2006) Impaired NK-cell-mediated cytotoxic activity and cytokine production in patients with endometriosis: a possible role for PCBs and DDE. Life Sci 79:491–498

Sampson JA (1940) The development of the implantation theory for the origin of peritoneal endometriosis. Am J Obstet Gynecol 40:549–557

Sashihara T, Sueki N, Ikegami S (2006) An analysis of the effectiveness of heat-killed lactic acid bacteria in alleviating allergic diseases. J Dairy Sci 89:2846–2855

Sashihara T, Sueki N, Furuichi K, Ikegami S (2007) Effect of growth conditions of Lactobacillus gasseri OLL2809 on the immunostimulatory activity for production of interleukin-12 (p70) by murine splenocytes. Int J Food Microbiol 120:274–281

Sashihara T, Ikegami S, Sueki N, Yamaji T, Kino K, Taketomo N, Gotoh M, Okubo K (2008) Oral administration of heat-killed Lactobacillus gasseri OLL2809 reduces cedar pollen antigen-induced peritoneal eosinophilia in mice. Allergol Int 57:397–403

Somigliana E, Viganò P, Rossi G, Carinelli S, Vignali M, Panina-Bordignon P (1999) Endometrial ability to implant in ectopic sites can be prevented by interleukin-12 in a murine model of endometriosis. Hum Reprod 14:2944–2950

Stern AS, Podlaski FJ, Hulmes JD, Pan YC, Quinn PM, Wolitzky AG, Familletti PC, Stremlo DL, Truitt T, Chizzonite R, Gately MK (1990) Purification to homogeneity and partial characterization of cytotoxic lymphocyte maturation factor from human B-lymphoblastoid cells. Proc Natl Acad Sci USA 87:6808–6812

Zeyneloglu HB, Senturk LM, Seli E, Bahtiyar OM, Olive DL, Arici A (1998) The peritoneal fluid levels of interleukin-12 in women with endometriosis. Am J Reprod Immunol 39:152–156
About this article
Cite this article
Itoh, H., Uchida, M., Sashihara, T. et al. Lactobacillus gasseri OLL2809 is effective especially on the menstrual pain and dysmenorrhea in endometriosis patients: randomized, double-blind, placebo-controlled study. Cytotechnology 63, 153–161 (2011). https://doi.org/10.1007/s10616-010-9326-5
Received:

Accepted:

Published:

Issue Date:

DOI: https://doi.org/10.1007/s10616-010-9326-5
Keywords