Abstract
Real-time reverse transcription PCR (RT-qPCR) relies on a housekeeping or normalizer gene whose expression remains constant throughout the experiment. RT-qPCR is commonly used for characterization of human bone marrow mesenchymal stem cells (hBMSCs). However, to the best of our knowledge, there are no studies validating the expression stability of the genes used as normalizers during hBMSCs differentiation. This work aimed to study the stability of the housekeeping genes β-actin, glyceraldehyde-3-phosphate dehydrogenase (GAPDH) and ribosomal protein L13A (RPL13A) during the osteogenic differentiation of hBMSCs. Their stability was evaluated via RT-qPCR in 14 and 20 day differentiation assays to the osteogenic lineage. Different normalization strategies were evaluated to quantify the osteogenic markers collagen type I, bone sialoprotein and osteonectin. Cell differentiation was confirmed via alizarin red staining. The results demonstrated up-regulation of β-actin with maximum fold changes (MFC) of 4.38. GAPDH and RPL13A were not regulated by osteogenic media after 14 days and presented average fold changes lower than 2 in 20 day cultures. RPL13A (MFC < 2) had a greater stability when normalizing as a function of culture time compared with GAPDH (MFC ≤ 2.2), which resulted in expression patterns of the osteogenic markers more consistent with the observed differentiation process. The results suggest that β-actin regulation could be associated with the morphological changes characteristic of hBMSCs osteogenic differentiation, and provide evidence for the superior performance of RPL13A as a normalizer gene in osteogenic differentiation studies of hBMSCs. This work highlights the importance of validating the normalizer genes used for stem cells characterization via RT-qPCR.
Access options
Buy single article
Instant access to the full article PDF.
USD 39.95
Price includes VAT (USA)
Tax calculation will be finalised during checkout.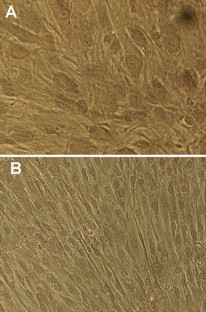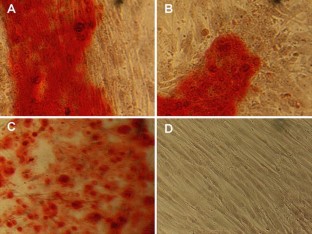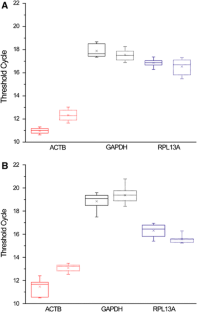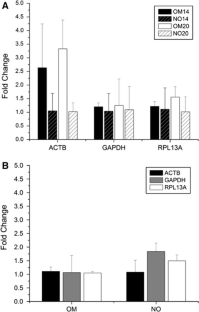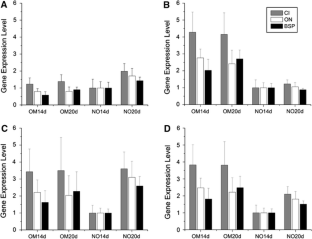 Abbreviations
RT-qPCR:

Quantitative reverse transcription PCR

hBMSCs:

Human bone marrow mesenchymal stem cells

ACTB:

β-actin

GAPDH:

Glyceraldehyde-3-phosphate dehydrogenase

RPL13A:

Ribosomal protein L13A

CI:

Collagen type I

ON:

Osteonectin

BSP:

Bone sialoprotein

NO:

Non-osteogenic medium

OM:

Osteogenic medium

ARS:

Alizarin red staining

AFC:

Average fold changes from the mean threshold cycle

MFC:

Average maximum fold changes

CT:

Threshold cycle
References
Abdallah BM, Haack-Sorensen M, Burns JS, Elsnab B, Jakob F, Hokland P, Kassem M (2005) Maintenance of differentiation potential of human bone marrow mesenchymal stem cells immortalized by human telomerase reverse transcriptase gene in despite of extensive proliferation. Biochem Biophys Res Commun 326:527–538

Aerts JL, Gonzales MI, Topalian SL (2004) Selection of appropriate control genes to assess expression of tumor antigens using real-time RT-PCR. BioTechniques 36:84–91

Andersen CL, Jensen JL, Ørntoft TF (2004) Normalization of real-time quantitative reverse transcription-pcr data: a model-based variance estimation approach to identify genes suited for normalization, applied to bladder and colon cancer data sets cancer research. Cancer Res 64:5245–5250

Bianco P, Riminuncci M, Gronthos S, Robey PG (2001) Bone marrow stromal stem cells: nature, biology, and potential applications. Stem Cells 19:180–192

Biederman J, Yee J, Cortes P (2004) Validation of internal control genes for gene expression analysis in diabetic glomerulosclerosis. Kidney Int 66:2308–2314

Bustin S (2000) Absolute quantification of mRNA using real-time reverse transcription polymerase chain reaction assay. J Mol Endocrinol 25:169–193

Catelas I, Sese N, Wu BM, Dunn JCY, Helgerson S, Tawil B (2006) Human mesenchymal stem cell proliferation and osteogenic differentiation in fibrin gels in vitro. Tissue Eng 11:2385–2396

Caterson EJ, Nesti LJ, Danielson KG et al (2002) Human marrow-derived mesenchymal progenitor cells: isolation, culture expansion, and analysis of differentiation. Mol Biotechnol 20:245–256

Cho HH, Park HT, Kim YJ, Bae YC, Suh KT, Jung JS (2005) Induction of osteogenic differentiation of human mesenchymal stem cells by histone deacetylase inhibitors. J Cell Biochem 96:533–542

Colter DC, Sekiya I, Prockop DJ (2001) Identification of a subpopulation of rapidly selfrenewing and multipotential adult stem cells in colonies of human marrow stromal cells. Proc Natl Acad Sci USA 98:7841–7845

Dheda K, Huggett JF, Bustin SA, Johnson MA, Rook G, Zumla A (2004) Validation of housekeeping genes for normalizing RNA expression in real-time PCR. BioTechniques 37:112–119

Frank O, Heim M, Jakob M, Barbero A, Schäfer D, Bendik I, Dick W, Heberer M, Martin I (2002) Real-time quantitative RT-PCR analysis of human bone marrow stromal cells during osteogenic differentiation in vitro. J Cell Biochem 85:737–746

Friedman MS, Long MW, Hakenson KD (2006) Osteogenic differentiation of human mesenchymal stem cells is regulated by bone morphogenetic protein-6. J Cell Biochem 98:538–554

García-Crespo D, Juste RA, Hurtado A (2005) Selection of ovine housekeeping genes for normalisation by real-time RT-PCR; analysis of PrP gene expression and genetic susceptibility to scrapie. BMC Vet Res 1:3

Glare EM, Divjak M, Bailey MJ, Walters EH (2002) β-Actin and GAPDH housekeeping gene expression in asthmatic airways is variable and not suitable for normalising mRNA levels. Thorax 57:765–770

Goossens K, Poucke MV, Soom AV, Vandesompele J, Van Zeveren A, Peelman LC (2005) Selection of reference genes for quantitative real-time PCR in bovine preimplantation embryos. BMC Dev Biol 5:27

Grayson WL, Ma T, Bunnell B (2004) Human mesenchymal stem cells tissue development in 3D PET matrices. Biotechnol Prog 20:905–912

Hellemans J, Mortier G, De Paepe A, Speleman F, Vandesompele J (2007) qBase relative quantification framework and software for management and automated analysis of real-time quantitative PCR data. Genome Biol 8(2):R19

Huggett J, Dheda K, Bustin S, Zumla A (2005) Real-time RT-PCR normalisation; strategies and considerations. Genes Immun 6:279–284

Johansson S, Fuchs A, Ökvis A, Karimi M, Harper C, Garrick T, Sheedy D, Hurd Y, Bakalkin G, Ekström TJ (2007) Validation of endogenous controls for quantitative gene expression analysis: application on brain cortices of human chronic alcoholics. Brain Res 1132:20–28

Kim HJ, Kim UJ, Vunjak-Novakovic G, Min BH, Kaplan DL (2005) Influence of macroporous protein scaffolds on bone tissue engineering from bone marrow stem cells. Biomaterials 26:4442–4452

Kleiboeker SB (2005) Quantitative assessment of the effect of uracil-DNA glycosylase on amplicon DNA degradation and RNA amplification in reverse transcription-PCR. Virol J 2:29

Kok JB, Roelofs RW, Giesendorf BA, Pennings JL, Waas ET, Feuth T, Swinkels DW, Span PN (2005) Normalization of gene expression measurements in tumor tissues: comparison of 13 endogenous control genes. Lab Invest 85:154–159

Lee H, Huang G, Chiang H, Chiou LL, Chen MH, Hsieh CH, Jiang CH (2003) Multipotential mesenchymal stem cells from femoral bone marrow near the site of osteonecrosis. Stem Cells 21:190–199

Mbalaviele G, Sheikh S, Stains JP, Salazar VS, Cheng SL, Chen D, Civitelli R (2005) β-Catenin and BMP-2 synergize to promote osteoblast differentiation and new bone formation. J Cell Biochem 94:403–418

Meinel L, Karageorgiou V, Hofmann S, Fajardo R, Snyder B, Li C, Zichner L, Langer R, Vunjak-Novakovic G, Kaplan DL (2004a) Engineering bone-like tissue in vitro using human bone marrow stem cells and silk scaffolds. J Biomed Mater Resv 71A:25–34

Meinel L, Karageorgiou V, Fajardo R, Snyder B, Shinde-Patil V, Zichner L, Kaplan D, Langer R, Vunjak-Novakovic G (2004b) Bone tissue engineering using human mesenchymal stem cells: effects of scaffold material and medium flow. Ann Biomed 32:112–122

Meinel L, Hofmann S, Betz O, Fajardo R, Merkle HP, Langer R, Evans CH, Vunjak-Novakovic G, Kaplan DL (2006) Osteogenesis by human mesenchymal stem cells cultured on silk biomaterials: comparison of adenovirus mediated gene transfer and protein delivery of BMP-2. Biomaterials 27:4993–5002

Mygind T, Stiehler M, Baatrup A, Li H, Zou X, Flyvbjerg A, Kassem M, Bünger C (2007) Mesenchymal stem cell ingrowth and differentiation on coralline hydroxyapatite scaffolds. Biomaterials 28:1036–1047

Oshina H, Sotome S, Yoshii T, Torigoe I, Yumi S, Maehara H, Marukawa E, Omura K, Shinomiya K (2007) Effects of continuous dexamethasone treatment on differentiation capabilities of bone marrow-derived mesenchymal cells. Bone 41:575–583

Pfaffl MW, Tichopad A, Prgomet C, Neuvians TP (2004) Determination of stable housekeeping genes, differentially regulated target genes and sample integrity: bestkeeper—excel-based tool using pair-wise correlations. Biotechnol Lett 26:509–515

Quiroz GF, Posada OM, Gallego D, Higuita N, Sarassa C, Hansford DJ, Agudelo-Florez P, López LE (2008) Isolation of human bone marrow mesenchymal stem cells and evaluation of their osteogenic potential. Revista Ingeniería Biomédica 3:48–55

Ramakers C, Ruijter JM, Lekanne Deprez RH, Moorman AFM (2003) Assumption-free analysis of quantitative real-time polymerase chain reaction (PCR) data. Neurosci Lett 339:62–66

Sakaguchi Y, Sekiya I, Yagishita K, Ichinose S, Shinomiya K, Muneta T (2004) Suspended cells from trabecular bone by collagenase digestion become virtually identical to mesenchymal stem cells obtained from marrow aspirates. Blood 104:2728–2735

Schmittgen T, Zakrajsek B (2000) Effect of experimental treatment on housekeeping gene expression: validation by real-time, quantitative RT-PCR. J Biochem Biophys Methods 46:69–81

Schutze N, Noth U, Schneidereit J, Hendrich C, Jakob F (2005) Differential expression of CCN-family members in primary human bone marrow-derived mesenchymal stem cells during osteogenic, chondrogenic and adipogenic differentiation. Cell Commun Signal 3:5

Sumanasinghe RD, Bernacki SH, Loboa EG (2006) Osteogenic differentiation of human mesenchymal stem cells in collagen matrices: effect of uniaxial cyclic tensile strain on bone morphogenetic protein (BMP-2) mRNA expression. Tissue Eng 12:3459–3465

Szabo A, Perou CM, Karaca M, Perreard L, Palais R, Quackenbush JF, Bernard PS (2004) Statistical modeling for selecting housekeeper genes. Genome Biol 5:R59

Tricarico C, Pinzani P, Bianchi S, Paglierani M, Distante V, Pazzagli M, Bustin SA, Orlando C (2002) Quantitative real-time reverse transcription polymerase chain reaction: normalization to rRNA or single housekeeping genes is inappropriate for human tissue biopsies. Anal Biochem 309:293–300

Tsukahara S, Ikeda R, Goto S, Yoshida K, Mitsumori R, Sakamoto Y, Tajima A, Yokoyama T, Toh S, Furukawa KI, Inoue I (2006) Tumour necrosis factor α-stimulated gene-6 inhibits osteoblastic differentiation of human mesenchymal stem cells induced by osteogenic differentiation medium and BMP-2. Biochem J 398:595–603

Vandesompele J, De preter K, Pattyn F, Poppe B, Van Roy N, De Paepe A, Speleman F (2002) Accurate normalization of real-time quantitative RT-PCR data by geometric averaging of multiple internal control genes. Genome Biol 3(7):research0034.1–0034.11

Wong ML, Medrano JF (2005) Real-time PCR for mRNA quantitation. BioTechniques 39:75–85

Zhang X, Ding L, Sandford AJ (2005) Selection of reference genes for gene expression studies in human neutrophils by real-time PCR. BMC Mol Biol 6:4
Acknowledgments
This project was partially funded by Colciencias (Colombian research foundation). The authors are grateful to the patients that participated in this study and to the healthcare institutions Hospital Pablo Tobón Uribe and Clínica Leon XIII, as well as to Dr. Daniel Estes (University of Michigan, USA) and Professors Juan A. López (University of Antioquia, Colombia) and Mauricio Rojas (University of Antioquia, Colombia) for their critical review of this manuscript.
About this article
Cite this article
Quiroz, F.G., Posada, O.M., Gallego-Perez, D. et al. Housekeeping gene stability influences the quantification of osteogenic markers during stem cell differentiation to the osteogenic lineage. Cytotechnology 62, 109–120 (2010). https://doi.org/10.1007/s10616-010-9265-1
Received:

Accepted:

Published:

Issue Date:
Keywords
Mesenchymal stem cells

Osteogenic differentiation

Normalization

Gene expression

Quantitative RT-PCR