Abstract
We have developed a generic transient transfection process at 100 L scale, using HEK293-EBNA cells and PEI as the transfection reagent for the production of recombinant IgG. The process, including large-scale plasmid preparation, expression at bioreactor scale, capture, purification and, if necessary, endotoxin removal allows reproducible production of more than 0.5 g IgG for in vitro and in vivo studies. We compared the performance of two HEK cell lines, investigated the effect of conditioned medium, optimized the DNA:PEI ratio and implemented a feed strategy to prolong the culture time to increase product yield. The transient transfection protocol developed enables a closed process from seeding culture to protein capture. The challenge of performing a medium exchange before transfection at large scale is solved by applying a continuous centrifugation step between the seeding bioreactor and the production bioreactor. After 7–8 days the harvest and capture is performed in a one-step operation using a Streamline expanded bed chromatography system. Following a polishing step the purified antibody is transferred to the final formulation buffer. The method has shown to be reproducible at 10, 50, and 100 L scale expressing between 5 and 8 mg L−1 IgG.
Access options
Buy single article
Instant access to the full article PDF.
USD 39.95
Price excludes VAT (USA)
Tax calculation will be finalised during checkout.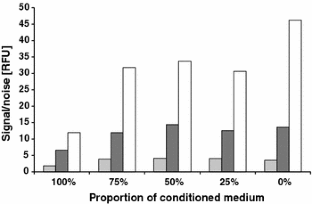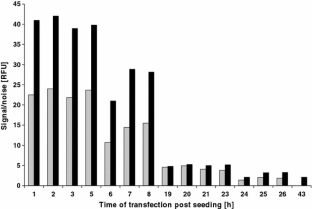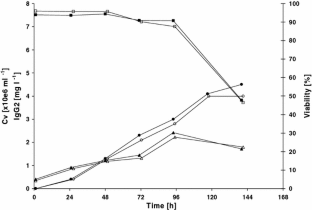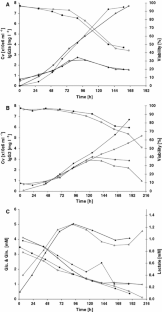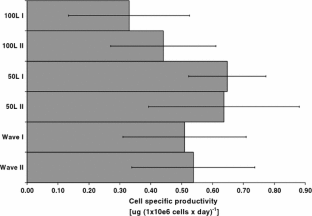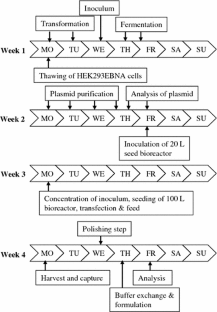 References
Abhinav A, Shukla A, Hubbard B, Tressel T et al (2007) Downstream processing of monoclonal antibodies—Application of platform approaches. J Chromatogr 848:28–39

Baldi L, Muller N, Picasso S et al (2005) Transient gene expression in suspension HEK-293 cells: application to large-scale protein production. Biotechnol Prog 21:148–153

Belting M, Petersson P (1999) Intracellular accumulation of secreted proteoglycans inhibits cationic lipid-mediated gene transfer. Co-transfer of glycosaminoglycans to the nucleus. J Biol Chem 274(27):19375–19382

Belting M, Sandgren S, Wittrup A (2005) Nuclear delivery of macromolecules: barriers and carriers. Adv Drug Deliv Rev 57(4):505–527

Birch J, Onakunle Y (2005) Biopharmaceutical proteins: opportunities and challenges. In: Smales CM, James DC (eds) Therapeutic proteins: methods and protocols. Totowa, Humana Press, pp 1–16

Boussif O, Lezoualch F, Zanta MA et al (1995) A versatile vector for gene and oligonucleotide transfer into cells in culture and in vivo: polyethyleneimine. Proc Natl Acad Sci USA 92:7297–7301

Cachianes G, Ho C, Weber RF et al (1993) Epstein-Barr virus-derived vectors for transient and stable expression of recombinant proteins. Biotechniques 15:255–259

Carpentier E, Paris S, Kamen AA et al (2007) Limiting factors governing protein expression following polyethylenimine-mediated gene transfer in HEK293-EBNA1 cells. J Biotechnol 128(2):268–280

Chamsart S, Patel H, Hanak JA et al (2001) The impact of fluid-dynamic-generated stresses on chDNA and pDNA stability during alkaline cell lysis for gene therapy products. Biotechnol Bioeng 75:387–389

Davies A, Greene A, Lullau E et al (2005) Optimisation and evaluation of a high-throughput mammalian protein expression system. Protein Expr Purif 42(1):111–121

Derouazi M, Girard P, Van Tilborgh F et al (2004) Serum-free large-scale transient transfection of CHO cells. Biotechnol Bioeng 87:537–545

Durocher Y, Perret S, Kamen A (2002) High-level and high-throughput recombinant protein production by transient transfection of suspension-growing human 293-EBNA1 cells. Nucleic Acid Res 30: E9

Galbraith DJ, Tait AS, Racher AJ et al (2006) Control of culture environment for improved polyethylenimine-mediated transient production of recombinant monoclonal antibodies by CHO cells. Biotechnol Prog 22:753–762

Gardner RA, Belting M, Svensson K et al (2007) Synthesis and transfection efficiencies of new lipophilic polyamines. J Med Chem 50(2):308–318

Geisse S, Henke M (2005) Large-scale transient transfection of mammalian cells: a newly emerging attractive option for recombinant protein production. J Struct Funct Genomics 6:165–170

Geisse S, Di Maiuta N, Ten Buren B, Henke M (2003) The secrets of transfection in serum-free suspension culture. In: Godia F, Fussenegger M (eds) Proceedings of the 18th ESACT meeting, Animal cell technology meets genomics. Springer, Dordrecht, pp 373–376

Geisse S, Jordan M, Wurm FM (2005) Large-scale transient expression of therapeutic proteins in mammalian cells. Meth Mol Biol 308:87–98

Girard P, Derouazi M, Baumgartner G et al (2002) 100-Liter transient transfection. Cytotechnology 38:15–21

Girard P, Porte L, Berta T et al (2001) Calcium phosphate transfection optimization for serum-free suspension culture. Cytotechnology 35:175–180

Graham FL, van der Eb AJ (1973) A new technique for the assay of infectivity of human adenovirus 5 DNA. Virology 52:456–467

Jordan M, Kohne C, Wurm FM (1998) Caclium-phosphate mediated DNA transfer into HEK-293 cells in suspension—controle of physicochemeical parameters allows transfection in stirred media—Transfection and protein expression in mammalian cells. Cytotechnology 26:39–47

Kelley B (2007) Very large scale monoclonal antibody purification: the case for conventional unit operations. Biotechnol Prog 23:995–1008

Kunaparaju R, Liao M, Sunstrom NA (2005) Epi-CHO, an episomal expression system for recombinant protein production in CHO cells. Biotechnol Bioeng 91:670–677

Lebkowski JS, Clancy S, Calos MP (1985) Simian virus 40 replication in adenovirus-transformed human cells antagonizes gene expression. Nature 317:169–171

Linhardt RJ, Toida T (2004) Role of glycosaminoglycans in cellular communication. Acc Chem Res 37:431–438

Meissner P, Girard P, Kulangara A, Tasao MC, Jordan M, Wurm FM (1999) Process development for transient gene expression in mammalian cells at the 3 L scale: 10-50 mg of r-protein in days. In: Bernard A, Griffiths B, Noé W, Wurm FM (eds) Proceedings of the 16th ESACT meeting, Animal Cell Technology: Products from cells, cells as product. Kluwer Academic Publisher, Dordrecht, pp 351-357

Meissner P, Pick H, Kulangara A et al (2001) Transient gene expression: Recombinant protein production with suspension-adapted HEK293-EBNA cells. Biotechnol Bioeng 75:197–203

Ozturk SS, Palsson BO (1990) Effect of initial cell density on hybridoma growth, metabolism, and monoclonal antibody production. J Biotechnol 16(3–4):259–278

Petsch D, Anspach FB (2000) Endotoxin removal from protein solutions. J Biotechnol 76(2–3):97–119

Pham PL, Perret S, Doan HC et al (2003) Large-scale transient transfection of serum-free suspension-growing HEK293 EBNA1 cells: peptone additives improve cell growth and transfection efficiency. Biotechnol Bioeng 84:332–342

Ritzen U, Rotticci-Mulder J, Stromberg P et al (2007) Endotoxin reduction in monoclonal antibody preparations using arginine. J Chrom B: Anal Technol Biomed Life Sci 856(1–2):343–347

Schlaeger EJ (1996) The protein hydrolysate, Primatone RL, is a cost-effective multiple growth promoter of mammalian cell culture in serum-containing and serum-free media and displays anti-apoptosis properties. J Immunol Methods 194(2):191–199

Schlaeger E-J, Christensen K (1999) Transient gene expression in mammalian cells grown in serum-free suspension culture. Cytotechnology 30:71–83

Schlaeger E-J, Legendre JY, Trzeciak A et al (1998) Transient transfection in mammalian cells: a basic study for an efficient and cost-effective scale up process. In: Meren O-W, Perrin P, Griffith R (eds) Proceedings of the 15th ESACT meeting, New developments and new applications in animal cell technology. Kluver Academic Publisher, Dordrecht, pp 105–111

Schlaeger E-J, Kitas EA, Dorn A (2003) SEAP expression in transiently transfected mammalian cells grown in serum-free suspension culture. Cytotechnology 42:47–55

Sun X, Hia HC, Goh PE et al (2008) High-density transient gene expression in suspension-adapted 293 EBNA1 cells. Biotechnol Bioeng 99:108–116

Tait AS, Brown CJ, Galbraith DJ et al (2004) Transient production of recombinant proteins by Chinese hamster ovary cells using polyethyleneimine/DNA complexes in combination with microtubule disrupting anti-mitotic agents. Biotechnol Bioeng 88:707–721

Varley J, Birch J (1999) Reactor design for large scale suspension animal cell culture. Cytotechnology 29(3):177–205

Wurm F, Bernard A (1999) Large-scale transient expression in mammalian cells for recombinant protein production. Curr Opin Biotechnol 10:156–159

Yang JD, Lu C, Stasny B et al (2007) Fed-batch bioreactor process scale-up from 3-L to 2,500-L scale for monoclonal antibody production from cell culture. Biotechnol Bioeng 98:141–154
Acknowledgements
We thank our colleagues at process R&D Anna Bogstedt, Ingrid Fagervall for ELISA support and Maud Lennmark for endotoxin measurements. We thank or colleagues Sebastian Baumann, Thomas Falkman, Ulrika Ritzén and Stefan Schmidt for their contribution and support to this work and Catherine Heddle and Ian W. Taylor for critical reading of the manuscript.
About this article
Cite this article
Tuvesson, O., Uhe, C., Rozkov, A. et al. Development of a generic transient transfection process at 100 L scale. Cytotechnology 56, 123–136 (2008). https://doi.org/10.1007/s10616-008-9135-2
Received:

Accepted:

Published:

Issue Date:

DOI: https://doi.org/10.1007/s10616-008-9135-2
Keywords
Bioreactor

HEK293

Large scale

PEI

Transient transfection