Abstract
That sexism and speciesism on occasion operate in concert has been well documented in animal studies, in ecofeminism and in green criminology. This article shows that for much of its history, the taboo term cunt has embodied terms of abuse that are at once both sexist and speciesist. In opening up a new direction in the analysis of intersectional oppressions, this article examines how the burden of this dirty work has been carried by species represented by terms such as bitch, bunny, cow, fox and pussy. In uncovering this history, this article constructs a cultural etymology of cunt, finding that: (1) the term acquired its full vitriol only when speciesism was shackled to its latent sexism; and (2) only when its speciesist aspects were censured and rendered obsolete did its abusiveness toward women begin to ebb. The article concludes with a warning: Those who nowadays aim to rehabilitate cunt and reclaim it on behalf of women should be mindful that this project can proceed only if it ignores the history of how this binary term was enabled and intensified by human violence against other animals.
Access options
Buy single article
Instant access to the full article PDF.
US$ 39.95
Tax calculation will be finalised during checkout.
Subscribe to journal
Immediate online access to all issues from 2019. Subscription will auto renew annually.
US$ 79
Tax calculation will be finalised during checkout.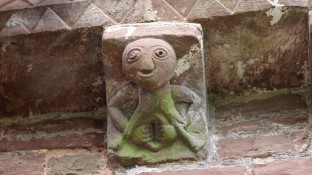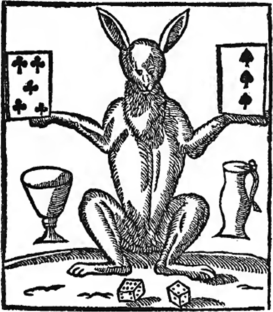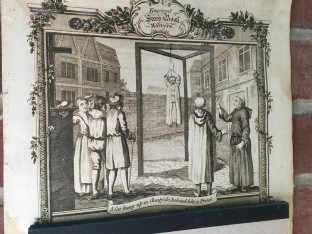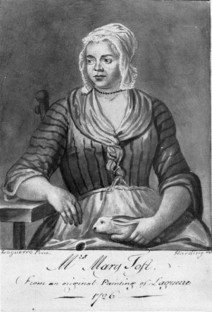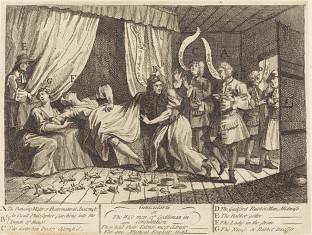 Notes
1.

Le Cunte appears in Calendar of Close Rolls, Henry III: Volume 1, 1227–1231, and Cunneslegh in Lancashire Assize Roll 404 (30–31 Henry III, part 2 of 2).

2.

There are interesting similarities between the twelfth-century Milanese carving, La Tosa Impudica, and the early but undated sheela from St. Mary's church in Egremont in Cumbrian England. Each figure holds shears in her right hand, seemingly in the act of trimming her pubic hair. The exposure by both figures of their pudenda could be interpreted, as does Bailey (1983: 114), as a device to ward off bad luck. But the shears complicate matters. Perhaps they represent a male's mockery of an older woman.

3.

Williams' comments on Gent's Dictionary definition of gig: "[s]exual use may derive from this according to the correspondence theory; cf. the folkloric 'big nose, big cunt'" (1994: 597).

4.

Ortus Vocabularum (1500) was published in London for the English market, as was the Italian–English dictionary Worlde of Wordes (1598). The latter defines cunno as "a woman's private parts," potta as "a womans privie parts, a cunt, a quaint," and pottacia as "a filthie great cunt."

5.

The Chaucerian queynte has been severally defined as "vagina or external female genitalia" (OED), "an elegant, pleasing thing" (Riverside Chaucer 1987), and "a clever or curious device or ornament" (MED).

6.

Marlowe's punning mony/Cony should be compared with Philip Massinger's later complaint of 1622: "A pox upon your Christian cockatrices! They cry, like poulterers' wives, 'No money, no coney'" (The Virgin-Martyr, Act I, Scene 1).

7.

The phrase, cunny-thumbed, has been explained as "to double one's fist with the thumb inwards, like a woman" (Dictionary of The Vulgar Tongue 1811) and "given to shooting a marble as a girl does" (Dictionary of Slang and Unconventional English 1984). Scunt means "having lost all one's marbles" (English Dialect Dictionary 1898) and connyfogle "to deceive in order to win a woman's sexual favors."

8.

Though venery became obsolete as a legal expression for "game" animals, the modern English, venery, has two apparently unrelated meanings: (1) the hunting of game (from the Latin venari and the ME veneriei); and (2) associated with Venus, the gratification of sexual desire leading to the unwelcome venereal as malady, disease, syphilis, genital warts and so on.

9.

While it refers to cony as "an obsolete term of endearment for a woman," the OED unhelpfully adds only that it has been used "indecently."

10.

One of the witnesses was the renowned literary critic Helen Gardner. In her opinion (Gardner, verbatim in Rolph 1961: 60):

I don't think any words are brutal or disgusting in themselves. They are brutal and disgusting if they are used in a brutal and disgusting sense or a brutal and disgusting context. I think that by the very fact that this word is used so frequently in the book, with every subsequent use the original shock is diminished, and I would say by the end Lawrence has gone very far within the context of this book to redeem this word from low and vulgar associations, and to make one feel it is the only word the character in the book could use.

11.

Resolutely anti-capitalist and anti-corporate in its original version, successive editions of OBOS softened its overtly political tone and broadened its appeal beyond its white middle-class base. On the intricate publishing history of OBOS and its pan-global appeal, see Davis (2007a) and the exchange between Haraway (1997) and Davis (2007b).

12.

In a later statement on the issue, however, Greer (2006) warned:

In the past…I wanted women to be able to say "You think cunt is nasty? I'm here to tell you cunt is nice. Like black is beautiful, cunt is delicious. Cunt is powerful. Cunt is strong. It didn't work. And now, in a way, I'm sort of perversely pleased, because it kept that power…now I don't think I want the C Word to be tamed. I love the idea that this word is still so sacred that you can use it like a torpedo: you can hole people below the water line; you can make strong men go pale…It is a word of immense power, to be used sparingly.

13.

14.

This is not to say that there was a complete abeyance of the term in England. Thus, between 1950 and 1961, cows' vulvas were known as cunts on the Isle of Wight and cunnies in Wiltshire (Upton et al. 1994: 108). The same study recorded cunny-handed for left-handed in Gloucestershire and cat-handed in Essex (Upton et al. 1994: 71). Cockney rhyming slang retains rabbit hutch and cat and kitty, the latter referring to "the woman who puts her pussy to work in a cat house" (Puxley 1998: 19). In London, "Bunny Clubs" are high-end sites where, for men's entertainment, human females don rabbits' ears, waist-hugging corsets and fluffy tails.
References
Adams, N. (1990). The Latin sexual vocabulary. Baltimore, MD: Johns Hopkins University Press.

Adams, C. J. (2015). The sexual politics of meat: A feminist-vegetarian critical theory (20th anniversary ed.). New York: Bloomsbury.

Adams, C. J., & Gruen, L. (2014). Ecofeminism: Feminist intersections with other animals and the Earth. New York: Bloomsbury.

Alarie, M., & Carmichael, J. T. (2015). The 'Cougar' phenomenon: An examination of the factors that influence age-hypogamous sexual relationships among middle-aged women. Journal of Marriage and Family, 77(5), 1250–1256.

Allan, K., & Burridge, K. (2006). Forbidden words: Taboo and the censoring of language. Cambridge: Cambridge University Press.

Andersen, J. (1977). The witch on the wall: Medieval and erotic sculpture in the British Isles. London: George Allen & Unwin.

Anglo-Saxon Riddles of the Exeter Book. (c.10th century). (1963). Trans. Paul F. Baum. Durham, NC: Duke University Press.

Anon. (c.1508). (1864–1866). Colyn Blowbol's testament. In W. Carew Hazlitt (Ed.), Remains of the early popular poetry of England (vol. 1, pp. 91–109) (4 volumes) London: John Russell Smith.

Åsberg, C. (2017). Feminist Posthumanities in the Anthropocene: Forays into the postnatural. Journal of Posthuman Studies, 1(2), 185–204.

Atakuman, Ç. (2017). Figurines of the Anatolian Early Bronze Age: The assemblage from Koçumbeli-Ankara. Anatolian Studies, 67, 85–108.

Bailey, R. N. (1983). Apotropaic figures in Milan and North-West England. Folklore, 94(1), 113–117.

Barad, K. (2011). Nature's queer performativity. Qui Parle, 19(2), 121–158.

Beirne, P. (1997a). Rethinking bestiality: Towards a concept of interspecies sexual assault. Theoretical Criminology, 1(3), 317–340.

Beirne, P. (1997b). (2009). Confronting animal abuse: Law, criminology and human–animal relations. Lanham, MD: Rowman & Littlefield.

Beirne, P., Maher, J., & Pierpoint, H. (2017). Animal sexual assault. In J. Maher, H. Pierpoint, & P. Beirne (Eds.), The Palgrave international handbook on animal abuse studies (pp. 59–85). London: Palgrave Macmillan.

Beirne, Piers with Ian O'Donnell and Janine Janssen. (2018). Murdering animals: Writings on theriocide, homicide and nonspeciesist criminology. London: Palgrave Macmillan.

Birke, L. I. A. (1994). Feminism, animals and science: The naming of the shrew. Buckingham: Open University Press.

Birke, L. I. A. (2002). Intimate familiarities? Feminism and human–animal studies. Society & Animals, 10(4), 429–436.

Bitterli, D. (2009). Say what I am called? The Old English riddles of the Exeter Book and the Anglo-Latin riddle tradition. Toronto: University of Toronto Press.

Boehrer, B. (2009). Gammer Gurton's cat of sorrows. English Literary Renaissance, 39(2), 267–289.

Briggs, K. (2009). OE and ME cunte in place-names. Journal of the English Place-Name Society, 41, 26–39.

Cole, L., Landry, D., Boeher, B., Nash, R., Fudge, E., Markley, R., et al. (2011). Speciesism, identity politics, and ecocriticism: A conversation with humanists and posthumanists. The Eighteenth Century, 52(1), 87–106.

Collard, R.-C. (2012). Cougar figures, gender, and the performances of predation. Gender, Place & Culture: A Journal of Feminist Geography, 19(4), 518–540.

Currie, C. K. (1995). Saxon charters and landscape evolution on the southcentral Hampshire basin. Proceedings of the Hampshire Field Club and Archaeological Society, 50, 103–125.

D'Urfey, T. (1719) (1959). My mistress' cunny. In T. Durfey (Ed.), Pills to purge melancholy (n.p.). New York: Folklore Library Publishers.

Davis, K. (2007a). The making of our bodies, ourselves: How feminism travels across borders. Durham, NC: Duke University Press.

Davis, K. (2007b). Reclaiming women's bodies: Colonialist trope or critical epistemology? The Sociological Review, 55(1), 50–64.

Dewaele, J.-M. (2018). 'Cunt': On the perception and handling of verbal dynamite by L1 and LX users of English. Multilingua, 37(1), 53–81.

Diski, J. (2011). An unspeakable word is the word that has to be spoken. The New York Times, May 22: MM46. Retrieved from https://www.nytimes.com/2011/05/22/magazine/an-unspeakable-word-is-the-word-that-has-to-be-spoken.html. Accessed 6 Jan 2019.

Dodgson, J. M. N. (1970a). The place-names of Cheshire (Part 1). Cambridge: Cambridge University Press.

Dodgson, J. M. N. (1970b). The place-names of Cheshire (Part 2). Cambridge: Cambridge University Press.

Dunayer, J. (2004). Speciesism. Derwood, MD: Ryce Publishing.

Dworkin, A. (1974). Woman hating. London: Penguin.

Elias, N. (2000). The civilizing process: Sociogenic and psychogenic investigations. Edmund Jephcott, trans. Oxford: Blackwell Publishers.

Ensler, E. (1996). The vagina monologues. Retrieved 9 Dec 2018 from www.script-o-rama.com.

Fitzgerald, A. J. (2013). Imprisoning nature. In M. E. Nagel & A. J. Nocella II (Eds.), The end of prisons: Reflections from the decarceration movement (pp. 125–134). Amsterdam: Brill.

Fitzgerald, A. J. (2019). Animal advocacy and environmentalism: Understanding and bridging the divide. Cambridge: Polity.

Fraser, P. D. (n.d.). A supplement to Clarke's dictionary of practical materia medica. Retrieved from www.hominf.org/remedy/oryctola.htm. Accessed 21 Aug 2019.

Freitag, B. (2004). Sheela-na-gigs: Unravelling an enigma. London: Routledge.

Gaard, G., & Gruen, L. (1995). Comment on George's 'should feminists be vegetarians?' Signs, 21(1), 230–239.

Garfield, J. (1660–1661). (1977). The wandring whore. University of Exeter: The Rota.

Gazzard, H. (2010). An Act to Restrain Abuses of Players (1606). The Review of English Studies, 61(251), 495–528.

Gent, B. E. (1699). (2015). A new dictionary of the terms ancient and modern of the canting crew. Oxford: Bodleian Library.

Goode, S. (2016). Sheela na gig: The dark goddess of sacred power. Rochester, VT: Inner Traditions.

Green, J. (2015). The vulgar tongue. Green's history of slang. Oxford: Oxford University Press.

Greene, R. (1592a). The defence of conny-catching and cony-catchers. Retrieved from www.quod.lib.umich.edu. Accessed 21 Nov 2018.

Greene, R. (1592b). A disputation betweene a Hee Conny-catcher, and a Shee Conny-catcher. Retrieved from www.tei.it.ox.ac.uk. Accessed 21 Nov 2018.

Greer, G. (1987). Lady love your cunt. In G. Greer (Ed.), The Madwoman's under-clothes: Essays & occasional writings (pp. 74–77). New York: Atlantic Monthly Press.

Greer, G. (2006). Germaine Greer on the C Word. Balderdash and Piffle, 2 parts. Retrieved from https://www.youtube.com/watch?v=GDJutaFuVD0. Accessed 16 Nov 2018.

Haraway, D. J. (1997). The virtual speculum in the new world order. Feminist Review, 55(1), 22–72.

Hay, D., Linebaugh, P., Rule, J. G., Thompson, E. P., & Winslow, Cal (Eds.). (1975). Albion's fatal tree. New York: Pantheon.

Holsinger, Bruce. (2009). Of pigs and parchment: Medieval studies and the coming of the animal. PMLA (Publications of the Modern Language Association), 124(2), 616–623.

Holt, R., & Baker, N. (2001). Towards a geography of sexual encounter: Prostitution in English medieval towns. In L. Bevan (Ed.), Indecent exposure: Sexuality, society and the archaeological record (pp. 201–215). Glasgow: Cruithne Press.

Kalof, L. (2007). Looking at animals in human history. London: Reaktion.

Lawrence, D. H. (1960). Lady Chatterly's lover. London: Heinemann.

Liberman, A. (1995). A small animal farm. Etymological Studies VII, 35(1), 97–130.

Lindsay, D. (c.1540). (1969). Ane satyre of the thrie estaits. New York: De Capo.

MacKinnon, C. A. (1993). Only words. Cambridge, MA: Harvard University Press.

Marlowe, C. (1599). (1910). In C. F. T. Brooke (Ed.) The works of christopher marlowe. Oxford: Clarendon Press.

Martial. (c.102–104). (1920). Epigrams. Translated by Walter C.A. Ker. 2 vols. London: William Heinemann.

McDonald, J. (1988). A dictionary of obscenity, taboo and euphemism. London: Sphere Books.

Mohr, M. (2013). Holy shit: A brief history of swearing. New York: Oxford University Press.

More, T. (1529). The supplycacyon of soulys. Retrieved from www.quod.lib.umich.edu. Accessed 21 Dec 2018.

Muscio, I. (2018). Cunt: A declaration of independence. New York: Seal Press.

Nisbet, R. G. M., & Hubbard, M. (1991). A commentary on horace, odes, book II. Oxford: Clarendon Press.

Pearson, A. (1997). Reclaiming the Sheela-na-gigs: Goddess imagery in medieval sculptures of Ireland. Canadian Woman Studies, 17(3), 20–24.

Puxley, R. (1998). Fresh Rabbit. A Dick 'n 'Arry of contemporary rhyming slang. London: Robson Books.

Rolph, C. H. (1961). The trial of Lady Chatterly: Regina v. Penguin Books Ltd. Privately printed.

Ross, A. S. C. (1935). The Middle English poem on the names of a hare. Proceedings of the Leeds Philosophical and Literary Society, 3, 347–377.

Schiebinger, L. (2004). Nature's body: Gender in the making of modern science. Piscataway, NJ: Rutgers University Press.

Skeat, W. W. (1882). An etymological dictionary of the English language. Oxford: Clarendon Press.

Sollund, R. A. (2019). The crimes of wildlife trafficking: Issues of justice, legality and morality. Abingdon, Oxon: Routledge.

Thomas, K. (1983). Man and the natural world: Changing attitudes in England 1500–1800. Oxford: Oxford University Press.

Toulalan, S. (2007). Imagining sex: Pornography and bodies in seventeenth-century England. Oxford: Oxford University Press.

Upton, C., Parry, D., & Widdowson, J. (1994). Survey of English dialects. Abingdon, Oxon: Routledge.

Wells, S. (2010). Shakespeare, sex, and love. Oxford: Oxford University Press.

Williams, G. (1994). A dictionary of sexual language and imagery in Shakespearean and Stuart literature (Vol. 3). London: Athlone Press.

Wright, J. (Ed.). (1905). The English dialect dictionary. London: Henry Frowde.
Acknowledgements
For their generous comments on an earlier version of this article, the author is most grateful to Kathy Davis, Maurice Herson, Linda Kalof, Caitlin Kelty-Huber, Raymond J. Michalowski, this journal's anonymous reviewers, and its editor, Avi Brisman.
Additional information
Publisher's Note
Springer Nature remains neutral with regard to jurisdictional claims in published maps and institutional affiliations.
About this article
Cite this article
Beirne, P. Animals, Women and Terms of Abuse: Towards a Cultural Etymology of Con(e)y, Cunny, Cunt and C*nt. Crit Crim 28, 327–349 (2020). https://doi.org/10.1007/s10612-019-09460-w