Abstract
Transparency International's National Integrity System (NIS) model has become an increasingly important and well-established tool for assessing good governance and anti-corruption activities throughout the world. Over one hundred countries have conducted an NIS assessment since its inception in 2001, almost half of which using a more refined methodology developed in 2009. As yet, however, comparatively little is known about the impact of NIS assessments. This exploratory paper is the first part of an extended study that seeks to map these impacts. It presents discussion from two countries (the United Kingdom, New Zealand) to identify types of information collated so far regarding the impact of NIS assessments, adopting a case-study methodology involving a mixture of desk-based analysis and key respondent interviews. We supplement this with generic findings on the impact of NIS globally using data collected by Transparency International as part of a monitoring, evaluation and learning framework. The driving question is to what extent NIS assessments have had an impact in terms of (1) legislation and policy; (2) behavioural change; (3) public awareness-raising and (4) civil society capacity building.
Access options
Buy single article
Instant access to the full article PDF.
US$ 39.95
Tax calculation will be finalised during checkout.
Subscribe to journal
Immediate online access to all issues from 2019. Subscription will auto renew annually.
US$ 79
Tax calculation will be finalised during checkout.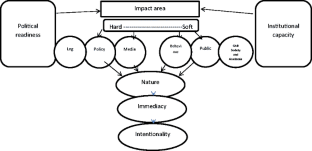 References
1.

Brown, A. J., & Heinrich, F. (2017). National Integrity Systems – an evolving approach to anti-corruption policy evaluation. Introduction to the Special Issue: Crime Law & Social Change, 68(3)

2.

Transparency International (TI). (2011). National Integrity System background rationale and methodology. http://www.transparency.org/files/content/nis/NIS_Background_Methodology_EN.pdf. Accessed 20 Dec 2014.

3.

Huberts, L. W. J. C., Anechiarico, F., & Six, F. E. (Eds.). (2008). Local integrity systems: World cities fighting corruption and safeguarding integrity. The Hague: BJu.

4.

Transparency International. (2012). Money, power and politics: Corruption risks in Europe. Berlin: Transparency International.

5.

Macaulay, M., Newman, C., Hickey, G. (2014). Towards a Model of the Local Integrity System: learning the lessons from Great Britain, International Journal of Public Administration 37(2) pp. 83–92

6.

Pope, J. (2008). National integrity systems: The key to building sustainable, just and honest government. In B. W. Head, A. J. Brown, & C. Connors (Eds.), Promoting integrity: Evaluating and improving public institutions 790 (pp. 13–31). Farnham: Ashgate.

7.

Brown, A. J. (2008). What is a National Integrity System? From temple blueprint to hip pocket guide. In B. W. Head, A. J. Brown, & C. Connors (Eds.), Promoting integrity: Evaluating and improving public institutions (pp. 33–52). Farnham: Ashgate.

8.

Sampford, C., Smith, R., & Brown, A. J. (2005). From Greek temple to bird's nest: Towards a theory of coherence and mutual accountability for national integrity systems. Australian Journal of Public Administration, 64(2), 96–108.

9.

Norton-Griffiths, M. (2010). The growing involvement of foreign NGOs in setting policy agendas and political decision making in Africa. Economic Affairs, 30(3), 29–34.

10.

Golini, R., Kalchschmidt, M., & Landoni, P. (2015). Adoption of project management practices: The impact on international development projects of non-governmental organizations. International Journal of Project Management, 33(3), 650–663.

11.

Hansen, E. G., & Spitzeck, H. (2011). Measuring the impacts of NGO partnerships: The corporate and societal benefits of community involvement. Corporate Governance: The International Journal of Effective Board Performance, 11(4), 415–426.

12.

Spar, D. L., & La Mure, L. T. (2003). The power of activism: Assessing the impact of NGOs on global business. California Management Review, 45(3), 78–101.

13.

Biott, C., & Cook, T. (2000). Local evaluation in a national early years excellence centres pilot programme: Integrating performance management and participatory evaluation. Evaluation, 6, 399–413.

14.

Allen, M., & Black, M. (2006). Dual level evaluation and complex community initiatives: The local evaluation of sure start. Evaluation, 12, 237–249.

15.

Wond, T., & Macaulay, M. (2010). Evaluating local implementation: An evidence-based approach. Policy and Society, 29(2), 161–169.

16.

Robert, P. (2013). Evidence-based action against corruption – The European integrity systems project (ENIS). External evaluation final report (unpublished). Berlin: Transparency International.

17.

Bardach, E. (2004). The extrapolation problem: How can we learn from the experience of others? Journal of Policy Analysis and Management, 23(2), 205–220.

18.

Yin, R. K. (2009). Case study research: Design and methods. Thousand Oaks: Sage.

19.

Home Office. (2011). Local to global: Reducing the risk from organised crime. London: TSO.

20.

HM Government (2013) Serious Organised Crime Strategy. London: TSO Cm 8715.

21.

Nicholls, C., Daniel, T., Bacarese, A., & Hatchard, J. (2011). Corruption and misconduct in public office (2nd ed.). Oxford: Oxford University Press.

22.

Transparency International UK. (2013). Corruption in local government: The mounting risks. London: TI-UK.

23.

Transparency International New Zealand. (2013). Integrity plus 2013 – National integrity system assessment. Wellington NZ: Transparency International NZ and Victoria University of Wellington, School of Government.

24.

State Services Commission, New Zealand. (2016). Response to National Integrity Systems Report on New Zealand by transparency international. Wellington NZ: New Zealand Government https://www.ssc.govt.nz/sites/all/files/Response%20to%20National%20Integrity%20Systems%20Report%20on%20New%20Zealand%20by%20Transparency%20International.pdf. Accessed 17 Sept 2016.
Appendix
Appendix
About this article
Cite this article
Macaulay, M., Mulcahy, S. Exploring the impact of National Integrity System assessments: Experience from the UK and New Zealand. Crime Law Soc Change 68, 293–308 (2017). https://doi.org/10.1007/s10611-017-9708-0