Abstract
Over the past years, an increasing number of studies have looked at the use of internet and communications technology (ICT) in the fight against corruption. While there is broad agreement that ICT tools can be effective in controlling corruption, the mechanisms by which they are doing this are much less clear. This paper attempts to shine some light on this relationship. It focusses on the role of ICT in empowering citizens and supporting civil society. It argues that enlightened citizens can use internet access and social media to inform themselves on corruption, mobilise support for anti-corruption movements and gather information in order to shine a lisght on particularistic practices. Defining corruption as a collective action problem, the paper provides quantitative evidence to support its claim that ICT can support collective action of an informed citizenry and thus contribute to the control of corruption.
Access options
Buy single article
Instant access to the full article PDF.
US$ 39.95
Tax calculation will be finalised during checkout.
Subscribe to journal
Immediate online access to all issues from 2019. Subscription will auto renew annually.
US$ 79
Tax calculation will be finalised during checkout.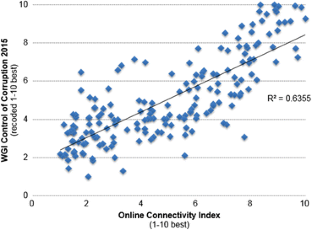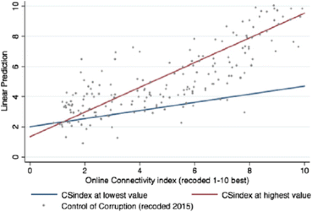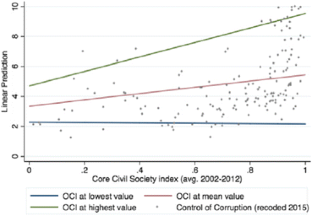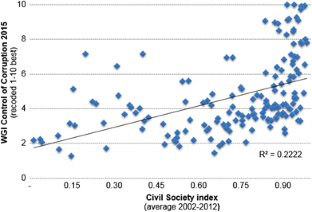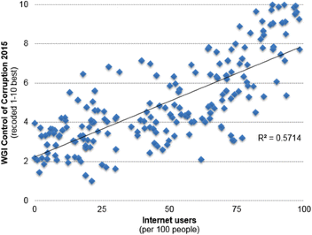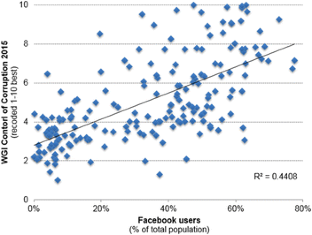 Notes
1.

This is a common issue when measuring corruption, as the most commonly used measures usually refer to corruption perception, rather than control of corruption (see [40]).

2.
References
1.

Freedom House (2015). Turkey: 2015, Freedom on the Net Report. https://freedomhouse.org/report/freedom-net/2015/turkey. Accessed 30 Jan 2017.

2.

Onuch, O. (2015a). EuroMaidan protests in Ukraine: Social media versus social networks. Problems of Post-Communism, 62(4), 217–235.

3.

Onuch, O. (2015b). Facebook helped me do it: Understanding the EuroMaidan protester tool-kit. Studies in Ethnicity and Nationalism, 15(1), 170–184.

4.

Bertot, J. C., Jaeger, P. T., & Grimes, J. M. (2010). Using ICTs to create a culture of transparency: E-government and social media as openness and anti-corruption tools for societies. Government Information Quarterly, 27, 264–271.

5.

Elbahnasawy, N. G. (2014). E-government, internet adoption, and corruption: An empirical investigation. World Development, 57, 114–126.

6.

Gurin, J. (2014). Open governments, open data: A new lever for transparency, citizen engagement, and economic growth. SAIS Review of International Affairs, 34(1), 71–82.

7.

Starke, C., Naab, T. K., & Scherer, H. (2016). Free to expose corruption: The impact of media freedom, internet access and governmental online service delivery on corruption, International Journal of Communication, 10(21), 4702–4722.

8.

Sturges, P. (2004). Corruption, transparency and a role for ICT? International Journal of Information Ethics, 2(11), 1–9 http://www.i-r-i-e.net/inhalt/002/ijie_002_full.pdf], accessed 06 November 2016.

9.

Mungiu-Pippidi, A. (2006). Corruption: Diagnosis and treatment. Journal of Democracy, 17(3), 86–99.

10.

Mungiu-Pippidi, A. (2015). The quest for good governance: How societies develop control of corruption. Cambridge: Cambridge University Press.

11.

Heywood, P. M., & Rose, J. (2015). Curbing corruption or promoting integrity? Probing the hidden conceptual challenge. In Paul Heywood and Davide Torsello, Debates of Corruption and Integrity: Perspectives from Europe and the US, London: Palgrave Macmillan, pp. 102 119.

12.

Mungiu-Pippidi, A. (2013). Controlling corruption through collective action. Journal of Democracy, 24(1), 101–115.

13.

Persson, A., Rothstein, B., & Teorell, J. (2013). Why anticorruption reforms fail—Systemic corruption as a collective action problem. Governance, 26(3), 449–471.

14.

Groenendijk, N. (1997). 'a principal-agent model of corruption', Crime. Law and Social Change, 27(3–4), 207–229.

15.

Klitgaard, R. (1988). Controlling corruption. Berkeley: University of California Press.

16.

Bauhr, M., & Grimes, M. (2014). Indignation or resignation: The implications of transparency for societal accountability. Governance, 27(2), 291–320.

17.

Lindstedt, C., & Naurin, D. (2010). Transparency is not enough: Making transparency effective in reducing corruption. International Political Science Review, 31(3), 301–322.

18.

Mungiu-Pippidi, A., Lončarič, M., Vaz Mondo, B., Sponza Braga, A. C., Weinhardt, M., Pulido Solares, A., Martini, M., Agbele, F., Frisk Jensen, M., von Soest, C., & Gabedava, M. (2011). Contextual choices in fighting corruption: Lessons learned. Norwegian Agency for Development Corporation http://www.againstcorruption.eu/publications/contextual-choices-in-fighting-corruption-lessons-learned/], accessed 31 January 2017.

19.

Adserà, A., Boix, C., & Payne, M. (2003). Are you being served? Political Accountability and Quality of Government', The Journal of Law, Economics, & Organization, 19(2), 445–490.

20.

Brunetti, A., & Weder, B. (2003). A free press is bad news for corruption. Journal of Public Economics, 87(7), 1801–1824.

21.

Chowdhury, S. K. (2004). The effect of democracy and press freedom on corruption: An empirical test. Economics Letters, 85(1), 93–101.

22.

Themudo, N. S. (2013). Reassessing the impact of civil society: Nonprofit sector, press freedom, and corruption. Governance: An International Journal of Policy, 26(1), 63–89.

23.

Ackerman, J. M. (2005). Social accountability in the public sector: A conceptual discussion. Social Development Papers: Participation and Civic Engagement, 82. Washington D.C.: The World Bank.

24.

Grimes, M. (2008a). Contestation or complicity: Civil society as antidote or accessory to political corruption, QoG Working Paper Series 8. Gothenburg: The Quality of Government Institute.

25.

Grimes, M. (2008b). 'the conditions of successful civil society involvement in combating corruption: A survey of case study evidence', QoG Working Paper Series 22. Gothenburg: The Quality of Government Institute.

26.

Jenkins, R. (2007). Civil society versus corruption. Journal of Democracy, 18(2), 55–69.

27.

Tocqueville, A. de (2002). Democracy in America. Hazelton: Pennsylvania State University, Electronic Classics Series.

28.

Anheier, H. K. (2004). Civil society: Measurement, Evaluation, Policy. Earthscan: London and Sterling, VA.

29.

Arato, A. (2006). Accountability and Civil Society. In E. Peruzzotti and C. Smulovitz (Eds.), Enforcing the rule of law: social accountability in the new Latin American Democracies (pp. 307–322). Pittsburgh: Pittsburgh University Press.

30.

Gellner, E. (1994). Conditions of liberty: Civil society and its rivals. London: Hamish Hamilton.

31.

Lipset, S. M. (1981). Political man: The social bases of politics. Baltimore: Johns Hopkins University Press.

32.

North, D. C., Wallis, J. J., & Weingast, B. R. (2009). Violence and social orders: A conceptual framework for interpreting recorded human history. Cambridge: Cambridge University Press.

33.

Lipset, S. M. (1959). Some social requisites of democracy: Economic development and political legitimacy. American Political Science Review, 53(01), 69–105.

34.

Lipset, S. M. (1994). The social requisites of democracy revisited: 1993 presidential address. American Sociological Review, 59(01), 1–22.

35.

Dahl, R. A. (1989). Democracy and its critics. New Haven: Yale University Press.

36.

Dahl, R. A. (1994). A democratic dilemma: System effectiveness versus citizen participation. Political Science Quarterly, 109(1), 23–34.

37.

Milosevic, M., Chishlom, J., Kilman, L. & Henriksson, T. (2014) ´World press Trends 2014′ WAN-IFRA, Paris.

38.

Theocharis, Y., Lowe, L., van Deth, J.W. & García-Albacete, G. (2015). Using Twitter to mobilize protest action: online mobilization patterns and action repertoires in the Occupy Wall Street, Indignados, and Aganaktismenoi movements. Information, Communication & Society, 18(2), 202–220.

39.

Goel, R. K., Nelson, M. A., & Naretta, M. A. (2012). The internet as an indicator of corruption awareness. European Journal of Political Economy, 28(1), 64–75.

40.

Lambsdorff, J. G. (2006). Measuring corruption: The Validty and precision of subjective indicators (CPI). In C. Sampford, A. Shacklock, C. Connors, & F. Galtung, Measuring corruption (pp. 81–100). Aldershot: Ashgate.

41.

Jha, C. K., & Sarangi, S. (2014). Social Media, Internet and Corruption, [https://papers.ssrn.com/sol3/papers.cfm?abstract_id=2391904], accessed 04 November 2016.

42.

Ramanna, K., & Tahilyani, R. (2012). I paid a bribe (dot) com. Harvard Business School Case 112–078.

43.

Zinnbauer, D. (2015). Crowdsourced corruption reporting: What petrified forests, street music, bath towels, and the taxman can tell us about the prospects for its future. Policy & Internet, 7(1), 1–24.

44.

Ang, Y. Y. (2014). Authoritarian restraints on online activism revisited: Why "I-paid-A-bribe" worked in India but failed in China. Comparative Politics, 47(1), 21–40.

45.

Andersen, T. B. (2009). E-government as an anti-corruption strategy. Information Economics and Policy, 21(3), 201–210.

46.

Shim, D. C., & Eom, T. H. (2008). E-government and anti-corruption: Empirical analysis of international data. International Journal of Public Administration, 31(3), 298–316.

47.

Diamond, L. (2010). Liberation technology. Journal of Democracy, 21(3), 69–83.

48.

Stockmann, D., & Luo, T. (2015). Authoritarianism 2.0: Social media and political discussion in China, [https://papers.ssrn.com/sol3/papers.cfm?abstract_id=2650341], accessed 05 November 2016.

49.

Bernhard, M., Tzelgov, E., Jung, D., Coppedge, M. and Lindberg, S. I. (2015). The Varieties of democracy Core civil society index, V-Dem Working Paper, 2015 (13) [http://ssrn.Com/abstract=2667493] accessed 08 June 2016.

50.

McGillivray, M., & White, H. (1993). Measuring development?: The UNDP's human development index. Journal of International Development, 5(2), 183–192.

51.

Sen, A. (1999). Development as freedom. New York: Random House.

52.

Mungiu-Pippidi, A. (2010). The experience of civil society as an anticorruption actor in East Central Europe. Romanian Journal of Political Science, 10(2), 5–33.
Appendices
Appendix 1
Appendix 2: Graphical representation of the bivariate relationships
About this article
Cite this article
Kossow, N., Kukutschka, R.M.B. Civil society and online connectivity: controlling corruption on the net?. Crime Law Soc Change 68, 459–476 (2017). https://doi.org/10.1007/s10611-017-9696-0
Keywords
Control of corruption

Civil society

Enlightened citizens

Online connectivity

Internet and communications technology

Social accountability