Abstract
This paper asks if there is evidence that the most common legislation recommended and used in the current anticorruption toolkit is effective in reducing corruption and if specific contexts can be identified which enable or disable effective legislation for control of corruption. The paper draws on documented public accountability and anticorruption tools from the PAM, the public accountability mechanisms database of the World Bank, and documents additional ones, including an index of anticorruption regulatory density, comprising anticorruption agencies, existence of an Ombudsman, restrictions to party finance legislation and others. While only fiscal transparency and financial disclosures are found to be significant, the interaction of some tools with context elements, such as freedom of the press of independence of the judiciary enhances their impact. The paper argues finally that the effectiveness of some anticorruption tools is strictly dependent on context, especially the existence of the rule of law, while others remain fully insignificant.
This is a preview of subscription content, log in to check access.
Access options
Buy single article
Instant access to the full article PDF.
US$ 39.95
Price includes VAT for USA
Subscribe to journal
Immediate online access to all issues from 2019. Subscription will auto renew annually.
US$ 99
This is the net price. Taxes to be calculated in checkout.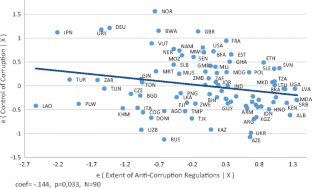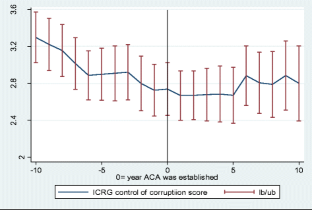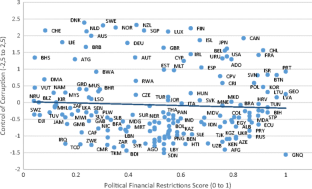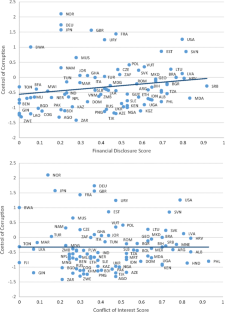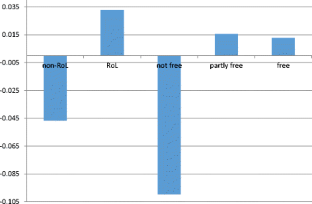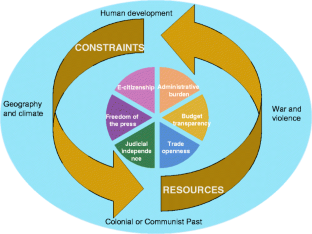 Notes
1.

Niccolo Machiavelli, Discourses on Livy, trans. Julia Conaway Bondarella & Peter Bondarella (Oxford:

Oxford University Press, 1997). Book I, Chapter I

2.

3.

4.

Based on the five years large EU FP7 research project on anticorruption ANTICORRP and the Horizon 20–20 research project Digiwhist.

5.

6.

In a related argument, see Kleinfeld 2005, on institutions vs. ends in rule of law assistance

7.

In a global sample, we also obtain a negative significant relationship between corruption control and the extent of political finance regulation once we control for the differences in the level of development among countries.

8.

The classification is based on the World Governance Indicator of the rule of law. Those countries with scores below/above the sample median are classified as non/rule of law countries.

9.
References
1.

Andrews, M. (2010). Good government means different things in different countries. Governance, 23(1), 7–35.

2.

Doig, A. (1995). Good government and sustainable anti- corruption strategies: A role for independent anti- corruption agencies? Public Administration and Development, 15(2), 151–165.

3.

European Commission (2014). REPORT FROM THE COMMISSION TO THE COUNCIL AND THE EUROPEAN PARLIAMENT EU ANTI-CORRUPTION REPORT, available at https://ec.europa.eu/home-affairs/what-we-do/policies/organized-crime-and-human-trafficking/corruption/anti-corruption-report_en.

4.

Fazekas, M., & Cingolani, L. (2016). How (Not) to Use Political Finance Regulations to Counter Public Procurement Corruption (February 1, 2016), available at https://www.researchgate.net/profile/Mihaly_Fazekas/publication/303966472_Breaking_the_cycle_How_not_to_use_political_finance_regulations_to_counter_public_procurement_corruption/links/57608edc08aeeada5bc306ce.pdf. Accessed 20 July 2016.

5.

Fritzen, S. (2005). Beyond "political will": How institutional context shapes the implementation of anti-corruption policies. Policy and Society, 24(3), 79–96.

6.

Hanna, R., Bishop, S., Nadel, S., Scheffler, G., & Durlacher, K. (2011). The effectiveness of anti-corruption policy. EPPI Centre Report.

7.

Huther, J., & Shah, A. (2000). Anti-corruption policies and programs: a framework for evaluation (vol 2501). Washington, DC: World Bank Publications.

8.

Kaufmann, D., Kraay, A., & Mastruzzi, M. (2011). The worldwide governance indicators: Methodology and analytical issues. Hague Journal on the Rule of Law, 3(02), 220–246.

9.

Kusek, J. Z., & Rist, R. C. (2004). Ten steps to a results-based monitoring and evaluation system: A handbook for development practitioners. Washington: World Bank Publications. available at https://openknowledge.worldbank.org/handle/10986/14926 Accessed 23 June 2017

10.

Lambsdorrf, J. (2008) Good Governance and the Invisible Foot. In: Kottschau, K. and Marauhn, M. (2008) Good governance and developing countries : Interdisciplinary perspectives. Bern: Peter Lang.

11.

Messick, R. E., & Kleinfeld, R. (2001). Writing an effective anticorruption law (no. 11362). The World Bank. available at https://openknowledge.worldbank.org/handle/10986/11362. Accessed 23 June 2017.

12.

Mungiu-Pippidi, A. (2015). The quest for good governance: How societies develop control of corruption. Cambridge: Cambridge University Press.

13.

Mungiu-Pippidi, A., & Dadašov, R. (2016). Measuring control of corruption by a new index of public integrity. European Journal on Criminal Policy and Research, 22(3), 415–438.

14.

O'Leary, C. (1962). The elimination of corrupt practices in British elections, 1868–1911. Oxford: Clarendon Press.

15.

Passas, N. (2010). Anti-corruption agencies and the need for strategic approaches: A preface to this special issue. Crime, Law and Social Change, 53(1), 1–3.

16.

Persson, T., & Tabellini, G. E. (2005). The economic effects of constitutions. Cambridge, MA: MIT Press.

17.

Sampford, C., Smith, R., & Brown, A. J. (2005). From Greek temple to bird's nest: Towards a theory of coherence and mutual accountability for national integrity systems. Australian Journal of Public Administration, 64(2), 96–108.

18.

Sartori, G. (1997). Comparative constitutional engineering: An inquiry into structures, incentives, and outcomes. New York: NYU Press.

19

Treisman, D. (2007). What have we learned about the causes of corruption from ten years of cross-national empirical research?. Annual Review of Political Science, 10(2007), 211–244.

20.

Vargas, G. A., & Schlutz, D. (2016). Opening public officials' coffers: A quantitative analysis of the impact of financial disclosure regulation on National Corruption Levels. European Journal on Criminal Policy and Research, 22(3), 439–475.
About this article
Cite this article
Mungiu-Pippidi, A., Dadašov, R. When do anticorruption laws matter? The evidence on public integrity enabling contexts. Crime Law Soc Change 68, 387–402 (2017). https://doi.org/10.1007/s10611-017-9693-3