Abstract
This paper aims to give an account of the main changes in the Venezuelan prison system in the last three decades. This period extends from the years of neoliberal hegemony to the period of the Bolivarian revolution, characterized by a strong commitment to redistributive policies, economic regulation and social inclusion strategies. We point out that while the Bolivarian government has adopted a social welfare model, it has continued to rely upon punitive policies that are most often associated with neoliberal governments. We map out this contradiction and discuss the impacts the current government's penal policies have had on social relations within the prison system. Using ethnographic data we sketch out the social organization and distribution of power that develops when the state loses control of the prison. We show that prisons in Venezuela do not adhere to a disciplinary model, whereby prisoners must submit to an external administration's intensive surveillance and control. Instead, what has developed is a form of internal governance administered by prisoners themselves.
Access options
Buy single article
Instant access to the full article PDF.
USD 39.95
Price excludes VAT (USA)
Tax calculation will be finalised during checkout.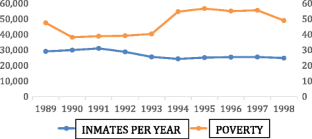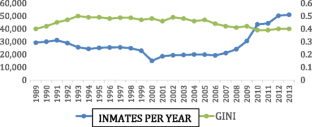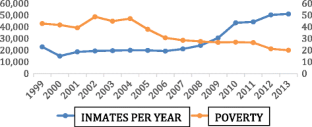 Notes
Declarations made by the then Minister of Justice, Tareck El Aissami, in his twitter account @TareckPSUV, February 8, 2011

To gather this ethnographic data researchers visited the prisons two days a week from November 2012 to June 2014, sharing in the inmates' everyday lives and accompanying different groups of prisoners through their daily routines. Interviews with ex-convicts and prisons personnel were also conducted.

The reported felony rate from 1980 was 885 per 100,000, very similar to that of the previous decade. In 1982 this rate dropped to 820, rising again in 1986 to 988. At the end of the decade the felony rate stood around 1000 for every 100,000 residents. (Ministerio de Justicia, 1980, 1989). Regarding homicides, in 1980 the rate was 12 deaths per 100,000 residents and in 1989 there were 9 homicides for every 100,000 inhabitants (Ministerio de Justicia, 1980-1996).

The registered felonies passed from 1110/100,000 in 1988 to 1272 in 1989. The homicide rates almost doubled the following year, rising to a rate of 13/100,000 inhabitants; seven years later, they again doubled to 22 homicides for every 100,000 (Ministerio de Justicia, 1980-1996).

According to the Diagnóstico Sociodemográfico de la Población Penitenciaria (Consejo Superior Penitenciario, 2011), 90.5 % of those incarcerated were men; 88 % were under 40 years of age (45 % were between the ages of 18 and 25); most (68.28 %) came from the most disadvantaged classes (the two lowest social classes), and a quarter (23 %) of them were in prison for trafficking and distribution of drugs.

Presence of evangelical groups within the prisons, their practices and their influence have been developed by various Latin American studies (on Brazil see Biondi, 2008)

All the words that may have a sexual connotation in colloquial language are outlawed and replaced with more "neutral" ones. Milk (leche) is called instead "little cow" (vaquita); eggs (huevos) are named "yensy"; butter (mantequilla) is named "the slippery one" (la resbalosa). One prisoner told us how when he got to the prison, he was forced to write down in a notebook the "correct" name of the ingredients in his daily diet by asking the prison's food seller.
References
Alford, A. (2000). "What Would It Matter If Everything Foucault Said about Prison Were Wrong? Discipline and Punish after Twenty Years. Theory & Society, 29(1), 125–146.

Antillano, A. (2012). Seguridad y política en la Venezuela bolivariana: la seguridad en el debate político venezolano entre 1998-2009. Espacio Abierto, 21, 4.

Arias, E. (2006). "The dynamics of criminal governance: networks and social order in Rio de Janeiro". Journal of Latin American Studies, 38, 293–325.

Beckett, K A. (2001)Governing social marginality: Welfare, incarceration and the transformation of state policy. Punishment & Society , vol. 3 no. 1: 43-60.

Biondi, K. (2008). A etica evangelica e o espirito de crime Trabajo presentado en la 26va. Bahia, Brazil:Reunión Brasileña de Antropología.

_____. (2010). Junto e misturado, uma etnografia do PCC. Sao Paulo:Terceiro Nome.

Bourdieu, P. (1977). Outline of a Theory ofPractice. Cambridge:Cambridge University Press.

Bourdieu, P. (1997). Razones prácticas. Sobre la teoría de la acción. Barcelona:Anagrama.

Cartay, V., & Elías, Y. (1991). Pobreza en Venezuela: Realidades y políticas. Caracas:Cisor.

Castel, R. (2010). El ascenso de las incertidumbres. México City:Fondo de Cultura Económica.

Cavadino, M., & Dignan, J. (2006). Penal policy and political economy. Criminology & Criminal Justice, 6(4), 435–456.

Cerbini, F. (2012). La casa de jabón. Etnografía de una cárcel boliviana. Barcelona:Edicions Bellaterra.

Cheliotis, L. K. (2013). Neoliberalism capitalism and middle-class punitiviness: Bringing Erich Fromm's Materialistic Psychoanalysis to penology. Punishment and society, 15(3), 247–273.

Clemmer, D. (1958). The prison community. New York:Rinehart.

Crespo, F. (2009). Cárceles: Subcultura y violencia entre internos. Revista CENIPEC, 28, 123–150.

Crespo, F., & Bolaños, M. (2009). Código del preso: acerca de los efectos de la subcultura del prisionero. Capítulo criminológico: revista de las disciplinas del Control Social, 37(2), 53–72 Accessed September 18, 2012.

De Giorgio, A. (2007). Toward a political economy of post- Fordist punishment. Critical Criminology, 15, 243–265.

Foucault, M. (1978). Vigilar y castigar: nacimiento de la prisión (3rd ed., ). Madrid:Siglo XXI.

Garland, D. (1985). Punishment and Welfare. Aldershot:Godwer.

_____. (2005). La cultura del Control. Buenos Aires:Gedisa.

Gay, R. (2005). Lucía. Testimonies of a Brazilian Drug Dealer's Woman. Temple Philadelphia:University Press.

Goffman, E. (2001). Internados. Barcelona:Amorrortu.

Katz, C. (2014). Neoliberales en América Latina I. Ortodoxos y convencionales. La página de Claudio Katz. Textos de Ciencias Sociales. http://katz.lahaine.org/?p=239

Maya, M. (2005). Del viernes negro al referendo revocatorio. Caracas:Alfa.

Maya, M. Lander, Y L. (2001)"Ajustes, costos sociales y la agenda de los pobres en Venezuela: 1984–1998″. In Sader, E. (Org.) El ajuste estructural en América Latina. Costoso sociales y alternativas. (pp. 231–254). Buenos Aires: Clacso.

Melossi, D., & Pavarini, M. (1980). Cárcel y fábrica : los orígenes del sistema penitenciario siglos, XVI-XIX. México City:Siglo XXI.

Ministerio de Justicia. (1980–1996) Estadísticas delictivas. Caracas.

Morris, T., & Morris, P. (1963). Pentonville: a sociological study of an English prison. London:Routledge & K. Paul.

Müller, M.-M. (2012). The rise of penal state in Latin American. Contemporany Justice Review, 15(1), 57–76.

Nunes Dias, C. (2011). Estado e PCC em meio às tramas do poder arbitrário nas prisões. Tempo Social, 23, 213–233.

Nuñez, J. (2007). Las carceles en la epoca del narcotrafico: una mirada etnografica. Nueva sociedad., 208, 103.

Penitenciario, C. S. (2011). Diagnóstico Sociodemográfico de la población penitenciaria en la República Bolivariana de Venezuela. Caracas.

Petras, J. & Morley, M. (1999). "Los ciclos políticos neoliberales: América Latina 'se ajusta' a la pobreza y a la riqueza en la era de los mercados libres". In Fernández, J. (coord) Globalización: crítica a un paradigma. Madrid: Plaza & Janés.

Rusch, G., & Kirchheimer, O. (1984). Pena y estructura social. Bogota:Temis.

Sabino, C..(1996). La pobreza en Venezuela. En http://paginas.ufm.edu/sabino/word/Articulos_sobre_temas_economico_sociales/pobreza_venezuela.pdf. Accessed May 28 2014.

Schutz, A. (1974). El problema de la Realidad Social. Buenos Aires:Amorrortu Editores.

Simon, J. (2000). The Society of Captives in the Era of Hyper-Incarceration. Theoretical Criminology, 4(3), 283–308.

Sykes, G. (1974). The society of captives: a study of a maximum security prison. New Jersey:Princeton University Press.

Viloria, C. (2011). Política social, desarrollo y pobreza. Caracas:ILDIS.

Wacquant, L. (2001). The Penalisation of Poverty and the rise of Neoliberalism. European Journal on Criminal Policy and Research., 9(4), 401–412.

_____. (2002). "The Curious Eclipse of Prison Ethnography in the Age of Mass Incarceration". Ethnography, 3,4, p: 371–397.

_____. (2003). "Toward a dictatorship over the poor? Notes on the penalization of poverty in Brazil". Punishment & Society. 5,2, pp: 197–205.

_____. (2010). Castigar a los pobres. Barcelona:Gedisa.

Zubillaga, V., Llorens, M., & Souto, J. (2014). Chismosas and Alcahuetas: Being the mother of an empistolado within the everyday armed violence of a Caracas barrio. In J. Auyero, P. Bourgois, & N. Scheper-Hughes (Eds.), Violence at the Urban Margins. New York: Oxford University Press.
Acknowledgments
The research on which this chapter is based was conducted with support from Ministerio del Poder Popular para el Servicio Penitenciario. During fieldwork we had the support of Alberto Alvarado y Amarilis Hidalgo. Andrea Chacón and Saida Rivas worked on secondary data collection.
About this article
Cite this article
Antillano, A., Pojomovsky, I., Zubillaga, V. et al. The Venezuelan prison: from neoliberalism to the Bolivarian revolution. Crime Law Soc Change 65, 195–211 (2016). https://doi.org/10.1007/s10611-015-9576-4
Published:

Issue Date:

DOI: https://doi.org/10.1007/s10611-015-9576-4
Keywords
Prison Population

Penal Population

Social Spending

Redistributive Policy

National Guard