Abstract
The criminalization of migration has, over the last decade, gained unprecedented focus in migration, criminology and socio-legal literature. Recently, there have been some developments critically revisiting the criminalization thesis, particularly with reference to the European experiences: criminal law might exist 'on the books' but quite often it is not actually enforced in immigration practice. Therefore, whilst the incorporation of criminal law into the immigration domain serves mainly symbolic functions to demonstrate a government's firm grip over immigration control, it also legitimizes a discourse presenting migrants as potential criminals, cheats and abusers. This begs the following question: how do migrants respond to this increasing conflation between criminal and immigration domains in the wider social context? How are the official and public discourses over 'crimmigrant bodies' reflected in migrants' everyday life experiences? Do migrants resist, reproduce or redefine this criminal labelling? I grapple with these questions while qualitatively investigating the experiences of 270 return migrants from four European countries (Norway, Netherlands, the UK and Portugal): migrants' responses to the stigmatizing force of symbolic criminalisation do not always mean resistance, but, quite often, are placed on a continuum between the contestation and the reproduction of the stigma and the hegemony of the law.
We're sorry, something doesn't seem to be working properly.
Please try refreshing the page. If that doesn't work, please contact support so we can address the problem.
Notes
EU citizens, nationals of visa exempt third-countries, and – more theoretically than practically – asylum seekers and refugees [69].

In the Netherlands, when the detention takes longer than 28 days, the judge of the District Court is compelled to asses this decision, Dutch Aliens 2000, Section 5. Chapter 7, article 94. I am grateful to Heinrich Winter for pointing this out.

In particular: C-329/11, Achughbabian; C-61/11, El Dridi, and more recently C-430/11 Sagor.
References
Aas, K. F. (2011). 'Crimmigrant' bodies and bona fide travelers: surveillance, citizenship and global governance. Theoretical Criminology, 15, 331–346.

Abrego, L. (2008). Legitimacy, social identity, and the mobilization of law: the effects of assembly bill 540 on undocumented students in California. Law and Social Inquiry, 33, 709–734.

Aliverti, A. (2012). Making people criminal: the role of the criminal law in immigration enforcement. Theoretical Criminology, 16, 417–434.

Allen, A. (2013). Power and the subject. In C. Falzon, T. O'Leary, & J. Sawicki (Eds.), Blackwell companions to philosophy: Companion to Foucault (pp. 301–319). Somerset: Wiley.

Anderson, B. (2013). Us and them? The dangerous politics of immigration control. Oxford: Oxford University Press.

Ashworth, A., & Zedner, L. (2008). Defending the criminal law: reflections on the changing character of crime, procedure, and sanctions. Criminal Law and Philosophy, 2, 21–51.

Bakewell, O., de Haas, H., & Kubal, A. (2012). Migration systems, pioneer migrants and the role of agency. Journal of Critical Realism, 11(4), 413–437.

Bosworth, M., & Guild, M. (2008). Governing through migration control: security and citizenship in Britain. British Journal of Criminology, 48, 703–719.

Bosworth, M., & Kaufman, E. (2011). Foreigners in a Carceral age: immigration and imprisonment in the United States. Standard Law & Policy Review, 22, 429.

Broeders, D., & Engbersen, G. (2007). The fight against illegal migration: identification policies and immigrants' counterstrategies. American Behavioral Scientist, 50, 1592–1609.

Calavita, K. (2010). Chicago series in law and society: Invitation to law and society: An introduction to the study of real law. Chicago: University of Chicago Press.

Carrington, A. (2013). "Free Movement: Go Home public meeting report." in http://www.freemovement.org.uk/2013/08/27/go-home-public-meeting-report/ Accessed on 28 Aug 2013, edited by C. Yeo. London: Garden Court Chambers.

Chacon, J. (2009). Managing migration through crime. Columbia Law Review, 109, 138–148.

Clayton, G. (2010). Textbook on Immigration and Asylum Law, Edited by t. Edition. Oxford: Oxford University Press.

Cohen, S. (1988). The object of criminology: Reflections on the new criminbalization. In S. Cohen (Ed.), Against criminology (pp. 235–276). New Brunswick: Transaction Books.

Coutin, S. B. (1998) "From refugees to immigrants: the legalization strategies of salvadoran immigrants and activists." International Migration Review, 32(4):901-925.

Coutin, S. B. (2000) Legalizing moves: Salvadoran immigrants' struggle for US residency. Ann Arbor: University of Michigan Press

Coutin, S. B. (2005). Contesting criminality: illegal immigration and the spatialization of legality. Theoretical Criminology, 9, 5–33.

Cowan, D. (2004). Legal consciousness: some observations. Modern Law Review, 67(6), 929.

Dauvergne, C. (2008). Making people illegal: What globalization means for migration and law. Cambridge: Cambridge University Press.

De Genova, N. (2002). Migrant 'ilegality' and deportability in everyday life. Annual Review of Anthropology, 31, 419–447.

De Genova, N. (2004). The legal production of mexican/migrant 'illegality'. Latino Studies, 2, 160–185.

De Genova, N., & Peutz, N. (2010). The deportation regime. Sovereignty, space and the freedom of movement. Durham: Duke University Press.

Douglas, L., Sarat, A., & Umphrey, M. M. (2006). Theoretical perspectives on lives in the law: An introduction. In L. Douglas, A. Sarat, & M. M. Umphrey (Eds.), Lives in the law. Ann Arbor: University of Michigan Press.

Drotbohm, H. (2011). On the durability and the decomposition of citizenship: the social logics of forced return migration in Cape Verde. Citizenship Studies, 15(3–4), 381–396.

Drotbohm, H. (2012). "It's like belonging to a place that has never been yours." Deportees negotiating involuntary immobility and conditions of return in Cape Verde. In M. Messer, R. Schroeder, & R. Wodak (Eds.), Migrations: Interdisciplinary perspectives. Vienna: Springer.

Engberssen, G., Snel, E., van Meeteren, M., Dekker, R., & van de Pol, S. (2010). The evolution of migration from six origin countries to the Netherlands. In THEMIS Working Paper. Rotterdam: University of Rotterdam.

Ewick, P., & Silbey, S. (1995). "Subversive stories and hegemonic tales: toward a sociology of narrative." Law and Society Review 29.

Ewick, P., & Silbey, S. (1998). The common place of law. Stories from everyday life. Chicago: The University of Chicago Press.

Ewick, P., & Silbey, S. (2002). The structure of legality: The cultural contradictions of social institutions. In P. Selznick, R. A. Kagan, M. Krygier, & K. I. Winston (Eds.), Legality and community. On the intellectual legacy of Philip Selznick. Oxford: Rowman and Littlefield Publishers, Inc.

Fonseca, L., Pereira, S., & Esteves, A. (2010). "THEMIS Scoping Studies: Portugal. Migration patterns of Moroccans, Egyptians, Brazilians, Indians, Bangladeshis and Ukrainians to Portugal." in Institute of Geography and Spatial Planning (IGOT-UL). Lisbon: University of Lisbon.

Foucault, M. (1982). The subject and power. Critical Inquiry, 8, 777–795.

Foucault, M. (1997). In P. Rabinow (Ed.), Ethics, subjectivity, and truth. Essential works of Foucault. New York: New York Press.

Foucault, M. (2000). In J. Faubion (Ed.), Power. Essential works of Foucault, 1954–1984. New York: The New Press.

Foucault, M. (2003). In T. b. D. Macey (Ed.), Society must be defended. Lectures at the college de France 1975–1976. New York: Picador.

Foucault, M. (2006). In T. G. Burchell (Ed.), Psychiatric power. Lectures at the College de France 1973–1974. New York: Palgrave Macmillan.

Garth, B. G., & Sarat, A. (1998). How does law matter? Evanston: Northwestern University Press.

Golash-Boza, T. M. (2010). The criminalization of undocumented migrants: legalities and realities. Societies without Borders, 5, 81–90.

Gonzales, R. (2008). Left out but not shut down: political activism and the undocumented Latino student movement. Northwest Journal Law Social Policy, 3, 219–239.

Gramsci, A. (1971). Selections from the prison notebooks of Antonio Gramsci. New York: International Publishers.

Hagan, J., Castro, M. B., & Rodriguez, N. (2010). The effects of U.S. deportation policies on immigrant families and communities: cross-border perspectives. North Carolina Law Review, 28, 1799–1824.

Halliday, S., & Morgan, B. (2013). "I Fought the Law and the Law Won? Legal Consciousness and the Critical Imagination." Current Legal Problems 1–32

Horst, C., Ezzati, R., & Carling J. (2010). Immigration to Norway from Bangladesh, Brazil, Egypt, India, Morocco and Ukraine. In PRIO Paper. Oslo: Peace Research Institute Oslo.

Jayaweera, H., & Anderson, B. (2008). Migrant workers and vulnerable employment: A review of existing data. Report for TUC Commission on Vulnerable Employment. Oxford: Trade Union Congress, COMPAS–University of Oxford.

Karamanidou, L., & Schuster, N. (2012). Realizing one's rights under the 1951 convention 60 years on: a review of practical constraints on accessing protection in Europe. Journal of Refugee Studies, 25(2), 169–192.

Kubal, A. (2012). Socio-legal integration. Polish post-2004 EU enlargement migrants in the United Kingdom. Farnham: Ashgate.

Kubal, A. (2013). Conceptualizing semi-legality in migration research. Law and Society Review, 47(3), 555–587.

Kurkchiyan, M. (2005). Researching Russian legal culture. In R. Banakar & M. Travers (Eds.), Theory and method in socio-legal research. London: Hart.

Kurkchiyan, M. (2010). Perceptions of law and social order: a cross-national comparison of collective legal consciousness. Wisconsin International Law Journal, 28, 146–168.

Lacey, N. (2009). Historicising criminalisation: conceptual and empirical issues. The Modern Law Review, 72, 936–960.

Lacey, N., & Zedner, L. (2012). Legal constructions of crime. In M. Maquire, R. Morgan, & R. Reiner (Eds.), The Oxford handbook of criminology. Oxford: Oxford University Press.

Leerkes, A., Engbersen, G., & Leun, J. (2012). Crime among irregular immigrants and the influence of internal border control. Crime, Law and Social Change, 58, 15–38.

Legomsky, S. H. (2007). The new path of immigration law: asymmetric incorporation of criminal justice norms. Immigration and Nationality Law Review, 28, 679.

Merry, S. E. (1990). Getting justice and getting even. Legal consciousness among working-class Americans. Chicago: University of Chicago Press.

Merton, R. K. (1948). The self-fulfilling prophecy. The Antioch Review, 8, 193–210.

Nelken, D. (2007). Culture, legal. In D. S. Clark (Ed.), Encyclopedia of law and society: American and global perspectives. London: Sage.

Patrick, A. (2013). Legal aid and ideology: the new basis for Government report. In UK Human Rights Blog, vol. Accessed 4 Jul 2013.

Petrunik, M. (1980). The rise and fall of "labelling theory": the construction and destruction of a sociological strawman. The Canadian Journal of Sociology / Cahiers canadiens de sociologie, 5, 213–233.

Peutz, N. (2010). "Criminal alien" deportees in Somaliland: An ethnography of removal. In N. De Genova & N. Peutz (Eds.), The deportation regime: Sovereignty, space and the freedom of movement (pp. 371–409). London: Duke University Press.

Pratt, A., & Valverde, M. (2002). From deserving victims to 'masters of confusion': redefining refugees in the 1990s. The Canadian Journal of Sociology / Cahiers canadiens de sociologie, 27, 135–161.

Rodríguez, N., & Hagan, J. M. (2004). Fractured families and communities: effects of immigration reform in Texas, Mexico, and El Salvador. Latino Studies, 2, 328–351.

Rogers, J. W., & Buffalo, M. D. (1974). Fighting back: nine modes of adaptation to a deviant label. Social Problems, 22, 101–118.

Ruhs, M., & Anderson, B. (2010). Semi-compliance and illegality in migrant labour markets: an analysis of migrants, employers and the state in the UK. Population, Space and Place, 16(3), 195–211.

Sarat, A. (1990). The law is all over: power, resistance and the legal consciousness of the welfare poor. Yale Journal of Law and Humanities, 3, 343–380.

Sigona, N. (2012). 'I have too much baggage': the impacts of legal status on the social worlds of irregular migrants. Social Anthropology, 20, 50–65.

Silbey, S. (2010). Legal culture and cultures of legality. In J. R. Hall, L. Grindstaff, & M.-C. Lo (Eds.), Handbook of cultural sociology (pp. 470–479). London: Routledge.

Simon, J. (2007) Governing through crime: How the war on crime transformed american democracy and created a culture of fear. Oxford: Oxford University Press.

Simon, J. (2008). Governing through crime. New York: Oxford University Press.

Spena, A. (2013). Iniuria Migrandi: criminalization of immigrants and the basic principles of the criminal law. Criminal Law and Philosophy 1–23.

Stumpf, J. (2006). "The crimmigration crisis: Immigrants, crime and sovereign power." American University Law Review 56.

Swidler, A. (1986). Culture in action: symbols and strategies. American Sociological Review, 51, 273–286.

Welch, M. (2003). Ironies of social control and the criminalization of immigrants. Crime, Law and Social Change, 39, 319–337.

Wellford, C. (1975). Labelling theory and criminology: an assessment. Social Problems, 22, 332–345.

Williams, Z. (2013). Mobile billboard ads saying 'Go home or face arrest' are being driven around London—but who are they aimed at? In The guardian, vol. 26. London: http://www.theguardian.com/theguardian/2013/jul/26/illegal-immigrant-billboard-stunt. Accessed 28 Aug 2013.

Wong, C. (2006). Lobbying for inclusion: Rights politics and the making of immigration policy. Stanford: Stanford University Press.

Zetter, R. (1991). Labelling refugees: forming and transforming a bureaucratic identity. Journal of Refugee Studies, 4, 39–62.
Acknowledgments
Financial support from the NORFACE research program on Migration in Europe—Social, Economic, Cultural, and Policy Dynamics is acknowledged.
Appendix A
Appendix A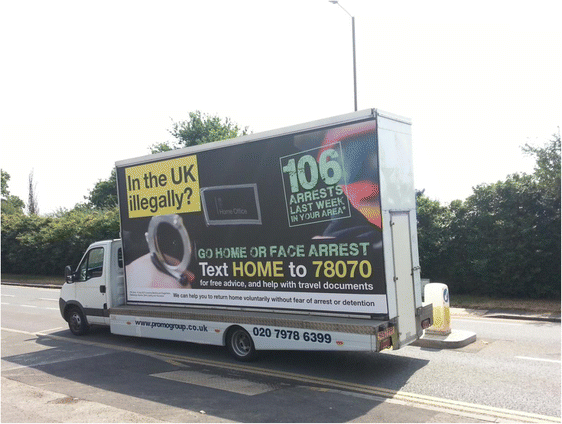 Photograph: Home Office/PA
About this article
Cite this article
Kubal, A. Struggles against subjection. Implications of criminalization of migration for migrants' everyday lives in Europe. Crime Law Soc Change 62, 91–111 (2014). https://doi.org/10.1007/s10611-014-9527-5
Published:

Issue Date:

DOI: https://doi.org/10.1007/s10611-014-9527-5
Keywords
Asylum Seeker

Return Migrant

Undocumented Migrant

Detention Centre

Immigration Officer