Abstract
This article aims to analyze the relationship between judicial activism against political corruption and electoral accountability. The judiciary plays a pivotal role in enforcing anti-corruption legislation, and, in many countries, courts have moved closer and closer towards that kind of working. In the article, we analyze the conditions under which a judicial prosecution of corrupt practices can also lead to electoral punishment of political misconducts by voters, or to a failure of accountability mechanisms. The latter outcome is more likely to occur if judicial activism is politicized. The 'politicization' of anti-corruption initiatives is here defined as an increase in the polarization of opinions, interests, or values about judicial investigations and the extent to which this polarization is strategically advanced towards the political debate by parties, political leaders, and media. By crystallizing a new dimension of political conflict, political actors can negatively affect electoral accountability, diminishing the risk of electoral punishment. We study this phenomenon by analyzing the case of Italy, a country which has experienced high levels of politicization of anti-corruption. However, whether and to what extent anti-corruption policies can be politicized is a question open for many other countries that can take a similar path.
Access options
Buy single article
Instant access to the full article PDF.
USD 39.95
Price excludes VAT (USA)
Tax calculation will be finalised during checkout.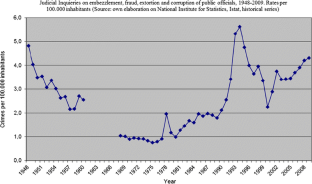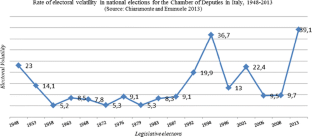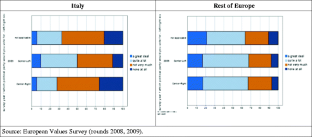 Notes
According to Transparency International's corruption perception index, for instance, in 2012 Italy has a lower score–i.e. higher corruption–than Ghana, Lesotho, Namibia, Jordan, Cuba, and Rwanda.

Judicialization has not been considered necessarily as a challenge to democratic governance. On the contrary, it can indicate a "healthy constitutional democracy". In fact, "an active judiciary is likely to protect electoral as well as other individual and group rights" ([36], 186).

Only exceptionally the first two steps of the cascade are inverted, when "watchdog" media raise corruption cases independently from judicial procedures, thereby providing evidence that prosecutors can use to incriminate politicians. Investigative reporting of corruption, however, in Italy has traditionally been almost absent—even during the mani pulite inquiry—mainly due to an overwhelming influence of the political and economic power over the media environment [37]. In this perspective, judicial inquiries on politicians' illicit activities can be considered as the ultimate source of any potential expression of electoral accountability, which reflects a more general dissatisfaction of "sanctioning" electors towards the prosecuted misconducts, the parties, and the political system where they took place. In Italian political elections from 1948 to 2013, the rate of electoral volatility—taken as an indicator of party system's structure, which depends also on its popular legitimization—is strongly correlated to the average rate of prosecution for corruption and embezzlement crimes in the two years before the election (Pearson index = 0.717, significative at level .01).

As Guarnieri and Pederzoli ([35], 331) observe: "the media, whose interests often coincide with those of the judiciary, are able to support and draw attention to the action of judges and prosecutors".

By arguing that, we do not mean that institutional players and parties do not try to influence or in some cases even control the action of the judiciary. The real existing balance among state powers is much different from the institutional checks and balances mechanisms designed by constitution or regulations. Most of the time, this balancing is asymmetrical and favors legislative and executive powers, but this bargaining remains mainly institutional (played among institutional actors) and informal (beyond official regulations). This logic is much different from a situation in which political parties (not only institutions) directly politicize judicial action, question their decisions, and openly mobilize supporters against them in the attempt to keep their electorates cohesive and loyal, and only partially to directly influence the behavior of judges.

This outcome is not expected in an established and well-functioning democracy in which independence and autonomy of the judicial system are unquestionable, especially when the judiciary enforces the laws against corruption. Conversely, we expect a politicization of anti-corruption initiatives to be more likely to occur in highly polarized and personalized political systems.

The P2 scandal was particularly important, involving 36 members of Parliament, more than 50 generals (including the highest ranks of the secret service), high level functionaries, journalists, and entrepreneurs (among them the future prime minister, Silvio Berlusconi) who were affiliated to the lodge, whose grand master Gelli—besides the involvement in illicit financial affairs, corruption, and illicit brokerage—elaborated a political project characterized by "a strong anti-system connotation and consequently by an indirect subversive orientation". Cfr. Parliamentary Commission of inquiry on the P2 lodge. Final Report, instituted by law 527/1981, approved on July 3, 1984. Cfr. http://italy.indymedia.org/news/2003/04/266325_comment.php (accessed: May 14, 2011),

Cfr. Camera dei deputati, Domanda d'autorizzazione a procedere, doc. IV, n. 202, 8 febbraio 1993, pp. 12–13.

As a mechanism to transmit and satisfy particularistic political demands, generating political support [52]—the development of clientelism in Italy is intertwined with corruption in a vicious circle [19]. The spread of vote-buying—linked to the presence of clientelism—raised in fact the cost of politics, forcing politicians to seek material resources to invest in their political activity. Corrupt politicians therefore enjoyed a competitive advantage over their more scrupulous colleagues, since they could also use resources derived from illegal deals to create political machines based on the exchange of material resources with electors—to get votes—and with their party leaders—to get political protection in their career. The number of politicians willing to "purchase" votes and support, particularly through strategies of "individualistic mobilization" (53), therefore tended to increase, as well as the incentives towards corruption, whose risks—in terms of political sanctions—were consequently reduced. Moreover, the incentive to increase the amount of bribes collected induced corrupt politicians to increase the amount of resources allocated, and therefore also the opportunity to distribute them with clientelistic criteria.

Media played, however, a somewhat ambiguous role in Italy during the Mani Pulite inquiries. Kenny and Crepaz [40] show that, in the political crisis of the early 1990s, far from being an impartial watchdog of power, media interest towards corruption was correlated to their political affiliation, offering very different patterns of coverage. In other words, media operated as agents using the corruption issue to influence political competition.

As another judge—Carlo Nordio—emphasizes, support for the Mani Pulite inquiries from the media and civil society "was—at least initially—not only general and unconditional, but also free of any political and cultural influences. Support came from left and right, without reservation" [49], 16).

For the record, in September 2013, five judicial proceedings against Berlusconi are still open (with one first-degree and one second-degree convictions); one proceeding was finally confirmed by the Supreme Court ruling four years in jail for the leader because of fiscal fraud; to six proceedings were closed due to expiration of statute of limitation, two due to amnesty, eight proceedings' conclusions were acquittal (two of them following reforms of criminal laws approved by Berlusconi's government), nine were dismissed.

According to Mair [42], an election can be considered very volatile when the rate is higher than 20: in February 2013, the Italian national election volatility rate was almost double such a level.

According to Parisi and Pasquino [50], in Italy there have been at least three types of electoral behavior: the affiliation vote, based mainly on affiliation and ideological commitment to a party's programme; the vote of exchange, which relies upon the expectation of private benefits from the administration of public resources within the networks of mass clientelism; and the vote of opinion, oriented by a reasoned choice of the expected consequences of alternative policy proposals. Parisi and Pasquino's model suggests a major shift during the 1970s, with a reduction of voting behavior influenced by ideological cleavages, while traditional Italian mass-based parties lost their traditional basis of support, and a proportional increase of opinion-oriented voting.

Strong ideological conflicts in the arena of "visible politics" and of public discourse were nevertheless balanced—especially since the 1970s—by a subterranean development of consociational agreements concerning the sharing of material resources allocated between the majority and the opposition, "frozen" in their reciprocal role by the lack of alternation in power at national level [53, 54]. While electoral judgements could be targeted on the "official" activity of party and politicians, informal collusive practices (and illegal activities as well) soon become dominant in the invisible—and unaccountable, when not occasionally exposed through judicial inquiries—dimension of the political activity. In Italy, so to say, the process of "cartelization" of parties—analyzed by Katz and Mair [39]—started within the "hidden arena" of politics. Polarization still played—and plays—a decisive function on electoral accountability, since electors' preferences and evaluations can be shaped only (or mainly) on the basis of what they can observe on the surface of "visible" politics.

A few years later, new single-issue anti-corruption parties emerged: in 1998 the Italia dei Valori led by the former prosecutor in Milan, Antonio Di Pietro, and more recently, in 2009, the Movimento 5 stelle that successfully profited from a new criminalization wave of corrupt practices, and also thanks to the leadership of the comedian, Beppe Grillo.

Another facilitating factor which explains the scarce electoral accountability of corrupt politicians in some areas of Italy is the role played by the Mafia, Camorra and Ndrangheta in at least three regions of southern Italy. Criminal organizations, in fact, operate as suppliers of protection, reducing uncertainty in informal and illegal deals that involve politicians and electors. For instance, "although the market for votes exists also in other areas of Italy where there is no mafia, in Sicily it appears to be larger and more efficient" ([31], 184). Collusion with criminal organizations is not effectively sanctioned at either the electoral or the party level. Salvatore Cuffaro, for example, was re-elected as President of Sicily in 2006 while he was under trial for alleged collusion with organized crime. Cuffaro was finally convicted in 2008 and sentenced to 7 years, and later jailed in 2011 after the Supreme Court confirmed his sentence. Being backed by a criminal organization—with its threatening potential—may therefore be a decisive resource for a party or a politician, counterbalancing in the ballots his "bad reputation"—or, paradoxically, rewarding it [25, 66].

It is crucial to highlight that voter polarization is much different from party polarization, and further from effective party polarization, especially in a country like Italy where collusion among parties is a characteristic of the system.

Reporters Sans Frontieres, World Report 2010: Italy, in http://en.rsf.org/report-italy,111.html (accessed February 11, 2011). A direct impact of political majorities on news content and orientation in Italian public television after the 2011 general elections has been demonstrated by Durante, R. and Knight, B., Partisan Control, Media Bias, and Viewer Responses: Evidence from Berlusconi's Italy, working paper, October 2008, in http://www.business.uzh.ch/professorships/entrepreneurship/workshops/media/DuranteKnight221008.pdf (accessed February 11, 2011).

"Because of the well-established alliances between media corporations and political parties and groups that existed even before the beginning of the political adventure of Berlusconi, the Italian Parliament has not been able to reach an agreement on limiting the enormous concentration of media power in the hands of a single person. The traditional overlap between mass media and politics, that has for centuries been a characteristic feature of the Italian public sphere, has prevented the adoption of any anti-concentration legislation in the field of mass media. Berlusconi has taken advantage of this absence, and he has been very happy to preserve it ([43], 33–51)".

Among the corruption-enhancing measures, we may quote the de-criminalization of abuse in office (law 234/1997) and false accounting (law 61/2002); the guarantee of immunity for holders of the highest offices of state (laws 140/2003 and 124/2008); the requirement of parliamentary authorization for prosecutors' collection of evidence on MPs' crimes and imposition of restrictive measures (aw 140/2003); the reduction of time limits specified by the statute of limitations also for corruption crimes (law 251/2005); the possibility of regularizing financial assets hidden abroad, even if derived from illegal or corrupt activities (law 102//2009).
References
Arnone, M., & Davigo, P. (2005). Arriva la crisi economica? Subito spunta la corruzione. Vita e Pensiero, 5, 1–15.

Asquer, R. (2013). Sometimes They Come Back: The Reelection of Investigated Italian MPs (June 17, 2013). EPSA 2013 Annual General Conference Paper 539. Available at SSRN: http://ssrn.com/abstract=2224933

Bardi, L., & Morlino, L. (1994). Italy: Tracing the roots of the great transformation. In R. Katz & P. Mair (Eds.), How parties organise (pp. 242–277). London: Sage.

Buonfino, A. (2004). Between unity and plurality: the politicization and securitization of the discourse of immigration in Europe. New Political Science, 26(1), 23–49.

Calise, M. (2000). Il partito personale. Bari-Rome: Laterza.

Chang, E., Golden, M., & Hill, S. J. (2010). Legislative malfeasance and political accountability. World Politics, 62(2), 177–220.

Chiaramonte, A., & Emanuele, V. (2013). Volatile e tripolare: il nuovo sistema partitico italiano. In L. De Sio, M. Cataldi, & F. De Lucia (Eds.), Le elezioni Politiche 2013, Dossier CISE, http://cise.luiss.it/cise/.

Chubb, J. (1982). Patronage, power and poverty in Southern Italy. A tale of two cities. Cambridge: Cambridge University Press.

Cobianchi, M. (2003), Mani bucate. Roma: Chiarelettere.

Cotta, M. (1996). La crisi del governo di partito all'italiana. In M. Cotta e P. Isernia (a cura di), Il gigante dai piedi di argilla (pp. 11–52). Bologna: Il Mulino.

Crainz, G. (2012). Il paese reale. Rome: Donzelli.

D'Ambrosio, G. (1996). Contribution to the Conference on "Capitalism and legality, October 12, in http://legislature.camera.it/_dati/leg13/lavori/stenografici/sed134/s030r.htm).

Davigo, P. (1998). La giubba del re: Intervista sulla corruzione. Rome: Laterza.

Davigo, P., & Mannozzi, G. (2007). La corruzione in Italia: Percezione sociale e controllo penale. Bari-Rome: Laterza.

De Luca, M., & Giustolisi, E. (1993). Gli anni Ottanta fra giudici e insabbiatori. Micromega, 2, 101–117.

De Wilde, P. (2011). No polity for old politics? A framework for analyzing the politicization of European integration. Journal of European Integration, 33(5), 559–575.

della Porta, D. (1992). Lo scambio occulto. Bologna: Il Mulino.

della Porta, D. (2001). A judges' revolution? Political corruption and the judiciary in Italy. European Journal of Political Research, 39, 1–21.

della Porta, D., & Vannucci, A. (1999a). Corrupt exchanges. Actors, resources and mechanisms of political corruption. Aldine De Gruyter.

della Porta, D., & Vannucci, A. (2007). Corruption and anti-corruption. The political defeat of clean hands in Italy. West European Politics, pp. 830–853.

della Porta, D., & Vannucci, A. (1994). Corruzione politica e amministrazione pubblica. Bologna: Il Mulino.

della Porta, D., & Vannucci, A. (1997). The resources of corruption: some reflections from the Italian Case. Crime, Law & Social Change, 27(1), 231–254.

della Porta, D., & Vannucci, A. (1997). The perverse effects of political corruption. Political Studies, 45, 516–538.

della Porta, D., & Vannucci, A. (1999). Un paese anormale. Come la classe politica ha perso l'occasione di mani pulite. Roma: Laterza.

della Porta, D., & Vannucci, A. (2012). The hidden order of corruption. Farnham: Ashgate.

Di Federico, G. (1990). Lottizzazioni correntizie" e "politicizzazione" del C.S.M.: quali rimedi? Quaderni Costituzionali, X(2), 279–297.

Franco, M. (2000). I voti del cielo. La caccia all'elettorato cattolico. Milano: Baldini e Castoldi.

Freedom House. (2011). Freedom of the Press 2011. Washington, DC: Freedom House

Furlong, P. (2004). Modern Italy. Representation and reform. London: Routledge.

Galli, G. (1983). L' Italia sotterranea: Storia, politica e scandali. Bari-Rome: Laterza.

Gambetta, D. (1993). The Sicilian Mafia. The Business of Private Protection. Harvard: Harvard University Press

Graziano, L. (1976). A conceptual framework for the study of clientelistic behaviour. European Journal of Political Research, 4, 149–174.

Greco Eval I/II Rep (2008) 2E. Joint first and second evaluation round. Evaluation report on Italy.

Guarnieri, C., & Pederzoli, P. (1997a). Italy: a case of judicial democracy? International Social Science Journal, 152, 253–270.

Guarnieri, C., & Pederzoli, P. (1997b). The judicialization of politics: Italian style. Journal of Modern Italian Studies, 2(3), 321–336.

Guarnieri, C., & Pederzoli, P. (2002). The power of judges. A comparative study of courts and democracy. Oxford: Oxford University Press.

Hallin, D., & Mancini, P. (2004). Comparing media systems: Three models of media and politics. Cambridge: Cambridge University Press.

Ignazi, P., & Pizzimenti, E. (2011). Finanziamento pubblico e mutamenti organizzativi nei partiti italiani. Rivista Italiana di Scienza Politica, pp. 199–235.

Katz, R., & Mair, P. (1995). Changing models of party organization and party democracy: the emergence of the cartel party. Party Politics, 1(1), 5–31.

Kenny, P., & Crepaz, M. (2012). Corruption scandals and political crises: The 'Free Press' and democracy in Italy". EPSA 2013 Annual General Conference Paper 73. Available at SSRN: http://ssrn.com/abstract=2225089.

Legnante, G., & Sani, G. (2008). Una breve campagna elettorale. In Itanes (Ed.), Il ritorno di Berlusconi. Bologna: Il Mulino.

Mair, P. (2011). Is Governing Becoming More Contentious? In M. Rosema, B. Denters & K. Aarts (Eds.), How Democracy Works: Political Representation and Policy Congruence in Modern Societies. (pp. 77–86). Amsterdam, Amsterdam University Press

Mancini, P. (2011). Between commodification and lifestyle politics. Does Berlusconi provide a new model of politics for the twenty-first century? Oxford: The Reuters Instituteand.

Mazzoleni, G., & Schulz, W. (1999). Mediatization of politics: a challenge for democracy? Political Communication, 16/3, 247–263.

Morisi, M. (1999). Anatomia della magistratura italiana. Bologna: Il Mulino.

Morlino, L., & Montero, J. (1994). Legittimità, consolidamento e crisi nell' Europa Meridionale. Rivista Italiana di Scienza Politica, 2, 27–66.

Morlino, L., & Tarchi, M. (1996). The dissatisfied society: the roots of political change in Italy. European Journal of Political Research, 30, 41–63.

Nelken, D. (1996). A legal revolution? The judges and Tangentopoli. In S. Gundle & S. Parker (Eds.), The New Italian Republic. From the Fall of the Berlin Wall to Berlusconi (pp. 191–205). London and New York: Routledge.

Nordio, C. (1997), Giustizia. Milano: Cantiere Italia.

Parisi, A., & Pasquino, G. (1977). Relazioni partiti elettori et tipi di voto. In A. Parisi & G. Pasquino (Eds.), Continuità e mutamento elettorale in Italia. Bologna: Il Mulino.

Peters, B. G., & Pierre, J. (2004). Politicization of the civil service: Concepts, causes, consequences. In B. G. Peters & J. Pierre (Eds.), Politicization of the civil service in comparative perspective (pp. 1–13). Abingdon: Routledge.

Piattoni, S. (2001). Clientelism, interests, and democratic representation: The European experience in historical and comparative perspective. Cambridge: Cambridge University Press.

Pizzorno, A. (1992), Introduzione. In D. della Porta (Ed.), Lo scambio occulto (pp. 13–74). Bologna: Il Mulino

Pizzorno, A. (1998). Il potere dei giudici: Stato democratico e controllo della virtù. Bari: Laterza.

Poguntke, T., & Webb, P. (2005). The presidentialization of politics. A comparative study of modern democracies. Oxford: Oxford University Press.

Sartori, G. (1976). Parties and party systems. A framework for analysis. Cambridge: Cambridge University Press.

Tilly, C., & Tarrow, S. (2007). Contentious politics. London: Paradigm Publishers.

Transparency International. (2010). Timed out: statutes of limitations and prosecuting corruption in EU countries, Report.

Travaglio, M. (2006). La scomparsa dei fatti. Roma: Il Saggiatore.

Travaglio, M., & Gomez, P. (2008). Se li conosci li eviti. Rome: Chiarelettere.

Trigilia, C. (1981). Le subculture politiche territoriali. Milan: Feltrinelli.

Turone, S. (1993). Politica ladra: Storia della corruzione in Italia, 1861–1992. Bari-Rome: Laterza.

Vallinder, T. (1994). The judcialization of politics. A world-wide phenomenon: introduction. International Political Science Review, 15(2), 91–99.

Vannucci, A. (2003). La corruzione nel sistema politico italiano a dieci anni da 'mani pulite'. In G. Forti (Ed.), Il prezzo della tangente (pp. 3–70). Milano: Vita e Pensiero.

Vannucci, A. (2009). The controversial legacy of 'Mani Pulite': a critical analysis of Italian corruption and anti-corruption policies. Bulletin of Italian Politics, pp 233–264.

Vannucci, A. (2012). Atlante della corruzione. Torino: Edizioni Gruppo Abele.

Venturino, F. (Ed.). (2005). Elezioni e personalizzazione della politica. Roma: Aracne.
Acknowledgements
The research leading to these results has received funding from the European Community's Seventh Framework Programme ([FP7/2007-2013,] [FP7/2007-2011]) under grant agreement no. 290529 - Project ANTICORRP.  The authors are grateful for useful advice and suggestions from Donatella della Porta.
About this article
Cite this article
Sberna, S., Vannucci, A. "It's the politics, stupid!". The politicization of anti-corruption in Italy. Crime Law Soc Change 60, 565–593 (2013). https://doi.org/10.1007/s10611-013-9480-8
Published:

Issue Date:

DOI: https://doi.org/10.1007/s10611-013-9480-8
Keywords