Abstract
This study presents the results from a qualitative survey of 20 incarcerated and nonincarcerated illicit firearm market consumers in Quebec. Its general aim is to identify key acquisition patterns for illegal firearms. The interview sessions confirmed several general patterns emerging from past research. Illegal firearm acquisitions generally took place through informal channels. Opportunistic transactions were prevalent across all respondents' experiences. The presence of key point sources were discussed across the interviews, but to a much lesser extent than the high volume of friends, family members, and close contacts who were more likely to supply firearms. Point sources, and particularly those operating off Native reserves near Montreal, were also more difficult to access for inexperienced acquirers. That such reputed suppliers were not as prevalent across respondents' experiences was not simply due to the difficulties to access them, but largely because respondents were already well exposed to a variety of channels for acquiring firearms. An analysis of respondents' personal networks revealed that only a few respondents had closed networks that were limited in suppliers and that most were able to acquire illegal firearms through open or brokered networks that put them into contact with a multitude of suppliers (in open networks) or a reliable set of intermediaries (in brokered networks). This was the case for both free and incarcerated respondents in the sample. That open and brokered networks were more prominent suggests that even if key point sources are removed from the market by law-enforcement efforts, consumers will be able to adjust rather quickly by turning to any of the channels that are accessible to them.
This is a preview of subscription content, log in to check access.
Access options
Buy single article
Instant access to the full article PDF.
US$ 39.95
Price includes VAT for USA
Subscribe to journal
Immediate online access to all issues from 2019. Subscription will auto renew annually.
US$ 99
This is the net price. Taxes to be calculated in checkout.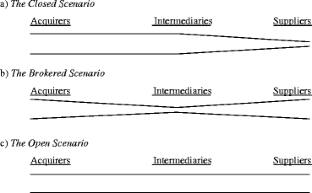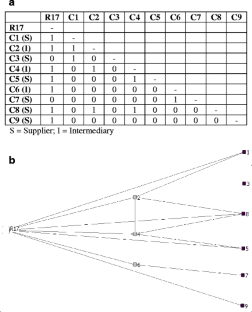 Notes
1.

The four respondents who only reported one transaction were excluded from this analysis.
References
1.

Braga, A., Cook, P., Kennedy, D., & Moore, M. (2002). The illegal supply of firearms. Crime and Justice, 29, 319–352.

2.

Braga, A., & Kennedy, D. (2001). The illicit acquisition of firearms by youth and juveniles. Journal of Criminal Justice, 29(5), 379–388.

3.

Burt, R. S. (1992). Structural holes: The social structure of competition. Cambridge: Harvard University Press.

4.

Cook, P., Ludwig, J., Venkatesh, S., & Braga, A. (2006). Underground gun markets. Economic Journal, 117, 588–618.

5.

Decker, S., Pennell, S., & Caldwell, A. (1997). Illegal firearms: Access and use by arrestees. Research in brief. Washington, D.C.: National Institute of Justice.

6.

Erickson, P., & Butters, J. (2006). Youth, weapons, and violence in Toronto and Montreal. Canada: Public Safety and Emergency Preparedness.

7.

Kleck, G. (1997). Targeting guns: Firearms and their control. Hawthorne: Aldine de Gruyter.

8.

Koper, C., & Reuter, P. (1996). Suppressing illegal gun markets: Lessons from drug enforcement. Law and Contemporary Problems, 59, 119–146.

9.

Longtin, S. (1999). Motivations for gun carrying among juvenile offenders in Quebec: A focus on the dimensions of race and language. Doctoral dissertation, School of Criminal Justice, State University of New York at Albany.

10.

Morselli, C. (2005). Contacts, opportunities, and criminal enterprise. Toronto: University of Toronto Press.

11.

Morselli, C. (2002). The relational dynamics of illegal firearm transaction. Canadian Journal of Criminology, 44, 255–276.

12.

Morselli, C., & Tremblay, P. (2004). Criminal achievement, offender networks, and the benefits of low self control. Criminology, 42, 773–804.

13.

Smith, M. D. (1996). Sources of firearms acquisition among a sample of inner-city youths: research results and policy implications. Journal of Criminal Justice, 24(4), 361–367.

14.

Wachtel, J. (1998). Sources of crime guns in Los Angeles, California. Policing: An International Journal of Police Strategies and Management, 21, 220–239.

15.

Watts, D. (2003). Six degrees: The science of a connected age. New York: W.W. Norton and Company.

16.

Webster, D., Bulzacchelli, M., Zeoli, A., & Vernick, J. (2006). Effects of undercover police stings of gun dealers on the supply of new guns to criminals. Injury Prevention, 12, 225–230.

17.

Webster, D., Freed, L., Frattaroli, S., & Wilson, M. (2002). How delinquent youths acquire guns: initial versus most recent gun acquisitions. Journal of Urban Health, 79(1), 60–69.

18.

Webster, D., Vernick, J., & Bulzacchelli, M. (2006). Effects of a gun dealer's change in sales practices on the supply of guns to criminals. Journal of Urban Health, 83(5), 778–787.

19.

Wright, J., & Rossi, P. (1986). Armed and considered dangerous: A survey of felons and their firearms. Hawthorne: Aldine de Gruyter.
Additional information
This study was funded by Public Safety Canada's Firearms and Operational Policing Policy Division. I thank Suzing Hum for her help and comments on previous drafts and Sévrine Petit, Mathilde Turcotte, and Claudine Gagnon for their assistance during the fieldwork stage of the research.
About this article
Cite this article
Morselli, C. Assessing network patterns in illegal firearm markets. Crime Law Soc Change 57, 129–149 (2012). https://doi.org/10.1007/s10611-011-9340-3
Keywords
Personal Network

Juvenile Offender

Structural Hole

Closed Network

Illegal Market