Abstract
A small but growing number of analysts of criminal activity have used social network analysis (SNA) to characterise criminal organisations and produce valuable insights into the operation of illicit markets. The successful conduct of SNA requires data that informs about links or relationships between pairs of individuals within the group. To date analyses have been undertaken with data extracted from offender databases, transcripts of physical or electronic surveillance, written summaries of police interrogations, and transcripts of court proceedings. These data can be expensive, time-consuming and complicated to access and analyse. This paper presents findings from a study which aimed to determine the feasibility and utility of conducting SNA using a novel source of data: judges' sentencing comments. Free of charge, publically accessible without the need for ethics clearance, available at the completion of sentencing and summary in nature, this data offers a more accessible and less expensive alternative to the usual forms of data used. The judges' sentencing comments were drawn from a series of Australian court cases involving members of a criminal group involved in the manufacture and distribution of methamphetamine during the 1990s. Feasibility is evaluated in terms of the ability to produce a network map and generate the types of quantitative measures produced in studies using alternate data sources. The utility of the findings is judged in relation to the insights they provide into the structure and operation of criminal groups in Australia's methamphetamine market.
This is a preview of subscription content, log in to check access.
Access options
Buy single article
Instant access to the full article PDF.
US$ 39.95
Price includes VAT for USA
Subscribe to journal
Immediate online access to all issues from 2019. Subscription will auto renew annually.
US$ 99
This is the net price. Taxes to be calculated in checkout.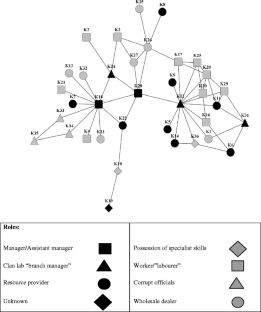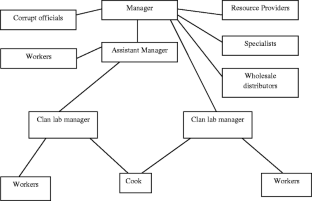 Notes
1.

Note that the judge could mention people who had not done anything criminal, such as victims, bystanders or family members. We did not include such people.
References
1.

Bouchard, M. (2007). On the resilience of illegal drug markets. Global Crime, 8(4), 325–344.

2.

McSweeney, T., Turnbull, P. J., & Hough, M. (2008). Tackling drug markets and distribution networks in the UK: A review of the recent literature. London: Institute for Criminal Policy Research.

3.

Krebs, V. E. (2002). Mapping networks of terrorist cells. Connections, 24(3), 43–52.

4.

Sparrow, M. K. (1991). The application of network analysis to criminal intelligence: an assessment of the prospects. Social Networks, 13(3), 251–274.

5.

Xu, J., Marshall, B., Kaza, S., & Chen, H. (2004). Analyzing and visualizing criminal network dynamics: a case study. In H. Chen, R. Moore, D. D. Zeng, & J. Leavitt (Eds.), Lecture notes in computer science: Intelligence and security informatics (Vol. 3073, pp. 359–377). Berlin: Springer.

6.

Natarajan, M. (2006). Understanding the structure of a large heroin distribution network: A quantitative analysis of qualitative data. Journal of Quantitative Criminology, 22(2), 171–192.

7.

Jackson, J. L., Herbrink, J. C. M., & Jansen, R. W. J. (1996). Examining criminal organizations: possible methodologies. Transnational Organized Crime, 2, 83–10.

8.

Morselli, C. (2009). Inside criminal networks. New York: Springer.

9.

v an der Hulst, R. C. (2009). Introduction to Social Network Analysis (SNA) as an investigative tool. Trends in Organized Crime, 12(2), 101–121.

10.

McAndrew, D. (2000). The structural analysis of criminal networks. In D. Canter & L. J. Alison (Eds.), The social psychology of crime: Groups, teams and networks (pp. 53–94). Aldershot: Ashgate.

11.

Guryan, J., et al. (2008). Using technology to explore social networks and mechanisms underlying peer effects in classrooms. Developmental Psychology, 44(2), 55–364.

12.

Luke, D. A., & Harris, J. K. (2007). Network analysis in public health: history, methods, and applications. Annual Review of Public Health, 28, 69–93.

13.

Hatala, J. (2006). Social network analysis in human resource development: a new methodology. Human Resource Development Review, 5, 45–71.

14.

Baker, W. E., & Faulkner, R. R. (1993). The social organization of conspiracy: Illegal networks in the heavy electrical equipment industry. American Sociological Review, 58(6), 837–860.

15.

Heber, A. (2009). The networks of drug offenders. Trends in Organized Crime, 12(1), 1–20.

16.

Morselli, C., & Petit, K. (2007). Law-enforcement disruption of a drug importation network. Global Crime, 8(2), 109–130.

17.

Reid, E., Chen, H., & Xu, J. (2007). Social network analysis for terrorism research. In H. Chen et al. (Eds.), Handbook in information systems: National security (pp. 243–270). Oxford: Elsevier.

18.

Xu, J., & Chen, H. (2009). Untangling criminal networks: A Case Study. In Intelligence and Security Informatics. First NSF/NIJ Symposium, 2665, 232–248.

19.

Morselli, C. (2009). Hells Angels in springtime. Trends in Organized Crime, 12, 145–158.

20.

Willis, K., Homel, P., & Gray, K. (2006). Developing and implementing a performance measurement framework for drug law enforcement in Australia. In Monograph Series No.18. Payneham, South Australia: National Drug Law Enforcement Research Fund

21.

Hawley, M. (2002). Heroin shortage: the cause. Platypus Magazine, 76, 43–48.

22.

McKenzie, N. (2010). Crime incorporated. Australian Broadcasting Corporation.

23.

Australian Institute of Health and Welfare. (2008). 2007 national drug strategy household survey: Detailed findings. Canberra: Australian Institute of Health and Welfare.

24.

Australian Crime Commission. (2008). Illicit drug data report 2006–07. Canberra: Australian Crime Commission.

25.

Schloenhardt, A. (2007). The marker for amphetamine-type stimulants and their precursors in Oceania. Australian Government: Australian Institute of Criminology.

26.

McKetin, R., McLaren, J., & Kelly, E. (2005). The Sydney methamphetamine market: Patterns of supply, use, personal harms and social consequences. In Monograph Series No. 13. Sydney: National Drug and Alcohol Research Centre, University of New South Wales.

27.

Nicholas, R. (2010). An environmental scan on alcohol and other drug issues facing law enforcement in Australia 2010. Payneham: National Drug Law Enforcement Research Fund.

28.

Pearson, G., & Hobbs, D. (2001). Middle market drug distribution. London: Home Office.

29.

Reuter, P. (2004). The political economy of drug smuggling. In M. Vellinga (Ed.), The political economy of the drug industry (pp. 129–147). Gainesville: University Press of Florida.

30.

Curtis, W., & Wendel, T. (2000). Toward the development of a typology of illegal drug markets. Crime Prevention Studies, 11, 121–152.

31.

Johnson, B. D., Hamid, A., & Sanabria, H. (1992). Emerging models of crack distribution. In T. Meiczkowski (Ed.), Drugs, crime, and social policy. Boston: Allyn and Bacon.

32.

Natarajan, M. (1998). Varieties of drug trafficking organizations: a typology of cases prosecuted in New York City. Journal of Drug Issues, 28(4), 1005–1026.

33.

Barnes, J. A. (1972). Social networks. Reading: Addison-Wesley.

34.

Ianni, A. F., & Ianni, R. (1990). Network analysis. In P. P. Andrews & M. B. Peterson (Eds.), Criminal intelligence analysis (pp. 67–84). Loomis: Palmer.

35.

Carley, K. M., Lee, J., & Krackhardt, D. (2002). Destabilizing networks. Connections, 24, 79–92.

36.

Borgatti, S. P., Everett, M. G., & Freeman, L. C. (2002). UCINET 6 for windows. Columbia: Analytic Technologies.

37.

Borgatti, S. P. (2002). NetDraw: Graph visualization software. Harvard: Analytic Technologies.

38.

Bakker, R. M., Raab, J., & Milward, H. B. (2010). A preliminary theory of dark network resilience. Unpublished manuscript.

39.

Morselli, C., Giguère, C., & Petit, K. (2007). The efficiency/security trade-off in criminal networks. Social Networks, 29(1), 143–153.

40.

Gibbs, S. (1999). Judge makes 'painful' decision to jail sergeant. Sydney Morning Herald.

41.

Small, C., & Gilling, T. (2009). Smack express: How organised crime got hooked on drugs. Crows Nest: Allen & Unwin.

42.

Albert, R., Jeong, H., & Barabasi, A.-L. (2000). Letters to nature: error and attack tolerance of complex networks. Nature, 406, 378–382.

43.

Watts, D. (1999). Networks, dynamics, and the small-world phenomenon. American Journal of Sociology, 105

44.

Granovetter, M. S. (1973). The strength of weak ties. American Journal of Sociology, 78, 1360–80.
Acknowledgements
This work forms part of the Drug Policy Modelling Program funded by the Colonial Foundation Trust. This paper is based on a paper presented at the Illicit Networks Workshop which was held by the Centre for Transnational Crime Prevention, Wollongong University, Australia (December, 2009). We would like to thank Professor Carlo Morselli for his advice and encouragement.
About this article
Cite this article
Bright, D.A., Hughes, C.E. & Chalmers, J. Illuminating dark networks: a social network analysis of an Australian drug trafficking syndicate. Crime Law Soc Change 57, 151–176 (2012). https://doi.org/10.1007/s10611-011-9336-z
Keywords
Methamphetamine

Betweenness Centrality

Network Member

Criminal Group

Closeness Centrality